Registration Now Open for Fall Program Events!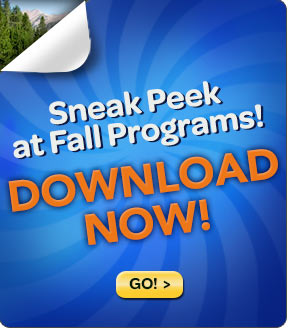 We're pleased to debut our Early Fall Preview, featuring amazing GSNorCal programs for September and October that you can register for starting now! Don't forget: girls can use their Cookie Rewards funds to register for our events in the Early Fall Preview. For more information on using Cookie Rewards, click here. We've made it easy for you to learn about - and register for! - our exciting fall programs:
Download our Early Fall Preview guide, found online here, which gives you descriptions and a convenient chart that breaks down the events by location, age, cost, and much more!
If you'd like to see a list of program links organized by age level that will take you to our online registration site, click here.
Could Your Troop Use $25 Per Girl in the Fall? Ways to Make Fall Sale Easy!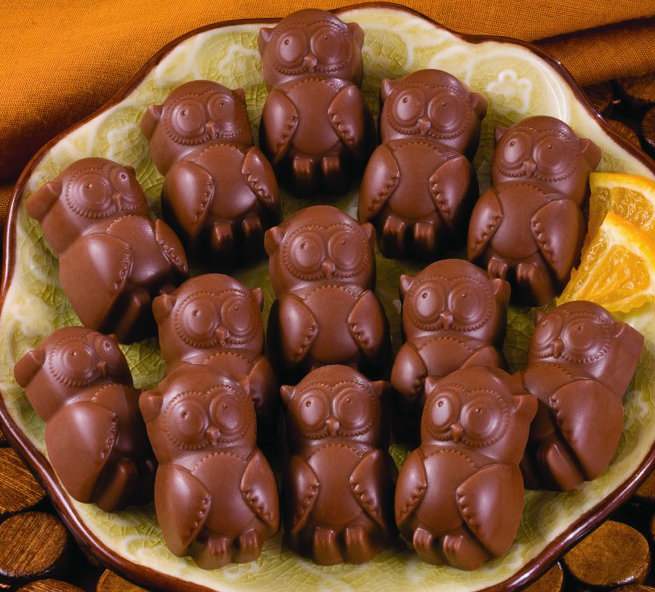 Did you know that troops are not required to participate in every aspect of our Fall Sale? You could just take orders, or just sell magazines, or hold a booth sale - whatever works for your troop! Each girl could earn $25 in troop profits just by sending 24 emails, selling 6 nut items, 3 Care to Give items, and 6 online magazines. Click here for 4 easy ways to earn in the Fall Sale and tips for creating a plan that works for you -- and gives you valuable funds earlier in the year to register for programs, buy supplies, and much more! The Fall Nut and Magazine Sale is Nov. 8-24, and initial orders will be placed Oct. 4-20.
Click here for the exciting 2013 Fall Sale Lineup, which includes the popular Dark Chocolate Mint Penguins plus new Dulce de Leche Caramel Owls!
California Dreamin2 – August 2015 – Pleasanton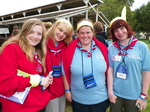 Adventure, fun, and international friendship all in your backyard! California Dreamin2 International Camporee is coming back to the Alameda County Fairgrounds for another summer of excitement in 2015! Girls who are currently in third grade will be old enough in 2015 for this adventure for girls in grades 6-12, that you don't want to miss! Click here to check out our website and start your planning! Registration will open in October!
Golden Gate Bridging Lost & Found
If you lost something at Golden Gate Bridging on Saturday May 11, we may have found it.
We apologize in advance for items that have not been found.
Please send your name, number and detailed description of what was lost to GoldenGateBridging@GirlScoutsNorCal.org.
South Bay/Peninsula Alumnae Group Seeking Planning Committee Members
Calling Girl Scout Alumna! The new South Bay/Peninsula Alumnae Group had an excellent turn-out for our inaugural event on Girl Scout Birthday at the San Jose Girl Scout office. We were excited to see that so many of our alumnae in the South Bay/Peninsula area are interested in forming a group to share ideas, network, mentor girls and young women, volunteer for service projects and maybe even take a few trips. Our brainstorming activity showed that local alumnae are interested in helping troops with specific skills and knowledge, doing service projects and taking trips.Hopefully some of you would like to participate on a planning committee to get things rolling. Our target is to get an activity planned for this summer and to set up a schedule of events for the coming membership year. We also need a lead to help write by-laws or simple guidelines for the operation of the group. If you would like to volunteer in any capacity, please contact Jeanne Willis at jeanne.willis@msn.com by May 31.
Lifetime Membership will Increase from $300 to $375 Oct. 1
Lifetime membership is available for purchase online for $300 until 9 p.m. on Sept. 30. Girl Scout membership for the rest of your life. Only available to those 18 years of age or older. Login to Online Registration girlscoutsnorcal.org/ebiz and search for Lifetime using the box in the upper right-hand corner. A special lifetime membership, at the reduced cost of $156 (13 times the annual dues), is offered to girls who are registered Girl Scouts ages 14-17 at the time of their high school graduation, provided they apply for lifetime membership before their current annual membership expires and their membership is received by Sept. 13. This discount is not available online. The deadline to receive paper forms for all Lifetime memberships is Sept. 13 at any GSNorCal office.
---
FOR ALL AGES
Kamp Konocti Resident Camp - July 21-27
Kamp Konocti Volunteer run resident camp has openings for girls going into 2-9th grade next fall as well as adults and tags. We'd love to have you join the fun. Check out kampkonocti.org for program details.
GS Day: San Francisco Giants – July 28 – San Francisco
Calling all Giants fans for the most exciting night of the season ... Girl Scout Day with the San Francisco Giants! Please join us for the 7th Annual Girl Scout Day and help cheer this fabulous team to victory with your fellow Girl Scouts from around Northern California. Go Giants! Click here for more information.
---
FOR OLDER GIRLS
Orienteering "Bubble-O" – Oct. 6 – Saratoga
Join us at our twelfth annual Orienteering event hosted by Service Unit 630. Orienteering is a competitive outdoor game using maps and basic compass skills. Teams of girls compete for best scores based on time and accuracy. No experience is necessary – we will teach you everything you need to know. Girls must be 6th grade or older. Admission is $10 per girl. Join us Sunday Oct. 6, at Sanborn County Park in Saratoga. Troops or parent-girl teams may register by emailing cebassett@earthlink.net or by clicking here to download the flyer.
---
FOR YOUNGER GIRLS
Zoo Fun: 5 Flowers, 4 Stories, 3 Cheers for Animals, Part 1 – July 13 – San Francisco
A special animal encounter, zoo admission, and parking is included in the registration fee. This is a great guide to the Daisy 3 Cheers for Animals Journey because by participating in this program and Part 2, Daisies will have earned the "Watering Can Award." Click here for more information.
---
ADULT EDUCATION
Adult Learning Classes
These are just a few of the great adult education opportunities available thanks to our volunteer learning facilitators. For a complete list and to register in advance online, please click here to visit our website.
American Red Cross First Aid & CPR Level 1: July 13 (Santa Rosa)

Extended Travel: May 22 (Redding)

Journey Essentials: May 30 (Walnut Creek)
---
SHOP O
UR RETAIL STORES!

Click here to shop online at your convenience, 24/7! Click here for hours & locations! You can also keep up with the latest and greatest items in our Retail Stores on Pinterest!
---
MISSED IT LAST TIME?
Zoo Fun: Wonders of Water – June 22 – San Francisco
During this thrilling "Keeper Caper" Brownies will explore Session 1 of the It's Your Planet - Love It: Wonders of Water Journey with the SF Zoo as your guide. As Brownies collect clues to a zoo mystery they will learn about water, why it is important to all living things, and why it is important to conserve it. Click here for more information.

Turtle Bay: Overnight at the Museum – June 22 – Redding
During our exciting overnight, brave Girl Scouts will explore the museum and discover what occurs through specially planned activities. Overnight package includes exciting crafts and activities, a light evening snack, and a continental breakfast. Click here for more information.

Wonders of Water Celebration – June 21 – Gilroy
Water is the wonder of life! Guests will be taken by tram to the park's reservoir area where a docent will talk to the girls about how water is stored, pumped and recycled for the park's use. You will receive a special Wonders of Water Patch and SWAPS. Click here for more information.
Summer Camp is Almost Here!
In just a few short weeks summer will be here and that means SUMMER CAMP! Spaces are still available in many fun and exciting camp programs throughout Northern California. Try a High Sierra Adventure at our Deer Lake or Sugar Pine resident camp. Or head to the Pacific Coast for amazing camp exeriences at Skylark Ranch or Butano Creek resident camps. A variety of day camp programs still have spaces too. FAMILIES - spend your summer vacation at camp! The Deer Lake Family Adventure Camp over Labor Day weekend and our Mother/Daughter Program at Bothin in Marin in July are waiting for you! Click here to search our online catalog for programs!
Camp for Free with Work Party Overnights!
Overnight work parties at Deer Lake and Sugar Pine Work coming up soon! Join us either Memorial Day Weekend or June 28-30. Both are great opportunities for parents and kids to preview camp or of course for returning campers and families to help get camp ready for summer camp! This is a free event that includes camping, food, and a unique work party patch! Make it a weekend getaway with your family or troop that combines service work and free time to play and explore or relax. All ages welcome. Our one-day Fall Work Parties focus on ongoing maintenance projects that during camp season our site rangers just don't have time for! In one day, our work party crews accomplish significant and needed work to keep our camps in tip top shape! Inquire about free Friday night camping for your group. For more information, click here.
Come Join the Space Cookies! Open House - June 9 - NASA Ames


Are you interested in building robots and having fun? Then the Space Cookies might be for you! We are looking for new members from all over the Bay Area. No experience necessary. Learn new skills in design, programming, electronics, fabrication, business, marketing and more! Travel with the team to competitions. We are a Girl Scout Troop supporting FIRST FRC and VEX Robotics Programs. Girls entering grades 7-12 are welcome. Open House is June 9, 3-5 p.m. at NASA Ames. Please RSVP for badging: 1868@spacecookies.org. More info at spacecookies.org. Any questions, contact Ann Wettersten, (650) 384-9285.
Zombies Attack Kamp Konocti Program
Kamp Konocti's "Power Down" program has been attacked by ZOMBIES! Help Willow, Navy Dawg, and Yuki remove the threat. You'll make a zombie survival kit and create, design and develop zombie skills to assess your changing environment for survival. Compete in team challenges in building a shelter in the dark, making fire and use solar techniques to cook your survival food. Space available for older girls in this exciting program as well as a variety of programs. Start making camp memories - join us at Kamp Konocti.
Click here for more information.
---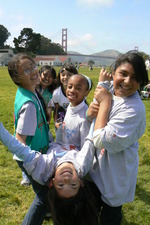 Donate Now, and Get a Girl Started on Her Path!
Financial support for Girl Scout programs is needed and appreciated. You can make a donation by check, gifts of stock, or credit card either by mail or online by clicking here.
---
Girl Scouts of Northern California Job
s
You can search open positions and apply online by clicking here. Thank you for referring our jobs to qualified friends.