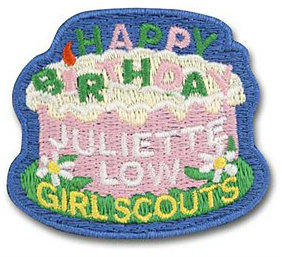 Happy Birthday Juliette Gordon Low!
In addition to Halloween, October 31 is the birthday of Girl Scout founder Juliette Gordon Low! You can find our birthday patches for Juliette in our Online Retail Store! Have a happy Thursday, everyone!
An EASY Earning and Learning Opportunity: Still Time to Participate in Fall Sale!
Why should you participate in Fall Sale? Here are the Top 5 reasons you should! Fall Sale continues through Nov. 24 - click here for information!
Troops have the opportunity to earn MORE funds during Fall Sale than in the Cookie Program.

Fall Sale gives you valuable funds earlier in the year to register for programs, buy supplies, etc.

Troops are not required to participate in every aspect of our Fall Sale – they

could just take orders, or just sell magazines, or hold a booth sale - whatever works for the troop.

Each girl could earn $25 in troop profits just by sending 24 emails, selling 6 nut items, 3 Care to Give items, and 6 online magazines. See the 4 Easy Ways Fall Sale Flyer for tips for creating a plan that works for you.

Fall Sale is designed to help girls learn five key skills: goal setting, decision making, money management, business ethics, and people skills.
Lead the Way Early Bird Pricing Ending Oct. 31!


Alert! Discounted pricing for Lead the Way Leadership Conference for Young Women is ending on October 31. The early bird pricing is only $210 per girl, but after October 31, that price goes up! Do not delay, sign up today for a great deal. Click here for information.

North Coast Shining Stars Adult Recognitions Event - Nov. 14
Join us as we honor extraordinary Girl Scout adults in the North Coast area as they receive the awards they so richly deserve. Friends and families are welcome. November 14, 6:30 p.m. at Re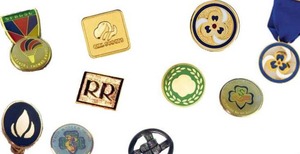 dwood Credit Union, 3033 Cleveland Avenue, Santa Rosa. Click here for information.
Adult Recognition Event - Nov. 13 - Santa Clara
All GSNorCal adult volunteres are invited to enjoy "An Evening in Italy" at the South Bay & Peninsula Adult Recognition Event on Wednesday, November 13 from 5:30-9 p.m. at Mariani's Inn & Resta
urant in Santa Clara. The cost is only $10 per person for a pasta buffet dinner, participant in a gift basket silent auction, and hear all the great things our volunteers have done this past year. Registration deadline is October 28. Click here to register online.
---
FOR ALL AGES
Peter and the Starcatcher - Nov. 16 - San Francisco
Set sail with Peter Pan, Molly Aster, and the Pirate Black Stache onboard the Neverland ship. The Broadway show, adapted from the 2006 best-selling children's novel, a prequel to J.M. Barrie's beloved story of Peter and Wendy is sure to excite imaginations of all ages. Juniors, Caddettes, Seniors, and Ambassadors are invited to participate in the special preshow movement workshop with the production's choreographer. Curtains will rise at 2:00pm for the all ages show. Check out the flyer for more registration details.
---
FOR OLDER GIRLS
Catholic Religious Recognitions Workshops RSVP NOW! - Nov. 2 - Santa Rosa
The Catholic Religious Recognitions Workshops for Older Girls on November 2 will be canceled unless reservations are received by Wednesday, October 30. Please email or call Mary Allen at MAllen@GirlScoutsNorCal.org or (707) 524-9208 to RSVP, and call Kathy Place with questions at daisy149@sonic.net or (707) 478-4799.
High-Tech Exploration Series with eBay – Nov. 11 – San Jose

eWIT (eBay women in Technology) will host a day for high school girls to participate in hands-on tech activities and find out how these women are making a difference in this top ranked world class e-commerce company. Click here for more information.



Acoustical Society of America High-Tech Exploration Series – Dec. 4 – San Francisco


6-12 grade girls will explore the wonders of acoustics and the wide variety of exciting careers that involve the science of sound! Click here for more information.
Prudential Spirit of Community Award - Application Deadline is Nov. 5
The Prudential Spirit of Community Awards program is the United States' largest youth recognition program based exclusively on volunteer community service. This is a competition for girls in the 5th to 12th grade, and online entries are due no later than November 5. Please see the Prudential Spirit of Community Awards website for more information and online application.
---
FOR YOUNGER GIRLS
CA ReLeaf Arbor Week Poster Contest
California ReLeaf, a nonprofit organization urban forestry organization, is looking for 3rd, 4th, and 5th grade Girl Scouts to submit entries in the California Arbor Week Poster Contest by February 14, 2014. The theme is "Trees Make My Community Healthy" and prizes of $100 will be awarded in each grade level. Find more information at www.arborweek.org/contests. This contest reinforces the Girl Scout Leadership Experience (GSLE) Tale Action Outcome: Identify Community Needs!
---
ADULT EDUCATION
Adult Learning Classes
These are just a few of the great adult education opportunities available thanks to our volunteer learning facilitators. For a complete list and to register in advance online, please click here to visit our website.
American Red Cross First Aid & CPR Level 1: November 2 (Chico), November 7 (Pleasanton)

Backpacking: November 12 & 14 (San Jose)

Daisy Leadership: November 4 (Chico), November 7 (Red Bluff),

No

vember 23 (San Jose)

Extended Travel: November 7 (Chico)

Junior Leadership:

November 19 (Red Bluff, Redding), November 23 (San Jose)

Teen Advisor: November 21 (Redding)

Troop Camping Certification: November 2 (Santa

Rosa), November 16 (San Jose)

Troop Camping Certification Plus: November 8 (Pescadero)
---
Click here to shop online at your convenience, 24/7! Click here for hours & locations! You can also keep up with the latest and greatest items in our Retail Stores on Pinterest!
---
MISSED IT LAST TIME?
Microsoft's Computer Expert Workshop – Nov. 30 – Corte Madera


Play in the Microsoft stores to learn more about computers! Professionals will lead you in digital painting, internet surfing, computer games, and even emailing the President of the United States! This is a great side trip to your Brownie Quest Journey! You'll also complete all parts of the Computer Expert Badge. Click here to register.



Microsoft's Digital Photographer Workshop – Nov. 30 & Dec. 8 – Palo Alto & Corte Madera


Learn how to use a digital camera to create great shots then transform your photos to a collage and build an interactive world with Photosynth. This is great information and inspiration for your Agent of Change and aMuse Take Action projects! You'll also complete all parts of the Digital Photographer Badge. Click here for Nov. 30 or click here for Dec. 8.



ShoeBox Recycling


We are proud to be partnering with ShoeBox Recycling to offer our supporters the opportunity to raise funds for Girl Scouts of Northern California in an environmentally friendly way. ShoeBox Recycling is a for profit recycler of shoes, that allows groups like ours to fundraise, while learning about diverse cultures, reuse, expanding our world, and hopefully connecting to our SoleMate, or the future owner of our shoes. Click here to learn more or click here to see other amazing service project ideas.



Girl Scout Days – Year Round – Council Wide


Throughout the year several of the sports and entertainment organizations within our council offer "Girl Scout Days." On these days, Girl Scouts and their families/friends receive discounted rates and often receive participation patches for the special event. To learn more click on desired category; Amusement Parks, Special Performances, Sporting Arenas, or Family Dining.
Destinations 2014
Have you looked at the destinations events for 2014 yet? There are some pretty amazing travel opportunities
for girls. Check them out, pick three of your favorites and fill out your applications. Ask two people who knows you well (teacher, troop leader, etc.) to write a reference letter for you telling the
sponsors why you would be perfect for the destinations activity. Put it all together and send it in to the GS NorCal San Jose office. Then sit back and wait to hear where you could be going this coming summer. For more information contact Sandy Norman at slnorman@pacbell.net. Click here for more!
---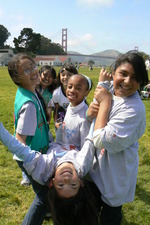 Donate Now, and Get a Girl Started on Her Path!
Financial support for Girl Scout programs is needed and appreciated. You can make a donation by check, gifts of stock, or credit card either by mail or online by clicking here.
---
Girl Scouts of Northern California Job
s
You can search open positions and apply online by clicking here. Thank you for referring our jobs to qualified friends.