AHS PHILLY CHAPTER SPRING 2016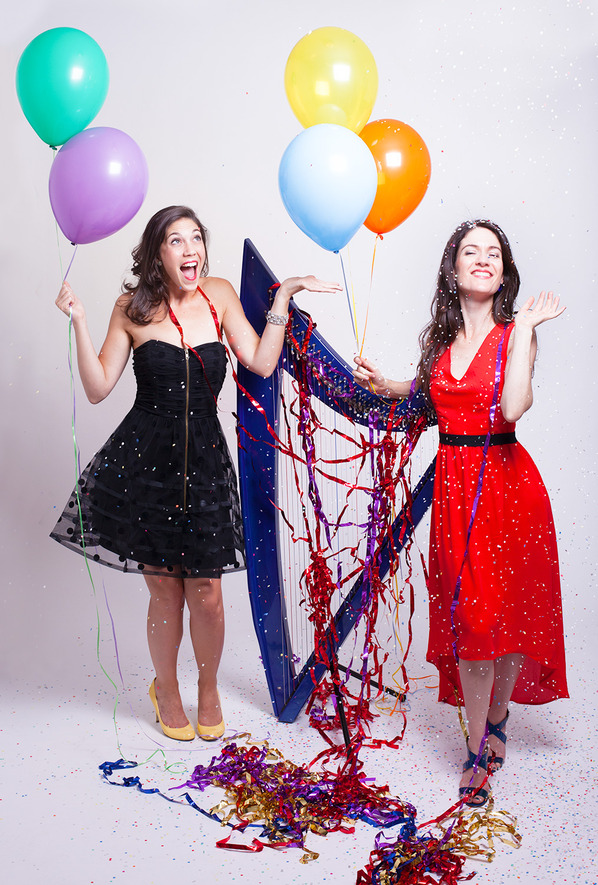 PHILLY HARP DAY 2016
SATURDAY APRIL 23, 2016
CAIRN UNIVERSITY
9:00am
Mark your calendars for 2016 Harp Day sponsored by the Philadelphia Chapter of the American Harp Society. This year we are excited to announce our featured performers and workshop hosts Addi & Jacq. This year we plan to kickoff Harp Day with an introductory forum to give our workshop hosts a chance to introduce their offerings and attendees to ask brief questions in order to get a better understanding of the day's offerings.
The schedule is still being finalized. However, we are excited to be offering workshops including topics such as: harp maintenance, modern marketing techniques, collaborative process, teaching techniques and more. Temple Harp Ensemble directed by Sarah Javaux will be performing and we will conclude Harp Day with a performance by NYC's Best Emerging Band of 2015 ADDI & JACQ. Visit
www.addiandjacq.com
to find out more about our featured performers.
HARP DAY LOCATION
2016 Philly Harp Day is scheduled to be held at CAIRN University. CAIRN is located in Langhorne, PA just minutes from I95, Route I and the PA Turnpike. For more detailed transportation and driving instructions, please visit CAIRN's website:
http://cairn.edu/about/area/map/
.
HARP DAY ACCOMMODATIONS
We are excited to offer
The 2016
Cairn University Discount Rate
at Sheraton Bucks County Hotel at
$94/night
. (The rooms
usually
run $169-$199 per night, so this is a significant savings.) The entire hotel has undergone a major renovation, and every room has been refurbished within the past 12 months.
When people are calling to make a reservation, they should be aware of the following information:
Rep: Nicole McDevitt, Sales Coordinator, Preferred Accounts
Phone: 215-269-3408 (M-F, 8:30-5) or
Central reservations: 1-800-598-1753 at any time
Sheraton Bucks County Hotel, 400 Oxford Valley Road, Langhorne, PA 19047
Rate: $94/night ~ MUST ASK FOR CAIRN UNIVERSITY RATE when making reservations.
HARP DAY REGULATIONS
In addition, Liza Jensen will be scheduling Harp Regulations throughout the day. If you have a harp or 2 that needs regulating, please email nicholerohrbach@gmail.com to arrange your harp(s)' reservation.
HARP DAY FEES
The fee for Harp Day to participate in all workshops and attend all concerts is $30 pre-registration, $40 at the door. There is a special participation fee for members of the Temple Prep Ensemble of $30 for 1 Temple Prep Member plus 1 Parent admission. The ADDI & JACQ is included in the Harp Day fee. However, this concert will be open to the public. Tickets for non-harp day participants are $15 for adults $10 for students/seniors with valid ID. A cafeteria lunch from CAIRN University is available for $6.50 at the door, or you may bring your own lunch. For regulation fees, please email nicholerohrbach@gmail.com for more details.
AUDITIONS & EVALUATIONS
APRIL 2nd, JUNE 11th, 2016
SETTLEMENT MUSIC SCHOOL
Philly Harp Chapter is excited to provide the opportunity for young harpists to play in front of professional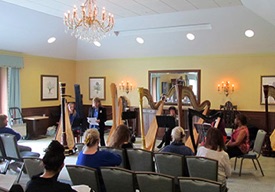 musicians
other than their routine teacher(s) in order to receive helpful feedback. A&E also allows harpists the opportunity to play for and observe their peers in a non-pressure setting. If you or your student has not yet registered, please complete and submit the registration form. Registration forms can be found on the Philly Chapter website or by emailing president@philylharp.org, there is also a registration form included at the conclusion of the newsletter. Please email all registration forms to president@phillyharp.org. There is a $25 participation fee.
JUNE 30th-JULY 3RD
ATLANTA, GA

There's something for everyone at the 2016 AHS National Conference in Atlanta.
Whether you are new to the harp or come from a long line of harpists, there's sure to be plenty to inspire your creativity, celebrate your love of the harp and empower you to do your best work in the coming year. Discounts still available till April 1st! Visit the official website to find out how you can participate in an ensemble during the conference ;-)
A major worldwide transportation hub, Atlanta is a perfect conference location. The Emory Conference Center's beautiful, wooded, campus (not to mention the gracious southern hospitality) will provide you an ideal location for the conference experience you need.
The 2016 American Harp Society National Conference is dedicated to bringing world class presenters and performers to Atlanta to captivate the next generation of harpists and to develop the talents and careers of our members. With dynamic workshops, concerts, and networking opportunities there will be plenty for everyone to enjoy.
To provide a coherent message, we have designed our programming around four themes:
Inspiring the Next Generation
Focus on Pedagogy
Remembering and Honoring our Past
The Best of the Southeast
JACQUELINE KERROD & ADDI MCDANIEL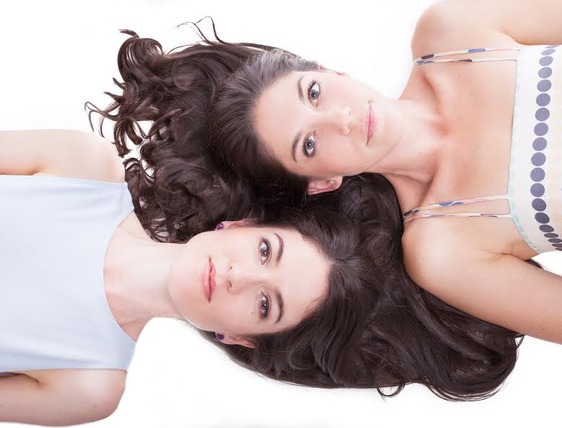 Armed with the powerhouse vocals of Addi McDaniel and the virtuosic harp of Jacqueline Kerrod, the duo has created a diverse and compelling body of music. They've taken the heart and soul of blues, jazz, and classical music, and skillfully placed it inside of a pop exterior. With the help of looping pedals and vocal processors, they create a sound that easily competes with a full band.
Recently crowned the "best emerging band in NYC" as winners of the 2015 NPR-WNYC Battle of the Boroughs, Addi & Jacq (armed with nothing more than vocals and a harp) have created a diverse and compelling body of music. The variety in Addi and Jacq's output can be partly attributed to their wide range of musical influences, which they said include everyone from Mozart to Radiohead, Rufus Wainwright to Paul Simon. While some buzz with quick vocals and smart rhymes, others bubble slowly with blended voices. All are grounded by skilled writing, singing, and playing.
The Los Angeles Times praised vocalist Addi McDaniel as a "a powerhouse with a brass-plated voice," and paired with "exceptionally virtuosic and sensitive harpist" Jacqueline Kerrod (Classical Source Online) they bring you a sound that "transcends genre, unlike anything you've heard before" (Bob Power, grammy-winning producer).
They perform regularly in New York and collectively their venues includeLincoln Center's Avery Fisher Hall, Birdland, Carnegie Hall,The Apollo, WNYC's Greenespace, Joe's Pub, Rockwood Music Hall, Radio City Music Hall, and The Metropolitan Opera House.Check website for upcoming dates.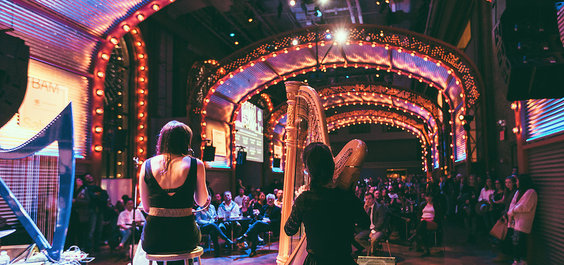 MORE ABOUT THE HARPIST:
JACQUELINE KERROD
Described as "exceptionally virtuosic and sensitive", harpist Jacqueline Kerrod maintains a varied career as soloist, chamber and orchestral musician. She has played as a member of the Metropolitan Opera, New York Philharmonic, New York City Opera, American Ballet Theater, American Symphony and the American Composers orchestras. She has been a guest artist with the Chamber Music Society of Lincoln Center and has performed for various Broadway and off-Broadway shows (Cinderella, The Producers, Beauty and the Beast, The Fantasticks and Donnybrook!).
An active advocate of contemporary music, Jacqueline is a member of the American Modern Ensemble (AME) and has performed with the International Contemporary Ensemble (ICE), Talea Chamber Ensemble, Either/Or, Wet Ink and Argento Chamber Ensemble. As a native South African, she is passionate about commissioning and performing music written by South African composers and has performed over a dozen works written for her
Jacqueline has performed in some of the major venues in the US and Europe, including Carnegie Hall, Lincoln Center, Radio City Music Hall, Madison Square Garden, SF MOMA, the Royal Albert Hall (BBC Proms) and the Concertgebouw in Amsterdam. She has performed at Lincoln Center's Mostly Mozart festival, the Norfolk Chamber Music Festival (where she was featured as soloist with renowned flutist Ransom Wilson), Harare International Festival of the Arts (Zimbabwe), the Asphalt Contemporary Festival (Düsseldorf, Germany) and The National Arts Festival (Grahamstown, South Africa). She was also part of the Yellow Barn residency which focused on the performance of George Crumb's Madrigals Books I-IV with videographer Bart Woodstrup.
Jacqueline's discography includes Greg Spears's Requiem (New Amsterdam Records), Robert Paterson's Star Crossing and Book of Goddesses (American Modern Recordings) and MAYA - In The Spirit (Perspectives Recordings). Other notable recordings that feature Jacqueline include Tristan Murail's Winter Fragments (AEON) and the single Crazy in Love by Antony and the Johnsons (Secretly Canadian/Rough Trade Records). Her latest recording, "Candlelight Carols" with Grammy nominated vocal ensemble Seraphic Fire debuted at #11 on the Classical Billboard charts.
Described by Lucid Culture as "an eclectic concert harpist," Jacqueline has always been passionate about exploring new ways of using the harp. This has led her to form the pop/folk duo, Addi & Jacq, who were recently crowned as NYC's best emerging band by NPR-WNYC in the 2015 Battle of the Boroughs.
Jacqueline began playing the harp at the age of nine in Johannesburg, South Africa, where she went on to receive her Bachelor of Music in performance with distinction from the University of the Witwatersrand under the tutelage of Ventura Rosenthal and Pauline Nossel. She was a finalist in the Jim Joel Music Prize and ATKV National Music Competitions. In 1999 she was invited by Nancy Allen to study at the Yale School of Music. After receiving the Oppenheimer Memorial Trust Foundation Scholarship and a scholarship from Yale University, she moved to the US where she completed her Master of Music and Artist Diploma. It was during this period that she spent her summers at the Aspen Music Festival as the Fellowship recipient and where she was the winner of the harp competition (2001). After completing her degrees at Yale she moved to New York City where she resides with her husband and their two Abyssinian cats, Hasani and Nanu.
FUN FACTS!! ABOUT THE ARTISTS
We met performing in the world's longest running Off-Broadway musical The Fantasticks.!!
We were named "the best emerging band in New York City" by NPR-WNYC in 2015!!
Jacq is from Johannesburg, South Africa and moved here to study at Yale!!!
Addi is from the oldest city in the US (St. Augustine, FL) and her dad makes vodka, gin and rum there!!!
We love gummy bears and give them away at every live performance!!!
We wrote a color rap (it's a rap about 35 colors- listen to Pink Phone!)!!
We like to play the harp with unexpected objects (like a screwdriver and viola bow!) !!
We love playing with orchestra (we've got some really cool arrangements!) !!
We love to travel! (Yes, harps can travel!)!!
We've been praised as being the most versatile duo! (first-rate entertainment for audiences large and small, young and old) !!
We printed thousands of business cards only to realize that our slogan made us sound like hookers! (we've since re-printed )!!
What we hear (over and over): "This is a breath of fresh air. I've never heard anything like it!" (this is not an exaggeration)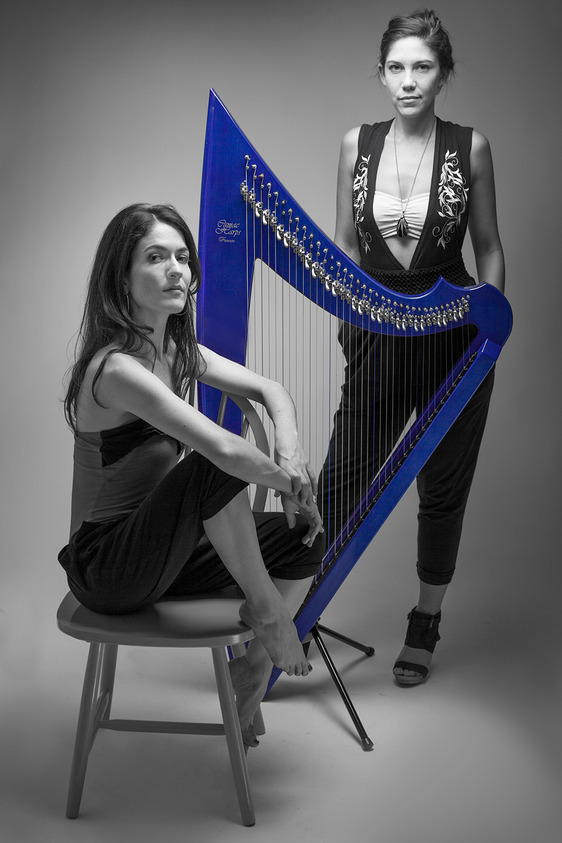 KATHY DEANGELO

Chapter member Kathy DeAngelo and her husband Dennis Gormley were inducted into the Delaware Valley Irish Hall of Fame at the Irish Center (Commodore Barry Club) in Philadelphia in November. Kathy is the director of the Somerset Folk Harp Festival and the annual Harpers' Escape Weekend. She and her husband have been performing traditional Irish music together since 1978 as McDermott's Handy. They had already been inducted into the Hall of Fame of the Mid-Atlantic chapter of Comhaltas Ceoltoiri Eireann in April 2014.
Elizabeth Hainen Harp Colony
June 19—June 25, 2016 | Limited space available
CURTIS INSTITUE OF MUSIC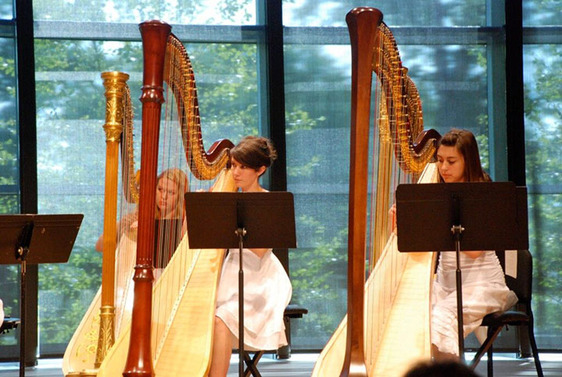 Where good harpists become great musicians
The Elizabeth Hainen Harp Colony is an advanced training ground for the world's next generation of professional harpists. The colony is a true pedagogical institution, with emphasis on individual development for promising young harpists as well as professionals. The distinguished faculty conducts an intensive program of master classes, ensemble playing, and orchestral training.
Harpists looking for a rigorous program will benefit from an intensive week of orchestral training through mock auditions, master classes with Elizabeth Hainen, and harp ensemble with Nancy Lendrim, culminating in a performance in the final concert. Whether looking to enter competitions or merely seeking a greater knowledge of the repertoire, students will benefit from a full exploration of harp literature.
Build friendships, share ideas, and enrich your musical talent in an intimate atmosphere—and enjoy yourself thoroughly in the process.
JULY 22ND-24TH
HILTON PARSIPPANY, NJ

The 16th annual Somerset Folk Harp Festival takes place July 22-24 at the Hilton Parsippany, Parsippany NJ. There are 4 full days with 100+ workshops from 34 presenters spanning the diversity of the lever harp world.
There is also a full-day Sunday program added this year with the Blues Harp Immersion with Deborah Henson-Conant, who is also presenting 4 other workshops at Somerset during the weekend.
The full slate of weekend workshops is augmented at the festival by 4 major concerts as well as the largest harp and music showroom on the East Coast. The early-bird discount is $100 on the full festival and $50 on Deborah's Sunday event until
May 1
. Check out the website for all the presenters and workshop and event details plus registration information:
http://www.somersetharpfest.com

Link to my website
HARPER'S ESCAPE WEEKEND
OCTOBER 7th-9TH
RUTGERS UNIVERSITY INN & CONFERENCE CENTER
NEW BRUNSWICK, NJ
The 24th annual Harpers Escape Weekend will take place
Oct. 7-9
in New Brunswick, NJ at the Rutgers University Inn & Conference Center with Grainne Hambly, Eileen Gannon, Debbie Brewin-Wilson and Kathy DeAngelo teaching all-day workshops in traditional Irish and Scottish music in this multi-level, friendly environment. The $499 registration includes 2 nights hotel plus all the meals. Advance registration is required. For all the details, see
http://www.harpersescape.com
. Commuters are also welcome!

Link to my website
CURTIS HARP STUDIO TRIBUTE CONCERT
SUNDAY APRIL 24TH
3:00pm
Curtis
On
Sunday April 24 at 3 PM
the Curtis Harp Studio will present a tribute concert to honor the late Danny Dannenbaum. Danny was widower to Marilyn Costello, Principal Harpist of The Philadelphia Orchestra for 50 years.
The program will include the Salzedo Quintet with their instructor Elizabeth Hainen and a performance of the Introduction et Allegro by Maurice Ravel performed by Curtis student Helen Gerhold.
TEMPLE PREP HARP ENSEMBLE CONCERT
SATURDAY APRIL 30th
4:00PM
PHILADELPHIA, PA
Temple Prep Harp Ensemble under the direction of Sarah Javaux will be presenting a concert at Temple University's Rock Hall Auditorium located at 1715 N. Broad Street at 4:00pm on Saturday April 30th. For more information, please contact Matthew Schillizzi at 215-204-7609.
HARPS FOR SALE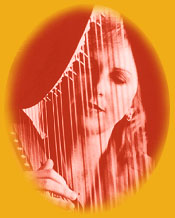 MARTHA CLANCY KOB
Harps for sale or rent. New Lyon and Healy harps all styles pedal and lever available, rent to own options, also gently used lever harps, Lyon and Healy, Dusty Strings, Jack Faulkner Celtic harps, Triplett harps for sale and rent. Harp lessons , Main Line area, harpist for weddings, cocktail hours , events, harp solo, harp/flute, harp/violin, harp CDs. Please contact Martha Clancy Kob,
Website:
www.harpsounds.com
GEORGANNE D'ANGELO
Pedal and non pedal harps for rent. Concert size, small Lyon &
Healy 14. Also available, a Pilgrim Clarsach non pedal harp with big
firm sound. Delivery and pickup possible.
Phone:
609.992.9336
Email:
Georganne_D@verizon.net
HARP ACCESORIES & LESSONS
VIRGINIA HARP CENTER HADDONFIELD, NJ
For harps, music, and accessories, visit your local supplier the
Virginia Harp Center in Haddonfield, NJ. Located at 425 N. Haddon
Ave., Haddonfield, NJ 08033 with street parking and easy access by
PATCO high speedline at the Westmont and Haddonfield stops. For phone
orders call
856.428.1430
, and stay tuned for the opening of our
online ordering option!
PLANET HARP
Visit PlanetHarp.com for harp sales and rentals, harp music,
supplies.
For information about harp therapy, please visit: -
http://cts.vresp.com/c/?PhillyHarpAHS/ad0cb09250/TEST/2895c0ea2e
harptherapyjournal.com
AUDITIONS AND EVALUATIONS REGISTRATION FORM
Auditions and Evaluations 2016
"Auditions and Evaluations" is a two-part program for students of all ages and levels sponsored
by the Philadelphia Chapter of the American Harp Society. It consists of two auditions held six
weeks apart.
The word "audition" comes from the Latin [audio] which means "to hear." We must not confuse
our Harp Society "Auditions" with the more common usage of the word audition; for this is not
a competition and there are no prizes awarded. Participants come specifically to be heard and
to hear one another.
Because this is a unique two-part program, the focus is especially on the improvement that can
be made by participating on both days.
On the first day, April 2nd at 5:00, participants play two pieces (or movements of pieces) of their
own choosing for an advisor and for one another. A simple theory test is given on the first day.
On the second day of the program, June 11th at 5:00, participants show their improvement by
playing the same two pieces again. Both of these events will take place at the Settlement School
at 416 Queen Street in Philadelphia. There is a free parking lot at this location.
Participants are encouraged to stay and listen to as many other participants as possible during
both auditions. Everyone who participates in both Auditions receives a "Certificate of
Participation: from the Music Education Committee of the American Harp Society.
Any questions can be directed to Phillyharp Vice President Elizabeth Huston at
ehharpist@gmail.com
. There is a
$25 fee
to participate in this program. Please make all checks payable to:
Philadelphia Chapter AHS
. Please
detach the bottom of this form and mail it with your check to:
Philly Harp
4817 Cedar Ave #1
Philadelphia PA 19143
Name of Participant: _________________________________________________________
Number of Years taking lessons _______________________________________________
Name of Participant's teacher: _________________________________________________
Contact Email or Phone for participant: _________________________________________
Mailing Address (for certificate): _______________________________________________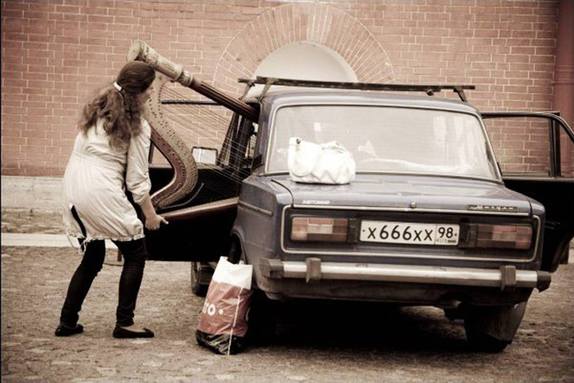 Fun Facts!

!

-

We met performing in the world's longest running Off-Broadway musical

The Fantasticks.

!

!

-

We were named "the best emerging band in New York City" by NPR-WNYC in

2015

!

!

-

Jacq is from Johannesburg, South Africa and moved here to study at Yale!

!

!

-

Addi is from the oldest city in the US (St. Augustine, FL) and her dad makes vodka,

gin and rum there!

!

!

-

We love gummy bears and give them away at every live performance!

!

!

-

We wrote a color rap (it's a rap about 35 colors- listen to Pink Phone!)

!

!

-

We like to play the harp with unexpected objects (like a screwdriver and viola

bow!)

!

!

-

We love playing with orchestra (we've got some really cool arrangements!)

!

!

-

We love to travel! (Yes, harps can travel!)

!

!

-

We've been praised as being the most versatile duo! (first-rate entertainment for

audiences large and small, young and old)

!

!

-

We printed thousands of business cards only to realize that our slogan made us

sound like hookers! (we've since

re-printed

)

!

!

-

What we hear (over and over): "This is a breath of fresh air. I've never heard

anything like it!" (this is not an exaggeration