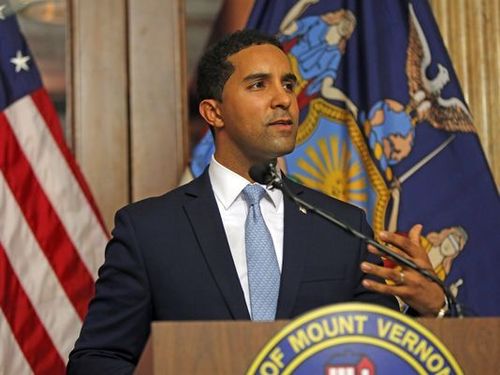 Thank you to the Journal News for taking an interest in the City of Mount Vernon. Our city is a special place, beloved by those of us who call it home. While it was hard to read the critical eye of the Editorial Board, it was even harder to see I agreed with a lot of it. The truth is that the political dysfunction that has permeated the city's politics must come to an end. This, plus the shuttered state of Memorial Field, motivated me to run for mayor and dare to change our future.
Mount Vernon has become like a garden overgrown. Figuratively, the city is plagued by political weeds that have choked the life out of the city — the millions in undocumented loans the Urban Renewal Agency has written off as uncollectable, the $400,000 in annual energy costs the city has been paying to a third-party LLC, and an audit that shows the city's general fund at a staggering $25 million, to name a few.
We are pruning Mount Vernon so it can fully bloom again. Please read my full remarks here.
- Mayor Richard Thomas
Financial Literacy Panel
On Thursday Mayor Richard Thomas hosted a Financial Literacy Panel at Mount Vernon High School in observance of Financial Literacy Month. The forum was very educational for the students from the high school's three Business and Financial Management classes. Judith Corprew from Patriot Bank spoke to the students about how to pay for college while pursuing scholarships and making wise decisions on loans. Rey Hollingsworth, Vice President of the Mount Vernon Chamber of Commerce, spoke about how he built wealth through real-estate and how long-term investments and hard work can pay off. Larry Kennedy and Brad Reid from Northwestern Mutual spoke to the students about the importance of planning for the unknown in their financial futures.

Mayor Thomas said, "Anytime we have an opportunity to educate our young future leaders of Mount Vernon on practical life issues, we need to seize it. Our youth can only benefit from gaining knowledge on issues that affect so many aspects of their lives."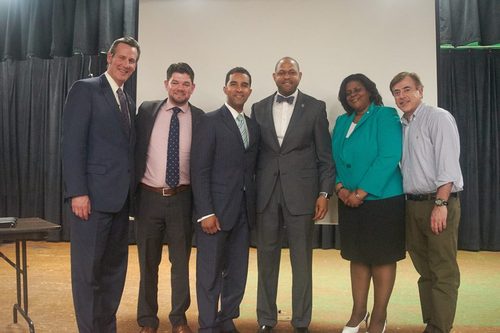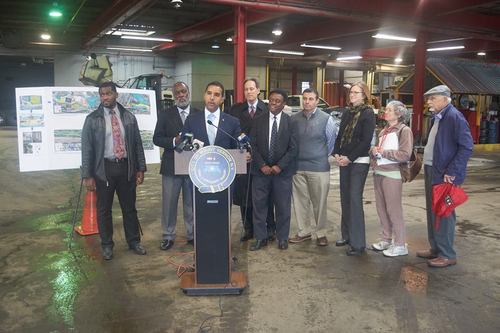 Press Conference on Cleaning Our Waterways Initiative
On Tuesday, Mayor Thomas held a press conference at the Department of Public Works garage on the cleanup of the Hutchinson River and the Bronx River. The Mayor was joined by Councilman Yuhanna Edwards, 1st Deputy Comptroller Jaevon Boxhill, and leaders from the environmental and business communities as they united in a pledge to fix our sewers nd clean our waterways. Mayor Thomas also displayed his vision for Mount Vernon Shores- a project which will turn over a large portion of the city's underutilized waterfront to the community. The Hutch is big enough for a barge, so we know it can support use for a boat launch and water events like kayaking, canoeing, and fishing.

Our thanks to 1st Deputy Comptroller Jaevon Boxhill, Councilman Yuhanna Edwards, Steven Levy from Sprague, Dario Amiccuci from RCA Asphalt, Tracy Brown from Save The Sound, Eleanor Rae from The Hutchinson River Restoration Project, and Norris McDonald, president of the African American Environmentalist Association for joining us in this important effort.
Much of the energy and momentum surrounding this initiative is due to the Department of Justice's requirement that the city act on the compliance order to repair the crumbling sewer system. Watch the full press conference here.
Mount Vernon Youth Bureau Receives CPR Training
The Mount Vernon Youth Bureau attended a CPR training program on Thursday April 20th. The training company provided Youth Bureau members with a certification from the American Heart Association and First Aide Interactive Course, which lasted about 3.5 hours. The program is designed to teach the skills necessary to increase the level of safety and lifesaving capabilities of students and staff in Mount Vernon. The training included CPR, AED Defibrillation, breathing bag with mask, chest compression, and assessment of scene safety.
The program was attended by 19 members of the Youth Bureau's Strong and Safe Haven Afterschool programs. The goal is to ensure that city employees and volunteers who work in these afterschool programs are equipped to respond in an emergency and therefore raising the level of safety of our youth.