SEE US AT THE LEFT FORUM: REPRO FREEDOM ON FIRE!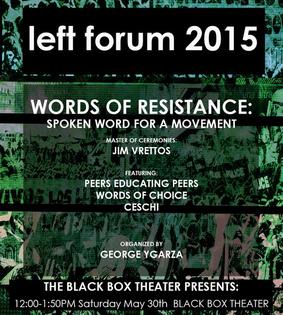 We jumped in: May 30 at noon.
Words of Choice is presenting "REPRODUCTIVE FREEDOM ON FIRE!" at The Left Forum in New York City on Sat., May 30 at noon.
The Left Forum is a national gathering of progressive activists and thinkers.
It is convening at John Jay College, 524 W. 59 St., near 10th Ave. in New York City.
We'll be doing a special performance in the Black Box Theater with actors Stacey Linnartz, Krystel Lucas and Claudia Schneider, directed by Francesca Mantani Arkus.
Words of Choice jumped in upon hearing of the potential underrepresentation of women. As part of a Lunchtime Performance Series, called "Words of Resistance," we'll perform on a program with Peers Educating Peers, and Ceschi, a hip-hop artist. Jim Vrettios is the MC and George Ygarza is coordinator.
Among the selections in Reproductive Freedom on Fire! are comic and poignant "shorts" by June Jordan, Judith Arcana, Michael David Quinn, Esosa Edosomwan, Kathy Najimy & Mo Gaffney, Dr. Susan Wicklund, Alix Olson, and others.
The Left Forum runs from May 29 - May 31. High school students and volunteers get free admission. Childcare is available.
______________________________________________
Honored with The Vision Award by The Abortion Conversation Project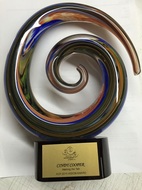 The Abortion Conversation Project (ACP) honored Words of Choice this spring with its "Vision Award" for our work "epitomizing innovative approaches to stigma."

The presenters cited "a long history of creative work," that "involves actors, activists, artists and community groups," and singled out the Reproductive Justice Walking Tour (see the video) for creating a model for other communities.
____________________________________________________________
300 Blogs! Yes!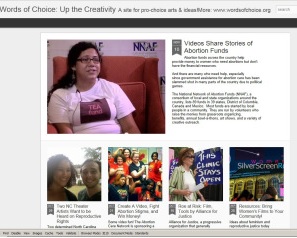 Our blog, Words of Choice: Up the Creativity, began in 2007 as a way to share and encourage creativity in reproductive rights activism. This Spring we published Blog Number 300! Our blogs have covered film, theatre, comedy, photography, music, literature, visual art, dance, podcasts, websites, videos, e-platforms, interactive games -- an amazing array!
Popular now: Yoga for Choice; Birth Story Slam; Postcards from the Heart; and Abortion Poetry.
___________________________________________________________
Keep MOBILIZING!
Take an action today wherever you are! Share a free ACTIVIST CARD on Reproductive Justice with a colleague. ~Cindy Cooper