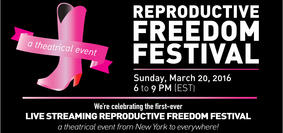 Six Half-Hours of Reproductive Freedom and Theater!
March 20 2016
6 to 9 pm EST
Live Streaming Everywhere
Reproductive Freedom Festival.org
Pre-Show 5:30 EST on Ireland!
What's so great?
25 Writers, 30 Actors, PLUS!
on the past, present, future and timeless nature
of Reproductive Freedom ...
_________________________________________
Spread the Word! Invite your friends!
Twitter @ChoiceTheater
Sample:
Join Us! Live Streaming Reproductive Freedom Theater Mar 20, 6-9 pm (EST) 25 amazing plays about our rights & health http://reproductivefreedomfestival.org

In New York City, join us live at
The Tact Studio, 900 Broadway, Ste 905
(W.19th St.) 10003.
________________________________________

What Can You See and When?
*INTERNAL ORDER OF HALF-HOURS MAY SHIFT
IRELAND 5:30 pm - 6 pm: Savita by Samantha Lierens; The Renunciation by Homework Collective, Dublin, directed by Thais Flaitt Giannoccaro
HEROINES 6 pm - 6:30 pm: My Heroines by Marge Piercy; Lucky Old Lady by Marcy Arlin
Playground Placenta by Melissa Bell; Terrible Virtue (excerpt) by Jessica Litwak; Hardcore Latina Punk Birth Fragments by Grisel Acosta, directed by Joan Kane
NEXT GENERATIONS 6:30 pm - 7 pm: The Pill by Laura Zlatos; Women and …? by Angela Bonavoglia; Two Girls by Allie Costa; In the Service we said and Women's Liberation by Judith Arcana; plus High School for Health Professions Drama Club directed by Stacey Linnartz
CONFLICTS 7 pm - 7:30 pm: Cobra This! by Jeremy Rishe; Rhymes with Ryan (On the Hill) by Cindy Cooper; Certain Doom by Stephen Cedars; Pyramid Poem by Ave Maria Cross;
American Girl/Igboo World by Junita Middleton, directed by Francesca Mantani Arkus

BODY POLITICS 7:30 pm - 8 pm: Goddess of Hygeia by Michael angel Johnson; On The Brink of Middle Age by Yvette Heyliger; Chained Labor by Mildred Lewis; The Prisoner by Ellen Cohen; Useless Uterus by Anne Flanagan, directed by Atonia Pettiford
DISCOVERIES 8 pm - 8:30 pm: Change of Heart by Kitty Chen; Mid Life Choice by Jessica Feder-Birnbaum; Papyrus by Laura Shamas; The Last Refuge by Henry Howard, directed by Marcy Arlin
WHAT WE KNOW 8:30 pm - 9 pm: Ida Mae Murphy by Debbie Miller; Ain't I A Woman by Nicole Goodwin; Sister by Mercedes Sanchez; Spare Rib (excerpts) by Winter Miller,
directed by Melanie Sutherland
Also, throughout
Music: Not So Fresh Feeling and These Breasts Can Kill by Marjorie Duffield, Greg Pliska
Visuals from "Abortion Looks Like" created by Jenny Dodson Mistry and Nadia Chait
Guest Hosting by Malini Singh McDonald of Theatre Beyond Broadway
________________________________________________________________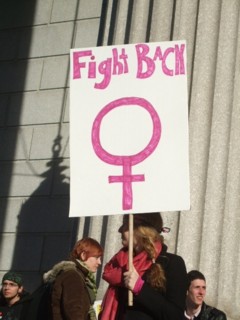 We're using the arts and we're not going back!
Cindy Cooper, coordinator