Artist of the Month: April 2013
Mitchel Gray

Mitchel Gray
is a photographer and author. His photographic life has encompassed two different disciplines, Fashion and Beauty for the first half and Sports and Fitness for the second. The connection between the two has been a consistent propensity for photographing the body—at rest or in motion, clad or unclad, airborne, waterborne, snowborne, mounted on a machine, or even on a four-legged creature. He is equally comfortable on location or in the studio. His mantra is "any time, any place". For more of Mitchel's work, visit here.
Artist of the Month: March 2013
Michael Litzau

Michael Litzau
was born in Milwaukee, Wisconsin and is a Green Bay Packers football fan through and through. As a child Sundays were football days; a time to gather, eat food, and cheer in victory or sulk in defeat. Through time, this became a ritual practiced every Sunday to the present day. Michael has witnessed Super Bowls, the rise of superstars, the unfortunate end of promising careers, and the anticipation of hope through draft picks. It is the roller coaster of emotions felt throughout a game or season and the unflinching support of his team that Michael finds so interesting. He makes artwork about what it is to be a fan.
To see Michael's artwork visit here.
Bernie Hubert grew up in the New York City area during the 1950's and was influenced by the great Giant, Dodger and Yankee teams of that era. Bernie's art is a prism through which he reflects the nostalgic sense of those bygone days, that golden era of "Mickey, Willie and The Duke", when the three of the best baseball players roamed their respective centerfields within a stone's throw of each other. It was truly a magical time for baseball enthusiasts. As the # 2 member of the very first Willie Mays fan club in 1951, Hubert, in his paintings, captures the youth and simplicity of Mays' early days as a New York Giant. He's done ten paintings of The Say Hey Kid. He's also rendered paintings of Mickey Mantle and Duke Snider from that same magical time, and has portrayed more contemporary Yankees as well such as Jeter, A-Rod and Clemens. Bernie's work (and amazing stories) can be found here.

Peter Corbin Chats with NAMOS
A conversation with Sportsman and Artist Peter Corbin about art, sport and capturing the moment like a sportsman.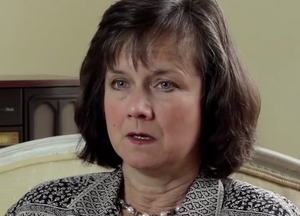 "Passion" with Susan Durkee

Award winning artist Susan Durkee talks about passion. Ms. Durkee was the recipient of the
Founder's Award in the 2nd Annual Commitment to Excellence in Art & Sport Competition for her submission of "Jim Thorpe".


Watch Video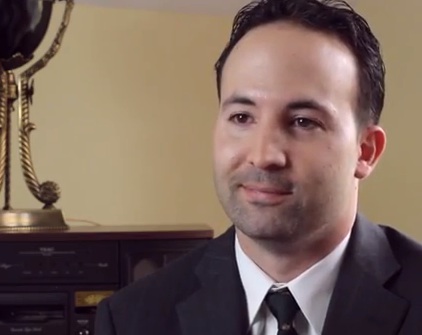 James Fiorentino Talks
Inspiration

James, a long-time portrait and sport artist, discusses inspiration, passion and the National Art Museum of Sport.

Watch Video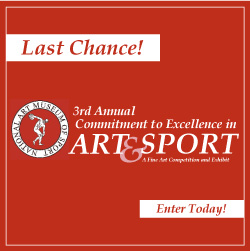 Entry Deadline - May 1, 2013
Artist of the Month:
To apply for the Artist of the Month, please submit 3 sport-related jpgs, a full bio, and a headshot to us by email.


Other News:

Race to the Circle Exhibit April 30 - May 29
Indianapolis Power & Light
1 Monument Circle
Indianapolis
Corporate Partners:
If your company is interested in becoming a corporate partner, please contact Elizabeth Varner here.