Sculptor
Marc Mellon
has been fascinated with capturing the "figure in motion" for over thirty-five years. His earliest works from the late 1970s depicted yoga and gymnastics. "I love sport for sport, but have also always loved the metaphors between sport and all of life's pursuits," says the award-winning sculptor. "I've particularly focused on the beauty of sport, while trying to project the human qualities that make for quality and achievement." Throughout his career Mellon has balanced his passion for sport related art with his acclaimed ability to create realistic evocative portrait busts and commemorative statues. He has created commissioned busts of Muhammad Ali, legendary Olympic diving coach Hobie Billingsley for Indiana University, and three-time NCAA Men's Basketball championship coach Jim Calhoun for University of Connecticut. To see more of Marc Mellon's work, click here. To see his wife's, Babette Bloch, sports sculpture go to her website here.
Artist of the Month: September 2013
Joe Cornett

Joe Cornett's work often focuses on the visual and conceptual connection between
subjects and the space that surrounds them. Cornett is currently focusing his creative energy on a project called "Roundball Religion" in which he travels the country searching for rustic and makeshift basketball hoops. "To many people, basketball is a religion and I'm interested in documenting the actual goals and places where people play. These hoops are relics and each one of these images tell a story, about the culture and the region where they come from. Time is also an important element in this project." To view more of Joe Cornett's photography you can visit his website here.
Thomas Allen Pauly
has portrayed some of the finest horses and jockeys in the country since 1978. Born and raised in Chicago, his love of the sport emerged in the Sportsman's Park's winner circle when his friend's horse named Rusty Win captured the feature race by five lengths. He was hooked. Pauly now travels extensively throughout the world to photograph his subjects in their natural settings rewarding him with priceless reference material to produce paintings. Working primarily in oils and watercolors, Pauly's portraits are known for their accuracy, their energy, their sentiment and their celebration of achievement. For more of Pauly's work, visit his website here or like him on Facebook here.
Artist of the Month: June 2013
Micaiah Hardison

Micaiah Hardison
grew up a few yards from the surf in Leucadia, California and has spent his entire life in and around the sea. As he explains, he rode waves years before he could even swim. "After decades of sport, my focus is now turned to studying the interaction between light and water and how it is reflected, refracted, diffused and magnified as on the active water." Thousands of hours of surfing and acute observation gives Hardison a masterful understanding of the near-shore subjects he loves. Paintings created during his travels around the world and in his studio share the light, energy and appreciation of the seas that inspire him. For more of Micaiah Hardison's work, please visit his website here.
Artist of the Month: May 2013
Debbie Sampson


Debbie Sampson

captures the triumph and energy of sports through oil on canvas as well as graphite pieces. Sampson is an artist and an athlete. She started oil painting when she was 10 years old. When she moved to Florida from New York, she focused on showing horses at hunter/jumper shows. In the late 1980's, she resumed painting while running her martial arts studio. Her motivation for painting professional athletes evolved in 1993 when she created a piece and took it to an autograph session at the Florida Marlins, where the athlete liked it so much that he purchased it. This was the epiphany that drew her to create more in this same vein from which she has carved an enjoyable and successful career. The rest is sport art history! For more of Debbie's work, please visit her website here.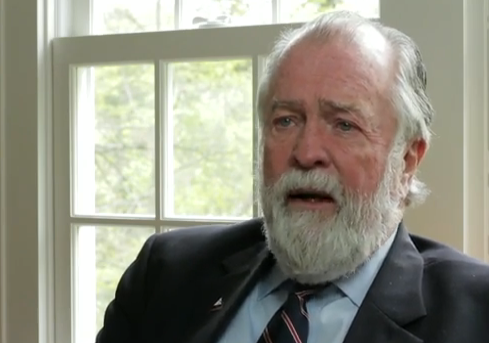 NAMOS Board Member Fred Bisset Talks Friendship
Fred Bisset recalls memories of his friendship with Glidden.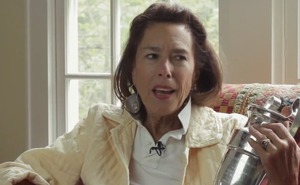 Founder's Daughter, Christine Glidden, Chats About "The Ultimate Competitor"

Museum Founder's daughter, and long-time Board Member, Christine Glidden, discusses Germain Glidden - the ultimate competitor.
Watch Video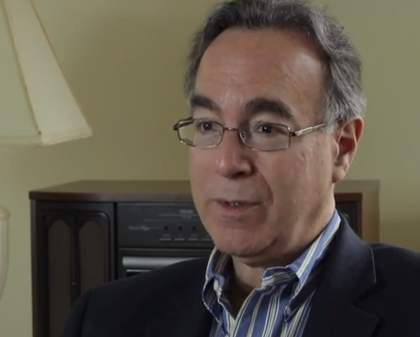 Sculptor Marc Mellon Talks Sport Art
Award-winning sculptor, Marc Mellon, talks Sport Art.
Watch Video
Other News: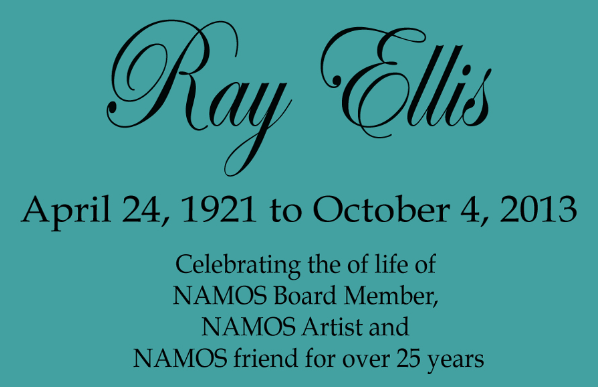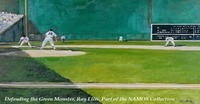 2013 Annual International Competition: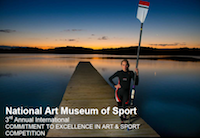 The exhibit opening on September 5th hosted by ArtCenter Manatee in Bradenton, FL was a huge success.

Thank you to our artists, patrons and amazing sponsors the National Collegiate Athletic Association; Faegre, Baker & Daniels, LLC; Pittsburgh Pirates; Bradenton Marauders; Christine Glidden and Rhoda Sherbell!

We plan on highlighting our finalists from the international competition in the next newsletter, but for those who can't wait click on the catalogue image above to see the exhibit catalogue for free. You may also click here.
Artist of the Month:
To apply for the Artist of the Month, please submit 3 sport-related jpgs, a full bio, and a headshot to us by email.
Support the Museum:
Your support is critical to the National Art Museum of Sport (NAMOS). NAMOS is a not-for-profit 501(c)(3) organization that depends upon your donations.

The entire collection has been acquired by bequests from artists, families, foundations, and from gifts of generosity by our supporters.

Please consider making a donation today or contacting us to discuss alternate gift giving.
Click to easily Make A Donation!
If your company is interested in becoming a corporate partner, please contact Elizabeth Varner here.