Step Up Silicon Valley and Silicon Valley Education Foundation to Incubate College Savings Circles in Santa Clara County
with Help from Mission Asset Fund

Silicon Valley Education Foundation (SVEF) and Step Up Silicon Valley (SUSV) have teamed up to launch a new systems change incubation project known as College Savings Circles. The project seeks to establish a college savings pilot within East Side Alliance of Santa Clara County with the goal of increasing the number of children who choose to pursue higher education with the support of their families.

On April 6, 2015, SVEF was selected as a Better Bay Area Initiative awardee by Mission Asset Fund (MAF) to implement a Lending Circles program in Santa Clara County. The MAF Lending Circle platform helps groups of people come together for a common goal of saving money, helps enhance their credit and imparts financial literacy in the process. SVEF and SUSV will partner with MAF to use platform for college savings. SVEF will work with MAF as part of a diverse network of nonprofit providers using innovative financial programs to empower Bay Area communities. Step Up will support the implementation via convening and advocacy to further engage our community.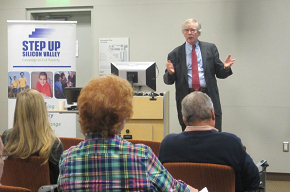 College Savings Circles are the latest of numerous innovative initiatives inspired by Step Up Silicon Valley's Learning and Development Series, an educational speaker series sharing the latest research innovations in higher education with community members in the Bay Area. The L/D series are part of SUSV strategies to turn ideas/research into action.

To learn more about College Savings Circles email

Adelene Ramos

.

Step Up Silicon Valley Learning and Development Series:
"Poverty, Inequality, and Trends
in the Labor Market"
Presented by Prof. Hilary Hoynes from the UC Berkeley

Moderated by Prof. Bill Sundstrom, Santa Clara University
When:
Thursday, May 7, 2015
Where:
Wiegand Room, Vari Hall, Santa Clara University
RSVP:
Email
aramos@s
tepupsv.org
by May 5
Professor Hoynes, one of the world's top authorities on poverty, inequality, and public policy, will explore how changes in the labor market have affected low-income workers and families. She will start by laying out the facts about trends in poverty and inequality in the United States, and then explore the extent to which those trends are tied to changes in the labor market, in particular the skill premium and the lack of wage gains for low skill workers. The talk ends with a discussion of what policy and the social safety net can do in the face of these changes.
About Professor Hoynes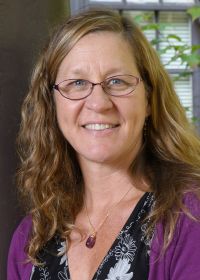 Hilary Hoynes is a Professor of Public Policy and Economics at UC Berkeley and holds the Haas Distinguished Chair in Economic Disparities. She is the co-editor of the leading journal in economics, American Economic Review. Hoynes specializes in the study of poverty and inequality and the effects of government policies on low income families. Hoynes received her undergraduate degree from Colby College and her PhD from Stanford University in 1992. In addition to her faculty appointment, Hoynes has research affiliations at the National Bureau of Economic Research, the UC Davis Center for Poverty Research and the Institute for Fiscal Studies. Recently she sat on the National Advisory Committee of the Robert Wood Johnson Foundation Scholars in Health Policy Research Program and the Advisory Committee for the National Science Foundation, Directorate for the Social, Behavioral, and Economic Sciences.
About Step Up's Learning and Development Series
The Learning and Development Series is a part of Step Up Silicon Valley's effort to deepen dialogue on specific community issues and creating innovative solutions. We seek to engage our network through workshops that feature guest speakers who are experts in their fields. The L&D Series is sponsored by the
Leavey School of Business
, Santa Clara University.
To learn more about Step Up's Learning and Development Series email
Adelene Ramos
.

Do You Have a Business Idea That Will Contribute to California's Economic Growth? Apply for the California Program for Entrepreneurship!

The California Program for Entrepreneurship (CAPE) is an initiative of the Leavey School of Business at Santa Clara University. CAPE provides education and mentoring to emerging entrepreneurs to help them develop and implement business plans that will contribute to the growth and well-being of the California economy. The program takes place June-November, 2015. Application deadline is May 31, 2015.

The focus is on entrepreneurs who will start and build businesses that contribute to the economic growth of California. Candidates are selected based on their potential for success, development stage of their business idea, experience and potential contribution to our community and the California economy.

The CAPE curriculum is designed to remove the barriers facing emerging entrepreneurs. Participants develop specific functional expertise in marketing, finance, and operations as well as skills in organizational dynamics, strategic management and communication. At the end of the coursework, participants prepare a business plan pitch for a competition to be reviewed by a panel judges including venture capitalists and angel investors with $5,000 awarded to the best presentation.

To apply, visit

http://bit.ly/SCUCAPE2015

.


The Next America:
Population 2043

When:
Thursday, April 30, 2015
​10:00 am - 12:00 pm

Where:
The Tech Museum of Innovation,
201 South Market Street, San Jose, CA 95113

Join National Journal for a town hall convening the nation's key opinion leaders for a robust discussion about immigration in the Golden State.
Free Financial Education Workshop - "Money Management and Credit"

When:
Wednesday, May 20, 2015
​6:00 pm – 7:30 pm

Where:
Catholic Charities, 2625 Zanker Road, San Jose, CA 95134

Learn how to:
- Manage bank accounts
- Create/maintain a monthly budget
- Save money
- Establish, build, and maintain a good credit score
Community Action Poverty Simulations

April 25, 2015 – The River Church, San Jose

May 17, 2015 – St. Joseph Elementary School, Mountain View

If you would like to sponsor, host, or attend a poverty simulation, please contact
Adelene Ramos
.
Step Up CAN (Collaboration - Advocacy - Network);
formerly known as 1000 OOP

Next meeting: May 15

The 1,000 OOP network meets monthly to discuss new ideas and share successes, challenges, and opportunities.

Contact
Adelene Ramos
to learn more about our initiative.
Step Up Silicon Valley Core Team Meeting

Next meeting: June 25

The SUSV core team meets on a monthly basis in order to build and strengthen relationships, identify community needs and strives to work with diverse leaders and the community-at-large to cut poverty and build the capacity to bring about needed systemic change.

Contact
Adelene Ramos
to learn more.
---



About Us
Step Up Silicon Valley is a social innovation network focused on reducing poverty in Santa Clara County through convening, advocating for policy changes, and incubating innovative solutions to help people move out of poverty. We achieve this by working closely with representatives from various organizations and community members to coordinate breakthrough systems change that allow us to holistically create a thriving community in which none are too poor to give or too wealthy to be in need, and where everyone has access to affordable health care, sufficient nutritious food, decent affordable housing, meaningful educational and career opportunities, and reliable income that meets their basic financial needs. Learn more at www.stepupsv.org.

Our Vision and Mission
Our vision is to reduce poverty and increase economic opportunities in Santa Clara County. The mission of StepUp Silicon Valley is to achieve this vision by transforming community awareness and generating the political will to create systems change that will enable individuals and families to step up and out of poverty in Santa Clara County.


Learn about our steps forward:

2014 Annual Report - Step Up Community Update 2014

Step Up Pay for Success - Idea to Action Document

Join our mailing list, visit our website, or find us on social media.