Can You Survive on a $2000 per Month Income with Two Children and a Spouse in Silicon Valley?
Well, this is a reality for the many people in our community who can't make ends meet no matter how hard they work.
---
Silicon Valley Social Venture Fund (SV2)
Cordially Invites You to a
Community Action Poverty Simulation

Sunday, May 17, 2015 from 1:30 - 4:30 pm.
When:
Sunday, May 17, 2015, 1:30 - 4:30 pm
Where:
St. Joseph Catholic School
1120 Miramonte Avenue
Mountain View, CA 94040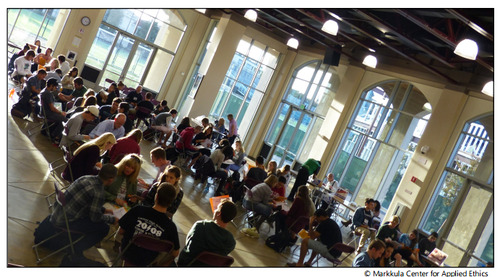 Raising awareness about local poverty is one of the three strategic areas of Step Up Silicon Valley (SUSV), the movement to cut poverty in Santa Clara County.
In Silicon Valley, one of the richest regions in the world, 18 percent of the population can't make ends meet. The purpose of the SUSV Community Action Poverty Simulation (CAPS) is multifaceted: to create awareness, to inform, to engage community and to call to action.
During the poverty simulation participants role play the day-to-day realities of those living in poverty. During the simulation, participants role-play the lives of low-income families, from single parents trying to care for their children to senior citizens trying to maintain their self-sufficiency on Social Security. The task of each family is to provide food, shelter, and other basic necessities during the simulation while interacting with various community resources staffed by low-income volunteers.
---
Advocacy Alert - AB 718!
AB 718, which would prohibit local governments from ticketing people for sleeping in their cars (if their cars are otherwise legally parked) is going to the Assembly Local Government Committee
tomorrow

, May 13, 2015
. We understand that Assemblymember Rich Gordon is expected to be the swing vote.

If you and/or your organization is able to contact Assemblymember Gordon's office today to let them know you support the bill, feel free to download and use this support letter template.
Please submit your letter or contact Assemblymember Rich Gordon today at the locations below.


Capitol Office:
State Capitol
P.O. Box 942849
Sacramento, CA 94249-0024
Tel: (916) 319-2024
Fax: (916) 319-2124

District Office:
5050 El Camino Real
Suite 117
Los Altos, CA 94022
Tel: (650) 691-2121
Fax: (650) 691-2120


For questions, please contact Melissa A. Morris, Law Foundation of Silicon Valley at melissam@lawfoundation.org.
---
Don't Miss Out!
Free Financial Education Workshops
Offered by Catholic Charities of Santa Clara County
Thursday, May 21, 10 am - Noon


Money Management and Budgeting



Thursday, May 28, 5 pm - 7 pm


Money Management and Budgeting



Thursday, June 4, 6 pm - 8 pm


Open on topic*



Thursday, June 11, 6 pm - 8 pm


Open on topic*



Thursday, June 18, 6 pm - 8 pm


Open on topic*
*Open topic workshops can be customized for your needs. Topics can include:
Money Management and Budgeting

Maintaining and Building Good Credit

Credit Cards

Identity Theft

Location: 2625 Zanker Road, San Jose, CA 95134


---


Rise

Together

Invites You to

"Poverty to Prosperity: The Power of 9"
A Regional Conference
Where:
David Brower Center, Berkeley, CA
Limited seats available for Step Up Silicon Valley network!
Sign-up by May 15:
Email
kmooney@uwba.org
The conference will be an opportunity to connect with like-minded individuals from the public, private, non-profit, and philanthropic sectors to discuss interventions and opportunities for cross-sector and multi-county partnerships to combat poverty in the Bay Area. The conference program includes a welcome/framing session, keynote speaker, policy panel, breakout sessions focused on initiatives and programs in the areas of Basic Needs, Education and Jobs/Economy, and testimonials of local residents participating in
Rise
Together
-funded community engagement training.
---

About Step Up Silicon Valley
Step Up Silicon Valley is a social innovation network. Our goal is to reduce poverty and increase economic opportunity in Santa Clara County. Led by the county''s nonprofit, public, and private sector leaders, we seek to nurture cross-sector conversations, collaborations, and solutions in service of disrupting the systems that cause and perpetuate poverty. Learn more at
www.stepupsv.org
.