On behalf of all of us at Step Up Silicon Valley, Catholic Charities of SCC, we thank each of those who have contributed to the success of our crowdfunding campaign to benefit the Nonprofit Data Integration Project. With your generosity, we have surpassed our goal!
The innovated social change initiatives that we incubate at Step Up Silicon Valley are possible because of the support we receive from you, the community.

Your funds for this project will make a difference on how members of the 1000 Out of Poverty team collectively serve their clients on their pathways to gaining self-sufficiency.

We will continue to share updates on the progress of the project. Please read below for our most recent update.

Thank you,
Almaz Negash

Step Up Hires ThingLogix for Nonprofit Data Integration Development
We are happy to announce that Step Up Silicon Valley has hired ThingLogix of San Francisco to develop Nonprofit Data Integration, thanks to seed funding from Cisco Systems. With this next step, we have launched into our initial phases of technical development for the Nonprofit Data Integration Project, working closely with the 1000 Out of Poverty and ThingLogix team.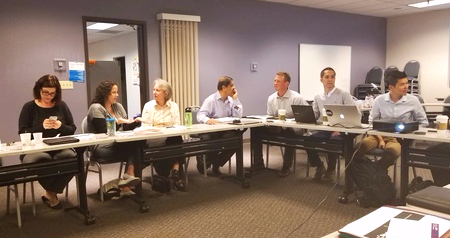 ThingLogix offers data integration technology that will make client data readily available through a shared hub for partner agencies. This, in turn, will reduce the amount of time that case managers spend on paperwork, while increasing the time they can devote to creating pathways to economic opportunity for their clients. In addition to creating a more efficient case management process and increasing the volume of client engagement, the introduction of this technology reduces the incidence of clients needing to constantly retell their stories, thereby risking more mental trauma.

Click the below link for the Press Release.


Client and Community Engagement Training – Open Registration & Location Change

As an integral part of our convening strategy, we continue to engage our community members to brainstorm additional initiatives to reduce poverty. With that, we are hosting our 2nd and 3rd case manager training series through the 2017 and 2018 year.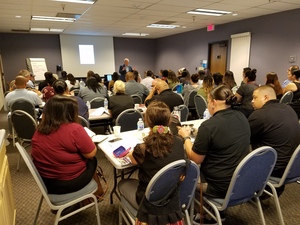 These two training sessions focus on client engagement that build on each other to provide case managers the tools they need to effectively serve clients. We encourage those of you who work directly with clients to make an effort to attend, learn new skills, share ideas, and build a working relationship with other colleagues.





We are happy to announce that we have expanded to a new location for our upcoming December 5th training to accommodate an additional 45 participants. Registration is now open on the link below. Please share the registration link with any colleagues who still might be interested in attending.
Tuesday, December 5th, 2017 | County of Santa Clara, 333 W Julian Street, First Floor. San Jose, CA 95110

Tuesday, February 28th, 2018 | Location To Be Decided
What: The two remaining trainings include: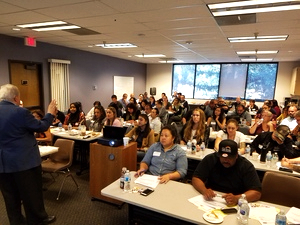 Who Should Attend: Case Managers, Client Care Specialists, Community Outreach Workers, Employment Specialists, Job Developers, Service Providers, Social Workers, Counselors, Teachers, Resource Coordinators, Crisis Intervention Staff, Workforce Program Staff and others that want to help people the people they serve.



Fee: $50 for single training | Fee includes: Light breakfast, beverages and lunch.

For more information about the series and disability accommodations, please contact Angela Silveira at asilveira@stepupsv.org.




California Poverty Rate Decreases, yet 7.5 Million Residents Are Still In Poverty

According to the California Poverty Measure (CPM), there has been a continuing decline in poverty in the state of California since 2011, resulting in a 2.3% decrease.

While this may seem hopeful, deep poverty still remains high. 2.1 million Californians lived in deep poverty in 2015, meaning their income was less than half of the poverty threshold of $37,000 for a family of four (in San Francisco).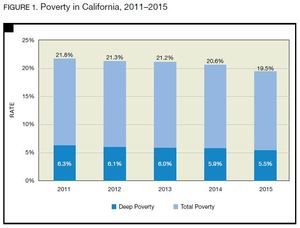 Click below to view the full fact sheet from the Public Policy Institute of California and the Stanford Center on Poverty and Inequality.


The Highest Rate of Child Poverty in America is in California — But You Can Make a Difference.
California has the highest rate of child poverty in America — but you can make a difference. We all use our heads and our hearts to make decisions in life.

Through the End Child Poverty in California initiative, we can use these decisions to make a positive impact on California's children.

Click below to be a part of the change.



Thank You to Our Sponsors!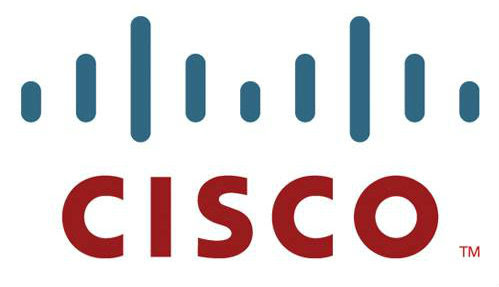 Michael & Mary Ellen Fox

Marcos & Denise Herrera

Agnieszka Winkler & Art Lund

Melissa Greer









Get Social with us!




November Topics:
---
We Surpassed our Goal - Thank You!

Nonprofit Data Integration Updates - Press Release

Client and Community Engagement Training - Open Registration

California Poverty Rate Decreases - 7.5 Million Still in Poverty
Community Announcements
---
Free Citizen Orientation Workshops
These FREE Workshops will be conducted in English (and/or Spanish if all participants are Spanish speakers, but please bring an interpreter if possible).

FREE citizenship application fee waiver assessment will also be provided. Referral to a citizenship consultation with an Immigration Attorney or BIA Accredited Representative for $50.00

Date:
Thursday November 9 at 2:00 pm
Thursday, November 16 at 2:00 pm Thursday, December 7 at 2:00 pm
Thursday, December 14 at 2:00 pm

Location:
Catholic Charities of Santa Clara County, 2625 Zanker Road, San Jose CA 95134

Space is limited. First come first serve.

For more information, click the flyers below.

English Flyer
Spanish Flyer

Trades Orientation Program Accepting 2018 Classes
Sign up for a no cost, nationally certificated, 130-hour career training program to learn what it takes to become a working apprentice in the trade of your choice. Youth (18+), women, veterans, and under-represented minorities are highly encouraged to apply at www.wpusa.org/top.

Applications will be accepted from Dec. 5th through Dec. 14th, 2017.

Applications must be completed in person at an orientation session.

Download the full flyer here.

To reserve a spot for orientation, interested applicants can visit www.wpusa.org/top or call 408-809-2113.

If you have questions or are interested in a presentation to your community, please contact Louise Auerhahn at lauerhahn@wpusa.org.

Community Action Poverty Simulation (CAPS)
Each year, Step Up Silicon Valley engages close to 1,000 people in Santa Clara County to the day to day challenges of low income families through CAPS.


The Community Action Poverty Simulation is an engagement tool that raises awareness and deepens understanding of how poverty affects families and individuals in our community.

If you would like more information on our Simulations, please contact Angela Silveira or visit our website.

1,000 Out of Poverty Meetings
Next meeting: Friday, November 17, 2017

The 1,000 Out of Poverty team meets monthly to co-create community-based solutions that provide people access to jobs, healthcare, housing, food, and education.

Contact Angela Silveira to learn more about our initiative.

Catholic Charities' Continuum of Care – Senior Homecare Services
Day Break Cares, an initiative of Catholic Charities of Santa Clara County, offers services to find compassionate care for aging loved ones in their own homes, to improve and enrich vital, independent living, to promote dignity and self-respect, and to encourage participation in community life.
Non-medical services such as Homecare, Senior Activity Centers, and Behavioral Health Care are provided.
To learn more about these services and also receive connections, counseling, and advice for seniors and their families, call their
Elder Care Line
at (408) 831-0441.