Compromise for the Common Good!
We are happy to announce the release of a new tax proposal by the City of San Jose to boost revenue for city services, thereby increasing funds for public safety, infrastructure, and public works. An alternative ordinance, which had been initially incubated by Step Up Silicon Valley's Learning & Development Series, sought to modernize San Jose's outdated business tax.
Step Up Silicon Valley sparks discussion to ignite systems change. We are a platform for community members to ideate and incubate innovative models and solutions, such as
San Joseans for a World-Class City,
that disrupt ineffective systems to helping individuals move out of poverty. This latest compromise, unseen in the last 30 years, further demonstrates the ability of Step Up Silicon Valley as a community entity to bring together individuals from the business, government, education, non-profit sectors to solve complex social problems.
We congratulate the City of San Jose and San Joseans for a World-Class City initiative for their combined efforts towards the common good of our community. If approved by voters in November, the new tax would raise an estimated $13 million annually dedicated to city services, with the increase in taxes to be mostly paid by mid and large businesses.
Click below to read more on the landmark compromise to advance the City of San Jose.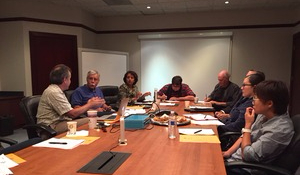 The Background of San Joseans for a World-Class City

The incubation of San Joseans for a World-Class City began in February 2015, when Step Up Silicon Valley invited Professor Scott Myers-Lipton to present and lead a discussion on his latest publication, Ending Extreme Inequality. This discussion on an Economic Bill of Rights garnered the interest of over 30 community members in attendance. Step Up then convened a follow-up meeting on April 20, 2015 to create a campaign based on the first two rights—the right to a job and living wage
—
through public works.

In October of 2015, the team raised funds to conduct polling. The polling that took place in November revealed an overwhelming support from the community and helped move the project forward into 2016.

We thank Professor Myers-Lipton for his leadership and commitment.

The Community Platform to Ignite Systems Change
Step Up Silicon Valley continues to be the platform to ignite discussion in the community for systems change. To date, Step Up has incubated the following programs by collaborating with multiple organizations: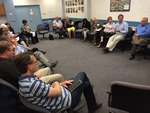 1,000 Out of Poverty
Franklin McKinley Children's Initiative
Franklin McKinley Women's Initiative
College Savings Circle
San Joseans for a World-Class City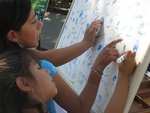 Click below to learn more about Step Up Silicon Valley's systems change incubation.


North County Cities are also Considering Business Tax Initiatives.
The City of San Jose is not the only city that seems to be considering a change to its business tax.
City officials from Palo Alto, Mountain View, Sunnyvale and Cupertino have been discussing the possibility of introducing a ballot measure that would establish a new employee-based business tax. All revenue from the proposed tax would go toward local transportation needs.
Click below to read more about why these cities are also considering a Tax Initiative.







Get Social with us!




Community Announcements
---
3rd Annual Catholic Charities Spring Forward 5k/10k

Geriatric Home Aide Certification
Earn a Certificate from Foothill College when you complete 104 hours of training. All classes are FREE and no residency documentation is required.

Date: April 11 – June 8, 2016; Monday, Tuesday, Wednesday Time: 4:00 p.m. – 8:00 p.m.
Location: Catholic Charities of Santa Clara County

For more information, download the flyer here

Reserve your seat by contacting Irmela Vrankic or call (408) 325-5171

Wake Up to Aging: Aging, Caregiving

Date: April 21, 2016 Time: 9:30-11:30am Location: Sunnyvale Community Center

For more information on how you can attend, contact call: 408-831-0440

Community Action Poverty Simulations
Experience 1 Month of Poverty in 2 Hours.

The Community Action Poverty Simulation (CAPS) immerses us in the harsh reality of a Silicon Valley that grows in disparity as much as prosperity.

If you would like more information on our Simulations, please contact Angela Silveira.

1,000 Out of Poverty Meetings
Next meeting: Friday, April 22, 2016

The 1,000 Out of Poverty team meets monthly to co-create community-based solutions that provide people access to jobs, healthcare, housing, food, and education.

Contact Angela Silveira to learn more about our initiative.