WORK PARTY AND OLWC EVENT CALENDAR

October 14 - 8-9:30am
Oswego Lake Watershed Council Meeting
Gubanc's Pub
16008 Boones Ferry Rd.
Public welcome!
October 29 - 9am-Noon
OLWC Invasive Removal Work Party - Boutwell Creek
910 Fairway Road
Contact: Adra Lobdell
November 11- 8-9:30am
Oswego Lake Watershed Council Meeting
Gubanc's Pub
16008 Boones Ferry Rd.
Public welcome!
November 19 - 9am - Noon
Invasive Removal Work Party - Hallinan Creek
Intersection of Laurel Street and O'Brien Street
Contact: Adra Lobdell

December 9 - 8-9:30am
Oswego Lake Watershed Council Meeting
Gubanc's Pub
16008 Boones Ferry Rd.
Public welcome!
For all work parties, please wear long pants and closed-toe shoes. OLWC will provide tools, gloves, and snacks. We work rain or shine so come prepared for the weather!
Lake Oswego
Watershed Council
P.O. Box 1015
Lake Oswego, OR 97034
www.oswegowatershed.org

State of the Watershed Recap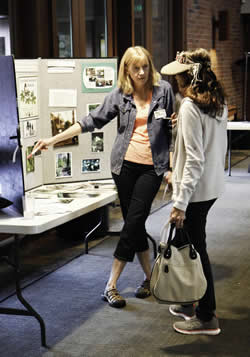 On September 14, OLWC hosted its inaugural State of the Watershed Event at the Mountain Park Club House. We were joined by many stakeholders and community members to celebrate recent restoration projects and collaborative efforts in the Oswego Lake watershed. The event showcased an exciting array of activities including a field trip to an active project site, table presentations from community partners, a presentation by OLWC staff and board members, delicious refreshments, and raffle giveaways!
OLWC would like to thank all of the attendees for your interest and support in our organization's work. We also would like to thank the following partners who helped make the event possible: Audubon Society of Portland, Backyard Bird Shop, Backyard Habitats, City of Lake Oswego, Clackamas Soil and Water Conservation District, Lake Oswego Corporation, Merrell, Mountain Park Homeowners Association, and New Seasons Market.
OLWC was delighted that our first State of the Watershed was a huge success. Did you miss this year's event? We plan on making it an annual affair so we hope you can join us in 2017!
All photos by G.T. Ray
---
First Work Party of the Fall a Success!
OLWC kicked off its fall work party season at Springbrook Creek on September 24. This work party was part of the annual SOLVE Beach and Riverside Cleanup, a statewide volunteer effort to improve Oregon's waterways. OLWC hosted a youth group from Lake Grove Presbyterian Church, which was the group's second time volunteering at our Springbrook site. The volunteers enjoyed revisiting some of the native species they planted last spring and seeing how the site had changed since their last visit.
OLWC is expanding the Springbrook site this coming year, so our volunteers focused on removing a buffer of invasives from around the established native plants in the new area. This is an important first step, as it reduces stress to the native plants and also prepares the site for herbicide application later this Fall. In total, the group removed 1,000 square feet of invasive ivy – way to go!
Want to help restore Springbrook Creek or our other sites? We have work parties scheduled in October and November - we would love to have you join us! See our Event Calendar to the left for more details.
---
Partner Events
OLWC greatly appreciates the many Friends organizations in our watershed. Please join these great restoration efforts to improve our city parks!

Friends of Hallinan Heights Woods
October 19 - Quarterly Forum, 6-8pm
Santiam Room at the Pallisades Grade School
November 6 - Planting Work Party, 1-3pm
December 4 - Planting Work Party, 1-3pm
Questions? Contact FHHW Co-Chairs Jim & Barbara Fisher, 503-636-3153, lanefisher@comcast.net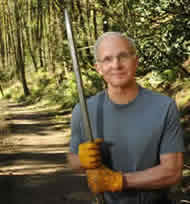 Friends of Iron Mountain
October 9 - Invasive Removal Work Party 1-3pm
Meet at Brookside Parking Lot
November 13 - Invasive Removal Work Party, 1-3pm,
Meet at Brookside Parking Lot
Questions? Contact FOIM Chair Mike Buck (seen working at right) at m.bucks@comcast.net

October 22 - Planting Work Party, 9-11am
Meet at Uplands Elementary
Questions? Contact Volunteer Coordinator Tom Bland at tom.bland@springbrookpark.org

---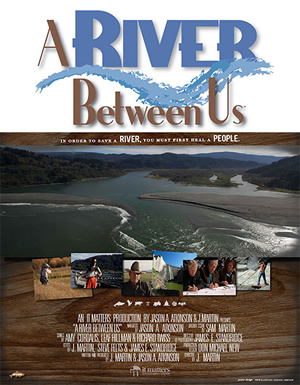 Upcoming Community Events
Lake Oswego Eco-Film Festival
Don't miss the second annual Lake Oswego Eco-Film Festival on October 16! Sponsored by the Lake Oswego Sustainability Network, this FREE film festival will feature several films throughout the day at Lake City Theater & Cafe (106 N State St). Check online for the updated film schedule.
The feature film at 6:30pm will be A River Between Us, which documents the largest river restoration project in American history. Nearly three hundred miles in length, flowing from southern Oregon to northern California, the vast communities of the Klamath River have been feuding over its water for generations, and as a result, bad blood has polluted their river and their relationships equally. The director of the film will be present at the showing and give current updates on the Klamath Basin.