Dear Oswego Lake Watershed Neighbors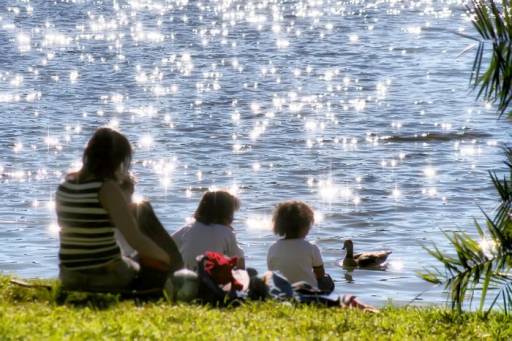 The sun is shining and the temperatures are rising! Red elderberries have flowered and are developing their red fruit, Canada geese are guarding their quickly growing fuzzy goslings, and the Oswego Lake Watershed Council (OLWC) is busy making plans for the year ahead. Read on for OLWC updates and events, watershed-friendly gardening tips, and more.
In this Issue
Featured Stories
---
News from the Council: Announcements and Updates on Council Projects
Updated OLWC Web site is live! Check out the Council's new and improved website at www.oswegowatershed.org for details on Council projects, Board member information, Oswego Lake watershed information and history, resources for residents, ways to get involved, and more!
OLWC multi-year strategic plan adopted! The OLWC Board has drafted and adopted a strategic plan to guide Council activities through 2015. The strategic plan outlines objectives, strategies, time frames and evaluation measures as they relate to OLWC goals for organizational sustainability, ecological integrity of the watershed, and outreach and education. The plan is available for review on the Library page on the Council website. CLICK HERE to open it directly.

5th and 6th Grade Watershed Programs in action




5th Grade: OLWC and Friends of Tryon Creek State Park have developed a watershed field study program for all Lake Oswego School District fifth grade students. The program will take place in Tryon Creek State Park and teach students about watershed function, particularly in areas not heavily impacted by urban development. Subject matter includes the function of plants and soils in maintaining clean water in streams, rivers and lakes.
6th Grade: OLWC, Lake Oswego School District, and Portland State University Center for Science Education have developed a place-based watershed engineering and design curriculum for the 6th grade science classes at both Lakeridge and Lake Oswego Junior High Schools. This program builds upon the 5th grade experience by comparing undeveloped watersheds with urban/suburban watersheds. Students use their school campuses to examine effects of the built environment on watershed function. Students then use engineering concepts to design solutions to improve watershed health on their campus. OLWC and City of Lake Oswego support this curriculum by supplying local learning materials including maps, rainfall data, and a 6th grade Watershed Design Manual adapted from the city's materials.
Back to the top...
---
Get Involved! Upcoming Opportunities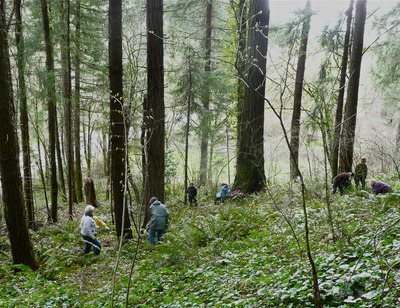 Friends of Iron Mountain "1000 Trees" Ivy Removal Events
Organizer Mike Buck reports that 179 trees were freed during the first four events (June 9, 20, 23 and 27), and that they've added 2 more events to take advantage of the still-moist soil:
Tuesday, July 2 - 1pm to 3pm
Sunday, July 7 - 1pm to 3pm
Help save trees from invasive English ivy in Iron Mountain Park. Meet in the gravel parking lot in front of the staging area on Iron Mtn. Blvd, ust east of the Hunt Club. Bring your own ivy removal tools: small saw blades, hand pruners or shears, snacks and water. Wear gloves and work shoes. Poison oak may be encountered so take precautions to avoid contact and dress accordingly. Contact Mike Buck at m.bucks@comcast.net, 503-914-8607
Stewardship Saturdays at Tryon Creek Park
Every Saturday from 9am to 12pm


Pull together to remove invasive English ivy and to protect our forest. Fourth Saturdays may b

e trail maintenance. Meet at Tryon Creek Park Nature Center 11321 SW Terwilliger Blvd Portland, OR 97219. Registration is not required. Please carpool if possible. Gloves and a light snack provided, but please bring your own water bottle. Please dress for the weather as we work rain or shine. Groups of 5 or more – Please contact Sarah Kreisman at sarah@tryonfriends.org




NOTE TO PARENTS/GUARDIANS: All minors MUST be checked in at the Nature Center. All minors 14 and under MUST be accompanied by an adult.
Monthly Oswego Lake watershed tours


OLWC

offers monthly watershed tours to introduce area residents to the Oswego Lake Watershed and basic watershed science and function. The guided trip begins at one of the headwaters of Springbrook Creek and follows the creek to Oswego Lake with visits at several key areas along the creek. The tour ends at Oswego Creek as water leaves the lake and makes its way to the Willamette River. Transportation is in individual vehicles and carpooling for the tours is arranged at the beginning of the tour. Contact Stephanie Wagner at

stephanie@oswegowatershed.org for details and scheduling information.
Ongoing watershed programs
OLWC offers 30-minute programs about the Oswego Lake watershed. The programs are based on a virtual tour of the watershed and cover the basic science of watershed function. Contact Stephanie Wagner at stephanie@oswegowatershed.org for more information.

Watershed education volunteers needed!



Friends of Springbrook Park events
- Trail Rebuilding (August, date to be determined)
- English Ivy Removal Project (October, date to be determined)
Learn more on their Web site www.SpringbrookPark.org
Back to the top...
---
Summer Gardening and Maintenance Tips for a Healthy Watershed
Most street storm drains in the Oswego Lake watershed head directly to local creeks. Pollutants like oil and gasoline from cars, pesticides and fertilizers and pet waste collect on streets, driveways and lawns in larger amounts when the weather is dry, and wash into our waterways all at once in the next rain event. This is called the "first flush" effect.
You can help reduce pollution running off into our rivers this summer, conserve drinking water, and help wildlife by taking the following actions at home.
To conserve water and reduce plant diseases and slugs, irrigate your lawn, landscape and veggie beds in the early morning.

Lawns only need 1 inch of water per week, veggie beds: ½ inch two or three times/wk. Use a rain gauge or tuna can to measure. Or, let your lawn go dormant! It will come back green with the fall rains.

Landscapes with native and drought-tolerant plants require little to no water after the first two summers of deep, infrequent watering. Many natives are naturally resistant to local pests and diseases, reducing your need for garden chemicals. For help selecting native plants, see Clean Water Service's Native Plant Finder at: www.cleanwaterservices.org/Residents/JoinTheCycle/NativePlantFinder/
Certify your yard as a backyard wildlife habitat – for more details, visit: www.tryonfriends.org/protect/backyard-habitat/
Before using a pesticide, identify the pest and try physical or biological remedies. For help identifying pests and diseases, contact your local Master Gardener group at http://metromastergardeners.org/index.php. See Metro's Natural Gardening Handbook and Grow Smart Grow Safe guide for information about natural remedies and pesticide toxicity www.oregonmetro.gov/index.cfm/go/by.web/id=24309
Try Clean Water Grow – the brand new, locally manufactured, environmentally responsible multi-purpose fertilizer. More at: www.cleanwatergrow.com/
Vehicle and Outdoor Maintenance:
Wash your car or lawn mower over the grass or at a car-wash to keep soapy water from reaching the storm drain

Sweep your driveway instead of washing it

Sweep up vehicle fluid spills and dispose of them in the trash can
For more ways to help improve water quality and wildlife habitat in the Oswego Lake watershed, visit the OLWC website at: www.oswegowatershed.org
Back to the top...
---
Featured Articles: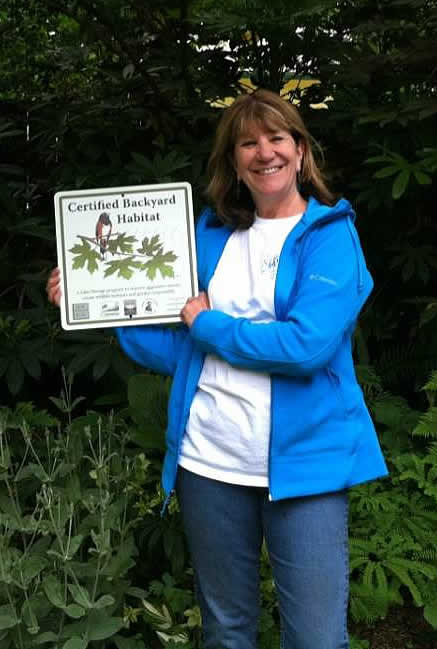 Backyard Habitat Program in Lake Oswego
To date, 115 properties are enrolled in the Backyard Habitat Certification Program in Lake Oswego, improving habitat on more than 30 acres.

The Backyard Habitat Certification Program (BHCP) provides on-site habitat assessments and start-up materials to property owners with an acre or less, to increase local native wildlife habitat and improve water quality starting in their own back yards. The program was launched in Lake Oswego in 2011 through a partnership between the Audubon Society, Columbia Land Trust, Friends of Tryon Creek, and the City of Lake Oswego.

The BHCP provides three levels of habitat "certification": silver, gold, and platinum. At your site assessment, a BHCP Technician will provide you with information about invasive weed removal, naturescaping with native plants, stormwater management (including pesticide reduction), and wildlife stewardship. Participation in the program includes the initial site visit and a written Site Report with specific habitat recommendations for your property to help you reach your certification goals. Participants are also eligible to receive coupons and access to discounted native plants, yard signs to show off your efforts once certification is complete, and continued support from BHCP technicians. CLICK HERE to sign up for a visit.
Locally-produced Environmentally-friendly, recycled fertilizer
Clean Water Grow™ All-Purpose Plant Food is perfectly formulated for flowers, shrubs, fruits and vegetables. The slow-release formula of phosphorus, nitrogen, and magnesium (14-15-11) provides a steady supply of vital plant nutrients for up to six months. The unique slow-release blend helps to reduces fertilizer leaching and protect local waterways by gently releasing the needed nutrients as the plants use them. It is produced from recycled, local nutrients from Clean Water Services' treatment facilities in Washington County. According to CWS, "Slow release" means nutrients will help our plants grow in our yard and not grow algae in the river – making for happy gardeners and healthy fish. CLICK HERE to learn where you can buy a bag.
---
Please visit the OLWC Web site at www.oswegowatershed.org for more information about the watershed, the Council and more ways to get involved.
Thanks for all you do to improve local water quality and wildlife habitat. Have a safe and happy summer!

Sincerely,
Your friends at the Oswego Lake Watershed Council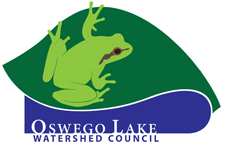 News from the Council
Announcements and updates on current projects.

Get involved!
Upcoming Events and opportunities

Summer tips for a healthy watershed
Summer gardening and home maintenance tips for a healthy watershed