WORK PARTY AND OLWC EVENT CALENDAR

November 13 - 8-9:30am
Oswego Lake Watershed Council Meeting
Gubanc's Pub
16008 Boones Ferry Rd.
Public welcome!
November 15 - 1-3pm
Friends of Iron Mountain Planting Work Party
Brookside trailhead
West side of
Iron Mountain Park
Contact: Michael Buck

November 21 - 10-1pm OLWC Planting Work Party at Hallinan Creek
1199 Yates Street
Contact: Adra Lobdell
December 6 - 1-4pm
OLWC Invasive Removal Work Party
at Springbrook Creek
Hope Community Church 14790 Boones Ferry Road
A special holiday work party with treats and hot cocoa!
Contact: Adra Lobdell
December 11 - 8-9:30am
Oswego Lake Watershed Council Meeting
Gubanc's Pub
16008 Boones Ferry Rd.
Public welcome!
For all work parties, please wear long pants and closed-toe shoes. OLWC will provide tools, gloves, and snacks. We work rain or shine so come prepared for the weather!
Lake Oswego
Watershed Council
P.O. Box 1015
Lake Oswego, OR 97034
www.oswegowatershed.org
Our volunteers have been busy...
News from the Council: Announcements and Updates on Council Projects
Our volunteers have been quite busy this past summer and fall working to restore our sites at Boutwell Creek, Hallinan Creek, and Springbrook Creek. Here are updates on each of the sites:
Boutwell Creek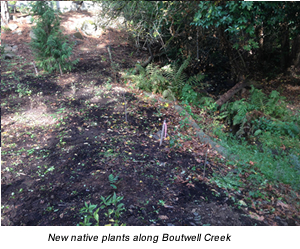 This is our smallest site located near the Lake Oswego Country Club. We hosted several work parties here this summer to remove all of the present invasives and replant with native species. We just planted another round of natives in late October, bringing the total to 80 native shrubs and trees planted. We also have planted dozens of native grass plugs along the banks. A special thank you to superstar volunteer Mike Buck (and OLWC Secretary) for painstakingly caring for these plants during a hot and dry summer – they wouldn't have survived without you!
Hallinan Creek
Volunteers removed approximately 35,000 square feet of invasive species from here this summer. We are amazed at how many native plants were uncovered during the removal - trillium, snowberry, and Oregon grape to name a few. We will be planting even more natives at this beautiful creekside site during our upcoming work party on Saturday, November 21 from 10am-1pm – we would love your help!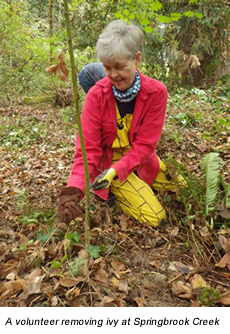 Springbrook Creek
This site sits next to Hope Community Church on Boones Ferry Road. Now that the rains have started and the ground has softened, we are starting to remove the invasive ivy and blackberry from this site. We hosted a work party on October 24 as part of the metro-wide No Ivy Day. Our volunteers removed 2,850 square feet of invasive ivy – way to go!
Did you miss this event? Join us in December for our next invasive removal work party at Springbrook Creek.
---
Meet our New Volunteer Coordinator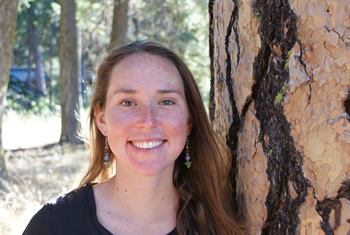 In August 2015, OLWC hired Adra Lobdell as our part-time Volunteer Coordinator. Originally from Florida, Adra has traveled the country working in a wide variety of fields including trail building, environmental education, habitat restoration, and organic farming. She holds a BA in English and environmental studies and a MS in environmental education.
Adra relocated to Portland in the summer of 2014 and started a yearlong AmeriCorps term as the Volunteer Coordinator for the Tryon Creek Watershed Council. At the end of her term, she was offered a unique position to continue working at Tryon Creek part-time while also coordinating restoration projects for OLWC. So far, Adra has loved the challenge of balancing her role at the two organizations and has found the shared staff position very effective in strengthening the partnership between both watershed councils.
---
Upcoming Community Events
LAKE OSWEGO SUSTAINABILITY NETWORK CELEBRATION
You are invited to join the Lake Oswego Sustainability Network as they celebrate sustainability and environmental initiatives in Lake Oswego. This is an exciting event involving guest speakers, exhibitions, networking, food, beverage, and celebrating our community. We hope you can join us!
WHEN: November 4, 5:30-8:00pm
WHERE: Holy Names Heritage Center at Mary's Woods
17425 Holy Names Dr, Lake Oswego, OR 97034
Speakers and exhibitions will include:
LOSD Superintendent Dr. Heather Beck will talk about how the schools are incorporating sustainability in a big way including incorporating sustainable building practices and clean energy into our facility upgrades.
City Manager Scott Lazenby will discuss the many sustainability initiatives at the city.
We will recognize the many organizations that have joined our network as partners
We will have exhibitors demonstrating new ideas for sustainable practices.
We will involve our audience as participants in creating a vision for how we would like to shape the future.  
LOCAL NATIVE PLANT SALE
Rainy season is planting season! It's that time of year to start thinking about what native plants you would like to add to your yard. If you are thinking about ordering plants, don't miss the Tryon Creek Watershed Council $2 Plant Sale! This one of the best deals in town and all proceeds support restoration work in Tryon Creek.
The sale is now open for pre-ordering online at tryoncreek.org/plantsale. They have around 150 species and you can ask for anything on the Portland Plant List. The plants will be mostly bare-root and available for pickup Feb 12-14 by appointment. Questions? E-mail coordinator@tryoncreek.org ;