WORK PARTY AND OLWC EVENT CALENDAR

January 15 - 8-9:30am
Oswego Lake Watershed Council Meeting
Gubanc's Pub
16008 Boones Ferry Rd.
Public welcome!

January 30 - 10am-1pm
Springbrook Creek Planting
Hope Community Church 14790 Boones Ferry Road
Contact: Adra Lobdell

February 12 - 8-9:30am
Oswego Lake Watershed Council Meeting
Gubanc's Pub
16008 Boones Ferry Rd.
Public welcome!

February 13 - 9-11am
Friends of Springbrook Creek Work Party
Springbrook City Park Contact: Jim Evans
(503-806-3803).

February 27 - 10am-1pm
Springbrook Creek
Work Party
Hope Community Church 14790 Boones Ferry Road
Contact: Adra Lobdell


For all work parties, please wear long pants and closed-toe shoes. OLWC will provide tools, gloves, and snacks. We work rain or shine so come prepared for the weather!
Lake Oswego
Watershed Council
P.O. Box 1015
Lake Oswego, OR 97034
www.oswegowatershed.org
Our volunteers have been busy...
News from the Council: Announcements and Updates on Council Projects
It has been a very wet winter so far! The recent precipitation has allowed OLWC volunteers to accomplish a lot of restoration this past November and December. The softer ground allowed for more efficient invasive species removal and the rain watered our newly installed native species. Here are more details about our recent volunteer accomplishments.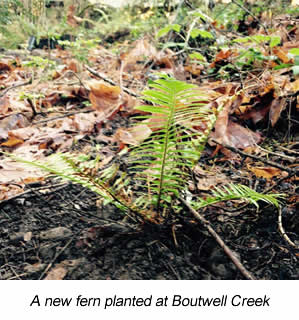 Boutwell Creek
In late December, OLWC Secretary Mike Buck and OLWC Coordinator Adra Lobdell planted 60 additional plants at the Boutwell Creek site, finishing out the plant order for the site. They also removed approximately 100 square feet of invasive ivy.
As we continue through this very wet winter, the additional native plants will help control erosion on the streambanks. Our work at Boutwell Creek is almost complete - we will do a maintenance ivy removal work party later in the spring!
Hallinan Creek
In partnership with SOLVE, OLWC hosted a planting work party at our Hallinan site as part of National Family Volunteer Day on November 21. We hosted 16 volunteers of all ages who installed 300 native plants and removed 1,500 square feet of invasive ivy. This site is almost complete with planting and invasive removal. We anticipate one more work party to spot remove ivy and fill in any plantings that have been affected by recent heavy rains.
Springbrook Creek
OLWC hosted two volunteer work parties at the Springbrook site last quarter. One work party was in partnership with Portland Parks and Rec as part of the metro-wide No Ivy Day. We also hosted an additional invasive removal work party on December 6. Between the two work parties, OWLC engaged 17 volunteers in removing 5,850 square feet of invasive ivy and blackberry.

Now that we have cleared a considerable amount of invasives, we are ready for the planting phase. Plants have been ordered and we need volunteers to help plant them! Join us on January 30 from 10am-1pm for our inaugural planting work party at the Springbrook site
---
OWEB Small Grants Awarded to OLWC
In December 2015, OLWC was awarded two small grants of $10,000 each from the Oregon Watershed Enhancement Board (OWEB). The grants will fund two projects with the Brighton Homeowners Association and the Mountain Park Homeowners Association, both located in Lake Oswego.
The Brighton HOA project will work to improve a bioswale in their communal greenspace so that it properly manages stormwater and provides wildlife habitat.
The Mountain Park HOA project will work to restore habitat and stormwater function in one of their greenspaces located in the headwaters of Springbrook Creek.
OLWC looks forward to assisting with both of these exciting projects for the 2015-17 grant cycle!
---
OLWC Chair Stephanie Wagner Awarded Unsung Hero Award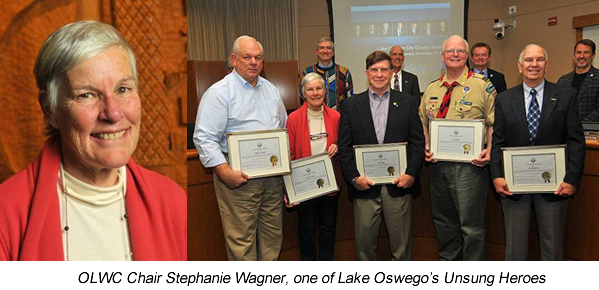 Our fabulous board chair Stephanie Wagner received the City of Lake Oswego's Unsung Hero Award on Monday, December 1, 2015. The goal of the Unsung Hero Award is to recognize individuals who have volunteered during the past year or over an extended period of time but who are not generally well known by the public for the good deeds they do. We cannot think of a more deserving recipient than Stephanie - we are proud to have you as our Board Chair!
From the Pamplin Media write-up on the 2015 Unsung Hero awards:
Stephanie has been called "the lady with the green heart" by colleague Mike Buck for her dedication to protecting and preserving Tryon Creek State Natural Area.

While volunteering with Friends of Tryon Creek, Wagner developed "Kids in Nature," a program designed to help parents of preschoolers engage their children in the wonders of nature. She developed a field trip program for schools that draws 5,000 students a year to the park, and forged a partnership with Portland State University in which Capstone students help with program development and implementation.

Wagner still serves on the Friends board and still teaches environmental education classes and workshops at PSU. In addition, she is a founding member and current chairwoman of the Oswego Lake Watershed Council and a longtime member of the Natural Resources Advisory Board.


"I believe the City of Lake Oswego has been one of her 'children,'" said Buck, who was honored as an Unsung Hero last year for his work with Friends of Iron Mountain. "We (owe) this 'volunteer mom' a big debt of thanks."