I wish you had a perfect pastor. A perfect pastor would know what to say when tragedy strikes.
In some ways, Baltimore is easier to think about. I believe that God gives us free will, the ability to choose what is not best for ourselves or for others. There is no surprise when people act in ways that reflect fear, resentment, anger, and powerlessness--whether police officers, the public, and those of us who watch from afar.
A perfect pastor might be able to offer easy answers and clear solutions.
Instead, I look for glimpses of God in Baltimore. I give thanks for the churches who responded to school closings not with fear but by opening their doors and providing care for children. I smiled when I saw the picture of Metropolitan United Methodist giving free breakfast and lunch. We know about that don't we, providing lunch for school children who would normally get a free lunch at school.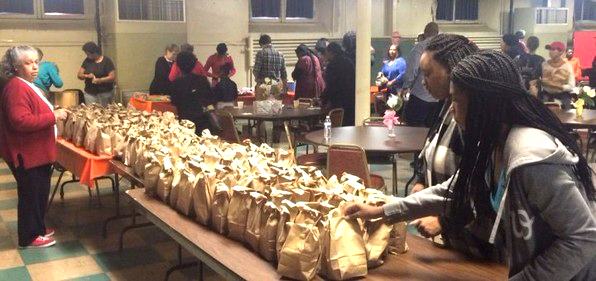 A place and a lunch bag doesn't solve every problem. It does, however, feel a bit like a much needed hug to the working parent counting on school to help them get through the day.
Jesus showed us how God works to bring true change. Jesus empties himself of being like God and becomes one of us (Philippians 2.) We are most like Christ when instead of thinking we are omniscient and know how to solve others' problems, we instead enter the world of those in pain.
This is part of why I am so proud of our church for being part of Family Promise and offering a Homework Club. In these two ministries, we serve others face-to-face. In Family Promise, we let go of our assumptions of who is homeless and share meals together. In the Homework Club, the teachers have invited children that need more help (mostly time) than the school system can provide. We empty ourselves of our personal priorities and are present to these children in the way that they need.
Scriptures also teach us that some of the tragedies we encounter are not caused by people abusing their free will. Blindness and other ailments are not caused by the sin of a person or of their parents (John 9.) When a tower fell in Siloam, killing 18, Jesus was clear this tragedy was not the fault of the victims (Luke 13.) Tragedy happens in a broken world.
The United Methodist Church is partnering with other denominations to bring relief in Nepal. Our part is focused on water purification needs. At Mount Carmel, we know about that too. In the last year, our children have raised money for water in Vacation Bible School, the Men's Ministries gave Barbecue money for water ministry, and the huge auction organized by the Transformers Sunday School class raised money for this. One of our Lenten Offerings was One Great Hour of Sharing, which covers the operating expenses for our relief organization. This allows 100% of contributions for Nepal to go directly to that relief effort.
We pray for people in Nepal, Baltimore and in other areas of tragedy, because we know that God's will is for life to flourish. If I were the perfect pastor, I would be able to explain why some suffer and others do not. I can only offer words of Jesus—that he is present when a cup of water is offered to the thirsty (Matthew 25:35.)
As you may know, I have been praying that God would send us the people no one else wants. Yesterday, I had one of my afternoon cravings for sugar, and was able to purchase some of the leftover Sweet Shop items. I joked that this was the answer to prayer, "God send us the Sweet Shop leftovers that no one else wants."
But the money from the Sweet Shop goes to ministries like Norcross Coop, Murphy Harpst Children's Home, and the Angel Tree gifts. You know: people whose circumstances could make them feel as though they are not wanted.
I wish you had a perfect pastor, someone who would know what to say and exactly what to do. Instead, I can only point to a perfect savior. On the cross, Jesus suffers with us. In tragedy, in our greatest pains, we know God with us. In the resurrection, God reveals that tragedy is never the end of God's story.
Thy kingdom come, thy will be done, on earth as it is in heaven.
I'll see you this Sunday,