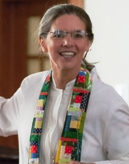 You never know what will happen in worship! This week we needed a country music star to help us tell the story of God's love.
Ever get a song in your head and can't stop singing it? As I read our scripture for Sunday, James 2, I was stuck in the Garth Brooks song I've Got Friends in Low Places. James writes to a church that welcomes the wealthy with the best seats but tells the poor to sit on the floor. In contrast, Jesus seemed to go out of his way to reach out to those in low places.
I wrote a verse about how Jesus was born in a low place, but then was stuck. It would take another 17 verses to describe all the people in low places in Jesus' story—tax collectors, children, women—and Jesus' words sending us to those who are thirsty, hungry, and homeless.
Thankfully, Barbara Cooper came to the rescue. She took these scribblings and ideas and quickly shaped them into a real song, with rhymes and everything! She has a gift for lyrics. Bob Jones added chords, and our country stars Ernie Richmond, Wynne Buran, and John Waller rocked out with this in worship.
So tag! Now it's your turn to get a song stuck in YOUR head. Maybe in low times, this will help you remember that Christ is near. And in all times, good and bad, may it remind you to follow Jesus and reach out to others.
Christ Has Friends in Low Places
Lyrics by Barbara Cooper and Cyndi McDonald
Blame it all on his love,
He came down from above,
A child born in Bethlehem.
No room in the inn,
A world full of sin,
God was the last one you thought you'd see here.
The shepherd's surprise,
The fear in their eyes,
When the angels said,
"Don't be afraid.
"Go worship the king,
A babe who will bring
Good news and great joy for all."
Chorus:
'Cause Christ has friends in low places,
Where temptations drown but the spirit chases our sins away,
And we are changed.
Christ shows up in surprising places,
Before we asked, he offered graces,
'Cause Christ has friends in low places.
On his daily walk,
Christ would always talk
To people the world ignored.
Lepers he would meet,
Women of the street,
Tax collectors and more.
"Let the children come.
It's not burdensome."
The disciples hadn't a clue.
Could it even be
Christ wants you and me
As part of God's kingdom too?
Chorus
When you meet the poor,
Don't take a detour,
But do what Jesus would do.
Offer something to eat,
Rest for their feet,
And show that you care for them too.
Give up acting grand;
Lend a helping hand
To those who are frightened and weak.
With a humble heart,
You can do your part,
And live the way that you speak.
Chorus
I'll see you on Sunday,
Pastor Cyndi
P.S. You can listen to the song
HERE
, as well as catch up on the Charlie Brown episodes.
P.P.S. In the last week I've had 3 conversations with people about prayer. Something you want to learn more about? Please let me know if a class or sermon series would be helpful to you.
Please join us for a
Bridal Blessings Tea
in honor of
Miss Elizabeth Crawford
Bride Elect of Joshua Miles
SUNDAY, JULY 10, 2016 AT 2 P.M.
Mount Carmel
Fellowship Hall

Hosted by Annette Rogers
Please bring a recipe or blessing to share with Elizabeth.
You may email recipes to Annette in advance if you prefer to have it printed on the card. Cards are available in the Choir Room and in the Fellowship Hall.
Annette9616@bellsouth.net
(404) 271-6522
Children's Corner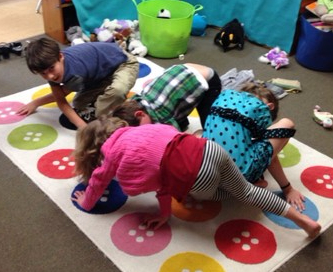 Summer Sunday School and Other Fun Summer Stuff!
This summer, our Sunday school theme will be 'A Summer of Service' and we also have lots of other fun activities planned before school begins again!
And since "service" is hard work, there will be Sno-Cones at Sunday School too!
Here is our Summer Schedule:
July 16 - 17: Kid's Camping in the Fellowship Hall - We'll arrive about 4:00 on Saturday, have lots of fun, sleep-over, then be ready for church on Sunday morning!
July 31: The Children's Dept. is in charge of a Quesadilla Lunch Fundraiser at 11:30 a.m., following the 10:30 a.m. Youth Sunday worship service. Watch for more information on when to sign up to help!
August 7: Blessing of the Backpacks during the Worship services, Promotion Sunday for Sunday school classes, then Water Fun in the afternoon at 2:00!
I'm looking forward to a fun summer with you all!