In the Newsletter this Week:
From Pastor Cyndi

Picnic Fun at Berkeley Lake!
Flamingos Heading for Mt. Carmel!
New Directory being Finalized

Blessing of the Animals: October 2

Women's Book Club: October 7

BBQ & Sweet Shop: October 7 & 8

UMW Sunday: October 16 - 10:30 Combined Service

Women's Fall Retreat: October 21 - 23

Youth Newsletter
Kid's Corner
Fall Festival / Trunk or Treat: October 26

New Baby!

Art Dates!

Coffeehouse Volunteer Needed

UMW Collecting Personal Care Items
Prayers / Thanksgivings

Ways to Make a Donation
---
Childish Language
A
Scientific American
article reviewed recent literature on how language impacts moral choices. When an ethical dilemma is presented in a language learned as an adult, people make choices that differ from those made when they hear the situation in the language learned as a child.
The authors conclude that adult decisions are strongly shaped by the language of childhood.
As a church, we teach our children a language they will not hear anywhere else. This week is Holy Communion, and we will use words like grace and forgiveness, and describe the altar table as Jesus' table. Our children will carry in adulthood the memory of kneeling, extending their hands, and receiving.
The church language is one of leading by serving. When older children and youth help serve Holy Communion, they create a memory that when they were serving others, they were an instrumental part of a holy moment. They will know at a gut level that it doesn't matter how long you have been part of a church, or whether you have other accomplishments, God can be present in you and do great things.
This Sunday, we will read of the escape from slavery in Egypt. My guess is that many of the participants did not understand what was going on at that first Passover meal. Why cook the lamb and eat it all in one night? Why such a rush to pack that there is no time for letting the bread rise?
Later, they would re-enact the meal each year. Children would ask, "why is this night special from all others?"and learn who they were in the family of God. They would learn the language of freedom from slavery. And one evening, Jesus used that language to say that freedom and life were found in him.
Whether nine years old or ninety years young, there's more going on in the communion meal than we can comprehend. It's the language of community and nourishment. It's the language of the holy.
I'll see you this Sunday,
---
Picnic Fun at Berkeley Lake!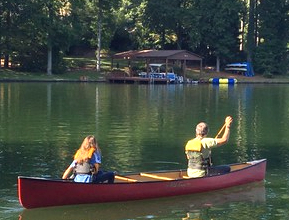 Everyone enjoyed the Church Picnic, Boat Rides, Bounce House, Bubbles, and Sing Along with the Gospelites last Sunday at Lake Berkeley Chapel!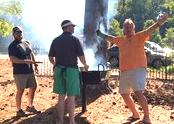 Thanks to everyone who
helped make it happen!
---
Flamingos Headed to Mt. Carmel!

The Mt. Carmel Youth Flamingo Fundraiser to support the Summer Mission Trip is underway! Flocks of Flamingos will begin appearing on the lawns of members and friends of Mt. Carmel the week of October 16.
If you DO NOT want the Flamingos to visit you, please stop by the insurance table located outside the sanctuary door to purchase your insurance in the amount of $15. Insurance policies will be sold on Oct.2 and Oct.9.
If you would like for the flamingos to come for a visit, please check the box on the back of the connect card in the bulletin or you can stop by the Flamingo Table and sign our Nesting Site sheet.
When the flamingos arrive at your house, please follow the directions that are in the bag on a flamingo. Please do not bring the flamingos back to the church - they will be removed within 24 hours.
The flamingos visit your home in acts of kindness and love from the youth. Thanks for your support!!
---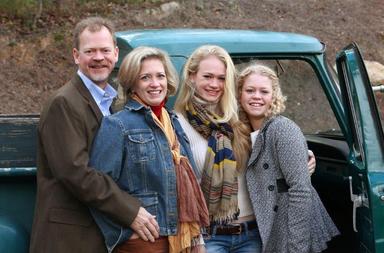 New Church Directory being Finalized
Is your picture included?
Our new church directory will be finalized and on it's way soon and we want to make sure that everyone is included!
If you have not had your photo taken yet, there are still three options for inclusion.
On Sunday, October 9th from 10:00 am until 12:30 pm, George Hunter will take directory photos in the Fellowship Hall. Please RSVP to the church office by Thursday, October 6th to reserve a space!
You may have your photo taken by the Life Touch photographers when they are set up at another church in our area. To find the nearest church and make arrangements, please call 1-866-756-0281 and tell them that Mt. Carmel's account number is 240782. The deadline for having your photo taken for our directory is Saturday, October 15th.
Or, you may submit a personal photograph online to the church office at office@mtcarmel-umc.org. The deadline for this option is Sunday, October 16th.
Please try to use one of these options - we REALLY want you to be included!
Is your contact information correct?
Along with photos, the new directory will provide an up to date list of congregation members with their contact information.
To assure that the list is current, we would like for everyone to look over their information from the church database, and edit as needed with any updates.
A list of the current data base information will be available on Sunday in both the sanctuary and Fellowship Hall.
Please take a moment to check your information and make sure that it is correct. Thank you!
---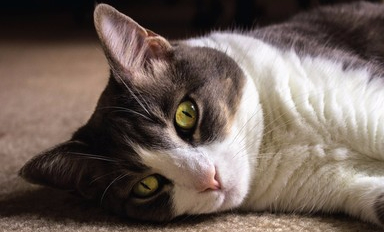 Blessing of the Animals: Oct. 2
1:00 - 4:00 PM
Mt. Carmel will host this event outside on the front lawn and ALL pets (with leashes / cages please) are welcome!
This year's Blessing will also include these services offered by
Animal Alliance of Georgia:
Low Cost Pet Vaccination Clinic
ALL SERVICES ARE CASH ONLY.
(ALL animals MUST be on a leash or in a carrier.)
Rabies (1 year) $10
Microchip $20
DHPPV (dogs) $10
Dewormer (2 doses) $5
FVRCP (cats) $10
Information on deeply discounted spay/neuter services and pet food assistance will be available. All proceeds to benefit Animal Alliance of Georgia's community outreach programs.
For more information, go to www.animalallianceofgeorgia.org or call 678-542-9572.
---
Mt. Carmel Women's Book Club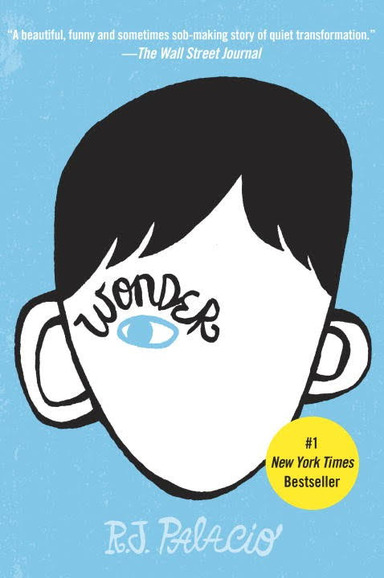 The Book Club will meet next on Friday, October 7th at 7:00 p.m. in the Hope House.
This month's book selection is Wonder, by R.J. Palacio.
---
BBQ and Sweet Shop: Oct. 7 & 8
The Fall BBQ / Sweet Shop is right around the corner and LOTS of help is needed!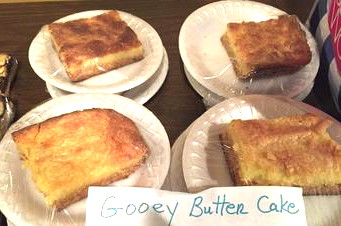 Please check the boxes on the back of the Connect Card in the Sunday bulletin if you can help, or contact the church office.
And don't forget to invite your friends and family! They'll get a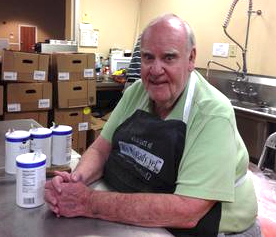 great meal and support some important missions at the same time.
Flyers are available in the church office, fellowship hall and sanctuary.
---
UMW Sunday: October 16 - 10:30 Service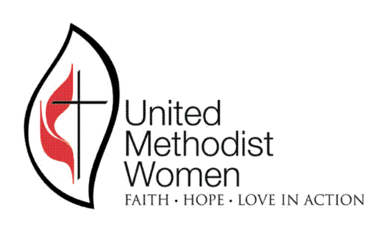 Mark your calendars for our next 10:30 Only Worship Service which will be led by the women of the church.
This service will feature guest speaker Reverend Lynne Smith. Lynne is the Minister of Education at our own North Georgia Family Counseling Center whose Gwinnett office is downstairs at Mt. Carmel.
We look forward to having her with us on October 16!
---
Women's Fall Retreat: October 21 - 23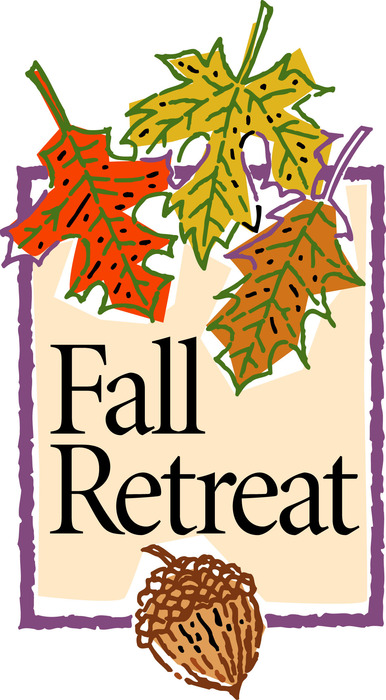 Mark your calendar for our annual fall women's retreat! As always, it will be a weekend of programming, rest, food, fun and fellowship!
DATES: Friday, Oct.21 - Sunday, Oct. 23
COST: $40.00 per person (make checks payable to Mt. Carmel UMW; please give payment to Margaret Crawford or drop by church office.)
PLACE: Lane Shutt's Cabin at Lake Harding, Alabama
TIMES: Dinner Friday night (appx. 7:00 pm) through morning session on Sunday (approx. 11:00 am)
RSVP to the
church office
by Friday, October 14th to reserve a spot!
---
Youth News - Corn Maze on Sunday!

In place of youth on Sunday, we will go to the Buford Corn Maze.
Plan to meet at the church at the regular youth time of 5:15pm to quickly eat dinner as normal (don't forget $3) and then ride together to the maze. We will plan to be back to the church between 8:30 and 8:45pm.
The cost for this event will be $20 (cash please) plus any money you wish to spend on available concessions.
For the complete calendar of Youth events, click
HERE
to view the Youth Newsletter.
---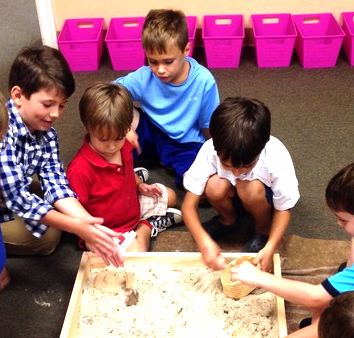 Kid's Corner
Sunday School
We are having a wonderful time in Kids Sunday School this fall as we explore the Old Testament stories in our new Worship and Wonder Pre-K to 2nd grade class! Thanks to our teachers Alison, Jason, Greta, and Michelle.
Please come join in the fun this Sunday as we join the Hebrews in their Exodus from Egypt across the desert.
Our 3rd to 5th graders continue getting to know their Bibles. Come and join us for a wonderful lesson this coming Sunday after the Children's Sermon at the 9:30 Worship Service.
Upcoming Fall and Winter Events
Fall Festival - October 26th - 4:30 til 7:00
Our Halloween week Fall Festival is fast approaching! We are looking for volunteers to help with set up and take down, the Trunk or Treat event, and the kids game stations. Please contact Leslie at
lraymer.mtcarmel@gmail.com
to volunteer.
As always, we will have hotdog meals, and this year the Youth Group is going to set up a haunted house in the Double Classroom.
Stay tuned for more info.
Christmas Pageant
Christmas Pageant practice is scheduled to begin Sunday November 6th after the 11 am worship service.
The pageant will take place on December 4th. Stay tuned for more info.
---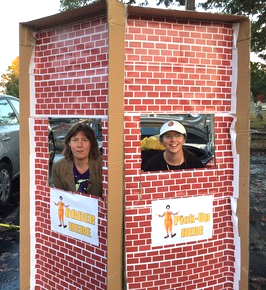 Fall Festival / Trunk or Treat!
The Fall Festival will begin at 4:30 on Wednesday, October 26th with games, a moonwalk, and a spooky house!
From 5:30 - 6:30, there will also be a free hotdog dinner, then "Trunk or Treat-ing" in the parking lot will begin at 6:30!
Mark your calendar and get your costume ready!
Volunteer Needed for Hay Ride
In past years Ed McDonald has provided a fun Hay Ride that everyone enjoyed! (Thanks Ed!) However Ed has been recruited to help with the Spooky House this year, so a new Hay Ride Master is needed!
If you have a truck or trailer and would be willing to fill it with hay and children, please contact the church office!
---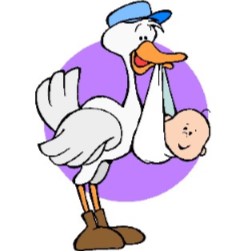 A New Baby Boy!
Congratulations to Brian and Kelly Quigley on the birth of their son Cade on Monday!
The Quiqleys normally attend the 11:00 service and sit near the back.
You can email your well wishes to them at
kmcook9@yahoo.com
. We look forward to meeting baby Cade!
---
Art Dates!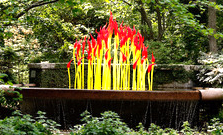 Atlanta Botanical Garden:
Chihuly Nights Exhibit
Saturday 10/22/2016
Gates Open at 6pm.
$21.95 Adult ($15.95 Members)
RSVP to Katrina Stone
---
Coffeehouse Volunteer Needed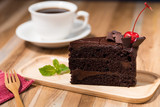 Many of you have attended and enjoyed the Catacombs Coffeehouse in the past. If you'd like to see this event continue, then please consider being a part of the Coffeehouse Team!
One of our planners has had to step down, so a new person is needed to help organize dates, music, and food for each event. If you would like to help, please contact
Jacque Tapley
.
---
United Methodist Women Collecting Items
for Youth Personal Care Kits
At the November meeting of the UMW Night Circle, the group will put together Personal Care Kits for the Homeless Youth helped by the Covenant House in Atlanta.
The United Methodist Men have made a donation to cover some of the cost, but the more donations we have, the more kits can be delivered to Covenant House.
If you would like to contribute some of the items needed, please see the list below. Items may be dropped off in the church office BY NOVEMBER 14.
toothpaste (regular sized tubes)

deodorant (men's & women's)
---
Prayers and Concerns
Please join with others in our church family in praying our concerns and thanksgivings this week:
Prayers and Concerns
Diane Bond's nephew Nick: fighting cancer
Lamar Andrews: chemotherapy treatment
Barbara Cooper: chemotherapy treatment
For help with the BBQ
Thanksgivings
Gene Anglin at home and doing well
For good music and message last Sunday
For church picnic Sunday afternoon
Happy 18th birthday to Tarin Hinson
Paula Cosentino visiting
For new baby born to the Quiqley family
---
Ways to Make a Donation Electronically
Thank you for your support of Mt. Carmel!
There are many ways to give: You may use a Debit Card, Credit Card, or PayPal, o
r you may make
an automatic electronic funds transfer on a
one-time or recurring basis.
Click
HERE
to give electronically.
Every week:
Prayers
Worship this week
Birthdays and Anniversaries
Save the Date
Counseling Center
Norcross Cooperative
---
Sunday's Lessons
Exodus 12:1-13; 13:1-8
---
Birthdays this week:
Marian Long
Eleanor Leeper
Jamey Roe
Frank Hamilton
Mary Hosack
Connie Hull
Danny Parrish
Chris Bolton
Amy Whitlow
Sherry Blackwood
Margaret Nesbit Hobbs
Mariah Hinson
Anniversaries this week:
Lynn & Darrell Parrish
---
Save the Date
SUNDAY WORSHIP
TRUSTEES MEETING
OCTOBER 2 - 12:15 PM
HOPE HOUSE
BLESSING OF THE ANIMALS
OCTOBER 2 - 1:00 - 4:00 PM
FRONT LAWN
YOUTH TO CORN MAZE
OCTOBER 2 - 5:15 PM
STICKY FAITH STUDY BEGINS
OCTOBER 2 - 5:15 PM
ROOM 112/114
MONDAY STUDY
OCTOBER 3 - 7:00 PM
HOPE HOUSE
BROWN BAG STUDY
OCTOBER 4 - 11:30 AM
HOPE HOUSE
FALL BBQ & SWEET SHOP
OCTOBER 7 & 8
11:00 AM - - - - -
WOMEN'S BOOK CLUB
OCTOBER 7 - 7:00 PM
HOPE HOUSE
DIRECTORY PHOTOS TAKEN
OCTOBER 9 - 10:00 AM - 12:30 PM
FELLOWSHIP HALL
NO YOUTH MEETING
OCTOBER 9
FINANCE MEETING
OCTOBER 9 - 6:30 PM
HOPE HOUSE
ADMINISTRATIVE BOARD
OCTOBER 9 - 7:30 PM
ROOM 112/114
UMW SUNDAY
OCTOBER 16 - 10:30 AM
SANCTUARY
FELLOWSHIP LUNCH
OCTOBER 16 - 11:30 AM
FELLOWSHIP HALL
UMW FALL RETREAT
OCTOBER 21 - 23
LAKE HARDING, AL
FALL FESTIVAL / TRUNK OR TREAT
OCTOBER 26 - 4:30 - 7:00 PM
FELLOWSHIP HALL / PARKING LOT
YOUTH HALLOWEEN PARTY
OCTOBER 30 - 5:15 PM
PROELS HOME
---
Norcross
Cooperative
Ministry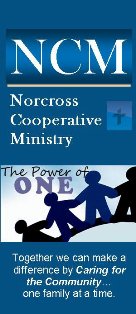 As one of the founding churches of NCM, we encourage your support assisting those in need in our area.
Donations of non-perishable food may be left in the NCM tub in the church foyer, and checks made to the church and marked for NCM may be dropped into the offering plate or by the church office.
---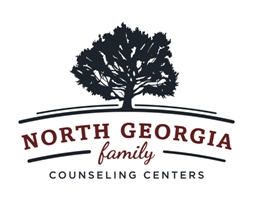 Family Wellness
through Counseling,
---
Share your story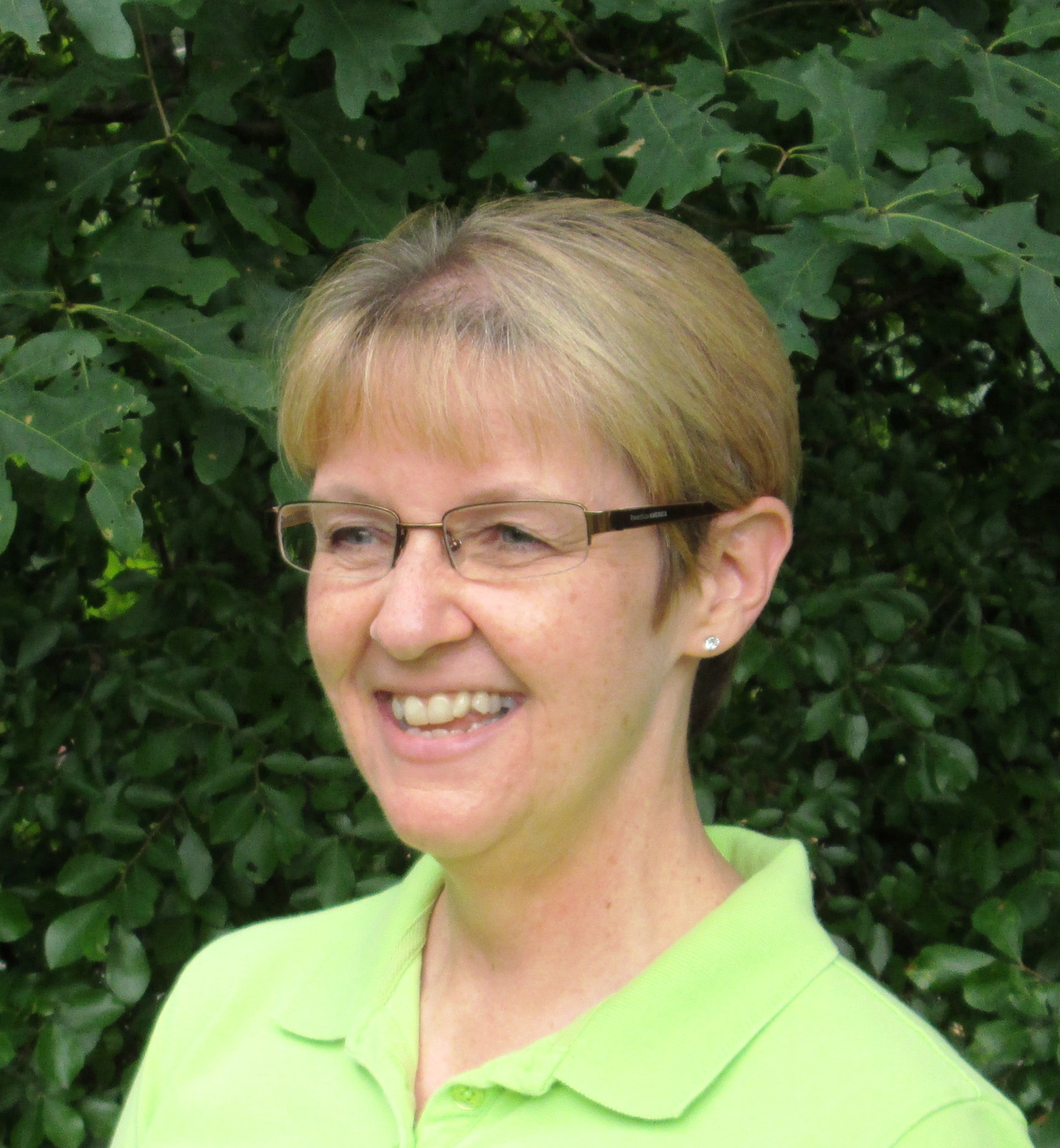 Do you have an article to include in next week's bulletin or newsletter?
Email these to
Suzanne Foster
or call the church office.