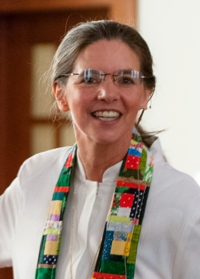 Seriously, I cannot find the deodorant. The last time I saw it was Saturday.
Then Sunday morning, I got up excited about Homecoming. I even rolled my hair, so you know this was a special occasion! Everything was on schedule, until I opened the bathroom drawer. Where's my deodorant?
After a quick search I decided not to worry. I'll just use the deodorant I keep in the office. It will turn up.
But it didn't.
Monday morning—again, no deodorant. I searched my bathroom and bedroom, the kitchen, the guest bedroom and bathroom. I turned drawers upside down. I went through the trash cans.
I even looked in the freezer. That may sound odd, but on more than one occasion I have found unexpected items in the freezer.
What have you lost? Once I lost a pair of glasses. A few months later, Ed found them in the boys' Lego bin.
Sometimes it's keys. At other times it's a writing pen.
What are you missing?
At Annual Conference this summer, we learned of a serious loss. I am still reeling over the numbers they shared. Of children and teens who are baptized, only two-thirds remain active in church by the time they finish high school. Another third disappears after high school and never returns as a young adult.
Two-thirds of our former children and teens, now young adults, are missing.
Deodorant can be replaced. But to lose someone who was once part of our church family…that's irreplaceable.
Sam Halverston, the conference's Associate Director of Connectional Ministries for Youth & Young Adult Ministries, offered a workshop at annual conference. He shared the latest research, that the two most important factors for whether a child continues to be part of church as an adult are, (1) the number of significant relationships they have as teens with adults in the congregation, and (2) whether they worship with the congregation.
When you show up on Sunday mornings and in small group studies, you show our children and teens that faith is a life-long process. Even as adults we continue to need God's healing, wholeness and forgiveness.
When you go out of your way to learn a teen's name, and then to welcome that teen, week after week, you are saying "You matter. We need you."
And the most important thing you can say? "I missed you last week. Is everything ok? I noticed you were not here."
The kingdom of God is like a woman who notices that a coin is missing, and stays up all night searching for it.
The kingdom of God is like a shepherd who misses one of 100 sheep. Each one is precious.
The kingdom of God is a phone call just to say, "I miss you."
I'll see this Sunday. I'll be wearing my new deodorant. How about you?