In the Newsletter this Week:
UMW Sunday: October 16 - 10:30 Combined Service
New Directories: last chance for photo
Women's Fall Retreat: October 21 - 23
Fall Festival / Trunk or Treat: October 26
Youth Newsletter
Kid's Corner: Trunks Needed!

Art Dates!

Women's Book Club: November 4

Chrismon Party: November 6

UMW Collecting Personal Care Items
Preschool Breakfast with Santa: Sponsors Needed!
Prayers / Thanksgivings

Ways to Make a Donation
---
UMW Sunday: Combined 10:30 Service

This 10:30 AM worship service on Sunday will be led by the women of the church and we welcome guest speaker Reverend Lynne Smith.
Lynne is the Minister of Education at our own North Georgia Family Counseling Center whose Gwinnett office is downstairs at Mt. Carmel.
We look forward to having her with us this week!
(Pastor Cyndi is away this week, but will return on Monday.)
---
New Church Directory being Finalized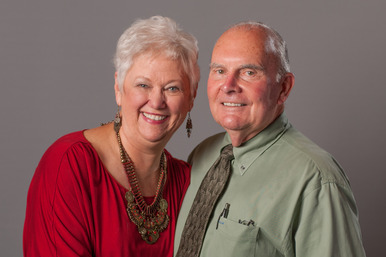 Is your picture included?
Our new church directory will be finalized and on it's way soon and we want to make sure that everyone is included!
If you have not had your photo taken yet, there are still two options for inclusion.
You may have your photo taken by the Life Touch photographers when they are set up at another church in our area. To find the nearest church and make arrangements, please call 1-866-756-0281 and tell them that Mt. Carmel's account number is 240782. The deadline for having your photo taken for our directory is Saturday, October 15th.
Or, you may submit a personal photograph online to the church office at office@mtcarmel-umc.org. The deadline for this option is Sunday, October 16th.
Please try to use one of these options - we REALLY want you to be included!
---
Women's Fall Retreat: October 21 - 23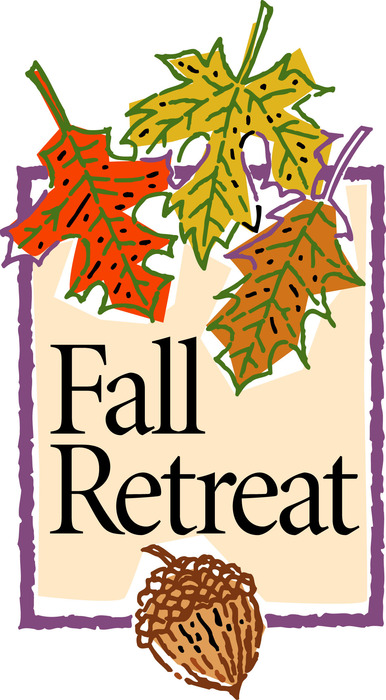 Mark your calendar for our annual fall women's retreat! As always, it will be a weekend of programming, rest, food, fun and fellowship!
DATES: Friday, Oct.21 - Sunday, Oct. 23
COST: $40.00 per person (make checks payable to Mt. Carmel UMW; please give payment to Margaret Crawford or drop by church office.)
PLACE: Lane Shutt's Cabin at Lake Harding, Alabama
TIMES: Dinner Friday night (appx. 7:00 pm) through morning session on Sunday (approx. 11:00 am)
RSVP to the
church office
by Friday, October 14th to reserve a spot!
---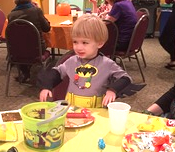 Fall Festival / Trunk or Treat!
The Fall Festival will begin at 4:30 on Wednesday, October 26th with games, a moonwalk, and a spooky house!
From 5:30 - 6:30, there will also be a free hotdog dinner, then "Trunk or Treat-ing" in the parking lot will begin at 6:30!
Mark your calendar and get your costume ready!
Volunteer Needed for Hay Ride
In past years Ed McDonald has provided a fun Hay Ride that everyone enjoyed! (Thanks Ed!) However Ed has been recruited to help with the Spooky House this year, so a new Hay Ride Master is needed!
If you have a truck or trailer and would be willing to fill it with hay and children, please contact the church office!
---
Youth News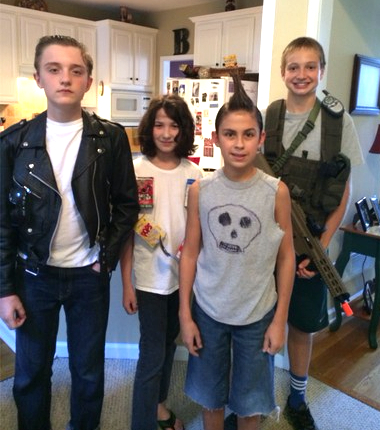 Halloween Party:
Start planning your costume for the Youth Halloween Party! Sunday, October 30 - 5:15 at the Proels' home.
Regular Youth meetings begin on Sunday afternoons with dinner at 5:30, followed by games, programs and worship, ending at 7:30.
For the complete calendar of Youth events, click
HERE
to view the Youth Newsletter.
---
Kid's Corner: Calling All Trunkers!!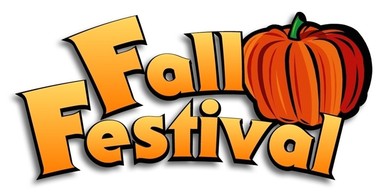 October 26:
4:30 to 7:30 pm
October 26:
6:30 - 7:15 pm
Our annual Trunk 'n Treat
event is just around the corner on October 26 also!
It's time to design your Trunk if you want to win the coveted 'Best Trunk' for 2016!!
Let your imaginations loose, as the competition heats up for this fun Mt. Carmel outreach event. This year, we will also be awarding prizes for Best Adult and Children's costumes as well.
Please take a moment on Sunday to sign-up yourselves (and of course your trunks) on our Connect Cards in Sunday bulletins to help with set up, kids games, Trunk 'n Treat, and clean up.
---
Art Dates!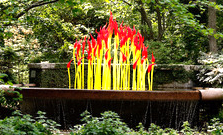 Atlanta Botanical Garden:
Chihuly Nights Exhibit
Saturday 10/22/2016
Gates Open at 6pm.
$21.95 Adult ($15.95 Members)
RSVP to Katrina Stone
---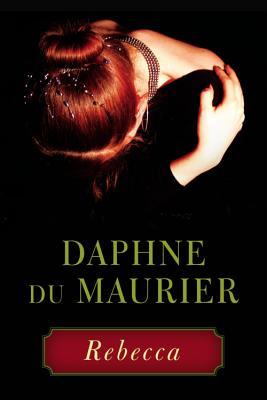 Mt. Carmel Women's Book Club
All women are invited to attend the next meeting on Friday, November 4th in the Hope House.
The book for November is Rebecca, by Daphne Du Maurier.
---
Chrismon Party: November 6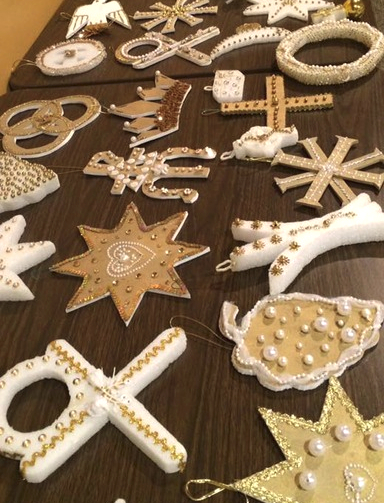 Everyone is invited to join the United Methodist Women in the Fellowship Hall on Sunday, November 6th right after the 11:00 service to help make new Chrismon ornaments for the sanctuary Christmas tree.
Supplies will be furnished, but extra HOT GLUE GUNS would be appreciated. If you have extra decorations such as gold beads, pearls, or any other gold or white decorations, please bring those too.
This is a great family activity and we hope that children will help decorate a Chrismon with a parent.
(A soup & cornbread lunch will be provided by the UMW. Please RSVP to the
church office
so that enough food will be planned.)
---
United Methodist Women Collecting Items
for Youth Personal Care Kits
At the November meeting of the UMW Night Circle, the group will put together Personal Care Kits for the Homeless Youth helped by the Covenant House in Atlanta.
The United Methodist Men have made a donation to cover some of the cost, but the more donations we have, the more kits can be delivered to Covenant House.
If you would like to contribute some of the items needed, please see the list below. Items may be dropped off in the church office BY NOVEMBER 14.
toothpaste (regular sized tubes)

deodorant (men's & women's)
---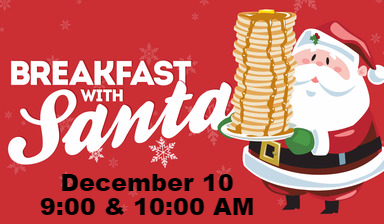 Preschool Breakfast with Santa
Seeking Sponsoring Businesses
The Annual Breakfast with Santa is one of the Mt. Carmel Preschool's biggest fundraisers and we need your help in getting sponsors!
Do you know of a business that is looking for a great way to advertise, for not a lot of money? And of course donations of goods, gift cards, or services for the Raffle or Gift Baskets are appreciated also!
If you know of someone interested, or for more information, please contact
mtcarmelps@gmail.com
or call Cindy Bill at 678-557-9773 or Laurie Blaney at 770-367-1253.
And remember to mark your calendars! December 10, 2016 - Breakfast Seatings at 9:00 and 10:00 a.m., before your visit with Santa!
---
Prayers and Concerns
Please join with others in our church family in praying our concerns and thanksgivings this week:
Prayers and Concerns
Dick Thompson: back in hospital
Babara Cooper: chemo
Cindy Bill: reocovering from surgery
Donna Riviere & family: death of her uncle
Susan Posey's friend Carl: brain surgery for Parkinson's
Everyone effected by hurricane Matthew
Shelia Trentini: trip to Brazil - for safe travel and to accomplish everything that needs to be done while there
Dawn Seigler's nephew Taylor: healing from auto accident and to know Christ
Carol Bryant: all those experiencing loss - especially Jill & Cynthia
Dan Bailey's fellow teacher Tammie & her sister who has terminal cancer
Billy Weathers' Aunt Mildred: recovering from a stroke
Thanksgivings
Successful BBQ & Sweet Shop - thanks to everyone who helped and for all customers
The Fosters - that all family in S. Georgia, North & South Carolina are safe after hurricane
Susan Posey's friend married last Saturday - prayers for James & Susan
That Barbara Cooper is out of the hospital
---
Ways to Make a Donation Electronically
Thank you for your support of Mt. Carmel!
There are many ways to give: You may use a Debit Card, Credit Card, or PayPal, o
r you may make
an automatic electronic funds transfer on a
one-time or recurring basis.
Click
HERE
to give electronically.
Every week:
Prayers
Worship this week
Birthdays and Anniversaries
Save the Date
Counseling Center
Norcross Cooperative
---
Sunday's Lessons
1 Samuel 1:19-20
1 Samuel 2:1-10
---
Birthdays this week:
Leah Bendig
Fran Smith
Jacque Tapley
Bobby Smith, Sr.
Hillary Whaley
Emmy Epps
Anniversaries
this week:
---
Save the Date
NO 9:30 MUSICIANS PRACTICE ON
OCTOBER 12
UMW SUNDAY SERVICE
OCTOBER 16 - 10:30 AM
SANCTUARY
SOUP & SALAD LUNCH
OCTOBER 16 - 11:30 AM
FELLOWSHIP HALL
STICKY FAITH STUDY
OCTOBER 16 - 5:15 PM
ROOM 112/114
YOUTH DINNER / PROGRAM
OCTOBER 16 - 5:15 PM
YOUTH ROOMS
OCTOBER 17 -
DINNER OUT
UMW DAY CIRCLE
OCTOBER 18 - 10:30 AM
HOPE HOUSE
BROWN BAG STUDY
OCTOBER 18 - 11:30 AM
HOPE HOUSE
CONNECT TEAM MEETING
OCTOBER 18 - 6:30 PM
HOPE HOUSE
MEN'S MINISTRY MTG.
OCTOBER 20 - 6:30 PM
FELLOWSHIP HALL
UMW FALL RETREAT
OCTOBER 21 - 23
LAKE HARDING, AL
WORSHIP SERVICES
OCTOBER 23 - 9:30 & 11:00
SANCTUARY
FALL FESTIVAL / TRUNK OR TREAT
OCTOBER 26 - 4:30 - 7:30 PM
FELLOWSHIP HALL / PARKING LOT
YOUTH HALLOWEEN PARTY
OCTOBER 30 - 5:15 PM
PROELS HOME
WOMEN'S BOOK CLUB
NOVEMBER 4 - 7:00 PM
HOPE HOUSE
ALL SAINTS SUNDAY
NOVEMBER 6
DAYLIGHT SAVING TIME ENDS
NOVEMBER 6
CHRISMON PARTY
NOVEMBER 6 - 12:15 PM
FELLOWSHIP HALL
CHILDREN'S PAGEANT PRACTICE
NOVEMBER 6 - 12:15
SANCTUARY
YOUTH FALL RETREAT -
HELEN, GA
NOVEMBER. 11 - 13
CHURCH THANKSGIVING DINNER
NOVEMBER 20 - 6:00 PM
FELLOWSHIP HALL
---
Norcross
Cooperative
Ministry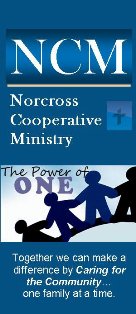 As one of the founding churches of NCM, we encourage your support assisting those in need in our area.
Donations of non-perishable food may be left in the NCM tub in the church foyer, and checks made to the church and marked for NCM may be dropped into the offering plate or by the church office.
---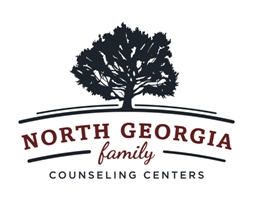 Family Wellness
through Counseling,
---
Share your story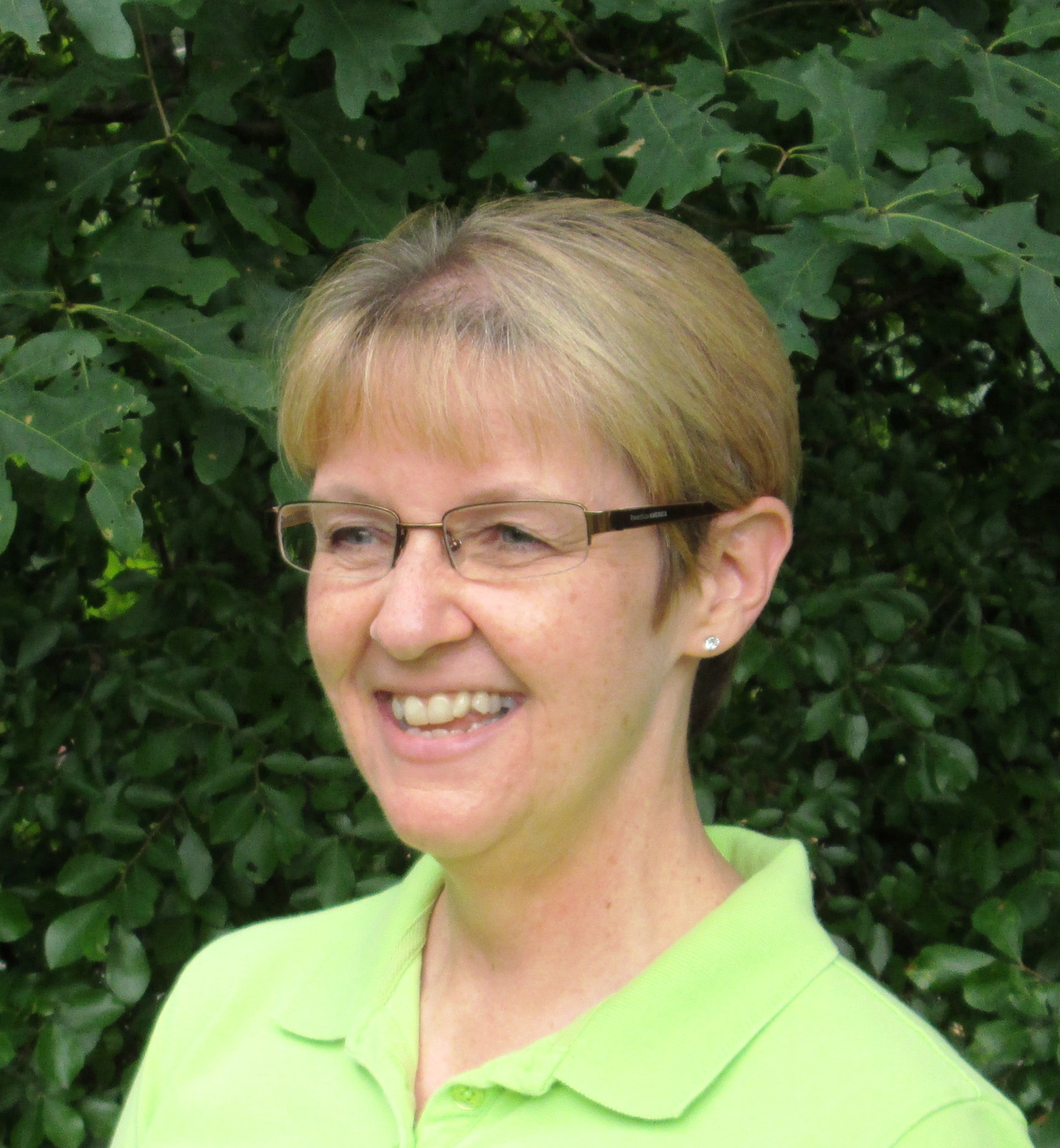 Do you have an article to include in next week's bulletin or newsletter?
Email these to
Suzanne Foster
or call the church office.