In the Newsletter this Week:
From Rev. Michael: Letting Love Show
BBQ & Sweet Shop: October 5 & 6
Lunch Bunch to Newk's: October 7
NCM Food Drive Month: October
Pastor Appreciation Sunday: October 14
Children's Choir
Youth News
Kid's Corner
Women's Book Club: October 5
Women's Fall Retreat: October 19 - 21
Condolences
Prayers / Thanksgivings
Ways to Make a Donation
---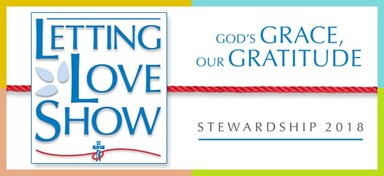 "Stewardship is not about raising money;
it's about raising Christians
who willingly trust God."
As we consider God's blessings, we are in awe of His immense goodness toward us. The greatest gifts to us are His Son, Jesus Christ, our Lord and Savior and the constant presence of His Holy Spirit working in the Church and in our lives.
God endows each of us with personal gifts, talents and material possessions. Stewardship is acknowledging that God is the source of each gift that has been received and each possession that has been accumulated.
Christian Stewardship reminds us that these gifts are not our own; that we have a trusteeship over them and not an ownership. Stewardship means to give a portion back to God, as a direct way of expressing our thanksgiving to Him for these gifts.
Our Church meets the financial needs of its annual Ministries and Operating Budget by way of its Covenant Commitment Program. Consequently, we are Stewards of Mt. Carmel, rather than dues payers, and we accept direct responsibility for the financial support and progress of our Church and its mission.
I ask you to please give the matter of your Covenant Commitment for next year your most serious and prayerful consideration. The financial level at which you arrive should be a spiritual expression of gratitude and love to God for all you have received.
Blessings,
Cell: 770-597-7057
---
The Fall BBQ and Sweet Shop
are just around the corner - Oct. 5 & 6!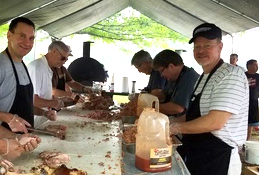 Lots of volunteers are needed to make these events happen, so please help if you can, or bring your family and friends to enjoy some tasty BBQ, stew, and baked goodies for dessert!
All proceeds will benefit local and international charities supported by the United Methodist Men and Women of Mt. Carmel.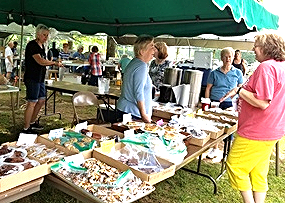 Sweet Shop Note: If you plan to donate baked goods for the Sweet Shop, PLEASE make sure to deliver them cut into individual servings, wrapped, and marked so that everyone knows what they are. (Nuts, no nuts, pound cake, lemon cookies, etc.)
---
Lunch Bunch to Newk's on Sunday!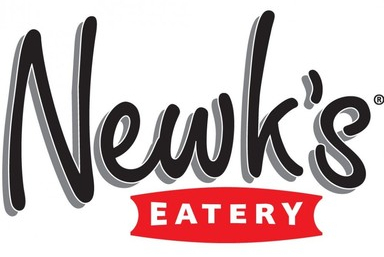 Do you have lunch plans after church this Sunday? If not, you're invited to join the Lunch Bunch at about 12:15 at Newk's Eatery. There you can choose from the menu of sandwiches, salads, soups and more!
(In The Forum on Peachtree Pkwy, near Trader Joe's.)
---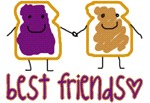 Norcross Cooperative Ministry Needs Our Help in October!
October is one of Mt. Carmel's two food drive months for the Norcross Cooperative Ministry. This time it's all about peanut butter and jelly.
Please bring your donations (in plastic jars or bottles, please) to the NCM display or tub in the church foyer.
Monetary donations are always welcomed too - just make your check out to Mt. Carmel and mark it for NCM. Thank you for helping those in need in our community.
---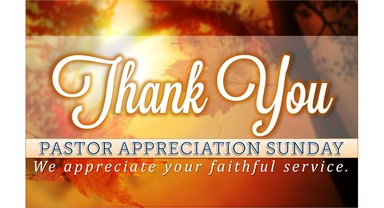 Pastor Appreciation Sunday:
October 14 - 10:30 a.m.
This year our church will officially recognize Pastor Appreciation Sunday on October 14th with a combined 10:30 service and a potluck lunch immediately following the service. Please plan to attend and bring one or two of your favorite dishes to share!
As Rev. Michael has now been at Mt. Carmel for over a year, this is the perfect time to celebrate as a congregation and show our appreciation to him as our Pastor. We will have a box or basket where you may deposit anything you wish to share; which may include hand-written notes, cards, or a small gift item. You may also wish to honor him by preparing a favorite food item to share. More importantly, feel free to show your gratitude with a greeting and pat-on-the-back as a gesture of Christian love and encouragement.
We look forward to seeing everyone at church on the 14th and immediately afterward in the Fellowship Hall for lunch.
Blessings,
The Staff Parish Relations Committee
---
Children's Choir to Begin Soon!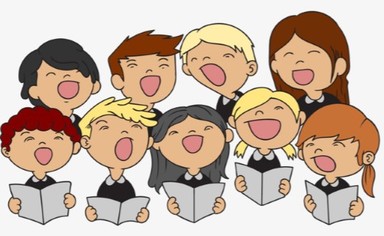 Exciting news - a new joyful noise will soon be heard at Mt. Carmel! Children ages three and older are invited to join us for A Joyful Noise, a music and arts time.
Our first meeting will take place on Sunday, October 14 at the 10:30 am service (when the children are dismissed after "children's time"). We will gather in the Double Classroom to learn about sharing our musical gifts with others, make crafts, and even meet an occasional surprise guest!
Our first worship service appearance will be during the 9:30 am and 11:00 am worship services on Sunday, November 18.
If you have questions about A Joyful Noise, please contact Marianne at (770) 263-7125. We look forward to singing with you!
Marianne Thompson, Phil Griffin and Lori Anderson
---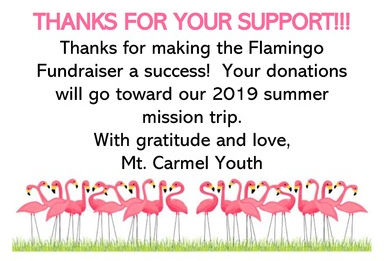 ---
Youth News

This Sunday, the Youth will begin with dinner at 5:15 p.m. in the Youth Hall, but instead of their usual program, they will then go to the Buford Corn Maze.
For more information, see the Youth Newsletter
HERE
, or contact Youth Director,
Emily Thompson
.
---
Kid's Corner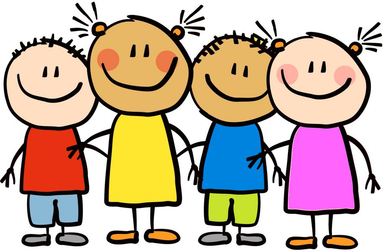 There are some new things in the air for our Mt Carmel kids!
We will hold a meeting regarding Fall Festival and the Christmas Pageant on Sunday, October 7 at 10:30. Details about the Children's Choir will also be presented. Please join us in the Double Classroom for coffee and donuts.
1. We will be initiating our new Children's Choir on Sunday, October 14th. Practices will take place in the Double Classroom from 10:45 to 11:15.
2. Fall Festival this year will include a church wide picnic due to the need to reschedule the September 23rd Berkeley Lake picnic. Children's Ministries is responsible for Trunk n Treat, Kid's games, and a bounce house.
3. This Christmas season, we are planning to have our Christmas pageant on December 16th during the 10:30 worship service prior to Down Home Holidays. It will be wonderful to have our pageant as part of Sunday Morning worship!
See you Sunday,
Children's Director
---
Mt. Carmel Women's Book Club
October 5 - 7:00 p.m.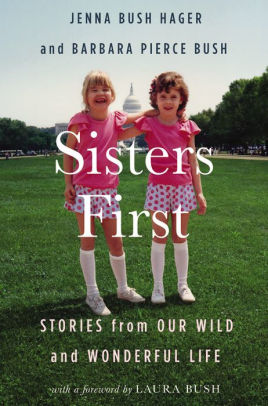 The next meeting of the Book Club will be on Friday, October 5th at 7:00 p.m.at the home of Vicki Walden.
Since there is limited parking at Vicki's house, anyone wishing to carpool from the church should contact Chris Bolton.
The book for the month is,
Sisters First
, by Jenna and Barbara Bush. All women are invited to attend for refreshments and discussion - even if you haven't read the book! See
Chris Bolton
or
Vicki Walden
for more information or directions.
---
Women's Fall Retreat: October 19 - 21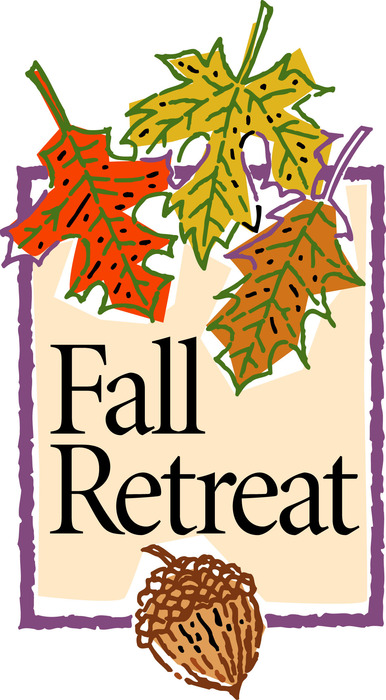 Mark your calendar for our annual fall women's retreat! As always, it will be a weekend of programming, rest, food, fun and fellowship!
DATES: Friday, Oct.19 - Sunday, Oct. 21
COST: $40.00 per person (make checks payable to Mt. Carmel UMW; please give payment to Cheryl Martin or drop by the church office.)
PLACE: Lane Shutt's House at Lake Harding, Alabama
TIMES: Dinner Friday night (appx. 7:00 pm) through morning session on Sunday (approx. 11:00 am)
RSVP to the
church office
by Friday, October 12th to reserve a spot! 770-449-4498
---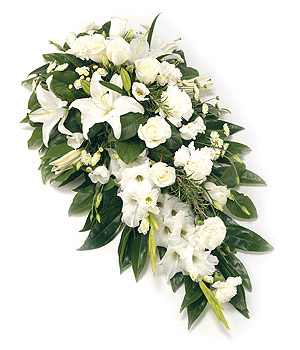 Condolences
Our sympathy is extended to the following families on the recent death of their loved ones:
Julie, Bob, Dylan & Trevor Jones and their family on the death of Julie's father, Mr. Elven Chronister, in Hanover, PA. Mr. Chronister passed away on October 2.
The family and friends of church member, Marie Peek, former resident of Peregrin's Landing, who passed away yesterday also.
Please keep their families and friends in your prayers.
---
Prayer Concerns
Andy Loftis: at home under medical care
Julie Watts: for daughter and her husband – daughter has been ill and Julie is with her in Asheville
Kim Surmacz: for Pete C. – mesothelioma – immunotherapy treatment working
The Bennett's: Cathie's cousin being treated for stage 4 cancer
Dawn Seigler: troops in harm's way
Jacque Tapley's co-worker's mother – in hospice care for breast cancer
Craig German: for family & friends of Walt Ostrander who passed away last week
Easleys: Susan P. – breast cancer / Angie M. – recovering from lung cancer
Julie Samples: for Emily's 8th grade class trip to Washington D.C.
Julia Parker's sister Betty – recovering from a fall
Thad Thompson's friend who was terminally ill has passed away – his brother died of same disease 4 years ago – prayers for his family
Cynthia Currence's father – health issues
Christy Richmond's father – recovering from surgery in Minnesota – safe travels for Christy as she goes to help with his care
Julie Jones & family: death of her father who passed away on October 2 in Pennsylvania
Bobby Walden: knee replacement surgery on Oct. 8
Family of Marie Peek who died on October 2
Thanksgivings
Mariah Hinson's birthday
John Shipes: new job in Tennessee
---
Ways to Make a Donation Electronically
Thank you for your support of Mt. Carmel!
There are many ways to give: You may use a Debit Card, Credit Card, or PayPal, o
r you may make
an automatic electronic funds transfer on a
one-time or recurring basis.
Click
HERE
to give electronically.
Every week:
Prayers
Worship this week
Birthdays and Anniversaries
Save the Date
Counseling Center
Norcross Cooperative
---
Sunday's Lessons:
"Anchor Deep"
Isaiah 53:3-9
Romans 5:6-10
---
Margeret Nesbit Hobbs
Mariah Hinson
Dick Easley
Elaine Nesbit
Marilyn McGee
Bobby Walden
Max Proels


John Hammarlund

Harlee Nichelson
No Anniversaries this Week.
---
Save the Date
ADULT/FAMILY COUNCIL MTG. - OCTOBER 3
6:00 PM - YOUTH HALL
CHANCEL CHOIR PRACTICE
OCTOBER 3 - 7:00 PM
CHOIR ROOM
9:30 MUSICIANS PRACTICE - OCTOBER 3 - 8:30 PM
SANCTUARY
FALL BBQ & SWEET SHOP
OCTOBER 5 & 6
11:00 AM .......
WOMEN'S BOOK CLUB
OCTOBER 5 - 7:00 PM
WALDEN HOME
WORSHIP SERVICES
OCTOBER 7 - 9:30 & 11:00 AM
SANCTUARY
CHILDREN'S MINISTRY MTG.
OCTOBER 7 - 10:30 AM
ROOM 112/114
LUNCH BUNCH TO NEWK'S
OCTOBER 7 - 12:15 PM
YOUTH TO CORN MAZE
OCTOBER 7 - 5:15 PM
MEET AT CHURCH
MONDAY NIGHT STUDY
OCTOBER 8 - 7:00 PM
HOPE HOUSE
TRUSTEES MEETING
OCTOBER 9 - 7:00 PM
HOPE HOUSE
UMW FRIDAY NIGHT CIRCLE
OCTOBER 12 - 7:00 PM
FELLOWSHIP HALL
PASTOR APPRECIATION SUNDAY - OCTOBER 14
10:30 WORSHIP SERVICE
11:30 POT LUCK LUNCH
CHARGE CONFERENCE
OCTOBER 14 - 3:30 PM
SIMPSONWOOD UMC
UMW FALL RETREAT
OCTOBER 19 - 21
LAKE HARDING, AL
UMW SUNDAY
OCTOBER 28 - 10:30 AM
COMBINED WORSHIP
FALL FESTIVAL
OCTOBER 28 - 4:00 PM
---
Norcross
Cooperative
Ministry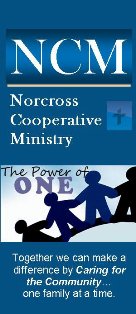 As one of the founding churches of
NCM
, we encourage your support assisting those in need in our area.
Donations of non-perishable food may be left in the
NCM
tub in the church foyer, and checks made to the church and marked for
NCM
may be dropped into the offering plate or by the church office.
---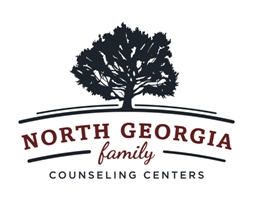 Family Wellness
through Counseling,
Education and Research
Mt. Carmel proudly supports the North Georgia Family Counseling Center.
5100 S. Old Peachtree Rd.
---
Share your story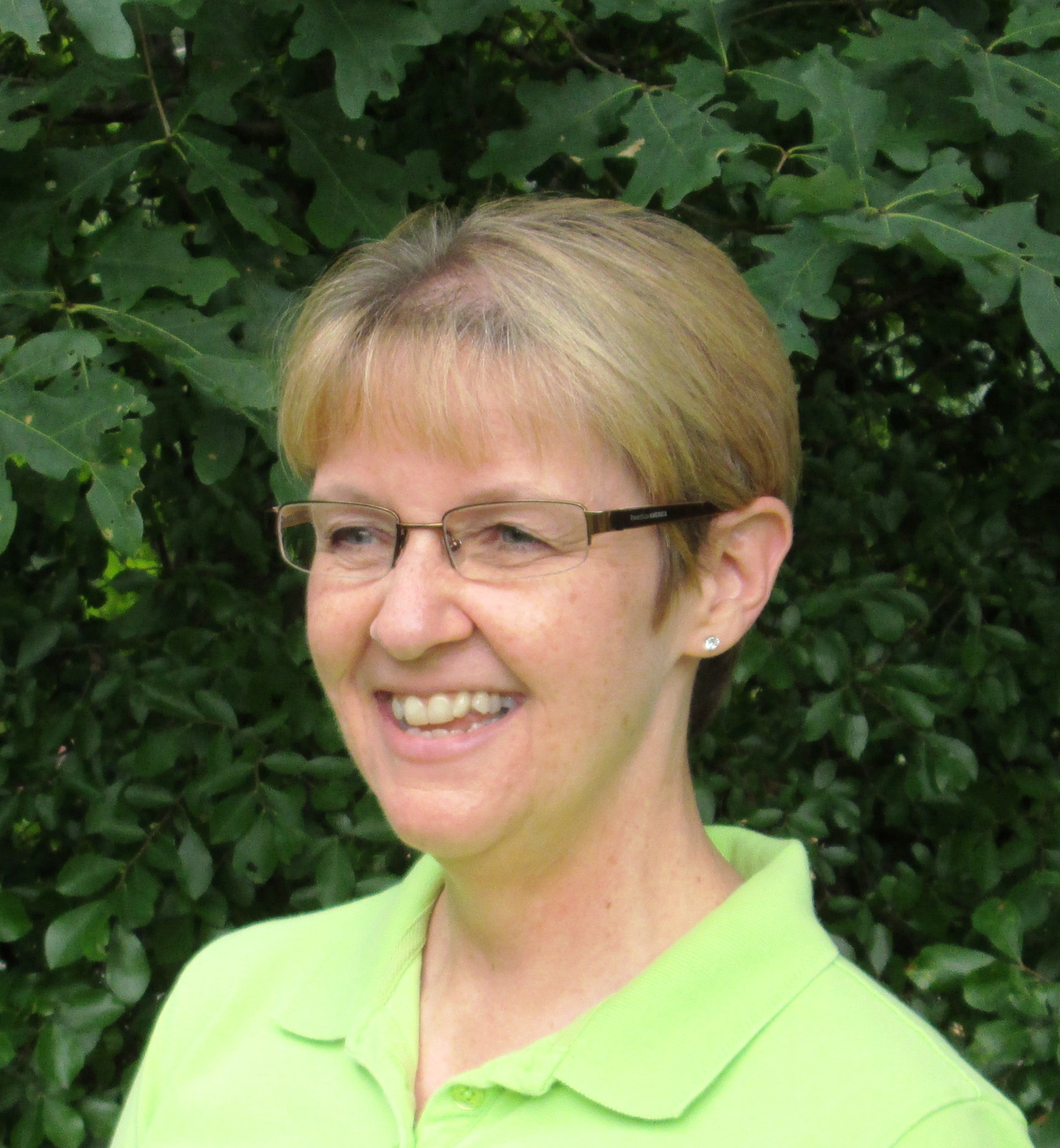 Do you have an article to include in next week's bulletin or newsletter?