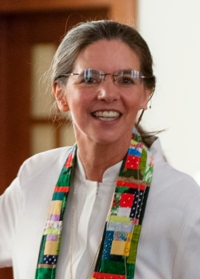 Most Sundays our family sat on the right side of the sanctuary, in a pew about three-quarters of the way back. The family that sat across the aisle had a young son who played gameboy every week. Every Sunday at lunch we would try to guess what games "Gameboy Kid" played.
Then one week I was offered a turn in the pulpit. I began by telling how in the Harry Potter series, when new students arrive at Hogwarts they must
put on a sorting hat
. I used my special creaky, squeaky high-pitched sorting hat voice to tell the story of Harry's encounter. The hat had a difficult time sorting Harry and placing him in the house with similar values. Does Harry value power (Slytherin), hard work and play (Hufflepuff), knowledge (Ravenclaw), or bravery (Gryffindor)?
When Gameboy Kid heard me say the name Harry Potter, I thought he would have whiplash from the way his head swung up and away from his handheld device.
I expected that as soon as I switched from Harry Potter to Jesus, Gameboy Kid would return to his usual position, head bent down over the screen.
Instead, Gameboy Kid stayed with me. I ended up preaching the whole sermon making eye contact with just him.
Gameboy Kid got it. He understood that while Harry knows that part of him is brave and belongs in the House of Gryffindor, another part of Harry needs approval and recognition, desires to excel, and these qualities should place him in the House of Slytherin.
I told of a day when Jesus divides people into sheep and goats. I gave examples of how within me there are parts that were more like a goat than a sheep.
Part of me wants to love God with all of myself—with my heart, my soul, my mind, my strength—but there is a lot more goat in me than I want to admit to myself or others. Like Harry whispering "not Slytherin, not Slytherin", I whisper to myself, "not the goats, not the goats".
Even at a young age like Gameboy Kid we can see this. While the image of God is present in every person, we are also sinners. We aren't the people we wish to be. We are not the people we want others to think that we are. Even Gameboy Kid seemed to realize a need for God.
This Sunday I won't need to use Harry Potter voices to keep people attentive. I can depend on the sex, lies, and intrigue in the story of King David and his interactions with Bathsheba, Uriah, and Nathan! Although the characters and plot differ, the lesson is the same. No matter how brave or daring, powerful or successful, there is within that which is sinful.
The best part of all? That's not the end of the story.
I'll see you on Sunday,
Pastor Cyndi McDonald