In the Newsletter this Week:
Angel Tree!
Welcome New Members!
Condolences
Church Office Hours
Mt. Carmel Youth News
Kid's Corner
Advent Readers Needed: December 2 - 24
Kid's Night Out: December 7
Mt. Carmel Women's Book Club: December 7
Preschool Breakfast with Santa! December 8
Order Holiday Poinsettias Now!
Preschool Note: 2018 Turkey Trot!
Holiday Events Schedule
Prayers / Thanksgivings
Ways to Make a Donation
---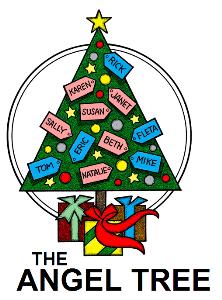 The Angel Tree is up and running!
Each year, Mt. Carmel sponsors families in need and supplies them with gifts and food for the holidays. This year families will be included from several local schools as well as the Norcross Cooperative Ministry.
The tree stands in the foyer and is decorated with paper angels. Each angel has a gift that a member of the family has requested, and a number. Just choose an angel and on the sheet nearby, sign your name beside that angel's number. Then do your shopping and attach the angel to the gift.
The gifts MUST be returned to Mt. Carmel by Wednesday, DECEMBER 5th. (Place back under the Angel tree, or return to the church office during the week.)
Please do not wrap the gifts. Either place the gift in an open gift bag, or leave it unwrapped. This will help when sorting out the gifts.
Remember to stop by and pick up an Angel, and thank you for sharing the spirit of Christmas!
---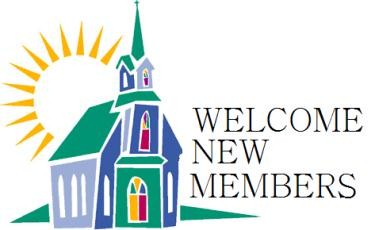 We are happy to have had several new members join the church on Sunday, November 25, 2018! Please welcome:
Shirley Spivey and
Trey, Ginny and Samuel Wages
---
Our Sympathy ...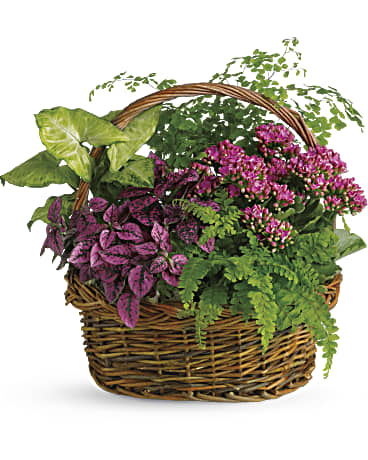 Condolences go to the Rikard family on the death of our long time church member, Mrs. Ann Rikard who died on Sunday, November 18, 2018.
A small, family-only graveside service is planned. In lieu of flowers, the family has requested donations in memory of Ann be sent to Mt. Carmel UMC . Her Obituary is available
HERE
.
---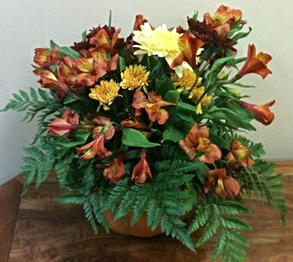 Thanksgiving Office Hours:
Please note that the church office will be closed from noon on Wednesday, November 21, through Friday, November 23.
We hope that everyone has a Happy Thanksgiving!
---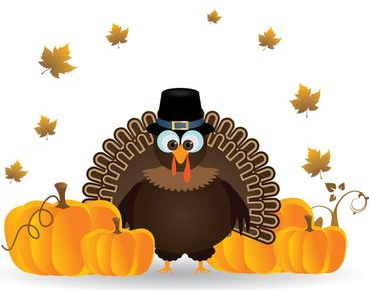 Youth News
On Sunday, November 25th, the Youth will go to Six Flags for the afternoon, so no meeting at the church.
For more information on other Youth events, see the Youth Newsletter
HERE
, or contact Youth Director,
Emily Thompson
.
---
Kid's Corner: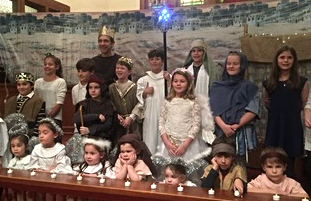 Remember, only THREE more practices during the Sunday school hour until our Christmas pageant on December 16th!!
The final rehearsal will take place on Saturday morning, December 15th. Older children who have speaking parts are REALLY encouraged to attend all practices, or please let us know if you can't be there.
We're looking forward to the Pageant with great excitement!
Upoming Kids events:
Dec. 7--Mt. Carmel Kids Night Out, 6:30 to 9:30 p.m. (sponsored by the Mt. Carmel Youth). RSVP to emily.mtcarmel@gmail.com. $5 donation suggested.
Dec. 15--Final Christmas Pagaent Rehearsal (in the morning)
Dec. 16--Christmas Pagaent during 10:30 worship service, followed by Down Home Holiday
Children's Director
---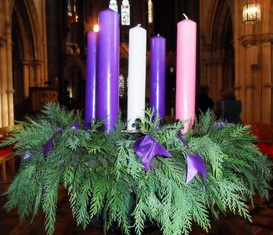 Would You Like to Light the Advent Candles this Year?
During the Advent season, we light candles and have a reading each Sunday leading up to Jesus' birth.
Traditionally, groups of two or more, (families or friends) take a Sunday, read the lesson and light the candles during that portion of the worship service.
This year Advent begins on Sunday, December 2. If you and your family or friends would like to help, please contact Wynne Buran for the 9:30 service, or Susan Posey for the 11:00 service, to sign up for a Sunday. Thank you!
---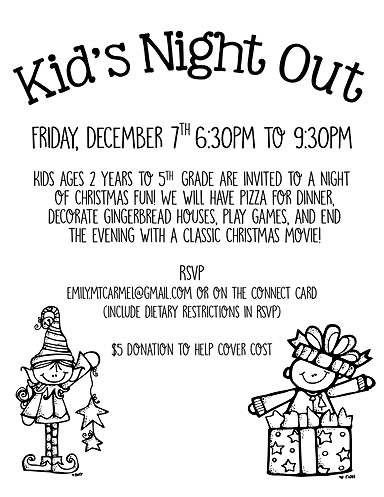 ---
Women's Book Club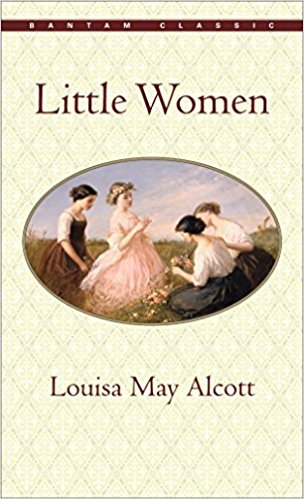 T
he next meeting of the Mt. Carmel Women's Book Club will be on Friday, December 7 at 7:00 p.m. in the Hope House.
This month's book is Little Women, by Louisa May Alcott. All women are invited for discussion, refreshments and fun!
See Chris Bolton or Vicki Walden for more information
.
---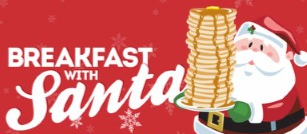 Preschool Breakfast with Santa!
December 8th
9:00 & 10:00 AM seatings
Join us for all you can eat
pancakes, bacon, juice and coffee!
Crafts * Stories * Raffles
Professional photos with Santa too!
Holiday fun for everyone!
Cost Online in Advance:
Children 2 and up - $7
Adults - $10
($2 more for pay at the door)
Purchase tickets in advance at:
Questions? MtCarmelPS@Gmail.com
---

It's Time to Order Poinsettias
Once again, the Mt. Carmel United Methodist Women will sponsor the placing of poinsettias in the sanctuary for the Christmas season.
If you would like to have a poinsettia placed in the church in honor or memory of someone, please fill out the order form in the Sunday bulletins and put it, with your check, in the offering plate, or contact the
church office
.
Cost: $9.00 per plant.
Please make checks payable to:
Mt. Carmel UMW.
DEADLINE FOR ORDERS: Dec. 5, 2017.
---
Preschool Turkey Trot 2018!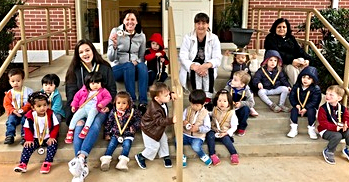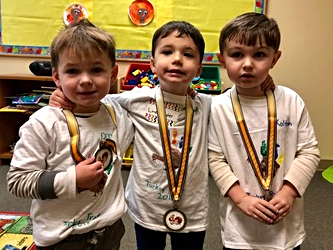 The Preschool Turkey Trot 2018 is in the books and MEDALS have
been awarded! The Preschool children all did a wonderful job in this grueling 0.35k run / walk!
Happy Thanksgiving!
---

Holiday Events Calendar
UMW Christmas Party: December 3
6:00 pm - Crawford Home
Kid's Night Out: December 7- 6:30 until 9:30 pm
Preschool Breakfast with Santa
December 8 - 9:00 & 10:00 am seatings
Special Christmas Music: December 9
10:30 am Combined Worship
Children's Christmas Pageant: December 16
during 10:30 am Combined Worship Service
Down Home Holiday: December 16
11:30 am - Lunch & Holiday Fun!
Youth Progressive Dinner: December 21 - 6:00
Christmas Eve Worship: December 24
5:00 pm - Traditional Christmas Eve Service
with Holy Communion & Candlelight
11:30 pm - Usher in Christmas with
Holy Communion & Candlelight
Merry Christmas! December 25
---
Prayer Concerns
The Westafer Family
Family of Ann Rikard who died on Sunday
Tapleys: Steve & Donna Riviere / for Jacque's mom – open wound on her ankle
For firefighters and victims of fire in CA
Bennetts: Dr. Tammy R. – fighting cancer
Dawn Seigler: friend Louie – health problems
Cynthia Currence: for those traveling this week
Elizabeth Crawford: job interview / new house
Thanksgivings
Sam Tapley: for the message on Sunday
Hillary Whaley: for the children of the church and volunteers who help them
Jacque Tapley: her mom turns 87 on Tuesday
Paul, Pam and Jenna Larson visiting
---
Ways to Make a Donation Electronically
Thank you for your support of Mt. Carmel!
There are many ways to give: You may use a Debit Card, Credit Card, or PayPal, o
r you may make
an automatic electronic funds transfer on a
one-time or recurring basis.
Click
HERE
to give electronically.