In the Newsletter this Week:
From the Pastor

Wednesday Services of Holy Communion

Bulletin Covers

Preschool Breakfast with Santa: Dec. 13

2014 Angel Tree Gifts Due TODAY!

Children's Ministry

Staff Christmas Gift

Women's Book Club

Parent's Night Out: December 12 - 6:00 to 9:00 p.m.

Down Home Holiday: December 21 - 6:30 p.m.

New Wednesday Study Begins January 7

Soup for Trinity Soup Kitchen

Flashlight 5K for Family Promise - December 31

Thank You

Prayers / Thanksgivings
---
Wednesday Services of Holy Communion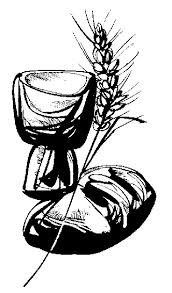 During December, step away from the busyness and noisy preparations and pause for a moment of peace in the presence of Christ.
A brief (15-minute) time of quiet celebration will be offered on Wednesday, Dec.10 and 17 at noon and at 6:30 pm in the sanctuary. This time of simple worship will include silence, scripture and Holy Communion.
---
Sunday's Bulletin Cover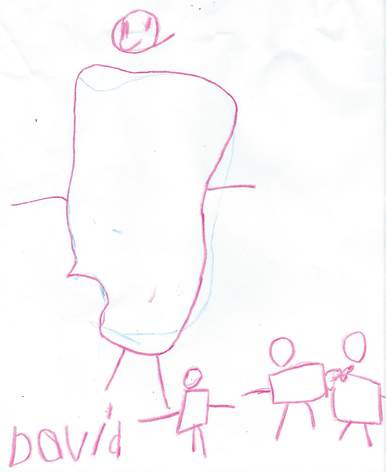 Thank you to David Williams for providing last Sunday's bulletin cover showing God the Shepherd.
---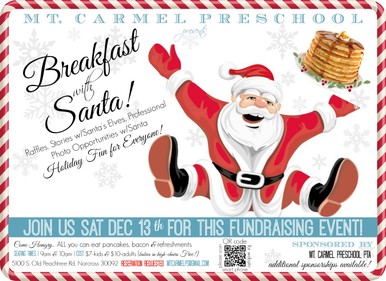 Breakfast with Santa is THIS Saturday!
December 13: 9:00 and 10:00 a.m. seatings
If you would like to make reservations for the Preschool's Breakfast with Santa, you may make your reservations online and pay by clicking
HERE
.
---
Don't Forget!
Don't forget about these articles from previous newsletters. Full information about each can be found on the conference or church
website
or contact the church office with any questions.
---
Angel Tree 2014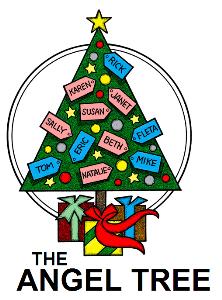 DEADLINE TO RETURN ANGEL TREE GIFTS IT TODAY!
Thank you for helping local children and their families have a merry Christmas!
---
Children's Ministry
Sunday School: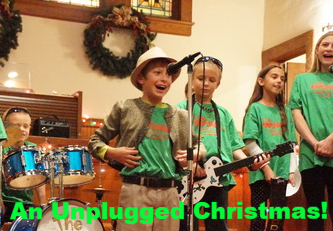 There will not be a Sunday School lesson at 9:45 or an 11:00 Children's Worship this Sunday. The children will stay and sing Christmas Carols with the congregation at 9:30. We will sing " A Silent Night Rap."
An infant and toddler nursery will be provided.
At 11:00, there will be childcare for preschoolers and a nursery. Older children are invited to stay for the choir's Christmas program.
Christmas Pageant Thank You:
A big thank you goes to the Mt. Carmel children and parents for a wonderful production of An Unplugged Christmas!
An extra special thank you goes to Cheri and Alex Proels for their help with props and the music. A flash drive is available in the church office for you to make a copy of the video.
Cheryl Smith took time from her busy Christmas schedule to accompany us and Marianne Thompson, Lori Anderson, Anne Bailey and Suzanne Foster put together a wonderful reception.
Thank you all.
Upcoming Sundays in December: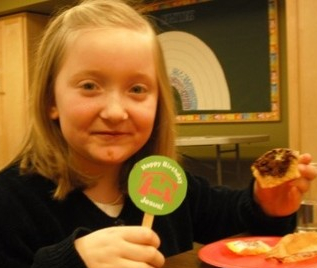 Dec. 21: Birthday Party for Jesus at 9:45 -
Bring quarters for the children's donation box for the United Methodist Children's Home.
There will be childcare available at 11:00 instead of Children's Worship.
Dec. 31: One service Sunday at 10:30 -
Come be a part of a procession of Wise Persons. The children are invited to dress up as royal visitors and process into the sanctuary during the opening hymn. Sunday School will follow the children's sermon.
Marian Long, Director of Children's Ministries
---
Staff Christmas Gift:
Have You Counted Your Christmas Blessings?
We are so blessed to have such an exceptional staff here at Mt. Carmel. Throughout the year, we benefit from their talents, dedication and hard work. There is no doubt that Mt. Carmel would not be the same without them.
As a show of appreciation, we ask you to make a monetary Christmas gift as a special "thank you" from the congregation. If you would like to contribute, please place your gift in the offering plate on Sunday.
Checks may be made payable to the church, simply designate your gift as "Staff Christmas Gift". And thank you for your gift to the wonderful Mount Carmel staff!
The Staff Parish Relations Committee
---
Women's Book Club

The next meeting of the Book Club will be on Saturday, January 10th at 7:00 p.m. in the Hope House.
This month's book is Don't Let's Go to the Dogs Tonight: An African Childhood by Alexandra Fuller.
---
Parent's Night Out! - Dec. 12 from 6 to 9 p.m.

Offered by the Mt. Carmel Youth as a service project, this event is for children ages 2 years - 5th grade.
We'll meet in the Youth Hall for pizza, making gingerbread houses, and movies!
Cost: $5.00 per child to help cover cost of supplies.
DEADLINE TO REGISTER IS TODAY!
---
Down Home Holiday! Dec. 21 - 6:30 pm

Join us under the Christmas tree in the Fellowship Hall for hot chocolate, cider and refreshments.
We'll sing our favorite Christmas songs, hear a favorite Christmas story, play some reindeer games and we just might have an early visit from old St. Nick himself.
Wear your favorite Christmas sweater, and the little ones can even wear their p.j.s!
If you need a little Christmas cheer, the "Down Home Holiday" will be the perfect evening for you, your family, and children of ALL ages.
---
Trinity Soup Kitchen: January 11
Once again our Youth will serve LOTS of soup, sandwiches and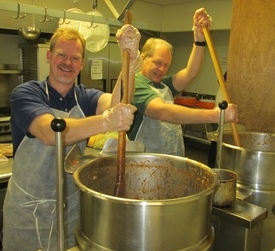 granola bars to the homeless at the Trinity Soup kitchen in Atlanta.
In preparation, LOTS of vegetable beef soup and granola bars are needed, so collection is starting NOW! If you can provide a gallon or two of soup, or a box of granola bars, please sign up on the Connect Card in Sunday bulletins.
If you need a recipe for the soup, click
HERE
.
You may begin bringing these to the church in December.
Please place the soup in the freezer in the church kitchen and granola on the counter. And remember to mark it with your name. Thank you!
---
New Wednesday Study - Orientation Jan. 7
The Book of Revelation
AGENTS of the APOCALYPSE
The Agents of the Apocalypse by Dr. David Jeremiah is a ten week bible study.
The agents begin with John, the writer, and end with the Reigning King and final Judge of all mankind, Jesus Christ. If you will commit to this study with all of your being, your life will be changed forever.
Orientation: January 7, 2015
Class Starts: January 14, 2015
Day and Time: Wednesday at 7:00 p.m.
Where: Double Classroom, Room 112/114
Cost: Study Guide, $10. 00 plus S & H /
Book ( not necessary, only if desired) $20.00 plus S & H
Contact: Neil Odom: nonojo413@gmail.com
770-582-7457 (home) or 770-827-2122 (cell)
---
9th Annual Flashlight 5K for Family Promise!

Dear Family Promise Supporter,
On New Year's Eve, Family Promise is sponsoring the 9th Annual Flashlight 5K Road Race, held in Lawrenceville.
It is called the Flashlight 5K because the race begins at 6:00 PM and it is going to be dark. The fun of the race is that volunteers station themselves around the course with flashlights cheering the runners on to victory.
We need volunteers to come for 90 minutes and be a cheerleader. If you don't have a flashlight, don't worry we will provide you with one.
To take part, call:
Chuck Ferraro 678-376-8950 or Tom Cioffi 770-985-7353.
---
Thank You Very Much!
Lucile Jones is back at home now after her stay in rehab due to pneumonia.
She says to please thank everybody for their prayers and concern for her during her recovery. She also enjoyed the Holiday Box that the United Methodist Women made for her.
It's good to be a part of such a caring church family!
---
Prayers and Thanksgivings
Please join with others in our church family in praying our concerns and thanksgivings this week.
Concerns
Victims of storm in Philippines
Jacque Tapley's father: stroke, and mother: knee problem
Sam Tapley's mother: eye surgery
Jacque Tapley's work: company to continue
Friend of Valverde-Jensen family: cancer
Bill Downey's brother-in-law: cancer treatment
Friend of Michelle Hammond: will soon be homeless
Pearl Harbor Day: remembrance
Carl Garner
Grandson of Prsch. teacher Ms. Virginia - ill
Rich - friend of the Germans: chemo
Amanda Garner: surgery
Students taking exams
Cousin of Carol Jamieson: fall & wife had a stroke
Cousin of Diane Bond: medical problems
Past Preschool teacher Pam Bier: in hospice care
Thanksgivings
Lucile Jones at home
Marilyn McGee at home
Lois Salter: glad to have family to light the Advent candle
Susan Posey: all eye surgeries over
Linda Anglin back in church
Ann Whitlow back in church
Tapleys got to visit with grandchildren