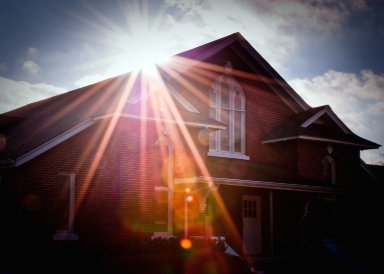 April 11, 2012

In this issue:
From Pastor Cyndi
Save the Date
Singles Event
Preschool
Garage Sale
Pavement Pounders
New Baby
Children's News
Coffeehouse
Blood Drive
Untalent Show
Youth Brunch
In Worship this week
Birthdays / Anniv.
Sunday's Prayers
NCM
Soup Kitchen
Counseling Center
FINAL COFFEEHOUSE
APRIL 12, 7 PM
CONFIRMATION CLASS LOCK-IN
APRIL 13-14

TRANSFORMERS GARAGE SALE
APRIL 14
8:00 - 3:00

SINGLES TO SYMPHONY
APRIL 14
6:00 PM

YOUTH BRUNCH FUNDRAISER
APRIL 15
10:30 AM - 1:00 PM

FINANCE COMMITTEE
APRIL 15
12:15 PM

ATLANTA ROSWELL TRAINING EVENT
APRIL 15
2:30 - 4:30 PM
CREEKSIDE UMC

YOUTH CAST PARTY
APRIL 15
4:30 - 7:30 PM
THOMPSON HOME

ADMINISTRATIVE BOARD
APRIL 15
7:30 PM

RED CROSS BLOOD DRIVE
APRIL 18
2-7 PM

MEN'S CLUB DINNER & MEETING
APRIL 19
7 PM
FELLOWSHIP HALL

UNTALENT SHOW
APRIL 21, 7 PM
FELLOWSHIP HALL

TRINITY SOUP KITCHEN
MAY 6
Birthdays this week:
Nora Ignatius
Addison Franklin
Shane Moore
Megan Gallagher
Alexis Ruth Russo
Bob Pollock
Janis Hoge
Bryson Jarrett
Will Thompson
Gunther Trentini
Anniversaries this week:
Bob Fugate & Patty Merson
Preston & Alice Porterfield
Norcross Cooperative Ministry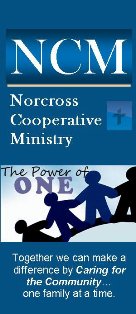 As one of the founding churches of NCM, we encourage your support as they assist those in need in our area.

This week their most needed items are:
cereal, jelly in plastic jars, canned meat (not tuna), canned fruit, meal in a can, 1# bags rice, diapers (larger sizes).

For more information on NCM, see their facebook page at
www.facebook.com
/norcrosscm.
North Georgia Family Counseling Center

Family Wellness
through Counseling, Education and Research

Mt. Carmel proudly supports the North Georgia Family Counseling Center.
678-242-9355
ngfccumc@gmail.com
www.ngfccumc.org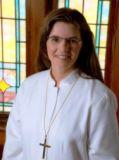 Welcome John Waller



On Sunday we said thank you to Cheryl Smith. A few months ago, Cheryl graciously offered to serve as an interim during our search for a Director of Music / Organist. What a blessing she gave us! She stepped in without missing a beat, leading us in worship and preparing us for the Easter season.

This week we welcome John Waller as our Director of Music and Organist. John brings a wealth of music training and experience as well as a passion for worship planning. I am excited about working with John; we have had many conversations about upcoming scripture readings. We want to continue our church's tradition of all our elements of worship, prayer, visuals, music and sermons, focused on the scripture readings for that week. As John prays over the weekly scriptures, he listens for how the scripture can be sung in our hymns and anthems.

We welcome John's wife, Isabel Waller, and their daughter, Fei Tie, a computer science student at Georgia Tech.

John comes to us from Duluth First Baptist Church, where he served as an accompanist. He is skilled at sight reading,organ improvisation,orchestration of instrumental accompaniment parts, and experienced as a choir director. He has held positions at Druid Hills Baptist Church in Atlanta and Mount Zion United Methodist Church in Marietta.

John works full-time in data services for KPMG. That said, you should set aside any stereotypes you have about people who work in the tax and accounting industry. He will probably show up for choir practice tonight on his Harley.

I'll see you this Sunday,
Pastor Cyndi
---
Final Catacombs Coffeehouse is T
omorrow Night!
The last Catacombs Coffeehouse is tomorrow night, April 12th at 7:00 PM. After many years of great Thursday evening entertainment, the Coffeehouse is coming to an end. Our own Gospelites will perform as the final musicians.

The Coffeehouse needs BAKED GOODS to serve tomorrow night also, so please let the church office know if you can provide something tasty!

Beginning this month, the Pavement Pounders running group will alternate their starting point between Mt. Carmel and Trader Joe's at the Forum.

Each Saturday in April, they will meet at the church at 8:00 AM and will have routes mapped out in this area. In May they will meet each week at Trader Joe's again.

Whether you are a novice runner or a pro, the Pavement Pounders would love for you to join them each Saturday!
---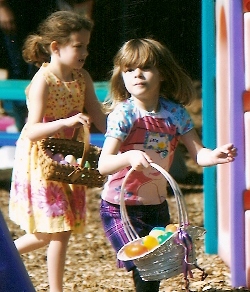 Children's Ministry News
The lesson this week is from John 20: 19-31 and is the story of Doubting Thomas. The children focus on knowing that Jesus is with us even if we can't see him. Talk with your children about something you believe in even though you can't see it.

And thank you to Andrew Raye for creating our "Doubting Thomas" artwork for the cover of the Sunday bulletin this week!

Earth Day Celebration
Sunday, April 22, 3:00-5:00
April 22 is Earth Day around the world and Mt Carmel children will celebrate the day with activities to help us remember that God loves our earth and ways we can show our love.
We will take an unnatural hike, plant some flowers, make some paper from junk mail, and clean up litter around the church. Let me know if you can come. children@mtcarmel-umc.org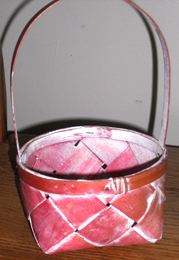 Easter Egg Hunt Thank you!


A big than
k you to everyone who filled eggs for the Egg Hunt! We had a grea
t crowd of egg hunters who found all those eggs.
Missing Baskets


Do you have some of these little baskets at your house? We are missing several that belong with our Easter Egg Hunt supplies.
Marian Long
Director of Children's Ministries
---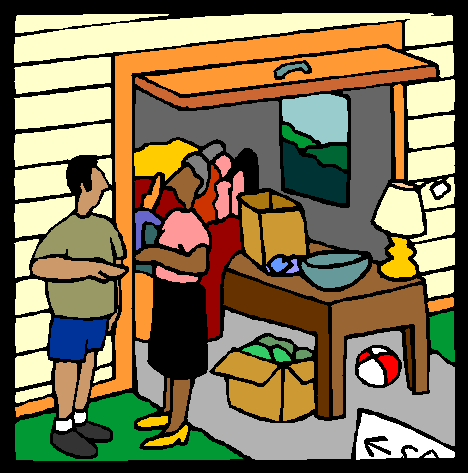 Transformer Class to Host Garage Sale!

April 14
8:00 AM - 3:00 PM
at Mt. Carmel

The Transformer Sunday School class is raising money to build a home for a poor family in a developing country. The cost is $3200 a house and the class raised about half that from a garage sale last Fall. (Thank you again for your donations last Fall!) We recently learned that our donations will be matched by a benefactor within the organization (Food for the Poor) and two houses can be built, once we raise $3200!

Anything that you would like to donate to this cause will be greatly appreciated. If you can hang onto it until Friday before the sale, that would be great! If you need to have an item picked up, please email Sam Tapley (spt404@hotmail.com) or Ed McDonald (edmacmo@gmail.com) to make arrangements.

Also if you work nearby or have a place to post or distribute a flyer about the Garage Sale, these can be picked up from the church office. Any assistance in "getting the word out" will be greatly appreciated!

And, of course, please be sure to come out and shop with us on April 14! Thank you for supporting our mission to house these needy families.

Many blessings,
The Transformer Class

---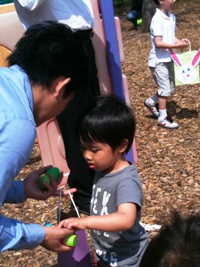 From the Preschool

Wow, Spring Break has come and gone and we are back with a load of activities between now and the end of the school year. We want to first thank all the dads, uncles, friends, and cousins who came in to be with us for Pizza with Dad. The weather was wonderful, the pizza from Stevie B's was delicious, and we had an abundance of eggs for everyone to find. It was just perfect. We also want to thank John Michael Smith for being a date for one of our students this year. This is his 6th year of being with us. We just love you, John Michael! Thank you so much for helping us!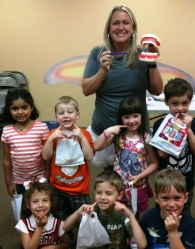 We also had a visit from the Tooth Fairy and she reminded us to brush our teeth every day and to eat healthy foods and snacks. We enjoyed getting our gift bags of tooth brushes, tooth paste, floss and stickers from her and we promised to take good care of our teeth. The Tooth Fairy also reminded us that she can see when we pretend to brush our teeth in the bathroom if Mom or Dad is not with us. Oops! We have to remember to do a good job, don't we?

This week the 3's and 4's are off to the train museum on Buford Highway! There are plenty of children who just cannot wait to get there and see the trains and go for a ride. Wow, it will be fun! The 3's will go on Thursday and the 4's will go on Friday. We will leave here at 9:45 to be at the museum by 10:00 and then will be home in time for lunch. Thank you to all the parents who have volunteered to drive.

Please remember that next Tuesday and Wednesday are class picture days. Miss Susan's, Miss Karen's, Miss Carol's T/Th, and Miss Virginia's classes will have their sessions on Tuesday and Miss Sarala's, Miss Carol's W/F, Miss Marilyn's, and Miss Lin's classes will have pictures on Wednesday. Please remember this is a prepay situation with checks made out to Precious Memories Photography!

In joy and love,
Lorrie
---

Mt. Carmel Singles Event

Join the Mt. Carmel Singles on April 14 at the Johns Creek Symphony for "An Evening with Oscar & Tony," selections from Academy Award films and Tony Award Broadway shows.

We will meet at the church at 6:00 to go out to dinner before the performance or you can meet us at the theater at 8:00. Tickets are $23.50. Let Marian (children@mtcarmel-umc.org) or Jeanne Manget know by April 10th if you plan to attend so tickets can be reserved.
Theater at Johns Creek High School
5575 State Bridge Rd
---
Cost:
$7.00 for 11 yrs. and up
$4.00 for ages 3-11 yrs.
Under 3 years eat free!

Menu:
Baked French Toast
Sausage and Egg Casserole
Hash Brown Casserole - Cheese Grits
Pigs 'n Blankets - Fresh Fruit
Coffee and Juice

Sponsored by the Mount Carmel Youth, all proceeds will help defray the cost of the Summer Mission Trip to New Mexico. Thank you!
---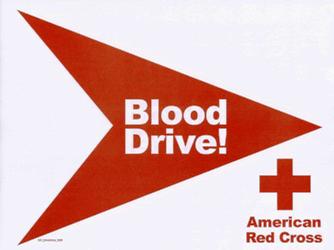 Red Cross Blood Drive
Please sign up now for the upcoming Blood Drive at Mt. Carmel on April 18th from 2 - 7 PM. We need to have at least 35 volunteers signed up for the Red Cross to come.

You may register on line at redcrossblood.org and use the sponsor code: mtcarmelumc, or call the church office at 770-449-4498.

Please consider donating blood. Together we can save lives!
---
It's a Boy!

Congratulations to James & Diana Nishimuta on the recent birth of Calvin Paul Nishimuta. (And to grandparents Dan & Anne Bailey too!)

We wish them all the best!
---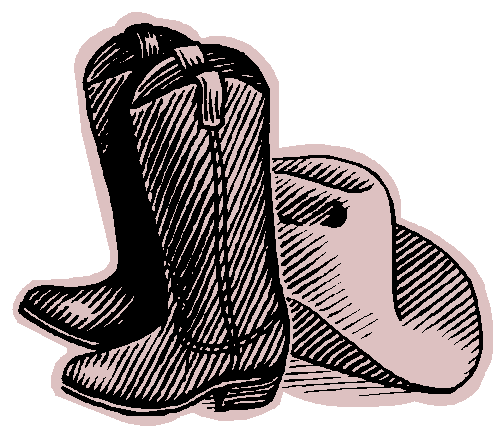 The "Cowboy Campfire" Untalent Show
Saturday, April 21 at 7:00 pm

Start planning your act now for the Cowboy Campfire-Untalent Show! The youth will sponsor this evening of entertainment to raise money for their Mission Trip to New Mexico.

If you would like to provide an act of talent or untalent, please contact Gail Bolton at flossygail@comcast.net or 678-313-3526.
---
Trinity Soup Kitchen on May 6

The youth will once again be serving at the Trinity Soup Kitchen on May 6. We will be collecting 1 gallon bags of frozen vegetable soup to take to Trinity. If you would like to donate soup or go down with the youth to serve, please contact Gail Bolton.
---
Condolences

Our sympathy is extended to Debbie and Steve Ruhl and their family on the death of Debbie's father, Bill Taylor. Please keep them in your prayers.
---
Atlanta Roswell District Training Event
April 15: 2:30 - 4:30 PM
Creekside UMC

All church leaders are invited to the Third 2011/2012 AROS Training Event. The committee has gathered speakers on a wide variety of topics suited to all churches as we strive to be Vital Congregations.

Click here for more information or to register.
---
Please join with others in our church family in praying the thanksgivings and intercessions named in worship last Sunday and during the week:
CONCERNS:
Family of Bill Taylor
Neil Odom - recovery from knee surgery
Carol's friend Jane - hospice
Ruby's friend - pancreatic cancer
Kathy Huggins - knee surgery
Neil Odom - knee surgery
Anita & Lamar Andrews
J.W. & Ann Rikard
Michelle Gallager - death of cousin Connie
Mark Moore's mother - dealing with death of husband
THANKSGIVINGS:
James & Diane Nishimuta - new baby
Stations of the Cross
Easter Egg Hunt
Cheryl Smith for being music interim
Birthdays of Nora Ignatius, Susan Posey & Janis Hoge
Jacque's friend Steve - cancer gone
Ruby's nephew married
Chris Ragon - 9 yrs. cancer free
---
News to Share?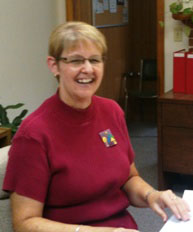 Do you have an article to include in next week's bulletin or newsletter?

Email these to Suzanne Foster or call the church office.

office@mtcarmel-umc.org
5100 South Old Peachtree Road
Norcross, GA 30092
770-449-4498
www.mtcarmel-umc.org