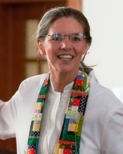 We had a called session of Annual Conference to discuss the sale of Simpsonwood. I had never attended a called session—neither had our Bishop—but it's the second time that our conference has done this in recent memory. The last time was in 2007 when delegates met to guarantee loans on Simpsonwood and review the report of a Task Force on Simpsonwood.
As we do for our annual meetings each June, the Annual Conference met in the classic center in Athens. The day began with a surprise. Many more delegates arrived than were expected. People throughout North Georgia had rearranged schedules and made a way to be part of the sessions.
Mount Carmel was represented by myself and our lay delegate, Lila Hunter. (Churches get one lay delegate for each appointed clergy.) Since there are also retired clergy and clergy who serve at ministries like chaplaincies, districts select district representatives to keep the balance 50% clergy and 50% lay. Our own Dick Easley served in June as our district representative, which meant that he also was part of Saturday's conference.
We began with songs and prayer. That's also the United Methodist way.
I came prepared with information about the original terms of Ms. Ludie Simpson's gift. I had notes with possible questions and comments, and I was ready to stand up immediately if the presentation left out any of the history that I had heard from folks around here who know about Ms. Ludie and her expectations of how her gift would be received and used.
I need not have bothered. There was nothing to add to the presentation. In fact, everything about the session was designed to make sure that the conference delegates had any information that could be helpful in making a decision.
In the open session, we learned some of the history that our trustees had not been able to share previously. We learned about the conference representatives meeting with at least a dozen Simpson family members. We learned about negotiations in 2010 with the National Park Service and Gwinnett County. We learned that the reason that the trustees asked us to go to court to clear the title was that in the Fall of 2011 Gwinnett County would no longer continue negotiations until the title issues were clear.
After this discussion of the history, the conference was closed to the public and limited to delegates and those making presentations. What I appreciated most about the session was that there was no scheduled end time. We heard presentations. We asked questions. Let me tell you, when there are 1400 people in a room, there are a lot of questions.
Three hours into the session, we were allowed to stand and stretch our legs. Lila Hunter opened her satchel where she had brought 20 bags of treats and started handing these randomly to the delegates seated around us. I guess that's part of being United Methodist, too, that someone brings and shares food.
Then back to questions. We were going to stay until every question was answered. More prayer. We even let people ask questions that weren't questions, if you know what I mean.
After four hours, it was clear that we all understood one another and had reached a consensus in how we wanted negotiations to proceed. Fourteen hundred people cannot negotiate a contract, so when the Bishop opened the session we voted to allow the trustees to continue negotiations for us, trusting that they know the desires of the conference.
The Bishop gave his signature "Glory Hallelujah!" I'm not sure whether that's part of being United Methodist, but having the Bishop say "Glory Hallelujah" seems to be part of United Methodism in North Georgia.
As I left the conference, I thought about trustees that I have known for the churches of which I have been a part. They are good people who put in long hours, often at tasks they did not ask for or expect. The trustees that I know do this out of love for the church.
Although I don't know personally the conference's trustees, I have confidence that they have a similar heart. It was clear that they have been hard at work and that there have been many long hours at unexpected tasks. The only reason that I can see for doing this is out of love for the church.
I hope that I have not written too much. I don't want to say or do anything that could hinder the trustees in their task, so I am trying not to say anything about that closed session. But you know how it is when you are proud of someone? You just want to say "well done" and cheer them on.
I'll see you this Sunday,
Pastor Cyndi McDonald