In the Newsletter this Week:
From the Pastor
Stewardship Video: It's a Wonderful Church!

Silent Auction

: November 22

Church-Wide Thanksgiving Dinner: November 22

Star Followers: Journey to Christmas

Angel Tree: November 22 - December 9

Red Cross Blood Drive: December

2

Children's Ministr

y

Women's Book Club: December 4

Children's Christmas Pageant: December 6

Kid's Night Out: December 11

Preschool Breakfast with Santa: December 12

December 13: Christmas Programs

Time to Order Poinsettias!

Let UMW Deliver Your Christmas Cards!

Prayers / Thanksgivings

Ways to Make a Donation
---
Giving Thanks is Better with You
My son Matt married a lovely woman Cynthia. I have no reason to be proud of her—it's not like I helped raise her—but I am both proud of and thankful for her!
Recently Cynthia shared how much she enjoys spending Thanksgiving with us. And while I suspect that this is simply a gentle way to let me down about not being able to spend Christmas together, I still appreciate her kind words.
She shared that Thanksgiving was not a holiday that she grew up celebrating on a grand scale. Turkey, dressing, pea salad and carrot soufflé were not part of her family's tradition. (Please do not tell her that carrot soufflé and pea salad are not part of most families' traditions.)
But most of all, Cynthia loves the huge gathering with grandparents, aunts, uncles and cousins. My parents' home fills with people we rarely see. Sometimes I'm confused about how we are all connected.
Giving thanks can be done alone—and it should be, as part of a daily spiritual practice—but like these annual celebrations, it's better together.
Hasn't it been fun to give thanks together these last few weeks? The sanctuary cross is covered in gift tags of thanks for all the gifts God has given us. There are thank you tags for saints and veterans, tags listing family members and friends, children's tags listing animals and food. There are tags listing chocolate and starbucks, Norcross Cooperative Ministry, homes, and jobs.
This Sunday, our worship service will focus on the reasons we have to give thanks, and we will finally find out whether Clarence the Angel will help Bob Jones enough to earn his wings again. If you have a pledge card, please bring that as part of your giving thanks to God.
During the day, we will say thanks at the silent auction, sharing what we have to help those with little. The auction will raise money for those nearby (Family Promise of Gwinnett) and those far away (World Vision). The angel tree will be set up during the day, so that we can give thanks by helping provide Christmas gifts for children in nearby schools.
At 6pm, we will say thank you together at a dinner. Talk about a big family! There will be long-time friends and new acquaintances, and food, food, food! We may spend some time around the table figuring out how we are all related. But mostly, we will simply enjoy being together and giving thanks for the church for making this possible.
Cynthia is correct. Thanksgiving IS a lot more fun when we are giving thanks with others. I look forward to giving thanks with you this Sunday!
I am thankful for you, Mount Carmel.
---
It's A Wonderful Church!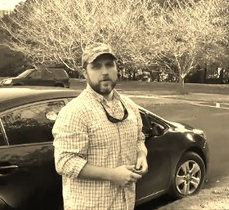 What would the neighborhood be like without Mt. Carmel?
Click
HERE
to see the fourth installment of "It's A Wonderful Church," a vision of what the world would be like without Mount Carmel!
---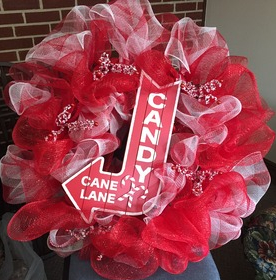 Come and Shop at the Silent Auction this Sunday!
The Transformers Class will sponsor this auction on Sunday, November 22nd from 9:00 am until 7:00 pm in the Fellowship Hall.
Proceeds will benefit World Vision and Family Promise of Gwinnett (a world outreach and a local charity.) The funds will be divided 50/50 for each of these worthwhile causes.
THANK YOU for helping us help others and
remember to come and shop for Christmas items, household pieces, appliances and more.
---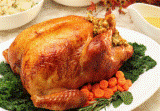 Church-Wide Thanksgiving Dinner
November 22 at 6 PM
Bring a side dish or dessert to share and enjoy a Thanksgiving Dinner with your church family.
Thanks to the Mt. Carmel Men's Ministry for providing the turkey, ham, dressing, potatoes, green beans, rolls and cranberry sauce. Happy Thanksgiving!
---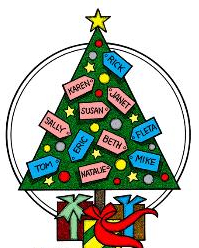 Stop by the Angel Tree on Sunday Night!
The Angel Tree will be up in time for the Thanksgiving Dinner on November 22nd, so remember to stop by in the foyer and take an angel or two.
Just sign the list provided with the number on your angel, do your shopping, and return your gifts (unwrapped) to the church by December 9th.
Thank you for helping children from local schools and Norcross Cooperative Ministry have a merry Christmas!
---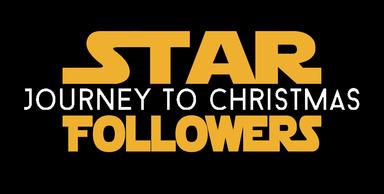 Star Followers: Journey to Christmas
We have followed the story from creation and a garden to slavery in Egypt, from the wilderness to the promised land, from the time of judges to anointing of a king.
Now the Assyrian armies approach, with the Babylonian Empire following closely on its heels.
In the darkness ahead, where is hope to be found?
Nov 29
A New Hope
2 Kings 22 & 23
Dec 6
The Empire Strikes Back
Ezra 1 & 3
Dec 13
The Return of the Jews
Isaiah 40:1-11
Dec 20
The Force Awakens
Luke 1:57-80
---
Red Cross Blood Drive
December 2: 2:00 - 7:00 p.m.
Please sign up to give blood and save lives!
Volunteers are also needed at the Canteen. If you can help, please check the box on the back of the Connect Card in your Sunday bulletin.
Click HERE for an example of blood donation saving lives.
---
Children's Ministry
Sunday School
Our lesson this week is from Hosea 11:1-9 and is titled God Loves God's Children. This passage is a message from the Prophet Hosea: Return to God, God's love for you remains, now and forever. We will talk about asking forgiveness for things we have done wrong.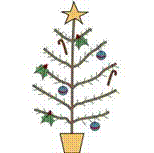 Island Christmas Practice:
Sunday at 4:00 for main cast members and 4:30 for nativity scene cast.
Please bring the masks that you got week before last.
And don't forget the church wide Thanksgiving dinner after practice!
Director of Children's Ministry
---
Mt. Carmel Women's Book Club: Dec. 4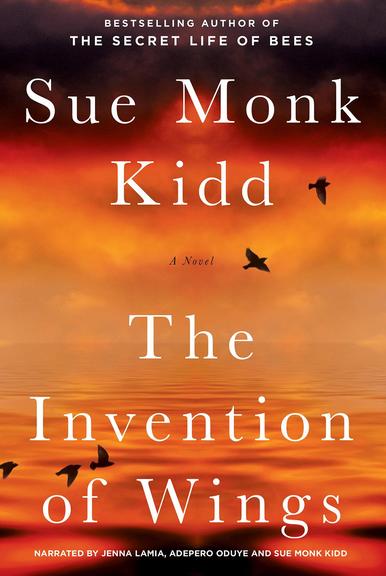 All women are invited to join the Mt. Carmel Women's Book Club
that meets monthly. This month's book is The Invention of Wings by Sue Monk Kidd.
The next Book Club meeting will be on Friday, December 4th in the Hope House. Light refreshments will be served.
---
Children's Christmas Pageant: Dec. 6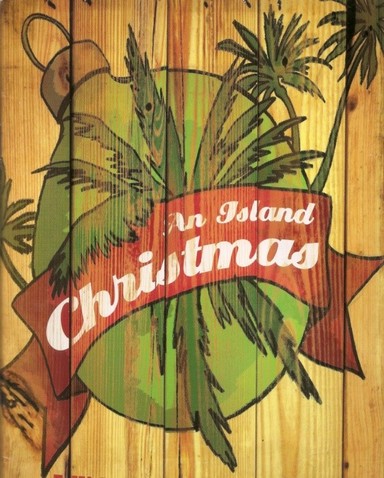 The Children of Mt. Carmel invite you to join them for An Island Christmas!
December 6th at 6:00 p.m. in the Sanctuary. A reception will follow in the Fellowship Hall.
---
Kid's Night Out: December 11, 6-9 pm

The Mt. Carmel Youth will once again offer, as a service project, a "Kid's Night Out" in December for PARENTS to actually get a night to enjoy a quiet dinner or maybe finish up some Christmas shopping!
Meanwhile, you'll know that your children are having fun eating pizza, making gingerbread houses, and watching fun movies with their friends.
This event is open to children ages 2 years through 5th grade and the cost is only $5.00 to cover the expense of supplies.
---
Preschool Breakfast with Santa!
December 12: Seatings at 9:00 & 10:00 a.m.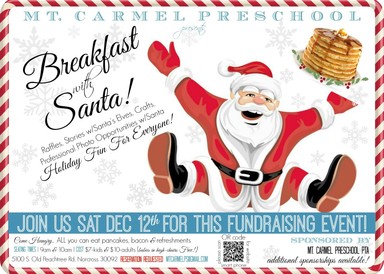 ---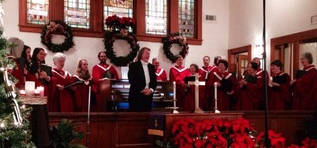 Musical Christmas Programs - December 13
On Sunday, December 13th, the Worship Services will be all about music!
At 9:30 we will enjoy Nativity and Songs and
at 11:00, the Chancel Choir will present their Christmas Program.
Whether you attend one, or both of these services, you will leave feeling the true spirit of Christmas.
---
Time to Order Poinsettias!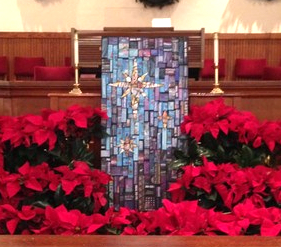 The Mt. Carmel United Methodist Women will sponsor poinsettias in the sanctuary on December 13 and 20 in honor and memory of our loved ones.
Cost is $10.00 per plant.
To order a poinsettia, just complete the order form in Sunday bulletins and drop it, along with your check made out to Mt. Carmel UMW, into the offering plate. Or contact the church office.
The deadline for orders is Sunday, December 6th.
---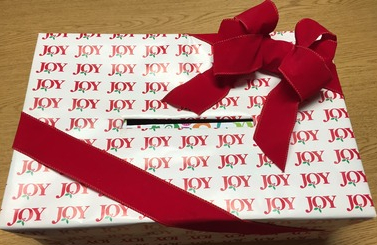 Let UMW Members Deliver Your Christmas Cards
The Mt. Carmel United Methodist Women will personally deliver your Christmas cards to your church friends during Advent.
Just bring your labeled cards to church and drop them into the wrapped boxes at the back of the sanctuary.
Please note that the boxes are divided alphabetically to make the sorting process a little faster.
---
Prayers and Concerns
Please join with others in our church family in praying our concerns and thanksgivings this week:
Prayers
Connie Hull: healing
Andy Raye: recovering from arm surgery
People of Paris / families of those killed
Friend of the Easleys: stroke
5 yr. old girl healing from heart / lung transplant
For peace and protection for our nation
Chris Bolton's co-worker: for pregnancy to go full term
Jacque Tapley's sister: to find a job
Elizabeth Crawford: to get job interviewing for
Ann Rikard's friend Chris: cancer
Thanksgivings
Birthdays of Lauren Bryant-Davis and her husband Wes
David Jones: skin cancer successfully removed
---
Ways to Make a Donation Electronically
Thank you for your support of Mt. Carmel!
There are many ways to give: You may use a Debit Card, Credit Card, or PayPal, o
r you may make
an automatic electronic funds transfer on a
one-time or recurring basis.
Click
HERE
to give electronically.