In the Newsletter this Week:
---
The Cow on the Roof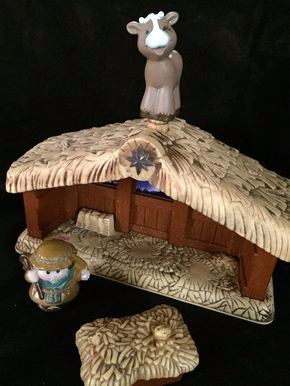 There's a cow on top of the stable.
On Sunday mornings the children have been adding elements to the stables. This is part of how we get ready for Christmas, reminding ourselves of the people in the first Christmas story.
I'm not sure why Brennan put the cow on the roof of the stable. Maybe he saw the "Goats on the Roof" restaurant in North Georgia.
Or maybe Brennan is a scholar of early church tradition, which connects a cave with Christ's birth. Justin Martyr (150 A. D.) and Origen, about a hundred years later, describe this as a cave. This makes sense, as through Palestine people used caves for homes, cisterns, stalls, and storage. A cow could easily wander to the top of a cave.
How do you imagine Jesus' birthplace? A stable with hay? A cave? (Probably not with a cow on top!)
Justin and Origen probably pictured a cave because that would have been a familiar image to them, of animals staying in a cave. I picture wood stalls and a wood manger, because that's an image familiar to me. But in further reflection, in an arid country wood would have been a precious material, used for the finest furniture, not for animal housing.
No matter the setting, it's humble. There should have been family with whom Joseph and Mary could have stayed. Joseph's family was from that area, and his extended family would have also traveled Bethlehem for the census.
Yet they have no room for Joseph and a wife they would see as shameful.
This is the detail most important, the one Luke records. It's a humble place, because people did not make room for Jesus.
So for now I am leaving the cow on top of the nativity. Who knows whether there was a cow up there? Or if it was a cave? Or a stable?
All we know is that there was no room. And we don't want to repeat their mistake and miss out on Jesus in our midst today.
I'll see you this Sunday,
---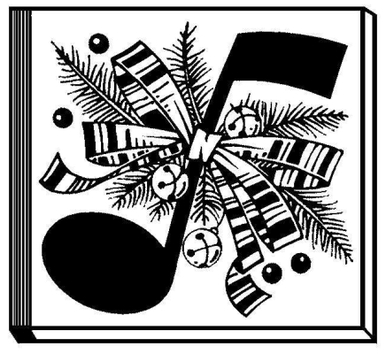 Christmas Music & Cantata - this Sunday in Worship
This Sunday we tell the Christmas story in song in both services.
The 9:30 service is filled with carols.
At 11:00 we praise God and tell the Christmas story with choral music.
Whether accompanied by guitar or organ, you'll want to be part of the story of the people who welcome the Messiah, and a God who loves enough to enter our world as a baby.
---
The Angel Tree Deadline is TODAY!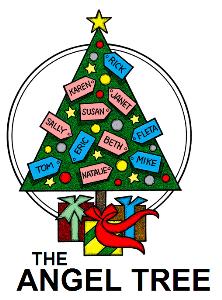 If you haven't returned your Angel Tree gifts yet, please bring them by the Fellowship Hall TONIGHT!
Sorting and packing will begin at 5:00.
Thank you for helping children from local schools and Norcross Cooperative Ministry have a merry Christmas!
---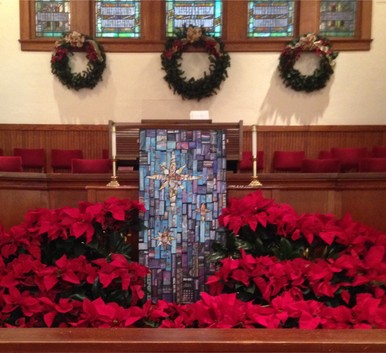 Order Poinsettias Now!
Once again, the Mt. Carmel United Methodist Women will sponsor the placing of poinsettias in the sanctuary for the Christmas season.
If you would like to have a poinsettia placed in the church in honor or memory of someone, please fill out the order form in the Sunday bulletins and put it, with your check, in the offering plate, or contact the
church office
.
Cost: $10.00 per plant.
Please make checks payable to:
Mt. Carmel UMW.
DEADLINE FOR ORDERS: Dec. 11, 2016.
---
Holy Communion during Advent: Dec. 7, 14, 21
Each Wednesday during Advent from 6:30 – 7:00 p.m., a short Holy Communion service will be held in the sanctuary.
Stop in for a little peace and reflection during this hectic season.
---
Youth News
Get Ready for ...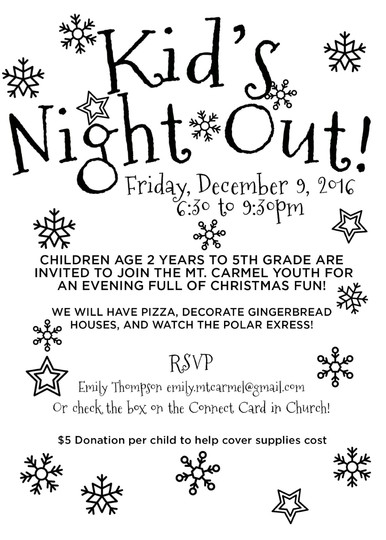 The regular youth meeting is on Sunday evenings in the lower fellowship hall and classrooms. Dinner begins at 5:15, followed by games, fun, programs, music and worship until 7:30.
For upcoming youth events and contact information, see the youth calendar
H
ERE
. Or contact Youth Director,
Emily Thompson
.
---
A Note from the Stewardship Team
Dear Friends,
Once upon a time, a long, long time ago, a man, his wife, and two daughters arrived on the steps of Mt. Carmel UMC. The first Sunday the wife went to church, she was guided to sit behind someone wearing a Fighting Ilini jacket who was sitting with his family. Although the wife was a bit prejudiced to anyone wearing a U of I jacket, (after all, those who went to that university called her university "The Kmart of Education), she bit her tongue and was greeted by very welcoming people. The next week she chose to sit behind them again and the woman turned around and called the wife by name. The wife knew Mt. Carmel was her home. Not long after their arrival, the man and wife were blessed with a third daughter and their fate was sealed.
In years to come, the woman and the wife realized they could never sit near one another as both of them were big criers and if one didn't cry, the other did, which led both of them to crying and Noah's ark was needed in the sanctuary.
I am more than sure plenty of you have stories of your own that resemble mine. I have found that Mt. Carmel is more than a place; it is a feeling of home, a memory made earlier in my life that helped me through lonely times, that safe place of refuge and love. More than anything else, I want Mt. Carmel to be the same kind of place for everyone who walks into the building.
There are many things to be done to ensure Mt. Carmel's presence in the future. I have found the best way to find my place is to help when asked, to volunteer to help when I can, and to support the finances with my pledge. I know our Finance Committee would appreciate knowing you support the programs of the church by sending in your pledge card. Do it today, please. Planning for the future needs a foundation and a pledge card helps!
How does the story end? It doesn't. The woman and the wife are great friends who still cannot sit next to one another. The church helped the man and wife raise their daughters into strong, faithful, and loving women who are writing their own stories with memories of Mt. Carmel. And all three girls send in their pledge cards.
In joy and love,
Lorrie Ignatius
P.S. If you have not completed a Pledge Card, cards are available in the sanctuary or church office, or click
HERE
to complete one online.
---
Christmas Eve Volunteers Needed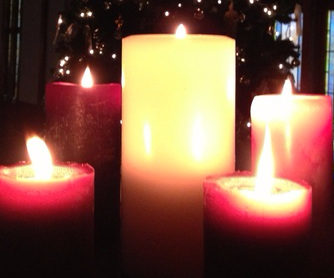 Volunteers are still needed to read and light the Advent Candles on Christmas Eve at the 5:00 and 11:30 pm worship services.
If you, your family, or friends would like to fill one of these spots, please contact
Jacque Tapley
or the church office.
---
Kid's Corner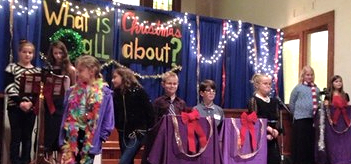 The Christmas Pageant was a great success this year and the kids did a wonderful job bringing the message of Christmas to Mt. Carmel.
Many thanks for all the wonderful help getting ready for the pageant during practices and on Sunday!! It would not have been possible without all of you!
Upcoming Kid's Events:
Join our youth group as they host 'Kids Night Out' - pizza, gingerbread houses, and movie (Polar Express) on Friday, December 9th from 6:30 to 9:30 in the Double Classroom.
$5 donation is requested for supplies.
Our annual Kids Christmas Party will take place during the 10:30 worship time on Sunday, December 18th.
Lets make a present and decorate Christmas cards! --- We will make a present and decorate cards during the Down Home Holiday on December 18th at 11:30.
See you Sunday!
Cheers, Leslie
---
UMW Delivers Your Church Christmas Cards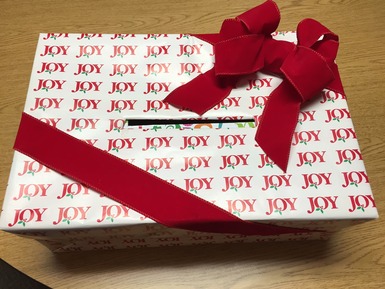 The Mt. Carmel United Methodist Women are once again delivering your Christmas cards to your church friends during Advent.
Just bring your labeled cards to church and drop them into the wrapped, alphabetical boxes at the back of the sanctuary. If you are at the church on some other day and would like to check to see if you have cards, they are stored in the History Room at the back of the sanctuary.
---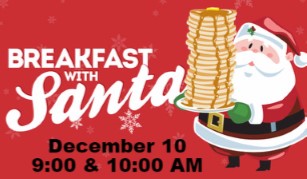 Mark your calendar for the Preschool's
Breakfast with Santa!
Enjoy a delicious pancake breakfast,
raffles, stories with Santa's Elves, and a
professional Photo-Op with Santa himself!
Kids: $7.00 / Adults: $10.00
To make a reservation, email
or contact the church office.
---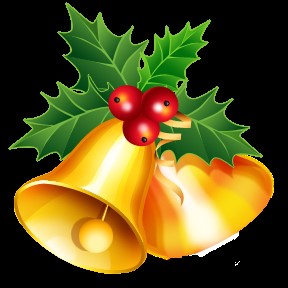 Staff Christmas Gift
We are so blessed to have such an exceptional staff here at Mt. Carmel. Throughout the year, we benefit from their talents, dedication and hard work.
As a show of appreciation, we make a monetary Christmas gift to them as a special "thank you" from the congregation.
If you would like to contribute, please place your gift in the offering plate. Make checks payable to the church and designate your gift as "Staff Christmas Gift."
Thank You,
The Staff Parish Relations Committee
---
December 18: Combined 10:30 am Service
Come and worship together on this special Sunday. There will be music from both the 9:30 musicians as well as the Chancel choir.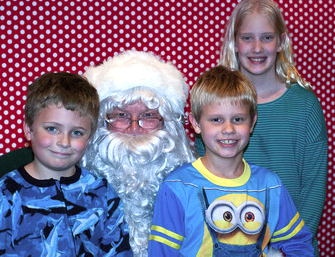 And then stay
for the ...
Down Home Holiday & Soup Lunch
Due to school and holiday schedules this year, the Down Home Holiday will be held right after church on Dec. 18th instead of in the evening. And it will be joined by a Soup & Cornbread Lunch!
Of course there will still be lots of fun, Christmas cheer, opportunities to make some Christmas gifts and cards, and a visit from Old St. Nick himself! Plan to stay after church and celebrate simply together!
---
Monday Night Study Schedule
During this season of Advent, we'll be meeting weekly each Monday night - through December 26th at 7:00 p.m. in the Hope House.
BOOK WE'LL BE USING: The Bible (bring your own, or look over someone else's shoulder, or grab one off the shelf in the Hope House, or just listen in as we read and talk.)
****FEEL FREE TO JUST 'POP IN' WHEN YOU CAN****
Yes, we want your 'presence', but we're not taking attendance or anything; I promise!
During our meetings in December, Our Advent "Conspiracy" is gonna go something like this:
December 12: "Spend Less" - Matthew 1:18- 25 and 2:1-12 (More on the "Christmas Story" ) James 5:1-6, Matthew 6:19-24
*additional reading: Matthew 6: 24, 2 Corinthians 8:13-14, and 9:11, 1 Timothy 6-10
December 19: "Give More" - John 1:1-14, Matthew 1:18-23 and Isaiah 7:14
*additional readings: John 1: 1-3, John 1:14, John 10:30, John 14:9, Matthew 1:23, Isaiah 7:14, Colossians 1:15, Luke 2:11, Philippians 2:6, Mark 10:45
December 26: "Love All" - Luke 2:1-24, Luke 4:16-21, Matthew 25:34-40
*additional readings: Jeremiah 2:13, Luke 4:18, 2 Corinthians 8-9, 2 Corinthians 5:20, Matthew 25:40, Matthew 25:35-36, John 17:20-23
For more information or with questions, contact
Wynne Buran
.
---
Christmas Eve and
Christmas Day Worship Services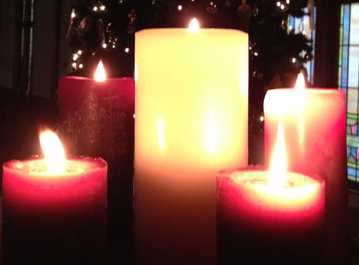 December 24:
- Children's Service at 5:00 pm
- Christmas Eve Services
at 7:00 & 11:30 pm
December 25:
- Christmas Day Worship Service at 4:00 pm
---
Women's Book Club: January 6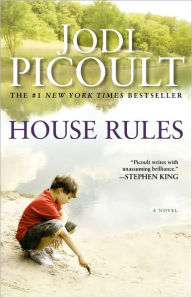 The book club will meet in the Hope House on Friday night, January 6th, at 7:00 p.m.
This month's book is, House Rules by Jodi Picoult.
---
Thank You Very Much
Tom and I want to thank the congregation for all the support during my cancer treatment. We so appreciated the cards, meals, shopping trips, and especially the prayers.
We love you!
Barbara Cooper
---
Prayers and Concerns
Please join with others in our church family in praying our concerns and thanksgivings this week:
Prayers and Concerns
Dawn Seigler's friend Barbara & family: death of her husband last week
Victims of fires in Tennessee
Cheryl Martin: going through hard time at holidays
Katrina Stone's friends in Gatlinburg: whole neighborhood burned up
Sherry Blackwood: recovering from surgery
Students & teachers during upcoming exam week
Tom & Barbara Cooper doing well - will be moving to Stone Mountain area in the spring
Thanksgivings
Barbara Cooper: thanks to Sunday school children who made get well cards for her
Cheryl Martin: her cousin's house in TN is safe and she was able to go home
Kris Bell: friend Gail visiting with them
Emily Samples' 12th birthday, as well as Julie's father's on the same day
Dorothy Edwards' grandson married on Saturday
3 inches of rain
---
Ways to Make a Donation Electronically
Thank you for your support of Mt. Carmel!
There are many ways to give: You may use a Debit Card, Credit Card, or PayPal, o
r you may make
an automatic electronic funds transfer on a
one-time or recurring basis.
Click
HERE
to give electronically.
Every week:
Prayers
Worship this week
Birthdays and Anniversaries
Save the Date
Counseling Center
Norcross Cooperative
---
Sunday's Lessons
Luke 1:26-49
---
Birthdays this week:
Dylan Jones
John Michael Sengbusch
Emily Samples
Mark Parrish
Ruby Easley
Seth Ragon
Jason Parrish
Anniversaries
this week:
---
Save the Date
ANGEL TREE DEADLINE & SORTING
DECEMBER 7 - 5:00 PM
FELLOWSHIP HALL
HOLY COMMUNION
DECEMBER 7 - 6:30 PM
SANCTUARY
CHOIR PRACTICE
DECEMBER 7 - 7:00 PM
SANCTUARY
9:30 PRACTICE
DECEMBER 7 - 8:30 PM
SANCTUARY
HOMEWORK CLUB
DECEMBER 8 - 3:30 PM
FELLOWSHIP HALL
KIDS' NIGHT OUT
DEC. 9: 6:30 - 9:30 PM
LOWER FELLOWSHIP HALL / CLASSROOMS
PAIRS & SPARES PARTY
DEC. 9 - 6:30 PM
GARNER'S HOME
PRESCHOOL BREAKFAST WITH SANTA
DEC. 10: 9:00 & 10:00 AM
FELLOWSHIP HALL
CHANCEL CHOIR PRACTICE
DEC. 10 - 1:30 - 3:00 PM
SANCTUARY
CHRISTMAS MUSIC PROGRAMS - DECEMBER 11
9:30 - CHRISTMAS IN SONG 11:00 - CHOIR CANTATA
SANCTUARY
YOUTH TO LAKE LANIER
DEC. 11 - 12:15 PM
MONDAY NIGHT STUDY
DECEMBER 12 - 7:00 PM
HOPE HOUSE
BROWN BAG STUDY
DECEMBER 13 - 11:30 AM
HOPE HOUSE
PRESCHOOL NATIVITY PLAY
DEC. 13 - 12:00 PM
SANCTUARY
HOLY COMMUNION
DEC. 14: 6:30 - 7:00 PM
SANCTUARY
COMBINED WORSHIP SERVICE
DEC. 18: 10:30 AM
SANCTUARY
DOWN HOME HOLIDAY / SOUP LUNCH
DEC. 18 - 11:30 AM
FELLOWSHIP HALL
CHRISTMAS EVE: DEC. 24
5:00 PM - CHILDREN'S SERVICE
7:00 PM - WORSHIP SERVICE with HOLY COMMUNION
11:30 PM - WORSHIP SERVICE with HOLY COMMUNION
CHRISTMAS DAY WORSHIP SERVICE
DECEMBER 25 - 4:00 PM
SANCTUARY
---
Norcross
Cooperative
Ministry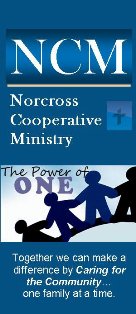 As one of the founding churches of NCM, we encourage your support assisting those in need in our area.
Donations of non-perishable food may be left in the NCM tub in the church foyer, and checks made to the church and marked for NCM may be dropped into the offering plate or by the church office.
---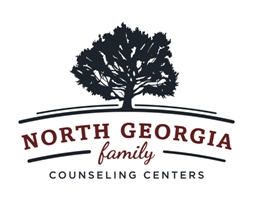 Family Wellness
through Counseling,
---
Share your story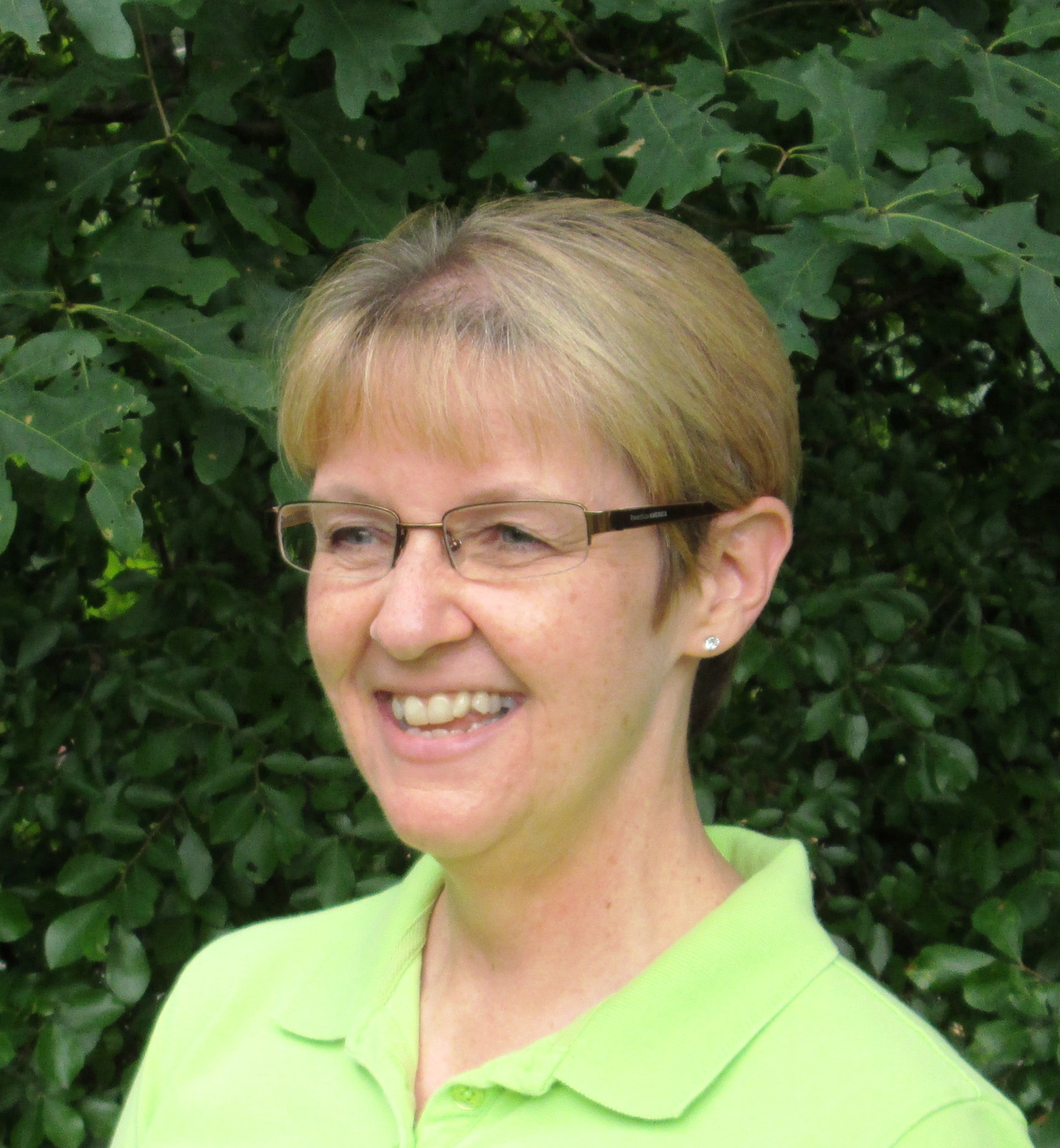 Do you have an article to include in next week's bulletin or newsletter?
Email these to
Suzanne Foster
or call the church office.