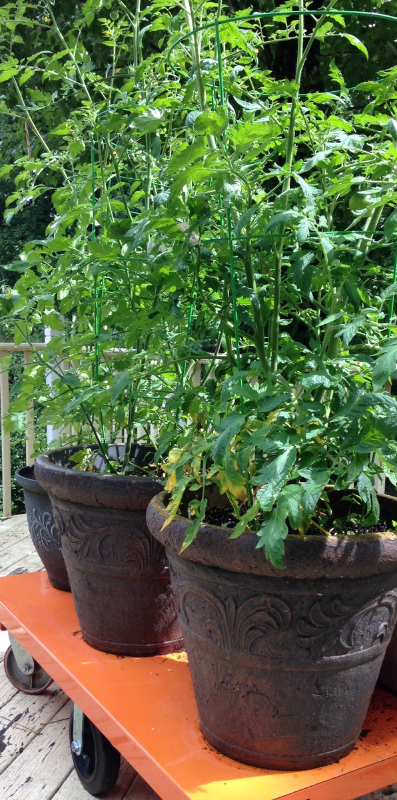 The wheels on the tomatoes go round and round.
I know it's early, but I cannot contain the excitement. There are 4 little yellow flowers and 2 tiny green tomatoes on my tomato plants.
I suppose that others are more casual about these appearances. But for me, multiple flowers and tomatoes on one plant is thrilling! Already there are more tomatoes than in most of my previous attempts. On a good year I average one tomato per plant.
The secret to this year's success? It's not the fertilizer, or the potting soil, or even the amount of water.
This year, my tomatoes are on wheels.
One end of the backyard deck gets sunshine in the morning. The other end of the deck only sees the sun in the afternoon. But with wheels under the plants, I can move the plants midday. Finally, they are getting enough sun to be productive!
Who would think that sunshine would make that much of a difference?
Thomas Merton once asked his student James Finley, "How does an apple ripen? It just sits in the sun."
Years later, reflecting on this question, James Finley wrote: A small green apple cannot ripen in one night by tightening all its muscles, squinting its eyes and tightening its jaw in order to find itself the next morning miraculously large, red, ripe, and juicy beside its small green counterparts. Like the birth of a baby or the opening of a rose, the birth of true self takes place in God's time. We must wait for God, we must be awake; we must trust in God's hidden action within us.
God is at work, providing nourishment and growth. But unlike apples or tomatoes, which have no choice where they are planted, we have the freedom to move into the shadows and away from the sun.
This Sunday we will read Psalm 1 in worship, and see that there are ways of placing ourselves so that we can better receive the light of God. A spiritual practice like meditating on scripture allows God to shine in our lives. Accountability partners who ask about the condition of your soul remind us to stay in the sunshine. Through prayer, serving others and worship, we help wheel ourselves and one another into a position to receive the sunlight of God's transforming grace.
Turns out, it's not just tomato plants that can use a set of wheels, too!
I'll see you this Sunday,