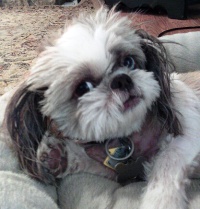 I say a morning prayer on my back patio. I have a certain way of entering this holy place. I flip the door's deadlock as loudly as possible and I pause before opening the door. As soon as the deadlock squeaks, I hear tiny feet scampering, Sophie running across the house to join me on the patio. She is a lazy diva of a dog, and this is the only time she sheds her dignity and runs full out.
Some mornings I stop praying just to watch the wind ruffle Sophie's hair or the way she cocks her head at an unexpected street noise. Maybe this, too, is prayer, to sit and give thanks for the companionship, the light that streams through the leaves, and the freshness of the morning.
I am not a poet, but in these moments I long for more words. I need words that convey the feeling of joy or peace that begins in the chest and expands to reach the fingertips and pinkie toes.
I have a wooden box that I consider filling with words like glorious, wondrous, humbling.
With a box of words I could write about the goodness in watching Susan Posey sitting in a pew with her new grandson James.
With the right words, I could describe the joy of sitting around a table with friends. With these words I could return to the moment, and relive the laughter.
How frustrating it must have been to those who first attempted to describe creation. One writer describes God as Elohim—a plural name for God—speaking creation into being, with rhythms of night and day, days of work and a day of Sabbath. In this story, it takes a community of men and women to reflect God's image (Genesis 1-2:3).
Another writer knows more words are needed! This writer uses the name Jehovah for God, because God is not only powerful, God is near. Jehovah reaches down, scoops up dirt, and with fingers shapes the mud, and with God's own nostrils, breathes into and animates the first human (Genesis 2:4ff).
Yet even these words are not enough. The writers of Proverbs and the Fourth Gospel add more to our understanding of the creation. Wisdom, a blueprint for how to live life, was present at creation. God that would become flesh, walking among us, showing us what it means to be fully human and truly reflect God's image (Proverbs 22:8ff and John 1).
More words! More words! We cannot describe this infinite God fully! There is more to know about this Creator God, and so Psalms 8, 19, 29, 65, 104 and 139 tell of God founding the earth on the seas, creating trees where birds nest, and places for wild donkeys to roam. They tell us that God created with intentionality. Bread is to strengthen the heart, oil to make the face shine, wine to gladden the heart.
Each writer adds more to our understanding. Human words are not enough! All of creation sings, even the heavens declare the glory of this creator God!
More words are needed…until God speaks out of the whirlwind, describing creation and asking Job, "where were you when I laid the foundation of the earth? Where were you when I stretched a measuring line across the earth and laid a cornerstone?"
Job has no words. He is silent.
Have you known that too? When words are not enough to respond to the glory of God?
Job was silent. But I would wager that later, after returning home and beginning again the day to day business of life, he looked back on his encounter and considered making a wooden box in which to store generous, elegant, awesome, splendid words. For we are finite persons longing to express what it means to encounter the infinite.