In the Newsletter this Week:
Mother's Day Roses: Deadline to order - May 10
UMW Friday Night Circle: May 11
Lunch Bunch: May 13
Sunday, May 20: 10:30 Service - Confirmation and Graduate Recognitions
Calling All Graduates!
Kid's Corner: VBS / Afternoon at Berkeley Lake
Youth News
Youth Mission Trip Shirts on Sale!
Global 6K Walk for Water: May 19
Memorial Day Flowers
Scout Congratulations!
A Housekeeping Note ...
Prayers / Thanksgivings
Ways to Make a Donation
---
Mother's Day Roses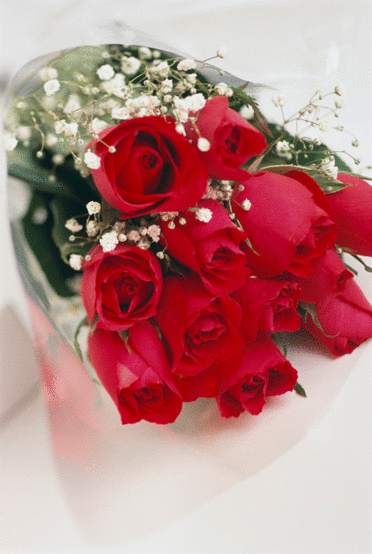 On Mother's Day, May 13th, the Youth will once again place roses on the altar in honor or in memory of our mothers and those who have been like mothers to us.
If you would like to purchase a rose, please fill out the form in the Sunday bulletin and drop it into the offering plate or contact the church office by May 10, 2018.
Cost: $12.00 ~ includes vase, single rose with greenery and baby's breath. (white rose in memory of ~ red rose in honor of)
Please make checks payable to Mt Carmel, marked "Rose."
All proceeds will benefit the Youth Summer Mission trip to Pike County, KY. Thank you for supporting our Youth!
---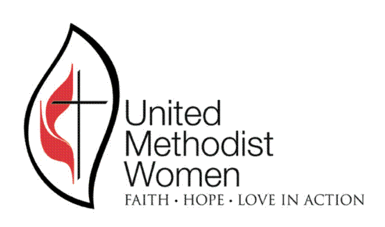 UMW - New
"Friday Night Circle" to Meet: May 11
On May 11th, the New Friday Night Circle will meet at 7:00 p.m. at Greta Kilmer's home.
Please bring a camp chair and enjoy roasting S'mores around her fire pit as we have a night of fellowship. All women are welcome.
---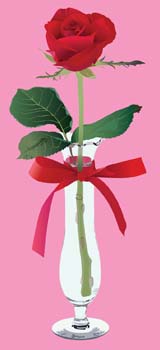 Lunch Bunch: May 13
The Lunch Bunch will not gather
for lunch this Sunday.
Happy Mother's Day!
---
Sunday, May 20 -
A 10:30 Combined Service
that will include ...

Confirmation Sunday!
The 2018 Confirmation Class will join the church on May 20th!
Please plan to attend and welcome them into the church family, and stay for
A Reception
in the Fellowship Hall after the service.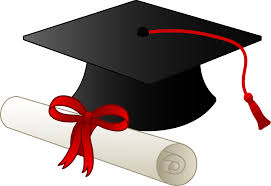 Graduate Recognition!
The Class of 2018 (High School Seniors and higher education) will be recognized during the May 20th service and congratulated for their achievement.
A Senior Celebration for our high school graduates will be hosted by the Mt. Carmel Youth Ministry on Sunday, June 3rd at 12:15 in the Fellowship Hall.
Please drop by to let them know how proud we are of their hard work!
---
Turn in Graduate Names!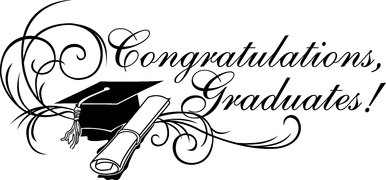 So that we can make sure to include ALL of our graduates on May 20th, if you are a graduate or know of one who should be included, (High School, College or Higher Education) please contact the
church office
to add them to the list, or complete the box on the back of the Connect Card in your Sunday bulletin.
High School Graduates will also be honored with a Senior Celebration at 12:15 on Sunday, June 3.
---
Kid's Corner: Save the Date!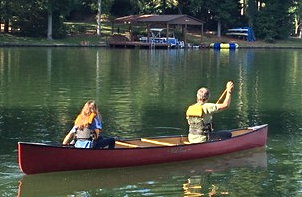 On Sunday, May 20th at 3:00 p.m., Cynthia Currence and several other members who live at Berkeley Lake have graciously invited the children and youth of the church to the Berkeley Lake Chapel Picnic Area for some fun in the water!
There will be swimming, kayaking, and other fun activities! Contact
Leslie Raymer
for more information.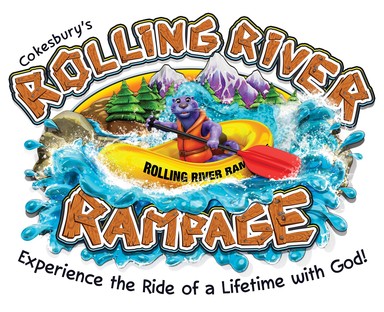 June 4 - 8, 2018 9:30 AM - 12:30 PM
We are very near capacity for VBS 2018, so online registration has been closed. If you have not yet registered your child, please contact
Leslie Raymer
or the
church office
to see if there are any spaces left.
We do still need both adult, and especially youth volunteers. Online registration for volunteers is still active, so please sign up and join the fun in June for VBS week!
---
(Cast of Lucky, Lucky Hudson and the 12th Street Gang!)
Youth News for Sunday, May 13:
There will be no Youth Program on Sunday.
Happy Mother's Day!
For more information on Youth activities, see the Youth Newsletter
HERE
, or contact Youth Director,
Emily Thompson
.
---
Youth Mission Trip T-Shirts on Sale!
The youth are headed to Pike County, KY in June for the 2018 mission trip and that means a new Mission Trip T-shirt!
The shirt is an ash gray Tagless Hanes unisex t-shirt, with the above image on the back in navy.
If you are interested in ordering a shirt to benefit the youth's trip, you can do so on the Connect Card in your Sunday bulletin. Cost is $12 and checks may be made out to Mt. Carmel - marked "T-shirt."
Shirts will be ordered on Friday, May 11th and will be here by the end of May.
Thank you for everything you do to benefit the youth and our missions!
---
Global 6K Walk for Water:
May 19 - 8:00 a.m.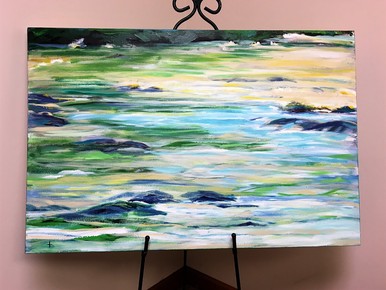 The Transformers Sunday School Class is partnering with World Vision on their 6K Walk for Water being held May 19th. We'll meet at the church at 8:00 a.m.
Why 6K you may ask. Well, that is the average distance a person has to walk in a developing country to get water! And that water is often contaminated. Hard to believe, for something that we take for granted.
Here's the good news. You and I can help through World Vision's Clean Water Walk. Go online to: "Global 6K for Water" to sign up or donate, or stop by the information table in the church foyer on Sunday.
Also, painted and donated by our gifted Tara Campbell, the beautiful painting above, entitled "Baptism in the Chattahoochee", will be offered by Silent Auction to raise money for the Walk. The painting can be seen at the information table in the foyer on Sunday, or in the church office during the week.
The Silent Auction bidding starts at $100 with bidding increments of $20. You can bid on the painting in the foyer on Sunday, or by contacting Suzanne at the
church office
and letting her know what you would like to bid. (770-449-4498)
Bids will be accepted until the end of the Walk on Saturday, May 19th (at approximately 10:00 AM). The winner will be the highest bidder once the walk is over and ALL proceeds will go to World Vision.
We have set a goal of raising $2500 dollars. You can help make this happen! Please see the display in the foyer or contact Sam Tapley for more information on the Walk or the Auction.
770-833-0091.
THANK YOU TARA and Mt. Carmel for your support!
---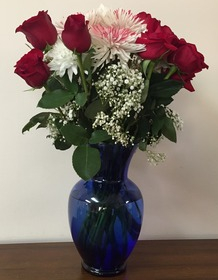 Memorial Day Flowers
On Sunday, May 27 we will have an arrangement in memory of those who have died in service to our country.
Their names will be listed in the bulletin, so please turn in names to be included to the church office, or list them on the back of the Connect Card in your Sunday bulletin.
(Note that ALL veterans will be honored on Veteran's Day Sunday, November 11)
---
Scout Congratulations!
We're so proud of
Maximilian Proels and Riley Stark
for their recent scout awards!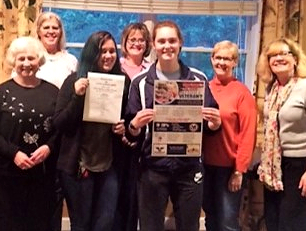 Riley has earned the Girl Scout Gold Award for her project, "What Does It Mean to Thank a Veteran."
(Pictured here speaking to the Mt. Carmel UMW Night Circle.)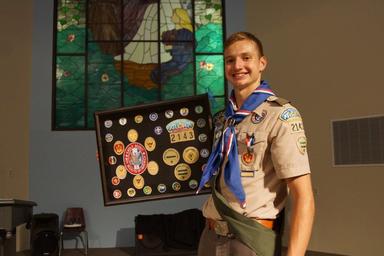 And Max has earned the Boy Scout Eagle Award, part of which included his refurbishing all of the instrument lockers for a local middle school and constructing a new podium for the Band Director.
These are the highest awards earned in Girl Scouts and Boy Scouts and both involve many hours of work to complete. Please be sure to congratulate them when you see them next!
---
A Housekeeping Note ...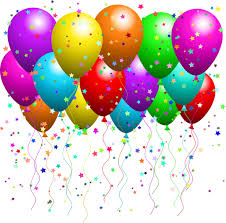 Here at the end of the school year, with summer just around the corner, many ceremonies, receptions and other events are planned in our Fellowship Hall and right now, that space needs some serious attention!
If you have had an event and left any items in the Fellowship Hall or Kitchen lately, PLEASE collect them ASAP! At some point soon, whatever is left will be discarded.
Thank you for helping to keep Mt. Carmel looking great!
---
Church Concerns and Thanksgivings
Prayers
John Shipes & family: death of John's half brother
Lane Shutt & family: first Mother's Day without Ashley
Marlene Porter's mother: mouth surgery upcoming for cancer
Donna Riviere's aunt Wilma: melanoma
Alison Alesi: Grandpa Jack in the hospital
Penny Millar: family of her neighbor who died
Leslie Raymer's mother: pulmonary problems
Kim Surmacz: for Pete C.
Cynthia Currence: for daughters & granddaughter to draw closer to God
The Downeys: Eric - home renovation
The Weathers: Cecil & Minnie Thomas' infant great-granddaughter - has been in ICU since she was born
Julia Parker: her brother Wayne - cancer has returned aggressively
The McGees: for Ricky - cancer
Pam Westafer: for Pete & Andy
Vicki Walden: for Bobby's continued recovery from hip replacement
Lisa Grogin: for Liselotte G.
Dawn Seigler: for troops in harms way
Diane Bond: for Wendy H.
Thanksgivings
Amanda Fabian's parents are visiting - enjoyed seeing Andy playing in the 9:30 group
Ted Marcis: his friend Marilyn fell while alone, but a neighbor found her soon afterwards
Kim Surmacz's niece had a baby boy and both are doing well
Karen Martin had a good week
Will Thompson graduating this week from GCSU
Cynthia Currence's mother on new medication - seems to be helping
---
Ways to Make a Donation Electronically
Thank you for your support of Mt. Carmel!
There are many ways to give: You may use a Debit Card, Credit Card, or PayPal, o
r you may make
an automatic electronic funds transfer on a
one-time or recurring basis.
Click
HERE
to give electronically.