For one season, I played on a ladies softball team in a church league. As the season progressed, and fewer players showed up for games, I even got some playing time. They put me in left field—way out!
I managed a few hits, and even slid into home plate. Actually the word slide is an exaggeration. This was more falling backward while running forward.
Since this was a church league, we thought it would be good to say a prayer before the game. Unfortunately, no one in the group was willing to lead this. After uncomfortable silence, someone suggested we all say the Lord's Prayer together.
When we got to the part about "forgive us our trespasses as we forgive those who trespass against us", some of us said "forgive us our debts as we forgive our debtors", others said "sins and those who sin against us". Some of us were quiet during the last line, "for thine is the kingdom and the power and the glory".
After the last amen, one of the ladies chimed in with, "that was odd!"
Who would think that there are so many ways to pray the Lord's prayer?
This summer we have been going through the Apostles' Creed, and this week we hit one of those places where churches differ. Most other denominations include a line that Methodists omit. After Jesus was "crucified, dead and buried", other churches include strange words: "He descended into hell."
Jesus was crucified on a Friday, and the resurrection was on Easter Sunday. Are they saying that Jesus spent all of Saturday in hell? Is that Biblical? It's certainly odd!
I look forward to worshiping with you every Sunday, but this week I am especially excited about the scripture and what it means to us today. I can't wait to see the children bringing their backpacks for a blessing. I can't wait to see you!
I'll see you on Sunday,
Pastor Cyndi
Blessing of the Backpacks:
August 9 at 9:30 and 11:00 a.m.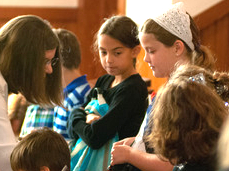 Students of all ages are encouraged to bring their backpacks to church for this special Back to School blessing.
After the Blessing, the children will go downstairs for a Bible story with a BIG surprise!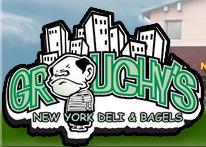 Plan to join "The Lunch Bunch" on Sunday after the 11:00 service (12:15 / 12:30) at
Grouchy's Deli.
They have N.Y. style deli sandwiches, soups, salads and BREAKFAST! Yay!
678-879-0707
Left

out of church parking lot

Right

at light (Medlock Bridge)

Left

at Peachtree Corners Circle (before you get to 141 / Peachtree Pkwy.)

Left at 141 / Peachtree Pkwy.
Right

(almost immediately) into shopping center with Ippolitos Restaurant.
No reservations needed - hope you can come!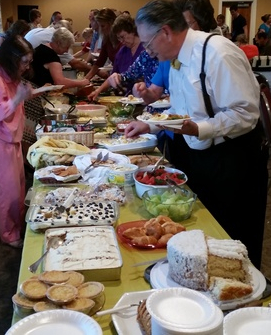 Mark your calendar for Mt. Carmel's annual Homecoming service on August 16! We are happy to welcome our guest speaker, the Reverend Joy Rikard Brown, daughter of Ann and J.W. Rikard.
Following the
service, there will be a covered dish lunch in the
Fellowship Hall. Everyone is encouraged to bring a dish or two to share, (main dish, side or
dessert) and come enjoy this special day! Drinks will be provided.
And if you DON'T bring a dish to share ... come and eat anyway! There is always plenty of food!
Sunday School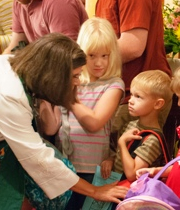 It is Blessing of the Backpacks Sunday this week, so bring your backpacks for a special back to school blessing. After the blessing we will go downstairs for a special surprise lesson and craft.
Third Grade Bibles
Third graders will receive their Bibles on August 23rd and grades 3-5 will begin How to Use My Bible classes for eight weekly sessions.
Quesadilla Lunch Thank You
I want to express a big thank you to everyone who provided salads, brownies, salsa, ice cream and help for our lunch on August 2.
An extra special thank you is extended to Lisa Grogin, Alison Alesi, Cheri Proels, Sarah O'Leary and Julie Samples for all their help setting up and cleaning up. It was a great success.
Director of Children's Ministry

Night Circle Book Review
All women of the church are invited to join the Lola Belle Young Night Circle on Monday, August 24th at 6:30 in the Fellowship Hall.
Everyone is encouraged to bring a favorite book - fiction, non-fiction, inspirational, educational, old or new, it's up to you - to share with the group!
This is always a fun meeting with lots of discussion of our favorite books - and there will be dessert also!