In the Newsletter this Week:
From the Desk of Reverend Michael
Church-Wide Workday: September 30
Lunch Bunch: October 1 - Kiko's
BBQ / Sweet Shop: October 6 & 7
Blessing of the Animals: October 8
Kid's Corner - Fall Festival: October 22
Charge Conference Deadline: October 8
Youth News
From the Preschool
UMW News
Women's Book Club: October 6
City of Norcross Shows Movie "Loving": October 9
Prayers / Thanksgivings
Ways to Make a Donation
---
From the Desk of Reverend Michael:
An Open Letter to the
Brothers and Sisters of
Mount Carmel
I understand that appeals for financial giving are usually written in a manner that extols the virtues of giving, with a line or two of scripture to illustrate the point.
I am writing today to tell you that I give to Mount Carmel for several reasons. I give because I want to honor God's ministry at Mount Carmel. I give because I want Mount Carmel to thrive, not just survive because if it didn't, there are so many things about it that I would miss terribly. I would miss having that span of time on a Sunday that I can spend thinking about the Holy, singing about the Holy, and preaching about the Holy. I would miss the place where I feel accepted and loved. I would miss the community of friends and neighbors that I have begun to develop through this church. I would miss the music. I would miss the food and fellowship around the table. I would miss the outreach and ministry happening in the community through Mount Carmel.
I am sure that each of you would have your own list of things, events and people that you would miss if Mount Carmel didn't exist. I can also tell you that it would be impossible for Mount Carmel to continue to exist if a very large number of you did not give as you do. Your generosity allows Mount Carmel to exist.
Many churches are struggling because they have large facilities and fewer members. Some churches have had to cut their mission giving by as much as 90%. We have stayed true to our commitment to outreach. We should celebrate that. I want to encourage everyone to look at your giving to the church so that we can keep this amazing community of faith going … and going in the way that most fits our needs and our mission to bless our community and the world.
You are a congregation of generous people. May you continue to give generously to the church's ministry and mission this year and in the year to come. As you give, may you know the joy of giving and the satisfaction of knowing what an important presence this church is in the world.
Blessings to each and all,
Rev. Michael
---
Church-Wide Workday: September 30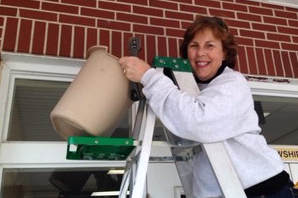 Everyone is encouraged to attend the Fall Church Workday from 9:00 AM until about noon.
There will be jobs both inside and out, big and small, to help keep Mt. Carmel in good shape!
For this workday they will specifically need orbital sanders (cordless if possible) and power washers. You can also bring gloves, cleaning supplies, and anything else that you think might be of use.
The Trustees appreciate your help - hope to see you there!
---
Lunch Bunch - Sunday, October 1
Do you have plans for lunch on Sunday?
If not, you're invited to join the Lunch Bunch at Kiko's Tacos and More, at about 12:15.
Kiko's is just down the street (to the left from Mt. Carmel) at the corner of S. Old Peachtree Rd. and Medlock Bridge Rd.
(3435 Medlock Bridge Rd, Norcross, GA 30092)
Hope you can come! See Wynne Buran with any questions.
---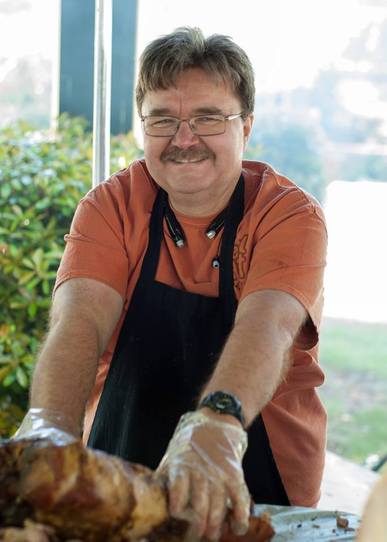 BBQ / Sweet Shop
Weekend Coming Soon!
The big weekend is October 6 & 7 and LOTS of help is needed!
Please plan to provide baked goods, or work at the Sweet Shop, or both if you can!
And the Men will need help beginning about Wednesday of that week with the hams, Brunswick stew, tent set-up, etc.
Please consider where you can help, then check the boxes on the back of the Connect Cards in your Sunday bulletins. Thank you!
---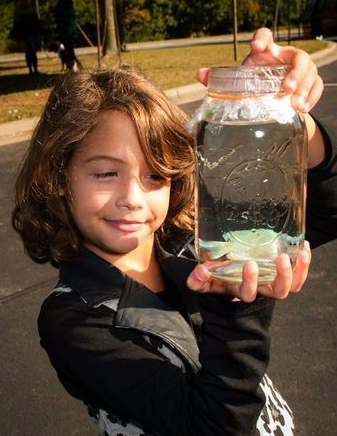 Blessing of the Animals:
October 8 - 3:00 PM
Mt. Carmel will host this event outside on the front lawn and ALL pets (with leashes / cages please) are welcome!
This year's Blessing will also include services offered by a local veterinarian.
---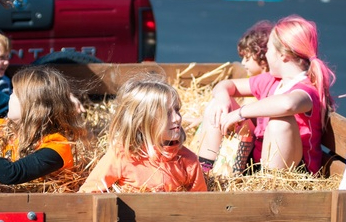 Kid's Corner - Fall Festival!
October 22: 4:00 - 6:00 PM
Calling all Trunkers!! The leaves are beginning to drop and the smell of fall is in the air!
And ... Fall Festival and Trunk-n-Treat are just around the corner, scheduled for Sunday October 22nd from 4 to 6 PM
We are looking for volunteers to help with the event, and of course, Trunkers!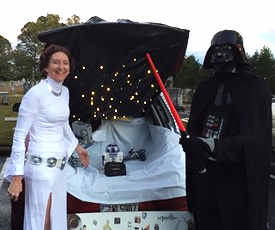 This year we will have a bounce house, games, hay rides, hot dog supper, haunted house, and of course Trunk-n-Treating!
And the best trunk and costume will win awards! Gail Bolton has already planned her trunk design, so the rest of us will have to catch up quickly!
Please let us know how you can help, and if you will be setting up a vehicle for the Trunk-n-Treat ASAP, so we can start getting a head count of trunkers.
Cheers,
Director of Children's Ministry
---
Charge Conference Deadline: October 8
Please remember that our Charge Conference is on Sunday, October 15 at 2:30 p.m. at Winter's Chapel UMC.
All reports for the Charge Conference should be in the church office by Sunday, October 8. Thank you!
---
Youth News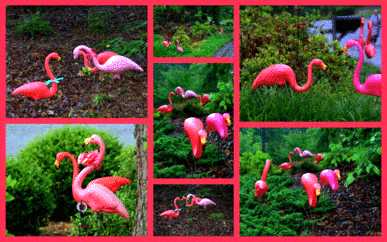 THANK YOU to everyone for supporting
the Youth Flamingo Fundraiser!
Regular Youth Dinner and Program will begin on Sunday evening with dinner at 5:15 in the downstairs youth hall, followed by programming, fun and worship until 7:20.
For more information, see the Youth Newsletter
HERE
, or contact Youth Director
Emily Thompson
.
---
From the Preschool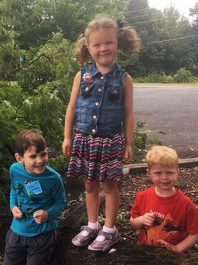 A big thank you to everyone who cleaned out their closets and contributed to our consignment sale this past weekend.
Our sales totaled $974., which blew us away!
Miss Susan was our consignment expert and carefully priced every one of our 500 items. We couldn't have done it without all of your fabulous contributions.
A big thanks & lots of kisses from the Preschool!
Preschool Director
---
UMW News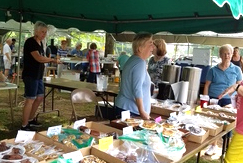 Sweet Shop:
October 6 & 7!
The fall Sweet Shop is just around the corner and lots of help is needed!
Please plan to provide baked goodies, (individually wrapped please), work at the Sweet Shop, or both if you can! Sign up space is available on Connect Cards in your Sunday bulletins, or contact the
church office
. And remember to invite your friends!
Fall Retreat
The UMW Fall Retreat is set for October 13 - 15 at Lane Shutt's
lake house on Lake Harding, Alabama.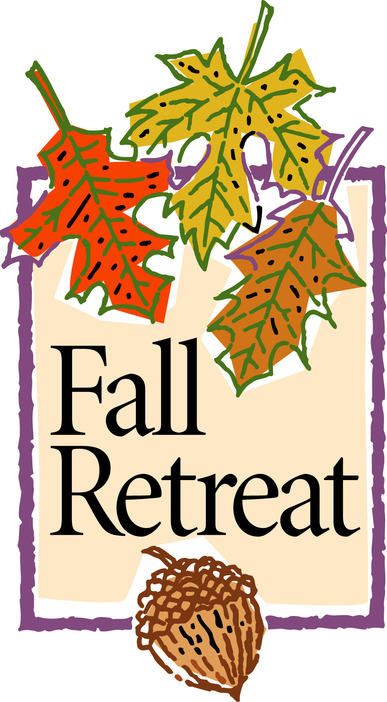 This year's theme is "Fruits of the Spirit." We'll enjoy a meaningful program, great food, and lots
of fun! All women of the church are invited.
Cost: $40.00
Deadline to Register: September 29.
Contact the church office to sign up!
---
Women's Book Club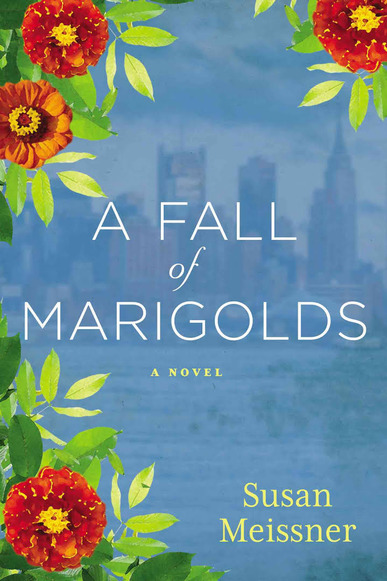 The next meeting of the Mt. Carmel
Women's Book Club will be on
Friday, October 6 at 7:00 pm. This month the group will meet with our friend Dawn at Ivy Hall Assisted Living Center. (5690 Statebridge Rd., Alpharetta, GA 30022)
This month's book is, A Fall of Marigolds, by Susan Meissner.
---
The City of Norcross to host a free showing of the movie, "Loving"
This is the 2016 movie in which Mt. Carmel member, Sherry Blackwood played a major role. It will be shown on Monday, October 9th with showings at 1:30 and 6:30 p.m. at the Norcross Cultural Arts and Community Center, 10 College Street in downtown Norcross, next to Lillian Webb Park.
No reservations are needed. Just walk in a few minutes early and pick up some free popcorn, candy, and water on the way to your seat.
This is part of an ongoing series of free movies on the second and fourth Monday of each month. They are generally well known movies shown a few months or a year after they were in the theaters.
If you missed seeing "Loving" in the theater, or would like to see it again, this is your chance!
---
Church Concerns and Thanksgivings
Prayers
Julie Samples: The family of a Berkeley Lake Elementary teacher who died last week
Jeanne Manget's friend David: having trouble adjusting to assisted living after having a stroke
Karen Martin: surgery on October 10
Chris Bolton's niece Lynn - job search, and Chris' sister Geri with knee problems
Cynthia Currence: for God to look after her children and grandchildren
The son of a friend of the Lacy family - stroke - missed the "Golden Hour" - in rehab
Wynne Buran's son Erol
Melanie Bagwell's friends: John - stage 4 colon/liver cancer / Joe - aggressive thyroid cancer / and co-worker's niece Raven - 4 yr. old in isolation during leukemia treatment
Thanksgivings
Birthdays of Mark Bond & Tarin Hinson
For a successful church picnic last Sunday
---
Ways to Make a Donation Electronically
Thank you for your support of Mt. Carmel!
There are many ways to give: You may use a Debit Card, Credit Card, or PayPal, o
r you may make
an automatic electronic funds transfer on a
one-time or recurring basis.
Click
HERE
to give electronically.