In the Newsletter this Week:
From Pastor Cyndi

Mission Moment

Wisdom from James & Charlie Brown

The Mt. Carmel Lunch Bunch: July 17 - Gino's Pizza

20 Objects for 20 Weeks

"Holy Guacamole!" July 18 - 7:00 pm

Youth Sunday: July 31 - 10:30 am

Kid's Corner

Women's Book Club

Homecoming: August 21

New Church Directory!

Prayers / Thanksgivings

Ways to Make a Donation
---
What Happened to the Peppermints?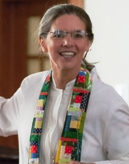 Children's sermons can be dangerous. You never know what will happen!
I thought it might be helpful to explain "justice" in the verse they are using this summer, Micah 6:8. In the scales of justice, we don't look only at our own bowl, but make sure that others also have something in their bowl.
I reminded the children that while God hopes we will make sure that others have enough, God doesn't make us take care of our neighbors.
And then came the scary part. We counted.
First we counted that there were eight children. Then we counted out eight peppermints.
And I gave all the peppermints to one child. I said God doesn't make us share, and I wasn't going to make her share. Would she keep them?
We waited. She smiled mischievously.
I reminded that I would not make anyone do anything they did not want to do.
We waited. She kept smiling.
And then the children left to go downstairs, one child with 8 peppermints and a mischievous smile, 7 children with empty hands, not sure what was going on.
Teaching children is dangerous. You never know what will happen.
Once Ed and I led a Middle School Sunday School class in which the kids played monopoly. They started with a distribution of cash and property that reflected the real-world distribution, a few held most of the money, property. We even gave those with the most money more votes, and the kids could vote to change any rule they wanted.
Three of the kids formed a block and voted in a rule change: when they passed go they collected $1000. No one else collected money for passing go. Then they changed the rules so that they rolled twice as often as others. They could buy property at half price. We stopped the game when they voted that only they could use real tokens, took away the other kid's tokens. Those without tokens moved slips of paper along the board.
Teaching children is dangerous. You never know what will happen.
On Sunday, there were actually two children's sermons. Two people were given a bag of goodies. I gave peppermints to a child. And before the service, Don Ragon gave me a bag of tomatoes.
After the service, he joked about whether I would do the same thing with my tomatoes as our young friend had done with peppermints in the children's sermon. I can be slow, and it wasn't until after I returned home that I realized that I was living the same children's sermon that I had taught! I was so excited about what I had been given—home grown tomatoes—that it didn't occur to me to wonder whether others also had enough!
I think of myself as a generous person. (And really, doesn't everyone think of themselves as generous?!) Yet even on a day when I was teaching children about sharing, I didn't notice my own abundance.
On Sunday we read James warning not to be a teacher, that teachers have to be perfect. I think James omitted another real danger of teaching children: we begin to see ourselves and our choices more clearly.
I'll see you this Sunday,
Pastor Cyndi
P.S., Leslie reports that as soon as they went downstairs, they shared the peppermints and had a great discussion. And yes, I (reluctantly) shared the tomatoes.
---
Mission Moment of July 10
Thank you to Dick Easley for his Mission Moment on Sunday!
If you missed the video, you can find it on the church website HERE.
---
Wisdom from James and Charlie Brown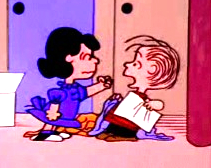 Did you miss the wisdom of James, Charlie Brown, Linus and Lucy on the video last Sunday?
Just click
HERE
and scroll down to see the video!
---
The Lunch Bunch: July 17 - Gino's Pizza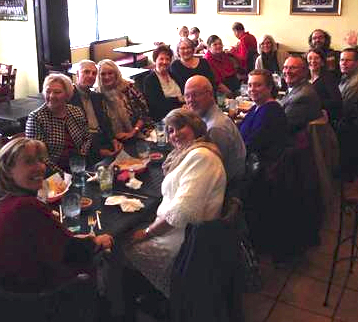 The Lunch Bunch meets most Sundays after the 11:00 service (about 12:15) to enjoy lunch and fun together. If you'd like to be added to their email notices or want more information, please contact
Wynne Buran
!
Upcoming Lunch Dates:
July 17: Gino's Pizza - Peachtree Pkwy.
July 24: Emerald China - Pleasant Hill Road - (near Kroger)
---
20 Objects for 20 Weeks: Week 3
We continue our celebration of 190 years of ministry with another object that is a part of the history of Mt. Carmel.
In week 3 we recognize Mrs. Alice Youngblood and her poetry.
Alice Youngblood (1897-1988) was a writer, poet, and life-long member of Mt. Carmel United Methodist Church.

Stop by the history room, at the back of the sanctuary, to view this display in its entirety, as well as previous weekly displays.
More information is also at
---
"Holy Guacamole!" Worship on July 18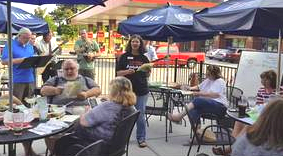 Plan to be at the next "Holy Guacamole" worship service at Kiko's Mexican restaurant on Monday, July 18 at 7:00 p.m.
Arrive around 6:15 - 6:30 to order dinner, then enjoy the service that includes prayer, a short message, music led by the Gospelites, and lots of fun!
Kiko's is located at the corner of S. Old Peachtree Road and Medlock Bridge Road, in the same parking lot as the Texaco station.
July 18 - Music leaders The Georgia Gospelites / Message provided by Sam Tapley
July 25 - Final "Holy Guacamole" this summer
---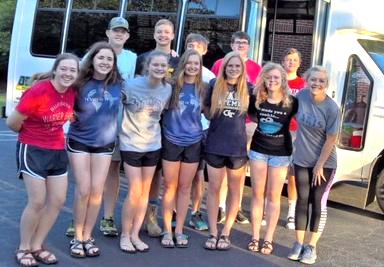 Youth Sunday: July 31 at 10:30
Plan to attend this combined 10:30 service, led by the Mt. Youth! We look forward to hearing of their experiences on their recent Mission Trip to Gary, West Virginia.
Following the worship service, the Children's Department will have a Quesadilla Lunch Fundraiser in the Fellowship Hall.
You won't want to miss this fun Sunday!
---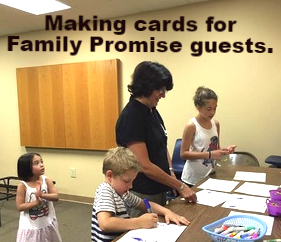 Children's Corner
Summer is halfway over, and boy is it hot...but its not too hot to have some summer fun!!
We have three upcoming Children's events on July 16th, July 31st, and August 7th
Saturday, July 16th, we will be camping overnight in the church fellowship hall... Please RSVP if your children will be coming, and whether or not you will just be staying for dinner and the movie, or spending the night.
Lisa Grogin has volunteered to spend the night, along with several middle/high schoolers (Cynthia, Cate, Issac, Cela, Emily) to help out with the kids. We could use another adult (any volunteers?)
Please join us at 6:00 pm for a dinner of hotdogs, chips, popcorn, salad, and a movie. Then, those who are going to stay the night will roast marshmallows and make s'mores in the parking lot after dark, followed by games and stories before we go to bed.
We will need to break down camp around 8-8:30, so that the fellowship hall will be ready for Sunday morning.
Sunday, July 31st is Youth Sunday, and the Children's Program is responsible for lunch (Quesadillas). Please let us know ASAP who will be helping with the lunch.
Then, on August 7th we will bless the kids' backpacks during worship, followed by a water fun day (water slide, and water relay games) in the afternoon -- details will be posted in the Newsletter next week and emailed in the Children's Corner.
For the remaining weeks of the summer session, our summer Sunday School will focus upon Micah 6:8.
Hope you can join us!
---
Mt. Carmel Women's Book Club: August 5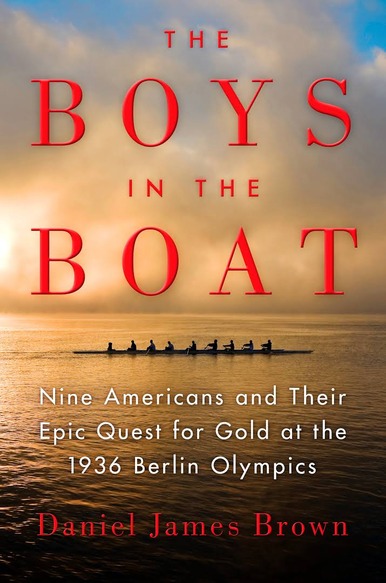 The next meeting of the Women's Book Club will be on Friday, August 5th at 7:00 p.m.
Light refreshments will be served as the group discusses this month's book, The Boys in the Boat, Nine Americans and their Epic Quest for Gold at the 1936 Olympics, by Daniel Brown.
For more information, please contact Chris Bolton or Vicki Walden
---
Homecoming Planned for August 21st!
10:30 combined service


This is a combined 10:30 service that will celebrate Mt. Carmel's 190th anniversary!
We expect a visit and message from Rev. Billy Parks, the circuit rider minister who served as Mt. Carmel's first pastor in the 1820's. There will also be great music and there is a rumor that some of Mt. Carmel's most notable members from the past may drop in to see how we're doing!
If you know of past members or friends who should be invited, please forward their NAMES and CONTACT INFORMATION to the church office and we'll send them an invitation.
There will also be a COVERED DISH LUNCH following the Homecoming service. Everyone is asked to bring a dish or two to share and plan to stay and enjoy lunch together.
---
New Directory being Planned!
The Connect Team is working with Life Touch Photography to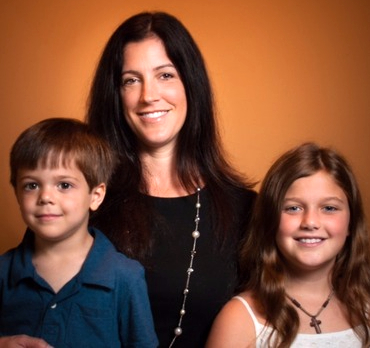 prepare a new church directory and we need your help!
Each person / family who participates will receive a directory, plus a free 8 x 10 photograph from Life Touch.
Photos will be taken on Tuesday & Wednesday, August 23 & 24 from 2 – 9 p.m. at Mt. Carmel.
---
Prayers and Concerns
Please join with others in our church family in praying our concerns and thanksgivings this week:
Prayers and Concerns
Easley's friend Helen
Our country
Rachael Samples' friend: broken leg
Barbara Cooper: surgery on Friday
Jeanne Manget's roommate: recovering from painful hip surgery
Charles Joyner's brother in Dallas: aneurysm & bone cancer
Charles & Ann Joyner: safe travels to Dallas
Staff and residents of Peregrine's Landing
Connie Hull: hardware in her leg has broken - surgery on Tuesday to repair
Lane Shutt's friend Faye: terminal cancer
Lois Salter: bitten by a copperhead snake
Thanksgivings
For Peregrine's Landing residents & staff at church
Ernie Richmond's sister & niece visiting
Steve Pearson's cousin moving to Atlanta
For successful worship services at Kiko's
---
Ways to Make a Donation Electronically
Thank you for your support of Mt. Carmel!
There are many ways to give: You may use a Debit Card, Credit Card, or PayPal, o
r you may make
an automatic electronic funds transfer on a
one-time or recurring basis.
Click
HERE
to give electronically.