In the Newsletter this Week:
From Rev. Michael: A Special Sign
Lunch Bunch: December
Angel Tree Deadline: December 5
Mt. Carmel Youth News
Kid's Corner
UMW Christmas Card Delivery
Kid's Night Out: December 7
Mt. Carmel Women's Book Club: December 7
Preschool Breakfast with Santa! December 8
Carmelites Travel to Dahlonega: December 11
Down Home Holiday: December 16
Order Holiday Poinsettias Now!
End-of-Year Request
From the Preschool ...
Holiday Events Schedule
Prayers / Thanksgivings
Ways to Make a Donation
---
From Reverend Michael ...
A SPECIAL SIGN
Let us think back for a moment into our childhoods. Remember in the early fall a special sign would arrive to bring delight for all the children. It wasn't the changing of the leaves or the Fall Fair. It was the Sears Wish Book, The toy catalog. Our faces would light up with joy and anticipation, excitement and suspense, because this sign meant Christmas was just around the corner. There would be visits to Santa, candy galore, and most important of all - TOYS!
The Children of Israel had been looking for a sign for quite some time. They had anticipated the arrival of their blessed Messiah. They were waiting for their King to ransom them. Who would ever have expected him to be born in a stable?
We struggle daily to make life meaningful. We look for the sign that says we have made it. We wait for our "savior" - whatever that may be - to ransom us. Who would have expected him to be born in a stable?
"And this will be a sign for you: you will find a baby wrapped in cloths, and lying in a manger."
This Advent season let us look once again to Bethlehem and the Child in the manger. Let us, along with the angels in Heaven, proclaim, "Glory to God in the highest, and on earth peace among all peoples."
Dear God, Help us to clear our eyes and behold the sign of our blessed salvation in the Babe of Bethlehem. For it is in His name we pray, AMEN
Blessings,
Reverend Michael Martin
Cell: 770-597-7057
---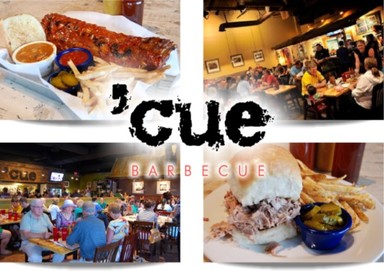 Lunch Bunch: December 2
Do you have lunch plans on Sunday? If not, the Lunch Bunch would love for you to join them at 'Cue BBQ at about 12:15!
(5260 Peachtree Industrial Blvd, Peachtree Corners, GA 30071)
---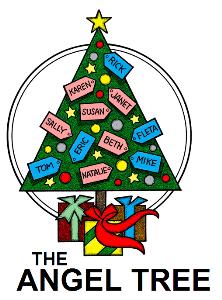 Please remember that the DEADLINE
for Angel Tree gifts to be returned to the church is
Wednesday, December 5th.
Thank You!
---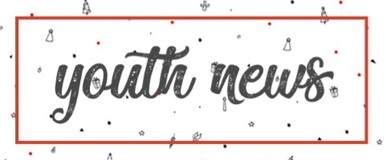 On Sunday, December 2nd the Youth will have dinner and a program beginning at 5:15 as usual.
For more information on other Youth events, see the Youth Newsletter
HERE
, or contact Youth Director,
Emily Thompson
.
---
Kid's Corner: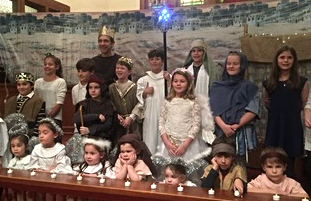 The Mt Carmel Kids Christmas Pageant is just around the corner on December 16, 10:30 service!
This coming Sunday we will practice during the Sunday School hour, and choir and hand bell practice will take place as usual from 10:45 to 11:15. Please RSVP to
Leslie
if your children will not be participating in the pageant this year.
Christmas Pageant practice: Its very important for as many children as possible to come to the Sunday School hour this Sunday (December 2) and next (December 9), as we only have two weeks left to prepare for our pageant and practice with the choir.
We will have two practices outside of the Sunday School hour -- (1) 11:15 on December 9th in the double classroom after choir (2) Saturday morning, December 15, final rehearsal.
Calling all volunteers: We are looking for adult and youth volunteers to help with the pageant on December 15th (final rehearsal and sanctuary setup) and 16th (getting the kids ready, sitting with them in pews, shepherding the children through the pageant). Please RSVP (lraymer.mtcarmel@gmail.com or indicate that you can help on a connect card).
Upoming Kids events:
Dec. 7 -- Kids Night Out, 6:30 to 9:30 (sponsored by Youth Group). RSVP emily.mtcarmel@gmail.com. $5 donation suggested.
Dec. 15 -- Final Christmas Pageant Rehearsal (in the morning)
Dec. 16 -- Christmas Pageant during 10:30 worship service, followed by Down Home Holiday.
Dec. 23 -- Christmas party and story during the Sunday School hour
Children's Director
---
UMW Delivers Your Church Christmas Cards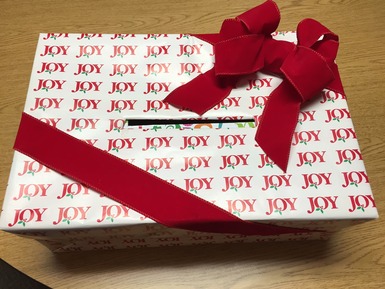 The Mt. Carmel United Methodist Women are once again delivering your Christmas cards to your church friends during Advent.
Just bring your labeled cards for LOCAL church members and drop them into the wrapped, alphabetical boxes at the back of the sanctuary. If you are at the church on some other day and would like to check to see if you have cards, they are stored in the History Room at the back of the sanctuary.
---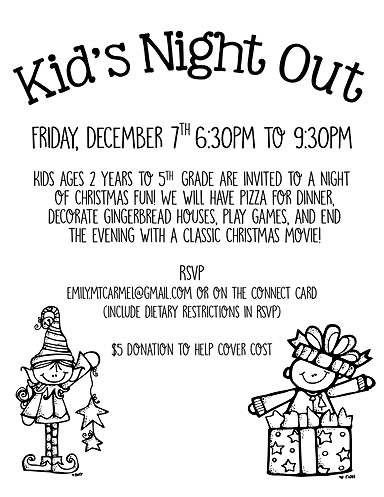 ---
Women's Book Club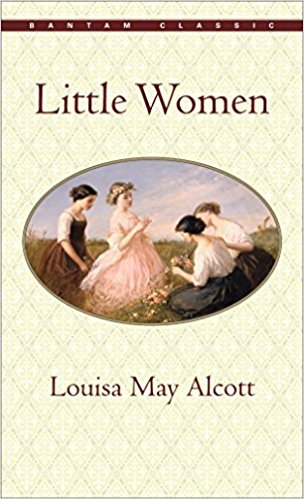 T
he next meeting of the Mt. Carmel Women's Book Club will be on Friday, December 7 at 7:00 p.m. in the Hope House.
This month's book is Little Women, by Louisa May Alcott. All women are invited for discussion, refreshments and fun!
See Chris Bolton or Vicki Walden for more information
.
---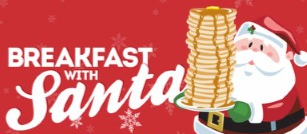 Preschool Breakfast with Santa!
December 8th
9:00 & 10:00 AM seatings
Join us for all you can eat
pancakes, bacon, juice and coffee!
Crafts * Stories * Raffles
Professional photos with Santa too!
Holiday fun for everyone!
Cost Online in Advance:
Children 2 and up - $7
Adults - $10
($2 more for pay at the door)
Purchase tickets in advance at:
Questions? MtCarmelPS@Gmail.com
---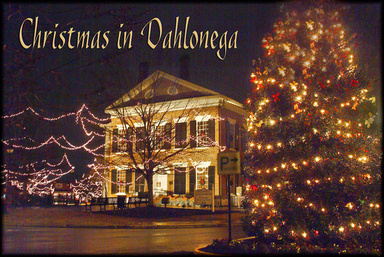 Carmelites Travel to Dahlonega!
The Carmelites travel group is going to Dahlonega, Georgia on Tuesday, December 11th. We'll meet at the church at 10:00 a.m., carpool to Dahlonega to enjoy the town's Christmas decorations, shop and have lunch at the Smith House.
Please sign up on the back of the Connect Card in your Sunday bulletin, or contact
June Spruell
if you can join us.
---
Down Home Holiday -
December 16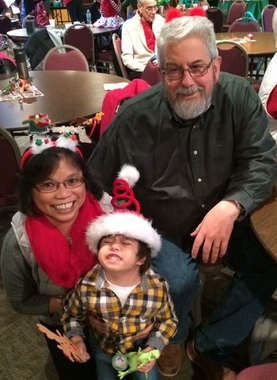 Combined Service: 10:30 am
Lunch & Holiday Fun: 11:30 am
You are cordially invited to a "Down Home Holiday" celebration on Sunday, December 16 immediately following the 10:30 am combined worship service!
Nothing to bring, nothing to pay, just join us after the service,
under the Christmas tree in the Fellowship Hall for a soup and cornbread lunch and a jolly time together. We'll sing our favorite Christmas songs, play some reindeer games and we just might have an early visit from old St. Nick himself. Wear your favorite Christmas sweater and holiday garb.
If you need a little Christmas cheer, the "Down Home Holiday" will be the perfect event for you, your family, and children of ALL ages!
---

It's Time to Order Poinsettias
Once again, the Mt. Carmel United Methodist Women will sponsor the placing of poinsettias in the sanctuary for the Christmas season.
If you would like to have a poinsettia placed in the church in honor or memory of someone, please fill out the order form in the Sunday bulletins and put it, with your check, in the offering plate, or contact the
church office
.
Cost: $9.00 per plant.
Please make checks payable to:
Mt. Carmel UMW.
DEADLINE FOR ORDERS: Dec. 5, 2017.
---
Year-End Request from the
Church Treasurer
Over the course of a year, many wonderful Mt. Carmel members personally provide supplies for church activities such as Sunday School, VBS, Down Home Holiday, and many others. This adds up, and these beloved activities greatly benefit from such generous support. However, the church needs your help! We need to track how much these programs actually cost to run. You can help us do that by turning in your receipts, even if you don't want to be reimbursed. Just ask that the value be applied to your Giving Statement.
- Please turn in your 2018 receipts to the Church Office by JANUARY 6th. You can send an email or use the Church's Check Request/Voucher form.
- IMPORTANT - Please let us know how much you spent BY ACTIVITY (e.g. $45 Sunday School supplies; $15 Down Home Holiday; $32.50 VBS snacks = Total $92.50).
- Excel spreadsheets are also acceptable if you've got more than a few items!
Thank you for your continued generosity!
---
From the Preschool ...
We are so sad to hear of the passing of Mrs. Ann Rikard. She and J.W. were such wonderful supporters of the preschool.
J.W. spent many years as Santa at our annual preschool breakfast. After he retired the role of Santa, you would always see he and Ann walking around--him with his candy cane hat, spreading Christmas joy.
The preschool was also the recipient of some "anonymous" donations of equipment that the Rikards never wanted thanks or acknowledgement for. These were truly good-hearted, supportive and loving people. There is a hole in our hearts as we say goodbye.
---

Holiday Events Calendar
UMW Christmas Party: December 3
6:00 pm - Crawford Home
Kid's Night Out: December 7- 6:30 until 9:30 pm
Preschool Breakfast with Santa
December 8 - 9:00 & 10:00 am seatings
Special Christmas Music: December 9
10:30 am Combined Worship
Children's Christmas Pageant: December 16
during 10:30 am Combined Worship Service
Down Home Holiday: December 16
11:30 am - Lunch & Holiday Fun!
Youth Progressive Dinner: December 21
Meet at church at 5:30
Christmas Eve Worship: December 24
5:00 pm - Traditional Christmas Eve Service
with Holy Communion & Candlelight
11:30 pm - Usher in Christmas with
Holy Communion & Candlelight
Merry Christmas! December 25
---
Prayer Concerns
Gail Bolton and family – her father's health / caregivers
Dawn Seigler: family of her friend Sue who died last week
Chris Bolton: friend Mary – hospitalized – diabetic infection
Katrina Stone's 92 yr. old mother-in-law in the hospital
Marilyn McGee: pneumonia
Penny Millar's friend's mother – Alzheimer's
Lynne Smith's neighbor, Bob C.: an issue with his eye
Elizabeth Crawford: job search / just bought a house
The Bagwell family: Lisa - total ankle replacement / Nancy & Danny - cancer recurrence for her / he has been declared legally blind
Ferguson Elementary family: house fire
Thanksgivings
Westafers: for prayers during difficult time
Cynthia Currence: Solei is with her today
John Shipes visiting while in town
Sam Tapley: thanks for Family Promise donations – can still donate – contact Sam
Ann Blue, Thad Thompson & Andy Westafer: for support of family and church
Rev. Lynne Smith for sharing her story
Glad Andy Westafer is able to be here
---
Ways to Make a Donation Electronically
Thank you for your support of Mt. Carmel!
There are many ways to give: You may use a Debit Card, Credit Card, or PayPal, o
r you may make
an automatic electronic funds transfer on a
one-time or recurring basis.
Click
HERE
to give electronically.