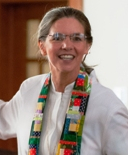 I"ll be home for Christmas.
Or not.
When our children were young, Ed and I tried to visit both sets of grandparents for Christmas. We would do Christmas morning at one home, and then travel five to six hours to the other grandparent that afternoon. We didn't want to disappoint the grandparents.
For years, I have wished that I had simply said "no" and spent Christmas at home. I just could not bear the guilt of hearing that Christmas morning was like any other day without the grandchildren here.
So we trekked five hours, and I was angry that instead of enjoying presents, enjoying the moment, as soon as the presents were open it was time to load the car. I wasn't happy about the comments that came from Matt and Mark in the back seat—"Mom, he's touching me!" and "how much longer until we get there?"
Yet this year, I'm thinking about this differently. There were people in our lives that we love, and we made time for them. It wasn't perfect. But that's ok.
It's when times aren't perfect that we make memories. You probably know this too, that if a Christmas (or a wedding or graduation) goes perfectly, there is nothing to laugh about later.
We laugh about watching Star Wars in the car every year (it is your destiny!) We tell stories about the year the Christmas tree fell during the night three nights in a row. Dad was so irritated that he hammered the tree stand into the floor. It did not fall again.
We laugh about the Christmas Eve spent out in the driveway putting together a basketball goal. Who knew that it would take so long to put that together? Or that it could get so cold in the south?
Luke tells us, several times, that "Mary treasured these things in her heart". What all did she treasure? Certainly she thought often of the initial visit of an angel saying that she would have a child. No doubt she smiled, thinking of her cousin Elizabeth, whose baby had leapt in the womb, joyful at the visit of the baby in Mary. And then the visit of shepherds and their tale of angels sing glory to God!
I suspect that later she would look back on the hard trip to Bethlehem, and eventually treasure this too. Maybe she and Joseph would laugh later at there being no room and having to use a manger for a crib.
Did she ever get to the point where she treasured the comments of those who accused her of adultery? After all, someone told Joseph that she was with child. Was it a friend or a family member who made this accusation? I hope that she reached the time when she could forgive, and treasure, the speaker, even if she did not treasure the words.
Christmas is never perfect. Every day, whether or not it's Christmas, involves imperfect people. And if we list all the imperfect people, we start the list with our own names!
If the world were perfect, we wouldn't need the Christ child. If we were perfect, we would not need the birth of someone named "Emmanuel, God with us" because we would be living a with God life already. Take a moment to think about the imperfections of this year's Christmas. What can you laugh about later on? Maybe you could begin to laugh about this now.
Who have you lost? Who will you miss this Christmas? Perhaps for a moment we could grieve and give thanks for past times together. We could trust in God to be with us in the loneliness.
Who do you need to forgive? Yourself? Another person? We can remember that Jesus enters our world in order to offer forgiveness and new life as children of God. There is no need to be afraid of sin or death. There is no need to be afraid of forgiving.
It's almost Christmas. It will not be perfect. But that's ok. We aren't depending on being in the right place or with perfect people or even acting perfectly. We are trusting God to be present, and that the presence of God is enough. We are trusting that Emmanuel is what we need most.
With love for you, and warm wishes for a merry Christmas,