In the Newsletter this Week:
From the Pastor

Star Followers: Journey to Christmas

Holy Communion: Wednesdays during Advent

Angel Tree: November 22 - December 9

Red Cross Blood Drive: December

2

NCM: Coats & Blankets Needed

Staff Christmas Gift

Children's Ministr

y

Women's Book Club: December 4

Children's Christmas Pageant: December 6

Kid's Night Out: December 11

Preschool Breakfast with Santa: December 12

December 13: Christmas Programs

Time to Order Poinsettias!

Let UMW Deliver Your Christmas Cards!

Prayers / Thanksgivings

Ways to Make a Donation
---
May the Forks Be with You
How will you celebrate Thanksgiving? For the last few weeks we have given thanks to God for this church, placing gift tags on the cross to remind that every good gift is from God. I cannot think of a better way to celebrate this season than with time for giving thanks to God.
Because I am a geek, a few weeks ago I warned my family that in addition to giving thanks, we would be watching the Star Wars saga as part of our Thanksgiving celebration. (I assure you, this did not require any arm twisting! I have a theory that geek is an inherited gene.)
To my surprise, the movies are not only helping with my Advent series preparation. (Don 't forget that
Star Defenders: A New Hope
premieres this Sunday, November 29 at 9:30 and 11, and features guest appearances with Darth Vader and a Jedi master.)
The movies are helping me think about Thanksgiving, as well.
While dark force characters like the Emperor and Darth Vader care solely for gaining more power and control over others, the Jedi focus on other people's well being. They always leave one another with a blessing, "May the force be with you."
I confess, the idea of blessing others comes from more than Star Wars. It underlies the commandments Jesus identifies as most important, to love God and to love neighbors.
One of the ways we show love to God is with our thanks and praise. Guess what?! That's also a way we show love to our neighbors!
This week, show thanks to God by naming God's gifts for which you are thankful. But don't stop there. Write a note. Send a text or email. Tell someone, I'm thankful for you.
When we named our thanks to God, we got particular. We thanked God for friends, air conditioning, Starbucks, parents, plants, children, grandchildren, chocolate.
You can get particular with friends, too. Tell someone: I'm thankful that you always bring a funny story to share. Text someone: I'm thankful for the way you encourage. Email someone: I'm thankful that you make time to share memories. Call someone: I'm thinking about you while I'm making biscuits. Thank you for taking the time to teach me this.
Send a particular word of thanks. Send a blessing.
And may the forks be with you.
---
It's a Wonderful Church!
In the last video of the series, Clarence tells Bob that he really has a wonderful church.
Is this enough? Will Clarence earn his wings?
Click
HERE
to see the final installment of "It's A Wonderful Church," a vision of what the world would be like without Mount Carmel! (And watch for the Blooper Reel this Sunday!)
---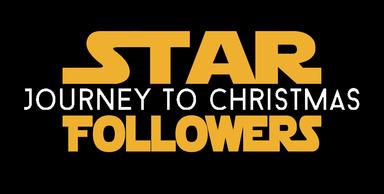 Star Followers: Journey to Christmas
We have followed the story from creation and a garden to slavery in Egypt, from the wilderness to the promised land, from the time of judges to anointing of a king.
Now the Assyrian armies approach, with the Babylonian Empire following closely on its heels.
In the darkness ahead, where is hope to be found?
Nov 29
A New Hope
2 Kings 22 & 23
Dec 6
The Empire Strikes Back
Ezra 1 & 3
Dec 13
The Return of the Jews
Isaiah 40:1-11
Dec 20
The Force Awakens
Luke 1:57-80
---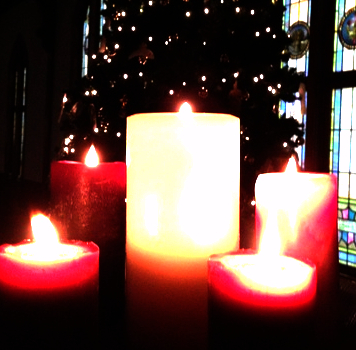 Holy Communion - Wednesdays During Advent: 6:30 - 7:00 p.m.
A moment of peace, silence & prayers provided
to the congregation
in the sanctuary.
December 2, 9, 16 and 23
---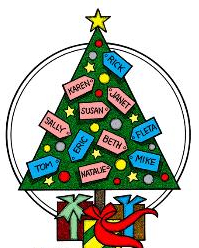 Stop by the Angel Tree on Sunday!
The Angel Tree will is up and filled with Angels so remember to stop by in the foyer and take an angel or two.
Just sign the list provided with the number on your angel, (remember to take your angel too!) do your shopping, and return your gifts (unwrapped) to the church by December 9th.
Thank you for helping children from local schools and Norcross Cooperative Ministry have a merry Christmas!
---
Red Cross Blood Drive
December 2: 2 - 7 p.m.
Blood Drive in Honor of Connie Hull
Whether you're B Positive, O Negative or anything in between, come out on December 2 as we honor Connie Hull at our blood drive!
Many of you know that our friend Connie is recovering from a serious car accident, and her family remarked that they saw for themselves the importance of our blood donations to the American Red Cross.
Register to donate
online at
www.redcrossblood.org
– using sponsor code
mtcarmelumc
, or at the table in the Fellowship Hall, or walk ins are OK too!
Let's show Connie that we can all "B Positive" when it comes to wishing her well!
---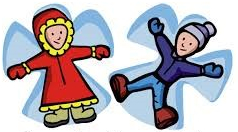 NCM Needs Your Help!
The temperature is starting to drop and NCM is receiving more requests for coats and blankets than they can keep up with!
They need ALL types and sizes of coats, and especially Queen & King sized blankets.
Please clean out your closets and donate your "gently used" items soon. Thanks for helping to keep families warm!
---
Children's Ministry
Sunday School
As we begin the season of Advent our lesson will begin in the Sanctuary at Children's Time with a special story about Josiah finding scrolls in the temple ruins.
There may be some other characters that are not part of the original story. You will be surprised!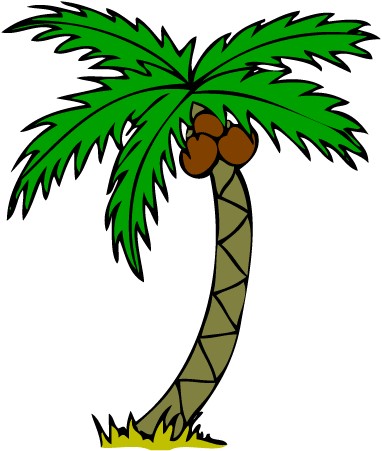 Island Christmas Practice:
Sunday 4:00 for main cast /
Please practice your lines and the songs over the holidays. Just two more practices until the pageant!
Director of Children's Ministry
---
Staff Gifts
We are so blessed to have such an exceptional staff here at Mt. Carmel. Throughout the year, we benefit from their talents, dedication and hard work.
As a show of appreciation, we make a monetary Christmas gift to them as a special "thank you" from the congregation. If you would like to contribute, please place your gift in the offering plate.
Make checks payable to the church and designate your gift as "Staff Christmas Gift."
Thank You,
The Staff Parish Relations Committee
---
Mt. Carmel Women's Book Club: Dec. 4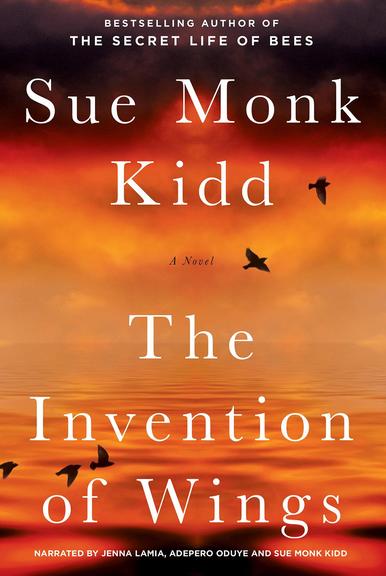 All women are invited to join the Mt. Carmel Women's Book Club
that meets monthly. This month's book is The Invention of Wings by Sue Monk Kidd.
The next Book Club meeting will be on Friday, December 4th in the Hope House. Light refreshments will be served.
---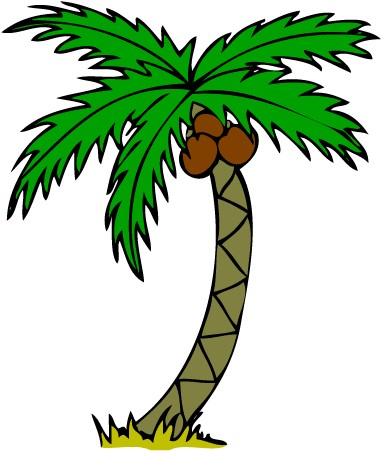 Children's Christmas Pageant:
An Island Christmas -
Dec. 6
Join us for the Children's Christmas Musical set on a Caribbean Island.
An Island Christmas is the story of giving by a group of children who live in the Caribbean and celebrate Christmas a little differently than we do in the States.
It is based on the scripture, Matthew 10:8b. We hope you can join us! A reception will follow afterwards in Fellowship Hall.
---
Kid's Night Out: December 11, 6-9 pm

The Mt. Carmel Youth will once again offer, as a service project, a "Kid's Night Out" in December for PARENTS to actually get a night to enjoy a quiet dinner or maybe finish up some Christmas shopping!
Meanwhile, you'll know that your children are having fun eating pizza, making gingerbread houses, and watching fun movies with their friends.
This event is open to children ages 2 years through 5th grade and the cost is only $5.00 to cover the expense of supplies.
---
Preschool Breakfast with Santa!
December 12: Seatings at 9:00 & 10:00 a.m.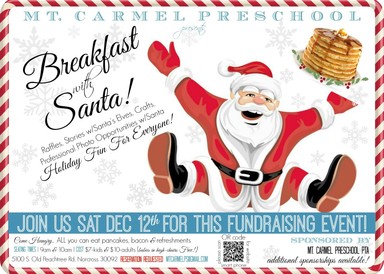 ---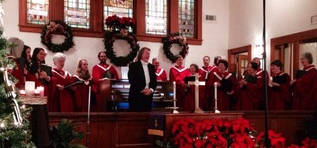 Musical Christmas Programs - December 13
On Sunday, December 13th, the Worship Services will be all about music!
At 9:30 we will enjoy Nativity and Songs and
at 11:00, the Chancel Choir will present their Christmas Program.
Whether you attend one, or both of these services, you will leave feeling the true spirit of Christmas.
---
Time to Order Poinsettias!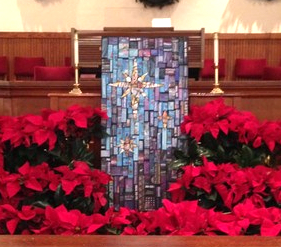 The Mt. Carmel United Methodist Women will sponsor poinsettias in the sanctuary on December 13 and 20 in honor and memory of our loved ones.
Cost is $10.00 per plant.
To order a poinsettia, just complete the order form in Sunday bulletins and drop it, along with your check made out to Mt. Carmel UMW, into the offering plate. Or contact the church office.
The deadline for orders is Sunday, December 6th.
---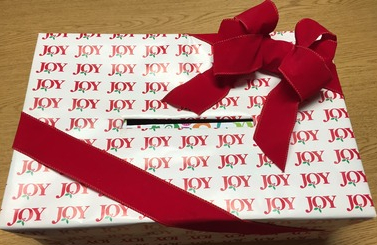 Let UMW Members Deliver Your Christmas Cards
The Mt. Carmel United Methodist Women will personally deliver your Christmas cards to your church friends during Advent.
Just bring your labeled cards to church beginning this Sunday and drop them into the wrapped boxes at the back of the sanctuary.
Please note that the boxes are divided alphabetically to make the sorting process a little faster.
---
Prayers and Concerns
Please join with others in our church family in praying our concerns and thanksgivings this week:
Prayers
Connie Hull
Diane Bond's family - death of cousin
Sherry Blackwood's aunt - stroke
Lane Shutt's great-niece: newborn in NICU
Johnny Carroll's friend Lori: in ICU after car accident
Steve Pearson's sister and nephew
Sam Tapley's mother - ill, and sister - caregiver
Sam as he travels to MD to help family
Tapley's 90 yr. old friend: broken hip
Jeanne Manget's friend - her son-in-law died
Phil Griffin: for all troops
Dawn Seigler's brother - searching for a job
O'Leary's friend Rachel - breast cancer surgery
O'Leary's co-worker's husband - brain tumor
Peace on earth
Thanksgivings
Connie Hull off ventilator / tracheotomy - improving
Cooper's son Wes: home safe from Brussels
Bob Jones: all family together for Thanksgiving
For guests on Sunday - Trisha & Andrea
---
Ways to Make a Donation Electronically
Thank you for your support of Mt. Carmel!
There are many ways to give: You may use a Debit Card, Credit Card, or PayPal, o
r you may make
an automatic electronic funds transfer on a
one-time or recurring basis.
Click
HERE
to give electronically.