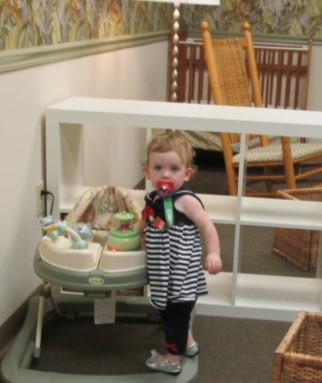 First a note to my husband Ed. You can breathe. There are no surprises. I mean nurseries in the church, not at home.
Since Sunday, I have been smiling about my conversation with Linda Anglin on Sunday; she described volunteering in the church nursery.
What a journey! Two years ago, the Council on Ministries discussed the need for a dedicated baby nursery, an intentionally inviting room for those too young to be in the toddler area. We struggled to find the space.
It seemed an impossible task. Our church uses every room—and even some unexpected closets and corners—and there was no space available for a dedicated nursery. But Gail Bolton came to the rescue, and gave up having a Sunday School classroom of her own. This move meant a lot of inconvenience, and not only for Gail. Her classroom would no longer be available for storage and for decorating scenery for Youth Dinner Theatre.
Even though there were no babies at that time, Gail offered her classroom. She knew that you cannot wait until a parent visits with a baby and say, "come back next week and we will make an inviting space just for babies." You build a nursery before there are babies! Gail moved her Sunday School class, preschool teachers shifted classrooms around so the baby nursery could have a sink, the children's ministry raised funds for nursery furnishings, Chris Bolton painted, Marian Long shopped consignment sales, and Julie Samples decorated. And we waited, hoping for babies to arrive.
I am thankful for people who notice that there are no babies and build a nursery to get ready. That's part of what it means to be the church—to notice who is missing and make a space for them.
Steve Riviere made the comment that if you look around the church on Sunday mornings, there are fewer men than women. Wow! I bought a copy of "Why Men Hate Going to Church", which advised that the best thing a preacher could do to attract men was to put a paper bag on the pulpit every week. Men would look at the bag and wonder. What is in the bag. When is an object coming out? What will it be? I couldn't see myself bringing a paper bag to worship every week—but if I could include visuals in my sermons on a regular basis, then those who best learn and are most engaged by seeing might feel more welcome.
Most of us grew up in the church and know church music. Who is missing? Those who have never been part of a church. That was the motivation for singing Beatles music over the summer. With a sign outside proclaiming, "John Wesley meets the Beatles", people noticed. People called the church and asked if we were really playing Beatles music. For them, hearing familiar music would make them feel welcome. Frankly, when I suggested this to the 9:30 musicians, I had no idea how difficult Beatles music would be! I'm so thankful that the 9:30 musicians are such good sports and were willing to try this.
For the last few Homecomings we put away the hymnals that usually stay on each end of the pew. We love singing out of the hymnal, but moving two stacks of books made room for another person on each pew. It was inconvenient to not use hymnals, but it meant that 22 people who would have been missing were sitting with us in the sanctuary instead of on folding chairs in the back rooms.
Who is missing? We are not aware of anyone in our church who is homeless. So we turn classrooms into bedrooms during the summer and create a welcoming space for Family Promise guests. Who is missing? We don't have many who live in the apartments across the street. So Marian Long is talking with the counselors at Berkeley Lake elementary about offering a tutoring program here once a week.
This week we read the story of Abraham and Sarah. All we know about them is that they come from Ur and that Sarah is barren. Yet they are told to build a nursery in a faraway land. It's part of being God's people, to build nurseries. We look around and ask who is missing. Who does not know God? How can we create a space where they feel welcome? If you wait until they arrive before you build a nursery, it's too late.
I'll see you this Sunday,