In the Newsletter this Week:
From the Pastor
Welcome R2D2

Holy Communion: Wednesdays during Advent

Angel Tree: Gifts Due Today!

December 13: Christmas Programs

Christmas Eve Services / Office Schedule

Staff Christmas Gift

Children's Ministr

y

Down Home Holiday: December 20

Preschool Thank You

Let UMW Deliver Your Christmas Cards!

Epiphany Sunday: December 27 - one service only

Trinity Soup Kitchen: January 10

NCM: Coats & Blankets Needed

Kittens Need a Home

Prayers / Thanksgivings

Ways to Make a Donation
---
Don't Kiss Joseph During the Play!
On Sunday, our actress playing Mary in the children's pageant was instructed by her mother, "Don't kiss Joseph during the play."
Apparently this had been a problem during the rehearsals. And why was Mary trying to kiss Joseph? She answered that Joseph was cute.
I might add that to my list of favorite Christmas sayings:
• The sign that hangs near the Christmas tree: "no grinchs allowed"

• The blocks that spell out "hippy holidays". Originally these said, "happy holidays", but boys will be boys.

• The painting that hangs year round in my dining room: "I will honor Christmas in my heart, and try to keep it all the year – Charles Dickens."
Another word from Charles Dickens: "Mark my words, Ebenezer Scrooge. I do not present the Cratchits to you because they are a handsome, or brilliant family. They are not handsome. They are not brilliant. They are not well-dressed, or tasteful to the times. Their shoes are not even waterproofed by virtue of money or cleverness spent. So when the pavement is wet, so are the insides of their shoes and the tops of their toes. These are the Cratchits, Mr. Scrooge. They are not highly special. They are happy, grateful, pleased with one another, contented with the time and how it passes. They don't sing very well, do they? But nonetheless, they do sing...."
This Sunday, we will gather to sing carols at 9:30 and praise God with choral music at 11:00. The words of carols and anthems lead us into the mystery, humility and majesty of Christmas:
• Peace on earth and mercy mild – God and sinners reconciled

• The hopes and fears of all the years are met in thee tonight

• Light and life to all he brings, risen with healing in his wings
Some Christmas words are fun - others remind us of the joy and hope found only in the one who "mild he lays his glory by, born that we no more may die, born to raise us from the earth, born to give us second birth."
Even if your singing voice squeaks like R2D2, these are the words we need to sing. This Sunday, O come let us adore him! O come let us adore him! Christ the king!
I'll see you this Sunday,
---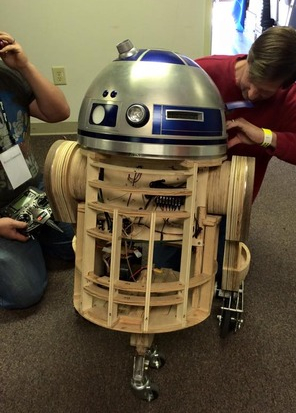 Welcome R2D2
This Sunday we welcome a special guest, R2D2, to the 9:30 worship service. R2 will help with the children's time, and will be available before and after the service to
show off his innards
to those who are interested in robotics.
Thank you to Stephen Morgan of Geekspace Gwinnett for bringing R2 from a long time ago and a galaxy far, far away.
---
Holy Communion - Wednesdays During Advent: 6:30 - 7:00 p.m.
A moment of peace, silence & prayers provided
to the congregation
in the sanctuary.
December 9, 16 and 23
---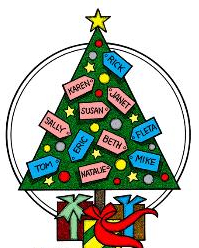 Angel Tree gifts DUE TODAY!
Please drop gifts off in the church office during the day, or in the Fellowship Hall from 5 - 9 p.m. tonight.
---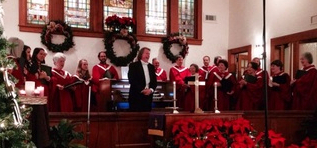 Musical Christmas Programs
THIS SUNDAY at 9:30 and 11:00!
Our Worship Services this week will be all about music!
At 9:30 we will enjoy Christmas in Story and Songs and
at 11:00, the Chancel Choir will present their Christmas Program.
Whether you attend one, or both of these services, you will leave feeling the true spirit of Christmas.
---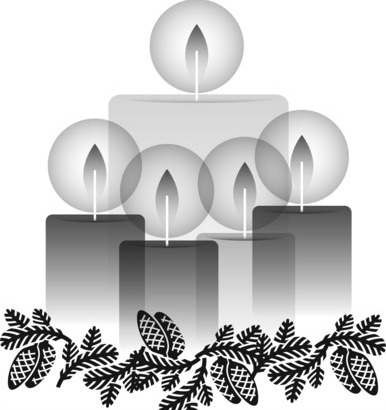 Christmas Worship and Office Schedule
Christmas Eve
There will be two worship services on Christmas Eve, December 24th. Both will include Holy Communion and candlelight.
The first is at 6:30 PM (childcare offered) with another at 11:30 PM (no childcare.)
Holiday Office Hours:
Dec. 24 - 30: Office Closed
Dec. 31: Office Open 9 - 12
Jan. 1: Office Closed
---

Staff Christmas Gift
As a show of appreciation to our dedicated staff, we make a monetary Christmas gift to them as a special "thank you" from the congregation. If you would like to contribute, please place your gift in the offering plate.
Make checks payable to the church and designate your gift as "Staff Christmas Gift."
Thank You,
The Staff Parish Relations Committee
---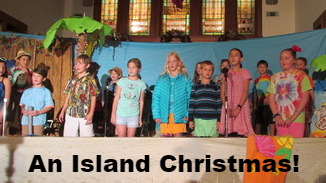 Children's Ministry
Sunday School
This Sunday the children will sing "Give a Little Love" from An Island Christmas at the 9:30 service.
After the Children's Sermon, preschoolers will go downstairs for Sunday School and the older children will stay in the Sanctuary to enjoy the music.
Birthday Party for Jesus
Sunday, December 20
Next Sunday is our Birthday Party for Jesus. After the children's sermon we will go downstairs to act out the Christmas story, play games, make a craft and have birthday cake.
Please bring a food item for Norcross Cooperative Ministry as a gift for Jesus.
Sunday, Dec. 27: Combined Sunday School Class
The 27th is a One Service Only Sunday, followed by a pot luck lunch in the Fellowship Hall. We will have combined Children's Sunday School classes after the children's sermon at 10:30.
A Big, Big Thank You:
• To the children who did such a fantastic job with their parts in An Island Christmas.
• To Cheri Proels who taught the kids the music and helped in so many ways to make the production possible.
• To Ed McDonald who ran the sound system and came to practice to make sure we had the microphones in the right place and helped put up the backdrop.
• To John Waller who made the split track cd work in our sound system.
• To Heather Ayer who played the piano and corralled children.
• To Alision Alesi and Raven Hinson who kept the Manager Scene children occupied until it was their time to appear.
• To the Day Circle who made the palm leaves.
• To Julie Samples and Maxine Follmer who helped decorate.
• To Tim Foster who put up our lights.
• To Lisa Grogin who worked the lights.
• To Max Proels who played guitar.
• To Cynthia Grogin who was an angel and shepherd wrangler.
• To Marianne Thompson who coordinated the reception.
• To all the parents who got their children to practice and listened innumerable times to the cd!
Director of Children's Ministry
---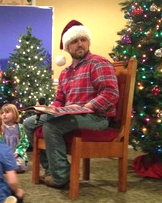 Down Home Holiday
December 20 - 7:00 p.m.

Join us under the Christmas tree in the Fellowship Hall for hot chocolate, cider and refreshments.
We'll sing our favorite Christmas songs, hear a favorite Christmas story, play some reindeer games and we just might have an early visit from old St. Nick himself.
Wear your favorite Christmas attire (there WILL be a contest!) and the little ones can even wear their p.j.s!
If you need a little Christmas cheer, the "Down Home Holiday" will be the perfect evening for you, your family, and children of ALL ages.
---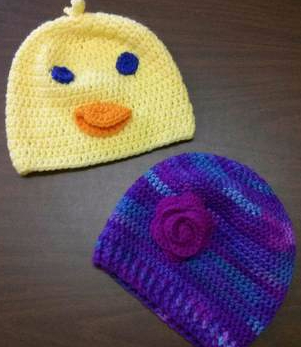 Thank You from the Preschool!
The Preschool would like to send hugs and kisses to Judy Bagwell for her donation of beautiful handmade hats, scarves and mittens to be sold at the Breakfast with Santa fundraiser. She also made each child a stocking with candy in it for the holiday. She is the best!!
A huge thanks also goes out to the Trustees of Mt. Carmel for fixing the children's classroom so quickly after the ice maker flood! Some nice person even took home our toddler camp chairs that had been soaked and washed them up good as new…you're the best!
A big face hug thanks goes out to all the volunteers who help the Preschool with the annual Breakfast with Santa fundraiser. We COULD NOT do any of it without you!!
(The extra crocheted items will be for sale on the tree in the church foyer if you'd like to help support our Preschool!)
---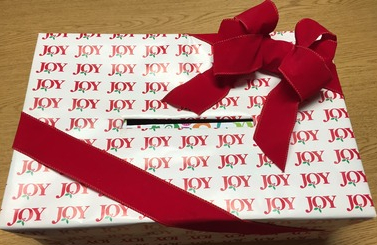 Let UMW Members Deliver Your Christmas Cards
Remember to bring your Christmas cards for your church friends and let the Mt. Carmel United Methodist Women deliver them for you!
Just bring your labeled cards to church during Advent and drop them into the wrapped boxes at the back of the sanctuary.
Please note that the boxes are divided alphabetically to make the sorting process a little faster. Merry Christmas from the United Methodist Women!
---
Epiphany Service and New Year's Lunch - December 27 - 10:30 a.m. only
There will be an Epiphany worship service at 10:30 AM on the Sunday after Christmas. (December 27)
After the service, everybody is invited to a COVERED DISH LUNCH in the Fellowship Hall. Please bring a dish to share that represents your traditional New Year's meal. Drinks will be furnished.
---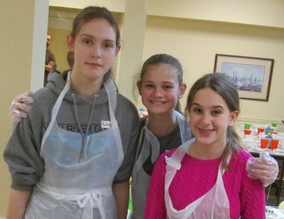 Youth to Trinity Soup Kitchen: January 10, 2016
Trinity Table (Trinity Soup Kitchen) has been serving the hungry of Atlanta since 1982. They serve everyone who comes to the Table a hot meal and give each guest a to-go bag of food as well. This ministry is successful because of the work of dedicated volunteers.
On Sunday, January 10, our youth, along with adult volunteers, will be going to Trinity Table to serve.
In order to serve the approximately 250 guests, we need your help. Please look below and also on the Connect Card in your Sunday bulletin to see if you can help with any of the items needed. You may either check the boxes on the back of the Connect Card, or contact the church office to sign up.
Then just bring your donations to the church kitchen by January 8th. Please make sure that you put your name and "Trinity Soup Kitchen" on your donation when you bring it to the church. (Soup should be frozen in gallon zip-lock bags please.)
If you would like to go with the Youth to help serve, you may sign up for that too! Thanks!
Needed:
3 boxes granola bars - any type (need 300 bars total)
Help mix peanut butter and jelly on Saturday
Help serve at Trinity on Sunday
---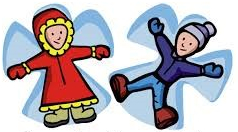 NCM Needs Your Help!
The temperature is starting to drop and NCM is receiving more requests for coats and blankets than they can keep up with!
They need ALL types and sizes of coats, and especially Queen & King sized blankets.
Please clean out your closets and donate your "gently used" items soon. Thanks for helping to keep families warm!
---
Kittens Need a Home
One of our Preschool teachers has managed to catch the feral mother cat and 3 kittens, about 3 months old, that live on the church property.
They have all now been spayed / neutered, had their shots and a good check-up. The mother has been released, but they would like to find good homes for the kittens. Please contact the church office or Preschool if interested.
---
Prayers and Concerns
Please join with others in our church family in praying our concerns and thanksgivings this week:
Prayers
Ann Rikard: prayers for her neighbor Chris
Cynthia Currence: prayers for daughter & granddaughter to be closer to God
Steve Pearson: in rehab recovering from stroke
Sam Tapley, his mother and sister
Tim Foster & family: death of Tim's cousin Bill
Andy Raye: for treatment of melanoma in his arm - thankful not in lymph system
Kris Bell's friend and her husband - both have serious medical issues
Family whose son was killed in auto accident, also father and older brother who are still in critical condition
Family of Annette Rogers' neighbor who died on 69th birthday
Thanksgivings
Vickie & John Tucker's 24th anniversary
Birthdays of: Dylan Jones, Julie Jones' mother, and Lisa Long
Finland's 98th Independence Day
---
Ways to Make a Donation Electronically
Thank you for your support of Mt. Carmel!
There are many ways to give: You may use a Debit Card, Credit Card, or PayPal, o
r you may make
an automatic electronic funds transfer on a
one-time or recurring basis.
Click
HERE
to give electronically.