In the Newsletter this Week:
From the Pastor
Church Picnic on Sunday! September 21 - 4:30
Bulletin Covers

Children's Ministry

Flamingos Heading for Mt. Carmel!

Fall BBQ & Sweet Shop - Oct. 3 - 4

Women's Book Club - Oct. 3

Women's Fall Retreat - Oct. 10 - 12

Outreach Opportunities

Blessing of the Animals: Oct. 5 - 4:00

Don't Forget ...

Prayers / Thanksgivings
---
Church Picnic & Vespers This Sunday!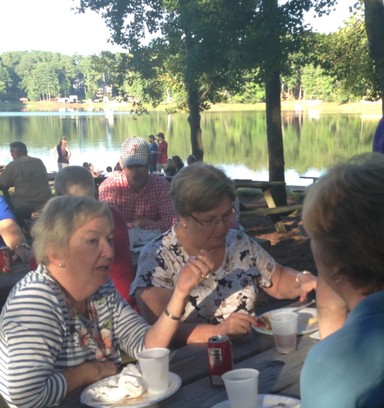 Everyone is invited to meet at Lake Berkeley Chapel at 4:30 p.m. on Sunday, Sept. 21st for a picnic, followed by a vespers service.
Burgers, hotdogs & drinks will be furnished. Everyone should bring a side dish or dessert to share.
Schedule:
4:30 - 5:15: Gathering / Activities for Children
5:15 - 6:30: We eat!
6:30 - 7:00: Vespers Service
4043 South Berkeley Lake Rd.
Berkeley Lake, GA 30096
(or contact the church office for directions)
---
Sunday's Bulletin Cover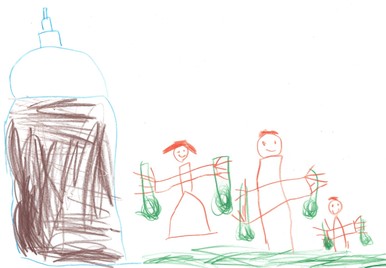 Thank you to John Michael for providing last Sunday's bulletin cover!
The cover depicted the Call of Abraham from Genesis 12:1-9.
---
Children's Ministry
Sunday School: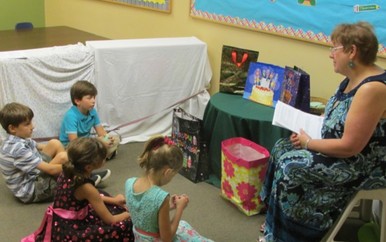 This week our lesson is from Genesis 39:1-23 and is a story that is not often taught to children. As a part of Joseph's story, Joseph is seen as a man who is talented, hardworking, and honest and has experienced hard times.
We will learn from Joseph how to handle suffering and hardship. Joseph suffered false accusations, yet remained faithful to God and God remained faithful to Joseph. We will focus on how we can apply this to own lives.
Family Picnic: Berkeley Lake Chapel - Sept. 21 at 4:30 p.m.
There will be several fun activities for children before we eat: bubbles, jump ropes, horseshoes, hula hoops, chalk, etc.
Volunteers Needed
Children's Ministry needs some additional volunteers to help with Children's Worship / Extended Session during 11:00 worship and / or 10:45 Sunday School class.
You are not expected to teach, but to help the worship leader with
children ages 3-9 years.
Curriculum and supplies are provided. Approximate hours required: 1 hour - once per quarter.
Youth are encouraged to volunteer also. Safe Sanctuary training is required.
Marian Long, Director of Children's Ministries
---
Last Sunday to Buy Flamingo Insurance!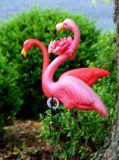 Flocks of Flamingos will begin appearing on the lawns of members and friends of Mt. Carmel the week of September 28!
If you DO NOT want the Flamingos to visit you, please stop by the insurance table located outside the sanctuary door THIS SUNDAY to purchase your insurance in the amount of $15. (Or check the box on the back of the Connect Card in your Sunday bulletin.)
If you would like for the flamingos to come for a visit, please check the box on the back of the Connect Card in the bulletin or you can stop by the Flamingo Table and sign our Nesting Site sheet.
When the flamingos arrive at your house please follow the directions that are in the bag on a flamingo. Please do not bring the flamingos back to the church-they will be removed within 24 hours.
The flamingos visit your home in acts of kindness and love from the youth. Thanks for your support!!
---
Fall BBQ and Sweet Shop! October 3-4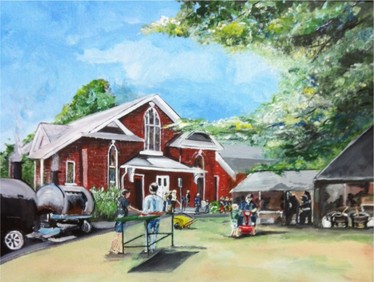 Remember to sign up to help with the BBQ / Sweet Shop!
To sign up to work at the Women's Sweet Shop or to bring baked goods, please check a box on the back of the Connect Card in your Sunday bulletins.
To help with the BBQ, please see any member of the Men's Club or contact the church office to find out where you can help.
Also, FLYERS are available on the table at the back of the sanctuary. Please take one for yourself and several for friends and family!
---
Women's Book Club: October 3 at 7:00 p.m.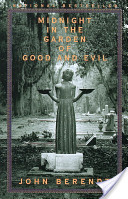 All women of the church are invited to join the Women's Book Club which meets on the 1st Friday of the month.
The October meeting will be held at the home of Barbara Cooper and the book of the month is
Midnight in the Garden of Good and Evil
by John Berendt.
Please contact Vicki Walden or Chris Bolton for more information.
---
United Methodist Women's Retreat: October 10 - 12
Mark your calendar for our annual fall women's retreat! This year we will spend the weekend exploring the meaningful prayerful pauses throughout the day and night. As always,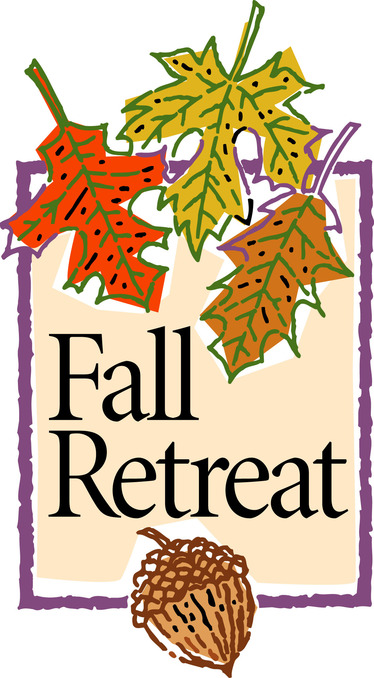 it will be a weekend of fun and discovery!
DATES: Fri., Oct.10 – Sun., Oct. 12
COST: $40.00 per person (checks payable to Mt. Carmel UMW; please give payment to Margaret Crawford or drop by church office.)
PLACE: Lane Shutt's Cabin at Lake Harding, Alabama
TIMES: Dinner Friday night (appx. 7:00 pm) through morning session on Sunday (approx. 11:00 am)
To RSVP and for more information, please contact Lori Anderson at l
ori_m_anderson@uhc.com
by Monday, Sept. 22.
---
Outreach Opportunities:

Red Cross Blood Drive
Wednesday, October 22
2:00 - 7:00 p.m.
Mt. Carmel Fellowship Hall
Please schedule an appointment by visiting redcrossblood.org or call 1-800-RED CROSS (1-800-733-2767)
All participating donors will be entered for a chance to win a $5,000 VISA Gift Card, courtesy of Suburban Propane!
Opportunities to Help Norcross Cooperative Ministry

Empty Bowls Event: to Alleviate Hunger in Our Community
Saturday, October 18th - 11 AM til 3 PM at
Peachtree Corners Presbyterian Church
5918 Spalding Dr., Peachtree Corners, GA
If you are a potter or other artist, donate an "empty bowl" that will be given to those attending, and / or stop by for a bowl of soup and homemade bread and you may choose a bowl as a reminder of the empty bowls in our community.
Minimum donation of $10.00 per person is requested. All proceeds will benefit NCM. Go to pcarpchurch.org/emptybowls for more information.
Shop at Kroger or Amazon and support NCM
Big Peach Mobile Pack: Pack Meals - End Hunger
North Atlanta Trade Center
5,000 volunteers will pack 1 million meals during the 3 day event and also bring a non-perishable food item to support local partner, Norcross Cooperative Ministry. For more information, go to fundraising.fmsc.org/MetroAtlanta.
NCM Christmas Program 2014
Needs: toys & gifts for children 11 - 18 years
Gift cards to Target or Walmart
Volunteers: watch for specific times in October
---
Blessing of the Animals: October 5 - 4:00 p.m.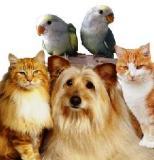 Join us with your pet on the front lawn to bless these
important members of our families!
All pets are welcome - with leashes and cages please.
---
Don't Forget ...
Don't forget about these articles from previous newsletters. Full information about each can be found on the church
website
.
---
Prayers and Thanksgivings
Please join with others in our church family in praying our concerns and thanksgivings this week.
Concerns
Spencer & Lisa Grogin & family: death of Spencer's father
Peace / cancer cure / healthy lifestyles
Lane Shutt's daughter Ashley: recovering from ruptured appendix
Family of Lori Anderson's friend Helen: died from ovarian cancer
Friends of Lisa Long: one in ICU / one on transplant waiting list
Friend of Jenny Jensen: lung disease
Steve Pearson's sister: divorce mediation
Vicki Walden's Aunt Gene: 90 yrs old - moving in with daughter
Waller's daughter Fei Fei
Bill Bryant and his family: Bill has lung cancer
Thanksgivings
For healthy children
Christine Werdebaugh back in church
Linda Anglin: Friend John now cancer free / Daughter LaNita visiting with them today
Every week:
Prayers
Worship this week
Birthdays and Anniversaries
Save the Date
Counseling Center
Norcross Cooperative
---
Sunday's Lesson
This week in worship the lesson will be:
Genesis 39:19-23
---
Birthdays this week:
Laura Myer
Laraine Downey
Kathy Huggins
Louise Harmon
Phillip Harstead
William Bolton
Mark Bond
Amanda Garner
John Medlock
Bobby (Jr.) & Ashley Smith
---
Save the Date
WEDNESDAY STUDY ORIENTATION
COOSA UMC (CARPOOL FROM MT. CARMEL)
CHURCH PICNIC / VESPERS
BERKELEY LAKE CHAPEL
COUNCIL ON MINISTRIES RETREAT
MONTH OF OCTOBER:
FOOD DRIVE FOR NCM
FELLOWSHIP LUNCH SPONSORED BY YOUTH
FALL FESTIVAL / HOT DOGS ON THE LAWN
---
Guest Password
If you need to access the internet in one of the church buildings, you will need to sign in using a Guest Password.
The current password is: barbecue
---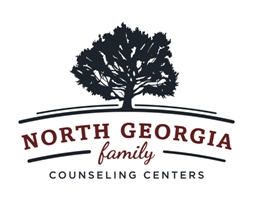 Family Wellness
through Counseling, Education and Research
Mt. Carmel proudly supports the North Georgia Family Counseling Center.

678-242-9355
ngfccumc@gmail.com
www.ngfccumc.org
---

As one of the founding churches of NCM, we encourage your support assisting those in need in our area.
Help with the most urgent needs.
---
Share your story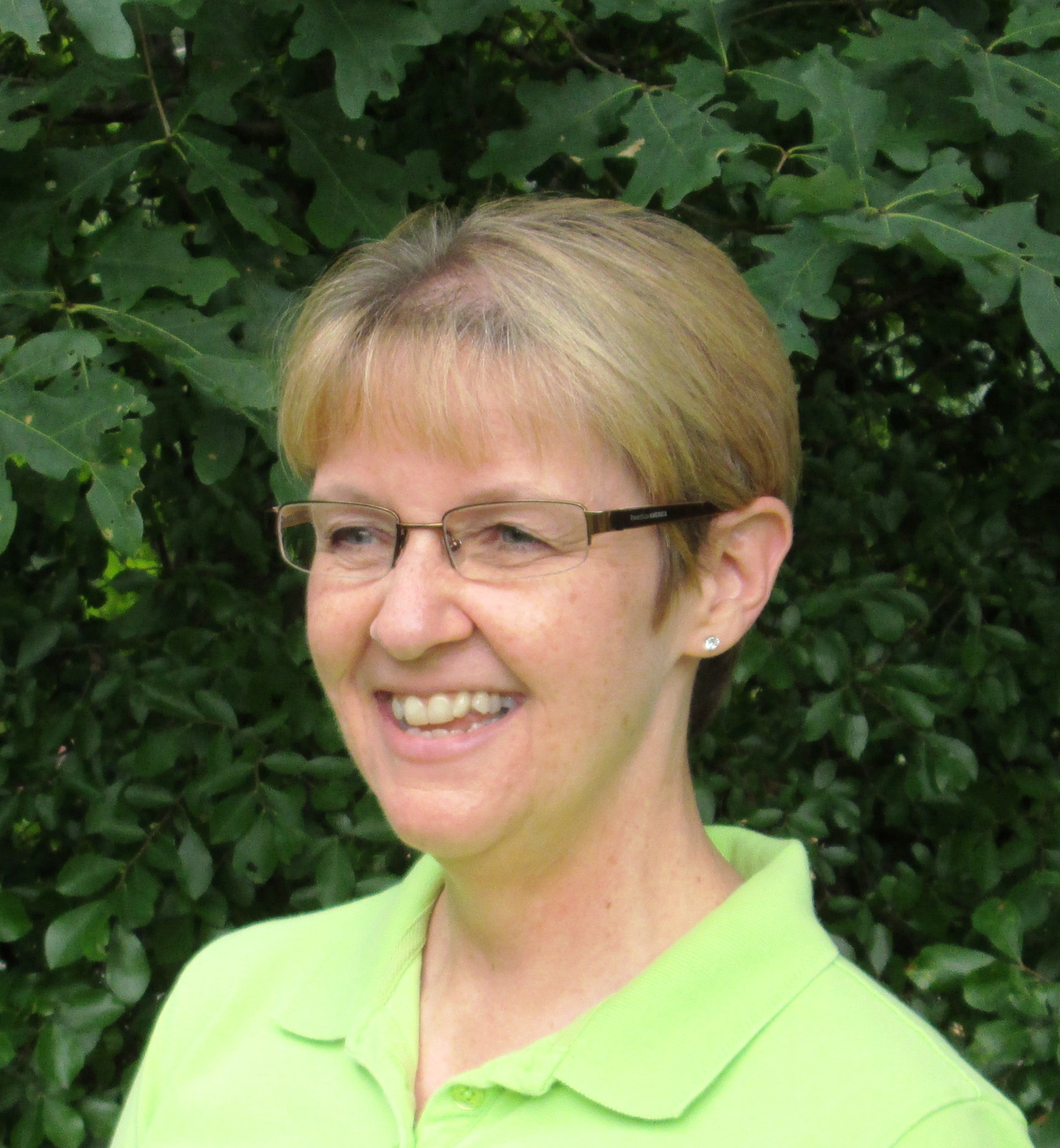 Do you have an article to include in next week's bulletin or newsletter?
Email these to
Suzanne Foster
or call the church office.