In the Newsletter this Week:
From Pastor Cyndi

Lenten Dinners - Wednesday Nights at 6:00

Take 2 Steps for Lent

The Children's Corner

Chili Cook-Off: February 20

Women's Book Club: March 4

Youth Dinner Theater: March 11 & 12
Coat Hangers Needed!

Prayers / Thanksgivings

Ways to Make a Donation
---
Cleaning Out the Tupperware Cabinet

I finally cleaned out the tupperware cabinet. For years the amount of plastics we have saved has increased. Every time we empty a jar of peanut butter, tub of margarine, or box of lunch meat, we save the plastic container.
Unfortunately, this means that containers and lids often fall out when the cabinet door is opened. Instead of saving time by always having a container at the ready, we're wasting time cleaning up spilled plastics.
Have you had those moments when it was all too much, and you got around to sorting, giving and throwing away the unnecessary things?
The season of Lent is one of cleaning out. We consider the mess of the hearts and the trash that we hold onto. What resentments are we holding? What hurt feelings are we nurturing? Like the stacks of mismatched plastic containers, they spill out at the worst possible times!
This week in worship we will read Jesus describing his ministry as one of serving (Mark 10:45). But let's be honest, there's a lot of baggage that gets in the way of following his example. Lent is a time of examining the fears and anxiety that prevent us from answering Jesus' call on our lives.
In that same verse, Jesus describes giving himself as a ransom for many. Death and sin no longer can hold us captive. A ransom has been paid.
So don't stop with simply naming sin and hurts and feeling remorse. Trust that the hurt feelings, the anger, the worries—whatever binds—no longer have power over you.
My mother used to say that everyone cleans when they cannot stand the mess anymore. It's just that some people can stand a lot more mess than others!
The early church, in its wisdom, said that we need times of cleaning up together every year, whether we can stand the mess or not. Left to our own devices, we will keep on stacking up jealousy, envy, and anxiety in the cabinets of our hearts. We need these 40 days of helping one another remember the cross and resurrection—not just the story long ago, but how it is still at work in our lives today.
I'll see you this Sunday,
Pastor Cyndi
---
Lenten Dinner ... Tonight!
6:00 - 6:45 PM - Fellowship Hall
This week's dinner is sponsored by the Mt. Carmel UMW.
Menu:
Soup, Salad, Cornbread, Dessert and Drinks
(pb&j available for children)
Small Group: Table Talk
Fellowship Hall
This week's Small Group Table Talk
topic is worship. There will be
a 5 minute video at 6:45, table talk, then a second short video and more table talk.
Small Group: Hats for Hope
Mid-High Youth Room behind lower Fellowship Hall
At 6:45 this group will begin to make loom knitted hats for homeless persons and the working poor. Materials are provided, no knitting experience necessary.
---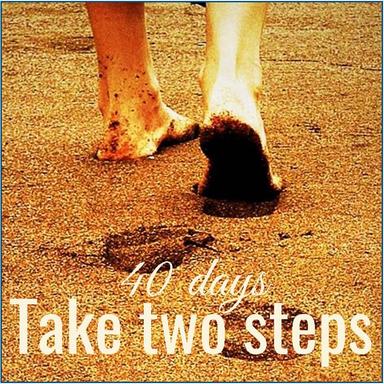 Take Two Steps for Lent
Lenten Small Groups (pick one)
Sunday Lunch Bunch: Gather for lunch at 12:15 at a nearby restaurant. Spend time sharing life with friends from both services. Led by Wynne Buran.
Tuesday Mid-Day Group: Discuss scripture for upcoming Sunday. Pastor Cyndi leads the group every week in Hope House at 11:30 a.m.
Berkeley Lake Group: Home of Lois Salter -
Meets Tuesday evenings beginning on February 16:
7:00 - 8:00 p.m. Study of Celebration of Discipline by Richard Foster. (spiritual formation)
Wednesday Table Conversations: following dinner in Fellowship Hall beginning February 17: 6:45 - 7:30 p.m.
Includes a short video clip about living our faith, then small group conversation around the table. (childcare provided)
Wednesday "Hats for Hope" - meets beginning February 17: 6:45 - 7:30 p.m. in the Mid-High Youth Room to loom knit hats for homeless and working poor persons. Materials supplied / no experience required. Led by Shelia Trentini.
Peachtree Corners Group: Home of Katrina Stone
Meets Fridays beginning February 12 at 7:00 - 8:30 p.m.
Group uses the daily practices from The Artists Way and lessons from the Gospel of Mark. Led by George Hunter and Katrina Stone.
Saturday Walking Group: Meets at church on Saturdays beginning Feb. 13: 8:00 - 9:15 a.m.
Set goals for the coming week as you walk.
Service Projects (pick one)
Volunteer at Norcross Cooperative Ministry:
Tuesday, February 23: 4:30 - 6:00 PM
Tuesday, February 23: 6:00 - 8:00 PM
Saturday, February 27: 11:30 AM - 1:00 PM
Sort and shelve donations.
(2275 Mitchell Rd., Norcross, GA 30071)
Pack Health Kits for Relief Efforts:
Wednesday, March 2 at 6:45 PM in Fellowship Hall
Sponsored by Men's Ministry
Serve the Homeless: Saturday, February 20:
Stubby's Heroes Day of Compassion
Meet at church at 10:15 AM - Caravan to Paces Ferry Road to sort and pack clothes, toiletries, food, and blankets, then take these to 100 Edgewood Avenue to distribute to homeless persons. Contact Lila Hunter for more information.
Chattahoochee River Cleanup:
Saturday, February 20: 9:00 am - 12:00 PM
Meet at Dept. of Resources boat ramp - Hwy. 166 in South Fulton County, adjacent to 7205 Campbellton Road SW, Atlanta, GA 30331. Dress for the weather, wear study boots, bring a reusable water bottle. Gloves, trash bags, tools and light snacks will be provided. RSVP to jsterling@chattahoochee.org.
See Julie Jones with questions.
---
Peachtree Corners Small Group Schedule Change
Please note that the Peachtree Corners Group that meets at Katrina Stone's home on Fridays will NOT meet this week - February 19th. The Group will resume on Friday, February 26th.
Newcomers are welcome!
---
The Children's Corner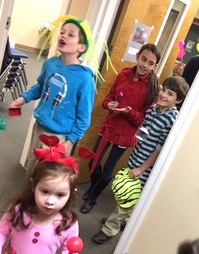 The children had a lot of fun this past Sunday when we enjoyed a combined Valentine's Day/Mardi Gras party! We paraded in wearing Marian's hats to the Youth Group Sunday School class to deliver a gift of a King Cake, then had a scrumptious meal of mini-pancakes, fruit, and of course...chocolate.
Throughout the Lenten season, we will have Wednesday night meals and children's activities. (Feb. 17 - March 16)
The children are invited to join us in the Double Classroom from 6:45 to 7:30 each week for a story and service project while the adults are engaged in small group conversations upstairs. Nursery care will be provided.
Keep an eye out on Wednesdays for the Big Haired Lady…who will be bringing us Big Stories about Big Love each week!!
We will work throughout the Lenten Season to create knotted blankets for use in the Neonatal Intensive Care units at Egleston and Scottish Rite Children's Hospitals and make cards for the babies parents. The completed blankets will be blessed at the end of the Lenten season and then delivered to Children's Healthcare of Atlanta.
WE ARE STILL COLLECTING DONATIONS OF NEW FLEECE FABRIC (HANCOCK'S USUALLY HAS FLEECE ON SALE THIS TIME OF YEAR) IN ORDER TO MAKE THE BLANKETS...THERE IS A COLLECTION BOX IN THE HALL BETWEEN THE SANCTUARY AND FELLOWSHIP HALL FOR YOUR DONATIONS. THANK YOU!
See you on Wednesday and Sunday,
Director of Children's Ministry
---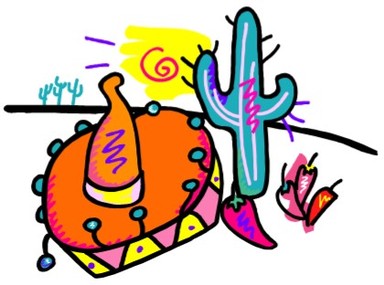 Get your recipes out and your taste-buds ready for the
MT. CARMEL CHILI COOK-OFF!
Saturday, February 20 – 6:00 PM
at the home of Pekka & Lorrie Ignatius
(3890 Berkeley View Dr., Duluth, GA 30096)
RSVP DEADLINE IS TODAY!
From past Cook-Off champions to brand new friends - all will gather at Pekka & Lorrie's to enjoy chili, tell tall tales, and have lots of fun!
Please note that this event is "adults only" so moms and dads can enjoy a child-free evening with church friends! Childcare is provided at the church BY RESERVATION ONLY. Please RSVP for your child/children BY FEBRUARY 17.
To participate in this casual, fun event, just bring a pot of your favorite chili; hot or mild; beef, tofu or chicken, anything goes. Or you may bring side dishes or desserts to go with the meal instead.
After much serious tasting and debate, the winner of "BEST TASTING CHILI - 2016" will be declared and a "major award" will be presented!
Please RSVP TODAY to let Lorrie and Pekka know how many people will attend and what you plan to bring. 770-265-9948, or
lorrie.ignatius@gmail.com
.
Hope to see lots of you there!
---
Mt. Carmel Women's Book Club: March 4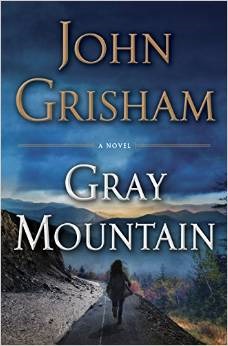 All women are invited to join the Mt. Carmel Women's Book Club on Friday night, March 4 at 7:00 p.m. in the Hope House.
The book of the month is "Gray Mountain" by John Grisham.
---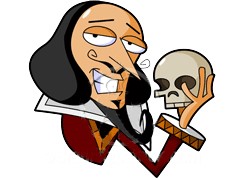 Youth Dinner Theater:
Shakespeare Goes to Gravel Gulch
"To be, or not to be . . . " Mt. Carmel UMC is where YOU'LL want to be on March 11 and 12 for the Mt. Carmel Youth Dinner Theatre production of SHAKESPEARE GOES TO GRAVEL GULCH by Tim Kelly!
A troupe of Shakespearean actors arrives in the small mining town of Gravel Gulch determined to bring culture to the locals. Unfortunately, the lead actor Noble Hart and his glamourous cohort, the Duchess, may be trying to steal more than the spotlight!
With a combination of quirky townspeople, romance, outlaws, explosions and a chicken, you don't want to miss this wild theatrical bonanza!
Tickets are $20.00 for adults, $15.00 for students, and $10.00 for children 5 – 10. (Childcare is provided for children five and under with dinner: $3.00)
To reserve tickets, please contact
office@mtcarmel-umc.org
or (770) 449-4498. Seating is limited, so please order your tickets today!
SHAKESPEARE GOES TO GRAVEL GULCH is produced by special permission with Pioneer Drama Service.
---
Wire Coat Hangers Needed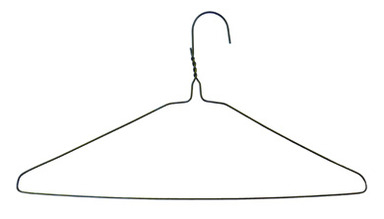 Do you have a surplus of wire hangers from the dry cleaner?
If so, here is a way to recycle them!
Winter's Chapel UMC has a Kid's Consignment Sale that benefits their Preschool. They are in desperate need of WIRE coat hangers. (No other types please ... they can ONLY use WIRE ones.)
Michelle Hammond will collect the hangers and deliver them to Winter's Chapel. Just leave them in the church office. Thanks!
---
Prayers and Concerns
Please join with others in our church family in praying our concerns and thanksgivings this week:
Prayers
Connie Hull & her family: Connie to move to her daughter's house on Wednesday after being in rehab
Gene Anglin: recovery from surgery & virus
Lane Shutt: recovery from shoulder surgery / complication from antibiotics
Andy Raye: done with radiation - prayers for no more cancer
Diane Bond: new great-niece - born 7 weeks early
Cindy Jones' father: recovery from fall
Ragon's neighbor: in hospice care at home
Margaret Crawford's friend with cancer
Carol Jamieson's friend in hospice care
All troops in harms way
Thanksgivings
Cheryl Smith in church on Sunday - recovering well after heart attack - thankful for all prayers, cards, food and concern!
David Bell's birthday was Sunday
Steve Pearson: thankful for all help from his parents after his stroke
---
Ways to Make a Donation Electronically
Thank you for your support of Mt. Carmel!
There are many ways to give: You may use a Debit Card, Credit Card, or PayPal, o
r you may make
an automatic electronic funds transfer on a
one-time or recurring basis.
Click
HERE
to give electronically.