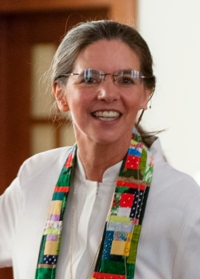 My friend Cathy came for a visit last week. Since she lives in Missouri, we don't often get to see one another. How good a friend is she? She is such a good friend, that I didn't bother to clean up for her visit.
Ok, we changed the sheets in the guest bedroom. But for the most part, I don't worry about cleaning up before her visits. At one point she lifted a decorative teapot off the kitchen shelf…then carefully replaced it in the exact same location to hide the circle of "no-dust" underneath.
Cathy doesn't judge me based on my housekeeping skills. She knows what I am passionate about (obviously not dusting!) and has already decided that despite my foibles, she wants to be friends.
The first time she visited, though, I did the manic "stash and dash," running around with a dust rag and moving stacks of books and papers from the living room to the bedroom (with a closed door.) I wanted to make a good impression.
I feel that way most Sundays. I don't want there to be distracting clutter or an uncomfortable silence. I want to make a good impression on our guests.
Occasionally, volunteer mystery worshipers will visit the church, and we hear first hand their impression. I was proud of Mt Carmel when I read this latest report. At least a dozen people greeted our guest! Wow! I wondered who went out in the middle of the rain and met our guest with an umbrella. Which person recommended their Sunday School class to our guest? You can read the full report
here
.
The report describes the sanctuary lighting, signage, parking availability, and worship service. We know that most guests determine within the first minute whether they will return, so these are all important. But a dozen people greeting our guest? Mt Carmel does a great job not only at first impressions, but also second impressions, third impressions….
I think that's part of why I look forward to hot dogs on the lawn tonight and next Wednesday. When we did this in the spring, we kept everything simple. We had time to welcome, sit and talk, and get to know our guests and one another. We weren't stressed by putting together a complicated meal or stopping by the store to get a dish for a covered dish meal. Instead we just relaxed under the trees and enjoyed a few laid-back evenings with one another.
Some people are reluctant to step into a church, for fear of being judged. One recent survey found that fear of not having the right clothes was one of the top five reasons for not attending church. When we serve a simple meal like hotdogs, we are saying that at Mt Carmel you don't have to worry about being judged. Come as you are.
This looks like another beautiful afternoon and evening. I hope that there will be kids remembering to do simple things like drawing chalk pictures and playing hopscotch. I hope you'll come out and enjoy a cool breeze and conversation with friends. I'm hoping for guests, because I want them to meet you. That's really the best impression we could make, them getting to know you.
I'll see you tonight -- and don't forget to stop at the blood drive, too!
Pastor Cyndi McDonald