In the Newsletter this Week:
From Pastor Cyndi

The Children's Corner

Lenten Home Groups

Catacomb's Coffeehouse: February 12

Women's Book Club: February 5

UMW Woman of the Year Brunch: February 7

Thank You from the Youth!

Doughnut / Recycling Volunteers Needed!

Prayers / Thanksgivings

Ways to Make a Donation
---
No One Can Make You Do This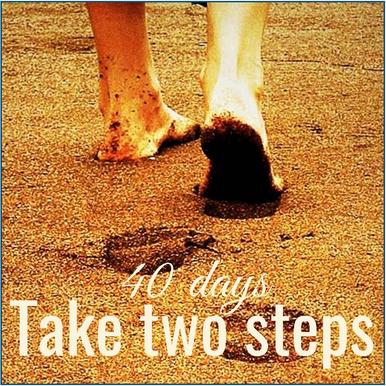 Last year, the Strategic Planning group of Mount Carmel answered the question, "how can Mount Carmel help me to grow as a Christian?" That may seem like a strange question, since the group is charged with planning on behalf of you the whole church, not just themselves.
Since the group represents people of different backgrounds, ages, and interests, the answer of individuals to "how can Mount Carmel help me to grow as a Christian" should be of help to all of us.
But more importantly, this reflects the recognition that Mount Carmel can only help people to grow who want to grow. People have to want to follow Jesus more closely before they will take steps to do this. As a church we encourage people to worship, serve, and help one another in ways that God can use to form us. But each person has to make the decision that they will follow Jesus, and take steps for themselves.
Out of these strategic planning discussions came the idea to encourage people in Mt Carmel to grow in two ways. This is like the "you pick two" menu at restaurants, where you pick a sandwich from a list of sandwiches and a salad from a list of salads.
The first menu is small groups. We need others to encourage us to follow Jesus, to help us see Jesus more clearly, and to hear Jesus' call on our lives. After all, Jesus sent the disciples out in pairs—disciples aren't meant to be alone. Would you consider being part of a small group for the 40 days of Lent? You would meet five or six times, get to know others in the church, and help one another live more faithfully. You would be living out Jesus' promise that when two or three are gathered in his name, he is present.
The second menu is serving together. Would you serve others outside of the church in some way during the 40 days of Lent? The church will help you by organizing work days at Norcross Coop and a time for packing emergency relief kits. You would need to show up with a desire to help others. This too is a way of following Jesus closely, as Jesus promised that when we serve the least of these, we serve him.
In the end, each of us makes a decision as to how closely we follow Jesus. We each decide how we will help others follow Jesus. At Mt Carmel, we want to help you in this. We cannot make you do something you don't want to do, but when you are ready to take the next step, or to help someone in their journey, we want to walk alongside and help you.
I'll see you this Sunday,
Pastor Cyndi
P.S. There is a draft of small groups and ministry opportunities on the church website
here
. If you would like to host or to lead a small group, or to organize a ministry opportunity, please email or call the church office, 770-449-4498,
office@mtcarmel-umc.org
.
I'll see you in church on Sunday,
Pastor Cyndi
---
The Children's Corner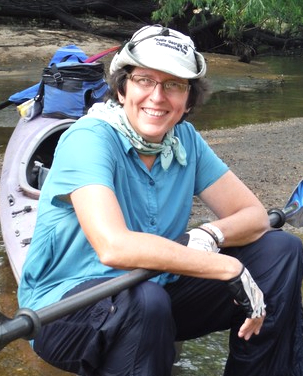 Things are on the move at Mt. Carmel as we begin the Lenten Season in February and March!!
February 7, during the Sunday School hour, we will be making and decorating Valentines for our families and friends. The grown ups are invited to stop by during the Sunday School hour and make a Valentine too.
February 14, we will kick off the Lenten season with a combined Valentines'/Mardi Gras party during Sunday School...come and join in the fun as we search for the baby Jesus in our King Cake and enjoy mini pancakes and healthy snacks. There will also be Valentine surprises for everyone.
Please come on Wednesday, February10 for dinner and Ash Wednesday worship. Nursery care will be provided from 6:30 to 7:45.
Throughout the Lenten season, we will have Wednesday night meals and children's activities (Feb. 17-March 16.) The children are invited to join us from 6:45 to 7:30 each week for a story and service project. Our theme this season is 'Growing in Love'. We will work throughout the Lenten Season to create knotted blankets for use in the Neonatal Intensive Care units at Egleston and Scottish Rite Children's Hospitals and make cards for the babies. The completed blankets will be blessed at the end of the Lenten season and then delivered to Children's Healthcare of Atlanta. Nursery care will be provided.
Keep an eye out on Wednesdays for the
Big Haired Lady
who will be bringing us
Big Stories
about
Big Love
each week!
Director of Children's Ministry
---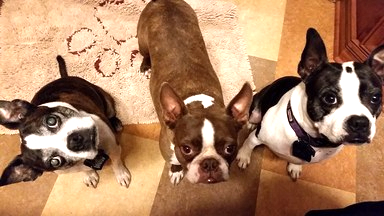 Lenten Home Groups
Every morning we walk our 3 dogs….on weekends they get extra-long walks. This past Sunday was no different. We ran into our neighbor Anne and her dog Lucky.
Anne noticed I was wearing a crocheted cap about the same time I noticed her t-shirt had a sheep on it. Only fiber geeks wear t-shirts like that. Before I had a chance to inquire about her shirt, she asked me if I knitted or crocheted my hat. I said no, but then I told her I was a felter. She said Needle or Wet? I said Both! She said "Can you teach me?"
How interesting was this conversation? We have interacted with each other over 2 years with conversations always being about our dogs or our work. This time the conversation was about our passions.
God's timing is always perfect. I mentioned to her that we are starting a "creativity" small group though "my church" for Lent 2016. In this small group the plan is to interpret the Gospel of Mark through art & Creativity. Then I invited her to join us. Her response was "Can I come, REALLY????"
The power of the invitation! This Lenten Season, we are going to have at least 2 small groups meeting in member homes. Why? Home is intimate. Home is casual. Home is non-threatening. Home is a great place to connect grow and serve. Home is a great place to get to know each other outside of the church walls. Home is a great place to "do" community and to invite the community to be part of Mt. Carmel.
Katrina Stone
Berkeley Lake Home Group
Meets at the home of Lois Salter on
Tuesday nights.
This group's topic will come from The Celebration of Discipline.
Peachtree Corners Home Group
Meets at the home of Katrina Stone on Friday nights 7:00 - 8:30
This group will use daily practices from The Artists Way and lessons from the Gospel of Mark.
---
Catacombs Coffeehouse: "Out of the Rain" February 12 at 7:00 p.m.
Mark your calendars for ...

Ron Hipp with Carol Statella ~ Out of the Rain ~ is a folk duo noted for innovative arrangements and unusual expressive power. Ron Hipp has been known in the Atlanta area as an accomplished solo artist and Carol Statella has played and sung in various groups over the years. Their joining forces to regularly perform and record music together has created a compelling, poignant sound that is both timeless and fresh.
Their sound together has been described as warm, eloquent, and vivid. Onstage, Ron and Carol draw audiences in with artful musicality, occasionally inane humor, and absolute focus on inviting the listener into the depths of a song.
Doors to the Coffee House open at 7:00 PM on Friday, February 12th. Music starts at 7:30 PM and should go until about 9:00 PM. Coffee, tea, soft drinks and sweet treats will be on sale throughout.
Come early… we had "standing room only" for our last Coffee House and "Out of the Rain" has always been a Catacombs favorite!
---
Women's Book Club: February 5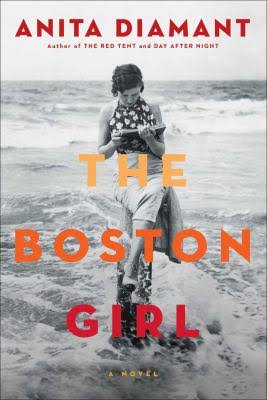 All women are invited to join the Mt. Carmel Women's Book Club on Friday night, February 5th at 7:00 p.m. in the Hope House.
The book of the month is "The Boston Girl" by Anita Diamant.
---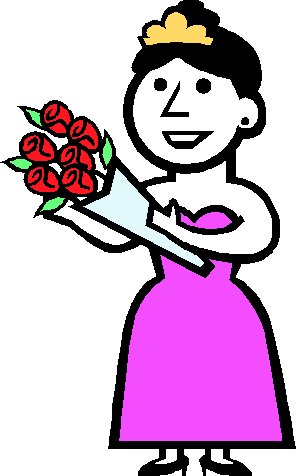 Mt. Carmel United Methodist Women Honor "Woman of the Year" at a Brunch on February 7 - 12:00 p.m.
All women of the church are invited to a Brunch to honor a woman who has gone above and beyond in her service to the UMW and the church as a whole this year!
Stop by the Fellowship Hall after church on February 7th to see who this year's honoree is!
---
Thank
You Notes from the Youth!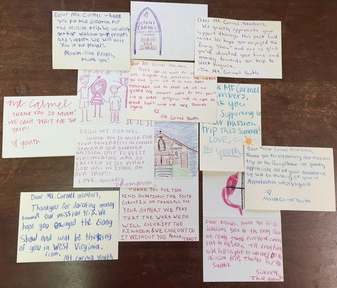 Thank you Mt. Carmel for your support of the Gong Show and Youth Mission Trip to Gary, WV!
You can see the notes more closely on the bulletin board near the foyer kitchen door.
---
Doughnut and Recycling Volunteers Needed!
Would you like to volunteer at church, but prefer a "behind-the-scenes" job? Then here are two volunteer needs that might suit you perfectly!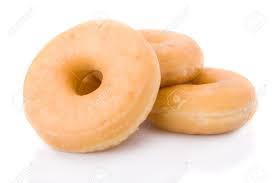 Doughnut Provider
Mt. Carmel has a team of volunteers who take turns making sure that we have doughnuts and juice available in the Fellowship Hall on Sunday mornings. They pick up these treats on their way to church and have them here by 9:00 a.m.
This year, one of our volunteers has taken on a new position, so needs to step down from "doughnut duty." The Sunday slot open is on the 1st Sunday of ODD months, (January, March, May, July, September, November) so you would only be responsible for these six Sundays during the year.
The cost of the doughnuts and juice may be reimbursed from the church, or added as a donation to the volunteer's Giving Statement.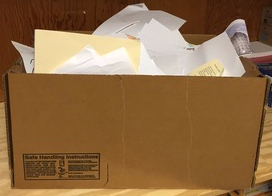 Recycling Volunteer
In the office areas and in the sanctuary, there are several recycling boxes for scrap paper and left over bulletins.
Every month or so, these boxes of paper fill up and need to be taken to the recycling center. The closest center to Mt. Carmel is on Satellite Blvd. in Duluth.
Empty boxes are then returned to the church to fill again.
If you are able to help with either of these volunteer needs or have questions about them, please contact the church office or check the box on the back of the Connect Card in your Sunday bulletin. Thank you!
---
Prayers and Concerns
Please join with others in our church family in praying our concerns and thanksgivings this week:
Prayers
Marilyn McGee - heart issue
Small group start ups in Peachtree Corners and Berkeley Lake
Dawn Seigler's friend Marilynn - health problems
Family from Honduras known to the Campbells: mom and 3 girls - father killed - 19 yr. old daughter detained by ICE in raid - prayers for daughter to be back to family & family granted sanctuary here
Connie Hull: infection in arm and leg
Neil Odom: shoulder surgery on Feb. 1
Jacque Tapley's father in hospital
Tapley's neighbor Emmett: lost wife Anna to cancer
NCM family: wife has ovarian cancer
Thanksgivings
From the Youth: thank you for support of the Gong Show and the Youth Mission Trip
---
Ways to Make a Donation Electronically
Thank you for your support of Mt. Carmel!
There are many ways to give: You may use a Debit Card, Credit Card, or PayPal, o
r you may make
an automatic electronic funds transfer on a
one-time or recurring basis.
Click
HERE
to give electronically.