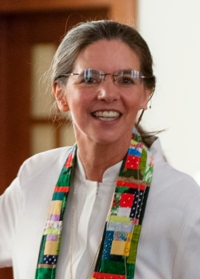 I have been to New York several times. As a finance professor, I took students to visit alumni and financial institutions like the Federal Reserve and New York Stock Exchange. These trips were always a rush from place to place, a whirl of activity to make sure that we saw and heard everything and everyone of importance.
My trip last week was the opposite! Ed and I went to see one important person, our son Mark. During the days, while Mark was at work and Ed working on his laptop, I spent time simply being. I sat in the churches, like Riverside, whose services and sermons I have listened to and read. I walked in Central Park and sat in the lavender garden at the Cloisters. I meandered slowly through a museum or two. Mostly I stayed still.
For the first time in all these trips, people talked to me on the subway. A young woman told me about the time she allowed Jesus to be in charge of her life, and the song she now sings to remind her of this. Another person shared about an illness the doctors cannot diagnose and we prayed. I met another mother, her first day in New York, with a son the same age. We shared the joy of seeing a child settled and working in a fulfilling job.
These conversations were so unexpected. Have New Yorkers changed? Or was it so unexpected to others to see a stranger without headphones, book, or phone?
In a few weeks the United Methodist Women will go on retreat, and my understanding is that they are planning a theme of taking sacred pauses. In Seven Sacred Pauses, Macrina Widerkehr writes that a schedule of pauses through the day will help "ease the violence many of us carry in our hearts due to a stressful, multitasking work environment."
I have seen the research that says multitasking reduces effectiveness. But until reading Macrina Widerkehr, I never thought of this type of activity as violent. Yet consider how multitasking effects our relationships with others. What does it mean to a child to know the parent is there, but not fully present? To a friend, to suspect that you are thinking about the next project rather than listening fully? What does multitasking do to our own souls when we are never satisfied with our productivity, always trying to get more done, always trying to fit in more responsibility?
I think this is why God gives commands like honoring the Sabbath. This is why the Psalmist says, "seven times a day I will praise you" (Psalm 119:164). This is why we go on retreats.
On Sunday we will read the story of Moses and the people of Israel leaving Egypt. Ahead of them is the sea, and there are no bridges or boats to carry them across. At the rear, Pharaoh's army advances. How does God answer their cries for help?
Be still.
We can't go to New York every day to find silence. We don't need to make that trip just to take off the headphones and put down the phone. We can take time in any place and any day to be present and pause. How can God use a moment of silence to bring healing to your soul? How can God use your being present to a stranger, a friend, a relative, and bring healing to relationships?
Be still. Wait on the Lord. You may see God at work in an unexpected way, parting waters and making a new path.
Pastor Cyndi McDonald