Our lesson this week is from Acts 27:13-44.
Paul is under arrest for preaching the gospel and must sail to Rome to stand trial before Caesar. The dangerous journey gives Paul another opportunity to put his faith in God.
Children will learn that God is trustworthy and he always cares about us.
Vacation Bible School and Safe Sanctuary Training:
Training for both VBS and Safe Sanctuary will take place on the following dates:
Saturday, May 16: 10 - 12

Sunday, May 17: 12:30 - 2:30

Wednesday, May 27: 10 - 12
If you work in our nursery, Children's Worship, Homework Club, Sunday School, Youth, Family Promise or anything that involves direct contact with children or youth, you must complete Safe Sanctuary every two years. If you did not have SS last spring or during this school year --- It's Time!
Safe Sanctuary training will be first, followed by VBS training about 45 minutes later. Please let me know which session you will attend.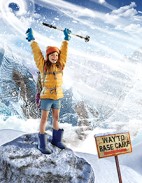 Help us reach the top for VBS
Please check the bulletin board outside the sanctuary for the items that are still needed for VBS.
Take a "mountain climber" if you can - the items are due back by Sunday the 24th. Thank you!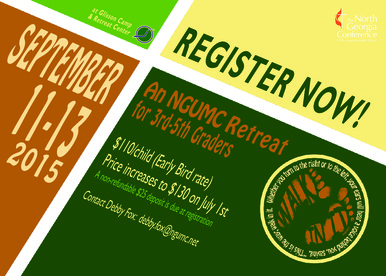 Children's Fall Retreat: September 11-13 Camp Glisson
The weekend of September 11-13, 2015 will be an opportunity for children across the conference to travel with their church group to Glisson Camp and Retreat Center in Dahlonega, GA. We will be housed in the Village cabins, eat family style in the new dining hall, worship together led by UM pastors, enjoy the unique activities available at Glisson, and meet, pray and play with children and adults from other congregations across the conference.
Early Registration Fee: $110 per child.
Deposit is $25 and is due to Mt. Carmel by June 9. Registrations are limited so register soon to get a space!