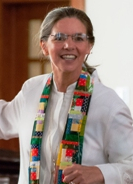 The Fellowship Hall was full of United Methodist Women sewing dresses for the youth to take on their mission trip. Who would have thought that you could make such cute dresses out of pillow cases? And certainly no one expected Judy Bagwell to show up with fourteen dresses already made!
Behind the sanctuary, Wynne Buran and Lori Anderson were practicing music for this Sunday. Earlier in the day, Dick Thompson showed up with buckets of palms for the kids to wave this Sunday.
Downstairs was overflowing with Boy Scouts. There were even two groups meeting in the hall. I'm not sure what they were doing outside, but it sounded like construction.
Yesterday, Barbara Cooper walked through the hallways, making plans for Stations of the Cross. Then Bob Koch, Katrina Stone and Tara Campbell showed up to lug furniture and begin the set-up.
The sounds have been beautiful. Saturday the choir rehearsed for Sunday's cantata at 11. They have been practicing for this week for the last few months. Saturday afternoon the Fellowship Hall was full of the sounds of people offering condolences to Maxine Follmer and her family.
Even the sound of Lila Hunter's van as she delivered a tomb was music to my ears.
Don't you love being part of a noisy church?
At the end of the day, a few of us sat in silence in the sanctuary to pray.
Don't you love being part of a quiet church?
I am often amazed at the variety of ways God is at work, from the noise of sewing machines and laughter to the quiet of music and prayer. Don't you love being part of Mt Carmel? I know that I do.
I'll see you this Sunday,
Pastor Cyndi