In the Newsletter this Week:
From Pastor Cyndi
Order Poinsettias Now!
Holy Communion during Advent
December 24 & 25 Schedule
Office Closed December 2
Kid's Corner
UMW to Deliver Christmas Cards
Staff Christmas Gift

Women's Book Club: December 2

Monday Night Study Schedule

UMW Unit Christmas Party: December 6

Youth News: Kid's Night Out - December 9

Breakfast with Santa: December 10: 9:00 & 10:00 am
Combined 10:30 Worship / Down Home Holiday
It's a Boy!
Prayers / Thanksgivings

Ways to Make a Donation
---
Asphalt Faith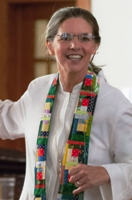 Luke begins telling the good news about Jesus with a bit of explanation. He has gathered and researched the stories and writes them so that his reader, Theophilus, "may know the truth concerning the things about which you have been instructed" (Luke 1:4).
Theophilus has already been taught about Jesus. Indeed, his name means "one who loves God", which suggests that he was raised in a family of faith.
Luke wants more for his reader—not just Theophilus but us, too! Most of our Bibles translate this as wants us to "know the truth". But this is a small part of what Luke wants for us.
The Greek for this is asphaleian. This is the root word for asphalt. Luke's desire is that his reader would have a certainty in the story of Jesus. We would be able to trust in it. We would be grounded in the story.
That's my desire for you as well. Asphalt. Grounding.
While Christmas stories of Santa Claus are delightful, they sometimes leave out grace. Santa Claus is going to find out who's naughty and nice. He watching all the time, and he knows when you've been bad or good. You'd better watch out!
In contrast, scripture tells of a God who judges AND brings transformation. Jesus does not say to the sinner, "a lump of coal for you". Jesus says, "Zacchaeus come down from the tree, we're going to have a meal together" and "follow me, I will make you fish for people."
We are all sinners. God judges and sees your sin…and offers another chance, life eternal, a new way of being.
Maybe you grew up in the church and know all the stories of angels saying "fear not", a priest who is silenced, and a young teen who answers God's call with "Here am I, the servant of the Lord."
During the season of Advent, let's not only read the familiar stories, but allow them to form asphalt, a bedrock upon which we build our lives. Enter into the confidence that God's grace is for you. Every morning give thanks. It's not too late to allow God to begin again within you.
That's my hope for you, that beyond the candles and Christmas décor, the carols and gift giving, you will hear the story and find a renewed trust, a life-giving faith.
How silently, how silently, the wondrous gift is given;
So God imparts to human hearts the blessings of his heaven.
No ear may hear his coming, but in this world of sin
Where meek souls will receive him, still the dear Christ enters in.
---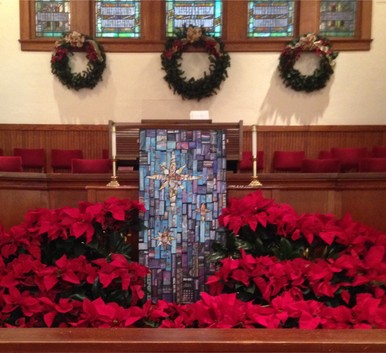 Order Poinsettias Now!
Once again, the Mt. Carmel United Methodist Women will sponsor the placing of poinsettias in the sanctuary for the Christmas season.
If you would like to have a poinsettia placed in the church in honor or memory of someone, please fill out the order form in the Sunday bulletins and put it, with your check, in the offering plate, or contact the
church office
.
Cost: $10.00 per plant.
Please make checks payable to:
Mt. Carmel UMW.
DEADLINE FOR ORDERS: Dec. 11, 2016.
---
Holy Communion during Advent: Dec. 7, 14, 21
Each Wednesday during Advent from 6:30 – 7:00 p.m., a short Holy Communion service will be held in the sanctuary.
Stop in for a little peace and reflection during this hectic season.
---
Christmas Eve and
Christmas Day Worship Services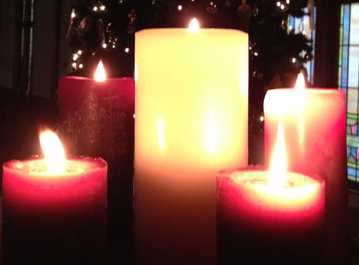 December 24:
- Children's Service at 5:00 pm
- Christmas Eve Services
at 7:00 & 11:30 pm
December 25:
- Christmas Day Worship Service at 4:00 pm
---
Office Closed December 2
Please note that due to staff schedules, the office will be closed on Friday, December 2. Please plan any church business accordingly.
---
The Angel Tree is Ready to Go!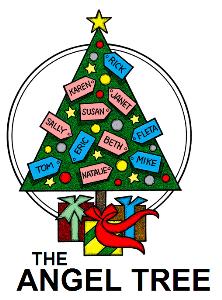 The tree is loaded with angels so representing families from local schools, NCM, and Family Promise so remember to stop by the foyer and take one or two!
Just sign the list provided with the number on your angel, do your shopping, and return your gifts (unwrapped) to the church by December 7th.
Want to Do More to Help?
In addition to providing gifts,
you can help to sort those gifts on Wednesday evening, December 7th beginning at 5:00 in the Fellowship Hall. The sorting will take several hours, but any time that you can spare will be appreciated! (A light dinner will be provided.)
Thank you for helping children from local schools and Norcross Cooperative Ministry have a merry Christmas!
---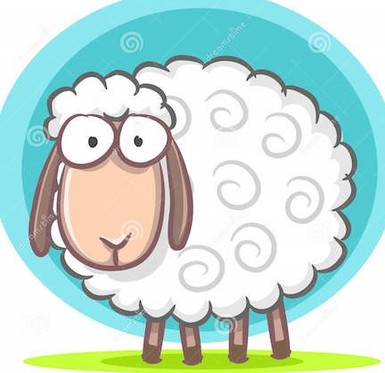 Kid's Corner
Children's Christmas Pageant: Dec. 4th at 6:00 p.m.
Dress rehearsal will take place on Saturday December 3 at 10 am.
The pageant is on December 4th at 6 pm.
This year, our play will be What Is Christmas All About?
Come and join us as we learn from our children and what the true meaning of Christmas is.
Other Upcoming Kid's Events:
Join our youth group as they host 'Kids Night Out' - pizza, gingerbread houses, and movie (Polar Express) on Friday, December 9th from 6:30 to 9:30 in the Double Classroom.
$5 donation is requested for supplies. RSVP on the Connect Card in your Sunday bulletin, or contact
Emily Thompson
.
Our annual Kids Christmas Party will take place during the 10:30 worship time on Sunday, December 18th.
Lets make a present and decorate Christmas cards! --- We will make a present and decorate cards during the Down Home Holiday on December 18th at 11:30.
See you Sunday!
Cheers, Leslie
---
UMW Delivers Your Church Christmas Cards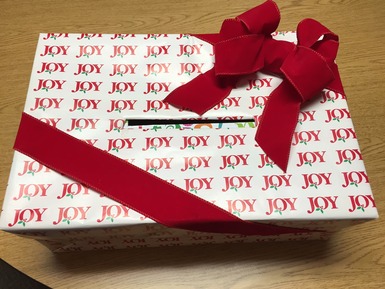 The Mt. Carmel United Methodist Women are once again delivering your Christmas cards to your church friends during Advent.
Just bring your labeled cards to church and drop them into the wrapped, alphabetical boxes at the back of the sanctuary. If you are at the church on some other day and would like to check to see if you have cards, they are stored in the History Room at the back of the sanctuary.
---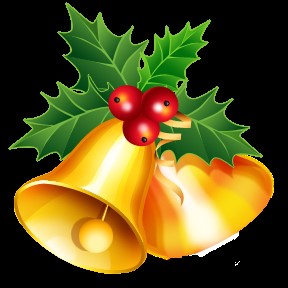 Staff Christmas Gift
We are so blessed to have such an exceptional staff here at Mt. Carmel. Throughout the year, we benefit from their talents, dedication and hard work.
As a show of appreciation, we make a monetary Christmas gift to them as a special "thank you" from the congregation.
If you would like to contribute, please place your gift in the offering plate. Make checks payable to the church and designate your gift as "Staff Christmas Gift."
Thank You,
The Staff Parish Relations Committee
---
Women's Book Club: December 2nd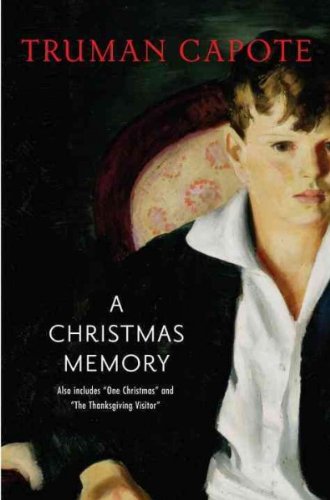 The book club will meet
at the home of Patty Merson
on Friday night, December 2nd at 7:00 p.m.
Please note change in location!
This month's book is, A Christmas Memory: One Christmas and The Thanksgiving Visitor, by Truman Capote.
---
Monday Night Study Schedule
During this season of Advent, we'll be meeting weekly each Monday night - through December 26th at 7:00 p.m. in the Hope House.
BOOK WE'LL BE USING: The Bible (bring your own, or look over someone else's shoulder, or grab one off the shelf in the Hope House, or just listen in as we read and talk.)
****FEEL FREE TO JUST 'POP IN' WHEN YOU CAN****
Yes, we want your 'presence', but we're not taking attendance or anything; I promise!
During our meetings in December, Our Advent "Conspiracy" is gonna go something like this:
December 5: - "Worship Fully"
• As we gather at 7:00, we'll be telling our 'highs' and our 'lows' of the week (Hey! I see some of you rolling your eyes (chuckle). Don't worry, you're allowed to say "Pass" if you want.)
• 7:10 Opening Prayer
• 7:15 I'll read some sections from the book 'Advent Conspiracy': The Fastest Growing Religion in the World - Consumerism (Your dissatisfaction is guaranteed), Our hearts are formed by what we worship, and The story that changed the world.
• 7:30 Read aloud the Christmas Story: Luke 1:1-56 and 2:1-40
• 7:45 We'll take a second look at Luke 2:8-20 and discuss it using the 'unwrapping the message' page from 'Advent Conspiracy'
• 8:00 Closing Prayer
*Additional reading: James 5:2-6, Luke 12:15, Numbers 11:18-20, Luke 1:38, Luke 1: 46-55, Matthew 1:23 and Isaiah 7:14
In the weeks following, we will follow the same approximate plan with readings from the Bible and from 'Advent Conspiracy"
December 12: "Spend Less" - Matthew 1:18- 25 and 2:1-12 (More on the "Christmas Story" ) James 5:1-6, Matthew 6:19-24
*additional reading: Matthew 6: 24, 2 Corinthians 8:13-14, and 9:11, 1 Timothy 6-10
December 19: "Give More" - John 1:1-14, Matthew 1:18-23 and Isaiah 7:14
*additional readings: John 1: 1-3, John 1:14, John 10:30, John 14:9, Matthew 1:23, Isaiah 7:14, Colossians 1:15, Luke 2:11, Philippians 2:6, Mark 10:45
December 26: "Love All" - Luke 2:1-24, Luke 4:16-21, Matthew 25:34-40
*additional readings: Jeremiah 2:13, Luke 4:18, 2 Corinthians 8-9, 2 Corinthians 5:20, Matthew 25:40, Matthew 25:35-36, John 17:20-23
For more information or with questions, contact
Wynne Buran
.
---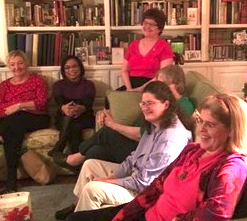 UMW Unit Christmas Party:
December 6 at
6:00 p.m.
All women of the church are invited to attend the United Methodist Women's Unit Christmas party! Margaret Crawford hosts the party at her house this year and everyone will sign up to bring a dish to share.
There will also be a gift exchange of gifts costing NO MORE THAN $25. (wrapped - no name - no gag gifts please!)
Please RSVP to the
church office
or reply to the UMW email so that Margaret knows how many places to set! Also to sign up for a dish to bring and for directions or with any questions.
---
Youth News
Get Ready for ...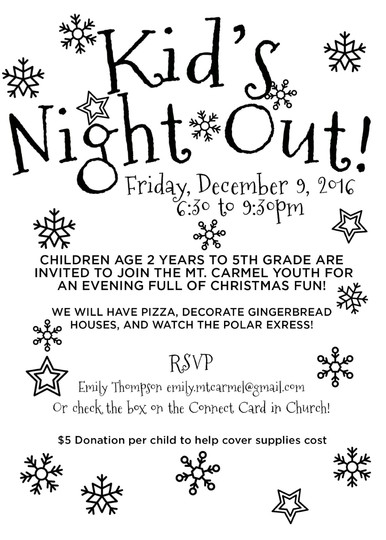 The regular youth meeting is on Sunday evenings in the lower fellowship hall and classrooms. Dinner begins at 5:15, followed by games, fun, programs, music and worship until 7:30.
For upcoming youth events and contact information, see the youth calendar
H
ERE
. Or contact Youth Director,
Emily Thompson
.
---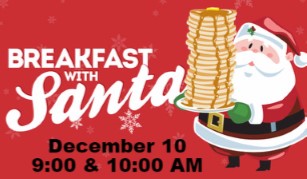 Mark your calendar for the Preschool's
Breakfast with Santa!
Enjoy a delicious pancake breakfast,
raffles, stories with Santa's Elves, and a
professional Photo-Op with Santa himself!
Kids: $7.00 / Adults: $10.00
To make a reservation, email
or contact the church office.
---
December 18: Combined 10:30 am Service
Come and worship together on this special Sunday. There will be music from both the 9:30 musicians as well as the Chancel choir.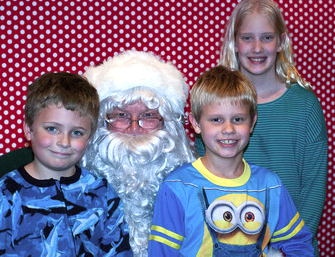 And then stay
for the ...
Down Home Holiday & Soup Lunch
Due to school and holiday schedules this year, the Down Home Holiday will be held right after church on Dec. 18th instead of in the evening. And it will be joined by a Soup & Cornbread Lunch!
Of course there will still be lots of fun, Christmas cheer, opportunities to make some Christmas gifts, and a visit from Old St. Nick himself! Plan to stay after church and celebrate simply together!
---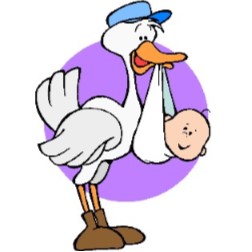 It's a Boy!
Congratulations to Bryant and Kara Riviere and big brother Tucker on the birth of Cayden John Riviere.
Also to proud grandparents Steve and Donna Riviere!
Cayden was born on November 15, 2016.
---
Prayers and Concerns
Please join with others in our church family in praying our concerns and thanksgivings this week:
Prayers and Concerns
For Jacque Tapley's mother after the death of Jacque's father.
Jacque Tapley's friend Tina: broken hip
Dawn Seigler's friend Marilyn: for good health
Previous member Carl Mauldin: cancer surgery 12/15
Lila Hunter's brother: battling addictions
Annette Rogers: sick and still recovering from broken foot
Meery Marcis: recovering from a fall / injured ribs
Wynne Buran: for those whose holidays are hard due to families not together
Sherry Blackwood: surgery this week
Thanksgivings
Leave a Trace Foundation: for all the work they do to provide clean water to other countries
Sam Tapley: thankful Jacque wasn't hurt in recent car accident
Barbara Cooper was back in church! Active cancer treatment is over / thankful for all support
Lorrie Ignatius' cousin visiting from Illinois
Annette Rogers' birthday on Sunday
For RAIN!
---
Ways to Make a Donation Electronically
Thank you for your support of Mt. Carmel!
There are many ways to give: You may use a Debit Card, Credit Card, or PayPal, o
r you may make
an automatic electronic funds transfer on a
one-time or recurring basis.
Click
HERE
to give electronically.