Church Picnic at Berkeley Lake:
Cancelled - Rescheduled for Fall Festival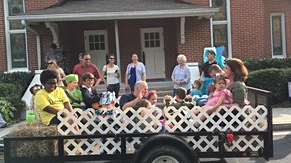 Since many families plan to be out of town this weekend, and also a possible rainy weather forecast, the picnic scheduled for Sunday has been cancelled.
Instead, we'll expand the hot dogs normally served at the Fall Festival into more of a picnic. Please spread the word and mark your calendars for Sunday, October 28 at 4:00 p.m.
Combined Service & Pot Luck Lunch
on September 30 - 10:30 a.m.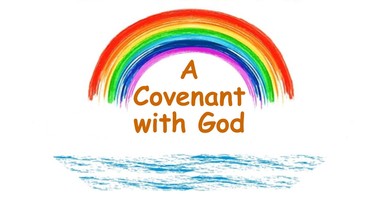 On Sunday, September 30, the Stewardship Committee will Kick-Off the 2018 Stewardship Campaign!
We will have a combined worship service beginning at 10:30 a.m., followed by a Pot Luck Lunch in the Fellowship Hall.
Please bring a dish or two to share and come enjoy lunch with your Mt. Carmel friends!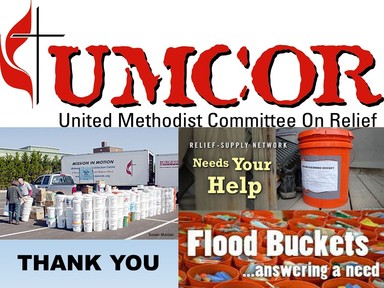 Kid's Corner: Children to Pack
Flood Buckets for UMCOR
- Sunday, September 23
Please join the Children's Ministry Department on Sunday, September 23 at 10:30 as we pack UMCOR flood buckets for Hurricane Florence relief in the wake of this historic, terrible storm. We'll be in rooms 112/114 downstairs.
Even if you can't help to pack at that time, please check the list below and let us know if you can contribute items to this important effort. We will be purchasing materials to pack 2 to 3 buckets from our children's ministry funds. It would be wonderful if we could assemble 5 to 10 buckets to deliver to UMCOR.
A container for donations will be near the Fellowship Hall.
Please hold everyone in prayer who will be in harm's way at the end of this week.
See you Sunday,
Children's Director
*************************************************************
Items Needed for Flood Buckets:
•
One five-gallon round bucket with re-sealable lid
(14.35" h x 12.19" w x 12.19" d) /
No screw lids /
May be used, but must be free from all residual product /
Advertisements on the outside acceptable
• One 32-64 oz. bottle liquid laundry detergent
• One 16-40 oz. bottle liquid concentrate household cleaner /
• One 16-34 oz. bottle dish soap
• One 4-8 oz. pump spray air freshener (three solid, or three gel fresheners also acceptable)
• One 6-14 oz. pump spray insect repellent (pack of 10-20 wipes also acceptable) /
Pump spray bottles must have protective covers
• One scrub brush w
ith or without handle
• 18 re-useable cleaning wipes /
No terrycloth, microfiber or paper towels /
Remove from packaging
• Five scouring pads sponges /
No stainless steel pads with soap in them /
Remove from packaging
• 36-50 clothespins / may be put into small resealable bag
• One 50-100 ft. clothesline (cotton or plastic line)
• 24 roll of heavy-duty trash bags (33-45 gallon sizes) /
Remove from packaging
•
Five N95 particulate respirator dust masks (1-3 mm thickness) / No surgical masks
• Two pairs kitchen gloves / Durable for multiple uses / Remove from packaging
• One pair work gloves / Cotton with leather palm or all leather
Important Note: All items must be new with the exception of the bucket and lid.
The Fall BBQ and Sweet Shop
are just around the corner - Oct. 5 & 6!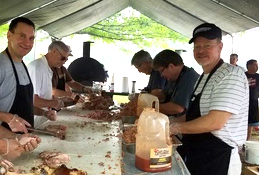 Lots of volunteers are needed to make these event happen, so please check the sign up boxes on the back of the Connect Card in your Sunday bulletins to see where you can help!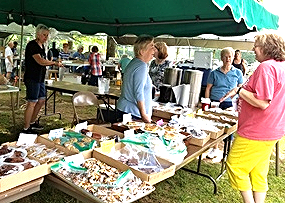 Sweet Shop Note: If you plan to donate baked goodies for the Sweet Shop, PLEASE make sure to deliver them cut into individual servings, wrapped, and marked so that everyone knows what they are. (Nuts, no nuts, pound cake, lemon cookies, etc.)
Flyers with dates and prices are available in the sanctuary and outside of the Fellowship Hall, so take a few and invite your family and friends too! (Or contact the
church office
for an electronic version.)
Women's Fall Retreat: October 19 - 21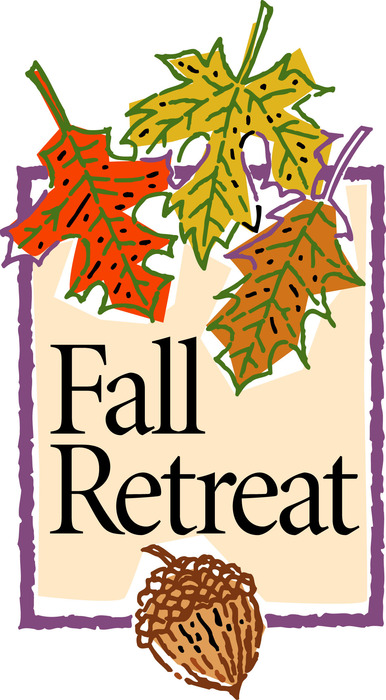 Mark your calendar for our annual fall women's retreat! As always, it will be a weekend of programming, rest, food, fun and fellowship!
DATES: Friday, Oct.19 - Sunday, Oct. 21
COST: $40.00 per person (make checks payable to Mt. Carmel UMW; please give payment to Cheryl Martin or drop by the church office.)
PLACE: Lane Shutt's House at Lake Harding, Alabama
TIMES: Dinner Friday night (appx. 7:00 pm) through morning session on Sunday (approx. 11:00 am)
RSVP to the
church office
by Friday, October 12th to reserve a spot! 770-449-4498