In the Newsletter this Week:
UMW Day at the Lake Postponed
Lunch Bunch: September 9
Flamingos Heading This Way!
Youth News
Women's Book Club: September 7
Carmelites to Whistle Stop Cafe: September 17
Church Picnic: September 23
Prayers / Thanksgivings
Ways to Make a Donation
---
UMW Day at the Lake Postponed
The Day at the Lake that was scheduled for September 8th has been postponed. While many UMW members said that they would like to attend, most of them couldn't work it into their fall schedules, so the event has been cancelled for September.
Please watch for a new date to be added to the calendar, possibly in the spring or next summer. And thanks again to Margaret Crawford for offering her lake home for us to enjoy!
---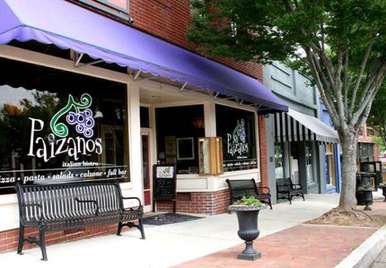 Lunch Bunch: September 9
Do you have lunch plans on Sunday?
If not, the Lunch Bunch invites you to join them at Paizanos in Downtown Norcross at about 12:15!
---
---
Youth News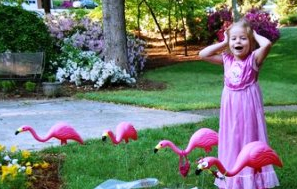 The Mt. Carmel Youth will meet as usual on Sunday, September 9 - Dinner at 5:15 in the Youth Hall, followed by a program and fun!
For more information, see the Youth Newsletter
HERE
, or contact Youth Director,
Emily Thompson
.
---
Mt. Carmel Women's Book Club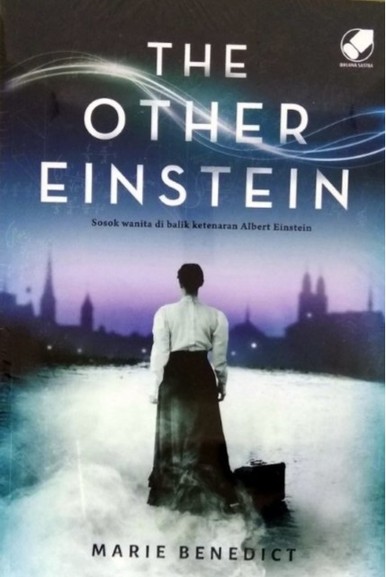 The next meeting of the Book Club will be on Friday, September 7 at 7:00 p.m. in the Hope House.
The book for September is, The Other Einstein, by Marie Benedict.
All women are invited to attend for refreshments and discussion - even if you haven't read the book! See
Chris Bolton
or
Vicki Walden
for more information.
---
A "Fried Green Tomato" Lunch
at Whistle Stop Cafe!
The Carmelites Travel Group has planned their next trip, and you're invited! They will travel to the Whistle Stop Cafe in Juliette, Georgia on Monday, September 17th. They'll meet at the church at 9:30 and then enjoy a Fried Green Tomato lunch!
Please sign-up on the Connect Card in your Sunday bulletin, or contact
June Spruell
if you would like to join the group.
---
Church Picnic at Berkeley Lake:
September 23 - From 4:00 - 6:30
Everyone is invited to a church picnic, cookout and sing-along at Lake Berkeley Chapel on Sunday afternoon, September 23.
There will be lots of fun, fellowship and good food!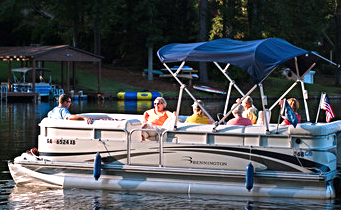 Schedule:
4:00 PM - A BOUNCE HOUSE and other fun activities will be set up for the children, while adults have some time to chat with their church friends, and there will be boat rides for everyone!
5:00 PM - Dinner is served!
6:00 PM - A sing-along will be held outside in the picnic area.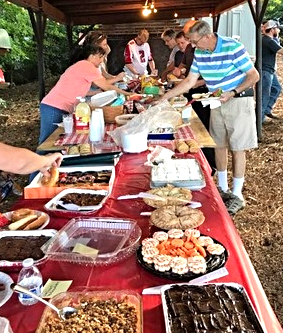 Hamburgers, hot dogs and drinks will be furnished. Everyone is asked to please bring a side dish or dessert to share. (And please remember to bring a utensil to serve it with.)
Mark your calendars so you don't miss the fun!
Location: 4043 S. Berkeley Lake Rd., Berkeley Lake, GA
Directions: From Mt. Carmel:
Turn RIGHT out of the church parking lot.
Take the first LEFT (not into Highcroft subdivision) onto Lou Ivy Road.
Lou Ivy Road dead-ends into Bush Road – turn RIGHT.
Bush Road dead-ends into S. Berkeley Lake Road – turn RIGHT.
The Chapel will be immediately on your LEFT.
---
Church Concerns
(Concerns from Sept. 2 will be included
in next week's newsletter.)
Alison Alesi: Jack Alesi – pneumonia
Pam Westafer: Andy and Pete
Ignatius: Dan – recovering from stroke / Donald – recovering from back surgery
Thad's coworker who lost wife in childbirth - doing better / baby is healthy / still needs prayers
Pekka Ignatius' father: knee replacement
Bobby Walden: knee replacement in October
Craig German's friend Tom: brain tumor
Laraine Downey: dental issues
Bagwell family friend, Reggie - in declining health
---
Ways to Make a Donation Electronically
Thank you for your support of Mt. Carmel!
There are many ways to give: You may use a Debit Card, Credit Card, or PayPal, o
r you may make
an automatic electronic funds transfer on a
one-time or recurring basis.
Click
HERE
to give electronically.